Offshoring consultants: What you need to know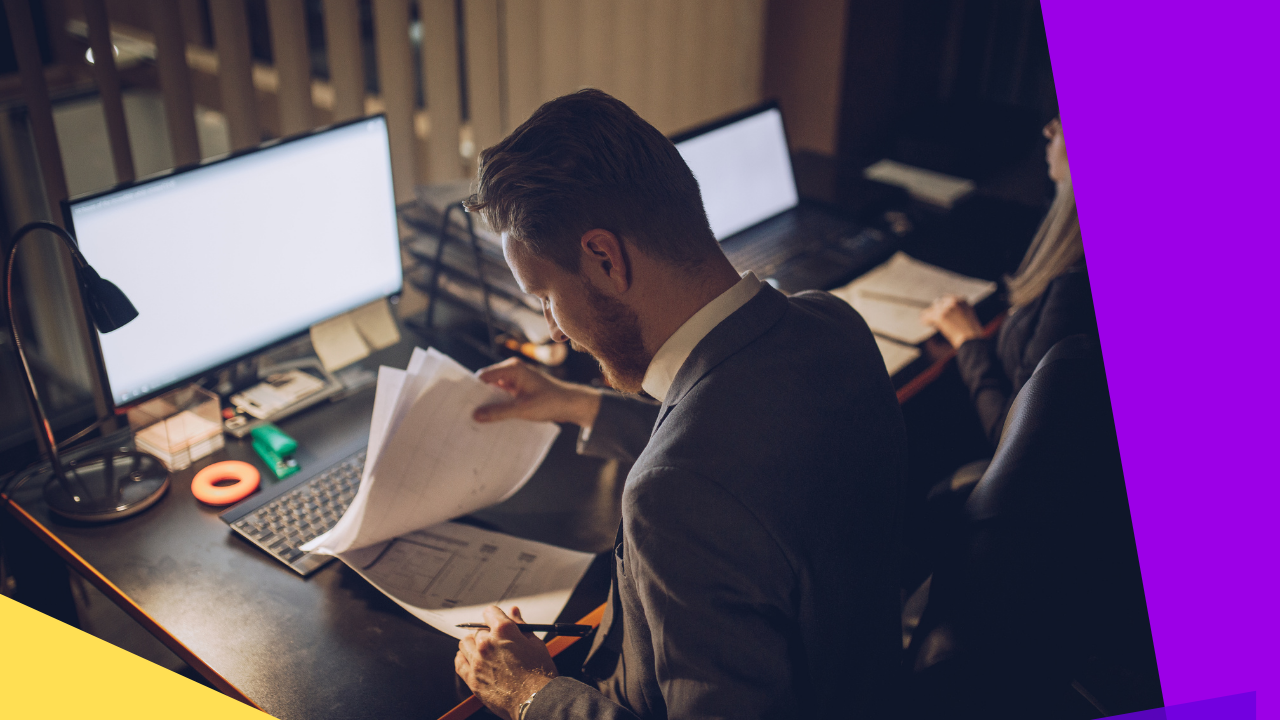 Offshoring consultants are more than just the "middlemen" in the whole process of offshoring.
While business process outsourcing (BPO) companies offer many advantages by themselves, the transition can still be overwhelming for some.
That being said, hiring or working with an offshoring consultant can save you hours upon hours of work and research.
Offshoring consultants are experts when it comes to providing the best possible solution and plan at the moment.
What is an offshoring consultant?
An offshoring consultant, in the simplest of terms, is a company or an individual who guides businesses and provides resources to ensure a smooth and successful offshoring process.
Some BPO companies, such as ConnectOS, provide offshoring consultancy services and are happy to help businesses develop offshoring strategies that will streamline their processes.
By partnering with offshoring consultant firms, you're ensuring that you will get the best possible options for your business needs.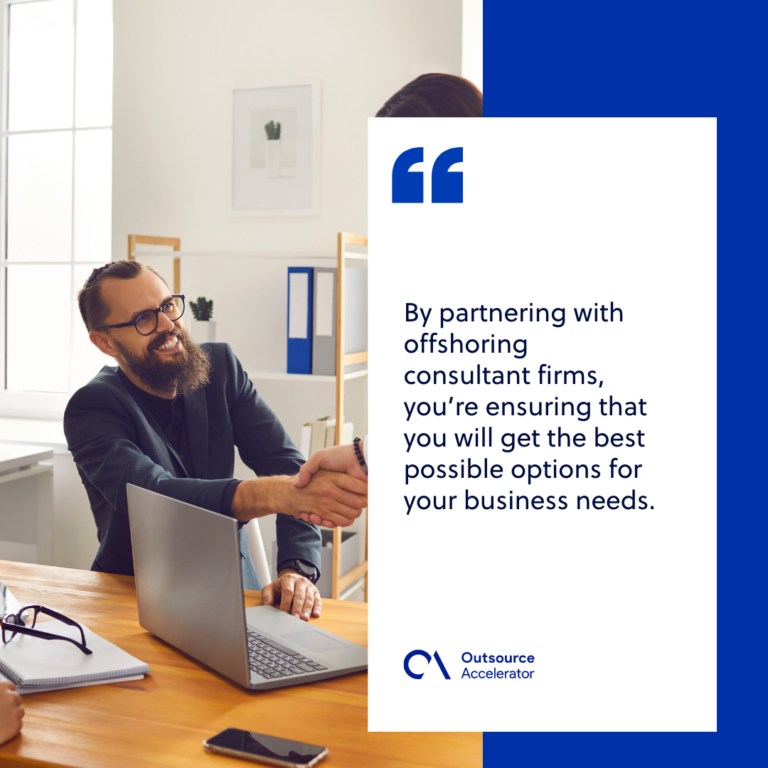 Benefits of working with an offshoring consultant
Working with a consultant will help you through the nitty-gritty of offshoring. Here are the key benefits of having an offshoring consultant that handles your business processes.
Manage your time better
You don't need to worry about rescheduling all your appointments just to meet with an offshore service provider. An offshoring consultant will handle the screening and assessment of potential outsourcing partners, which can take a lot of time if you do it by yourself.
They help you spend your time wisely by meeting only the best candidates for your outsourcing needs. With their expertise, offshoring and outsourcing will be just a breeze.
Work with industry experts
Offshoring and outsourcing consultants are experts who already know who and where the best industry players are. If you don't have any prior knowledge of outsourcing, this will greatly benefit your selection process.
Consultants ensure their client is getting the best out of their investment, time, and effort.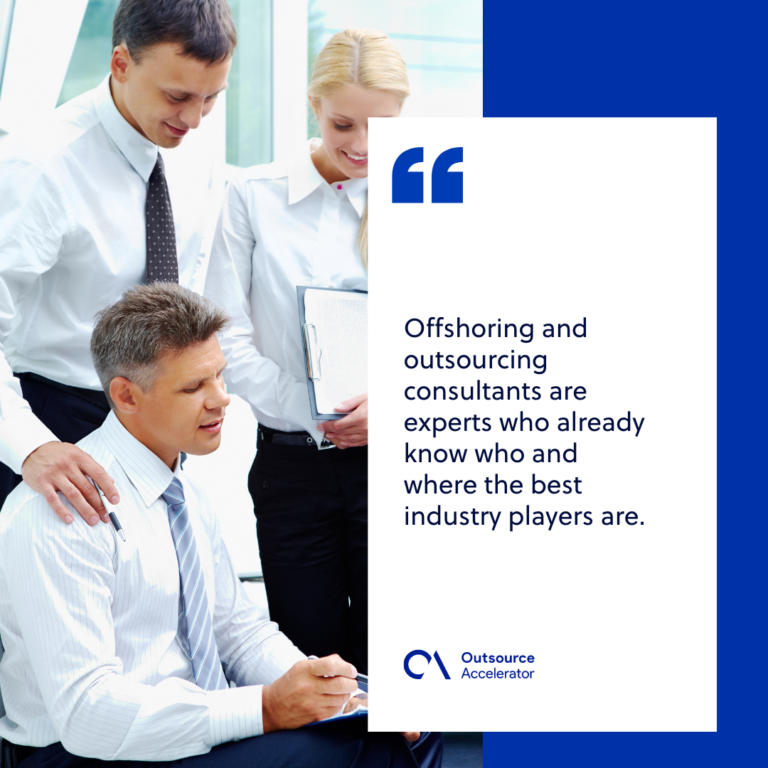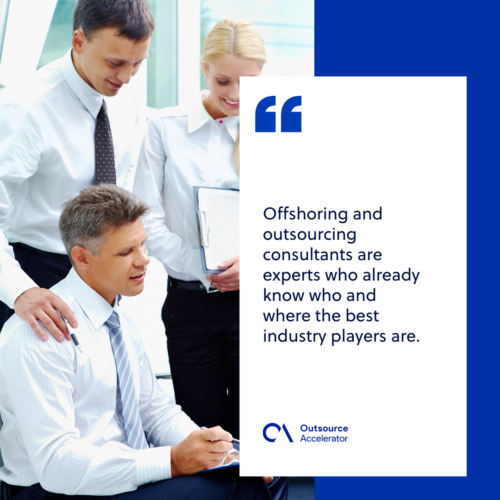 Focus more on your in-house team
Offshoring doesn't mean that you have to abandon your in-house teams completely.
On the contrary, acquiring an offshore team will help streamline processes inside the company, allowing your in-house team to be more "free" regarding the workload.
Likewise, employing the help of a consultant helps you focus on the development of your in-house staff and core business processes.
Control the process and the outcome
As with any legally binding partnership, be it long-term or short-term, you will still get to control every aspect of the offshoring process.
From choosing which department to outsource to choosing your service provider, even with an offshoring consultant present, you can control these. The difference is that your decisions are well-informed and guided.
Access cost optimization strategies
Offshoring consultants bring a wealth of knowledge and experience in cost optimization strategies to business operations.
They can help clients reduce costs for outsourcing by looking for affordable locations, negotiating favorable contracts with service providers, and implementing cost-saving measures without compromising quality.
Organizations can then reduce operational costs, including labor, infrastructure, and technology expenses.
Plus, consultants can provide insights into tax incentives, government incentives, and other financial benefits available in offshoring destinations.
Bolster your risk mitigation and compliance
Navigating the legal and regulatory landscape of offshoring can be complex and challenging.
Offshoring consultants are well-versed in the legal requirements and compliance standards of various outsourcing destinations.
Their expertise can help businesses navigate these complexities and ensure that their offshoring initiatives comply with local laws and international regulations.
In addition, offshoring consultants assist in conducting due diligence on potential service providers, ensuring they meet legal and industry-specific compliance requirements.
This proactive approach helps mitigate risks associated with legal disputes, data privacy breaches, or other compliance-related issues.
When you leverage a consultant's quality service, it protects the company's reputation and minimizes potential legal liabilities.
What's the purpose of offshoring?
One clear purpose of offshoring is to save up on resources in the long run.
From a company's perspective, offshoring jobs and responsibilities to third parties is a much more cost-effective way to run a business.
There is a misconception that quality is compromised when certain functions are delegated to an outside provider. However, the truth is quite the opposite.
Offshoring companies have fleets of specialists trained in various fields. Seasoned teams have significant experience in the industry, which may be helpful when deployed for your business.
We discuss the advantages of offshore outsourcing in detail in the next section.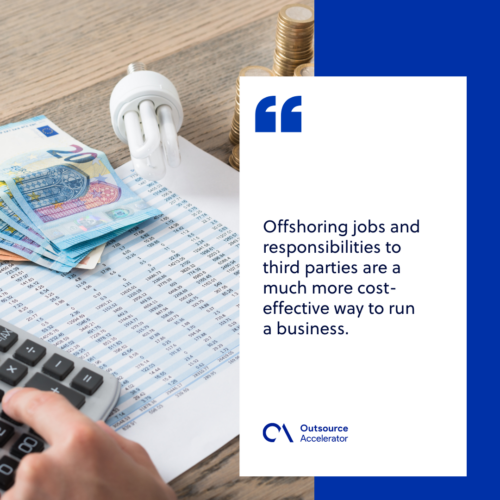 Advantages of offshoring
Offshoring is something that can be adopted by any company, big or small. Here are its top advantages.
Lower labor costs
One of the most important reasons businesses offshore is the lower labor costs.
Unlike in developed countries, wages in developing nations are significantly lower. There are different factors to this, but that doesn't mean that people have poor living standards.
Freedom of expansion
Offshoring enables businesses to expand operations to another country, which is a major win for any company.
This opens up an opportunity for the business to tap into a new market and demographic that it would otherwise not have reached easily.
Unlimited access to an international talent pool
It's unsurprising that each country has different areas and levels of expertise. The best candidate for your team may not be available in your immediate area but instead can be found offshore.
Having a secondary location to source talent is probably one of the most important aspects of growing a corporation.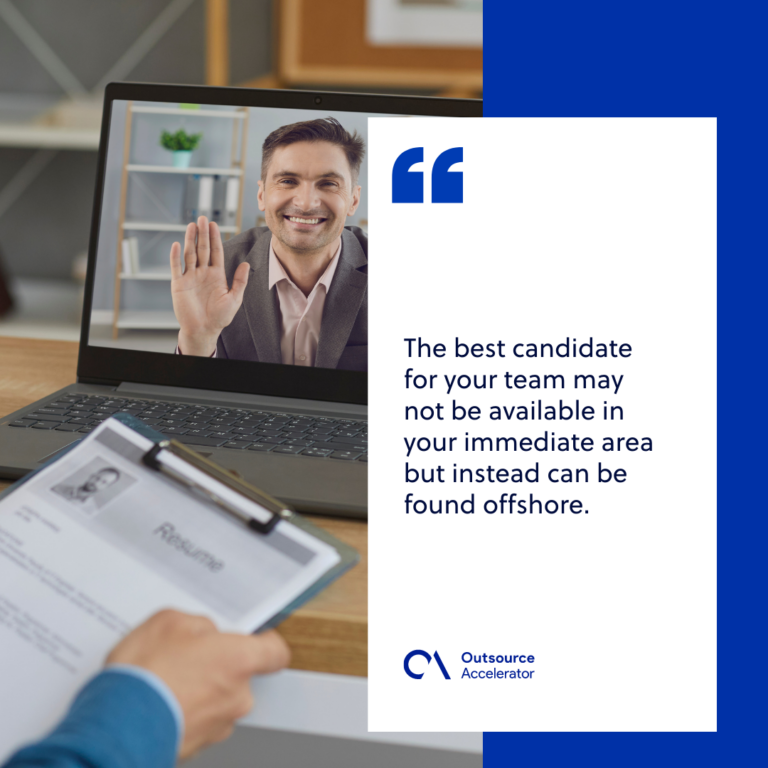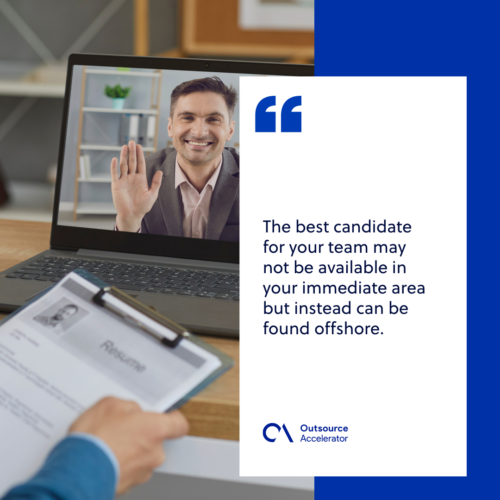 Outsourcing vs. Offshoring vs. Nearshoring
Outsourcing is the process of taking out a business function to another company that will assist you with it. Now, this company may or may not be from your country of origin.
Meanwhile, in the most basic sense, offshoring is the act of taking a business service, a role, or a department out of your country and moving it to another country. The process usually stays within your company.
Nearshoring has the same process as offshoring—the only difference is the geographical location. Nearshoring is when a company offshores its service to a nearby or neighboring country.
A prime example of this is a US-based organization contracting work to Mexico and other countries in South America. This allows them to enjoy advantages such as little time-zone difference, lower labor costs, and culture fit.
Is offshoring a good strategy?
Undoubtedly, offshoring is a good strategy. It's cost-effective and the benefits outweigh the cons.
While some industry leaders are still apprehensive about offshoring and outsourcing, most of them are turning to outsourcing advisers and offshoring consultants to help them transition better.
Offshoring may not be the best course of action for everyone. Sure, most providers and consultants can help you determine which path is the best, but by the end of the day, the decision is still yours.