Why Australian businesses are turning to offshore software development
Offshoring software development has become a go-to strategy for many Australian businesses. As the Australian tech labor market remains "hot," turning to offshore software development providers gave companies a reprieve from the global shortage of skilled tech workers.
The shortage of skilled tech specialists is not unique to Australia. However, the country's aging population has helped cement the decision of many businesses to turn to offshore outsourcing.
Even Sander van't Noordende, CEO of Randstad (the world's largest talent firm), weighed in on the global skills shortage.
Mr. van't Noordende notes that "talent scarcity is here to stay."
To this end, the Randstad CEO has recommended the viability of offshoring services to combat the shortage faced by Australia. Your "specialist doesn't have to be in Sydney. They can be somewhere outside of Australia," Mr. van't Noordende quotes. 
What is offshore software development?
Offshore software development happens when a company entrusts its software development processes to a partner operating in another country.
The practice is similar to nearshore software development, the only difference being the relative geographical location of the partner companies.
Turning to offshore software development brings many advantages to businesses. These range from cost savings and increased productivity to faster and more efficient recruitment.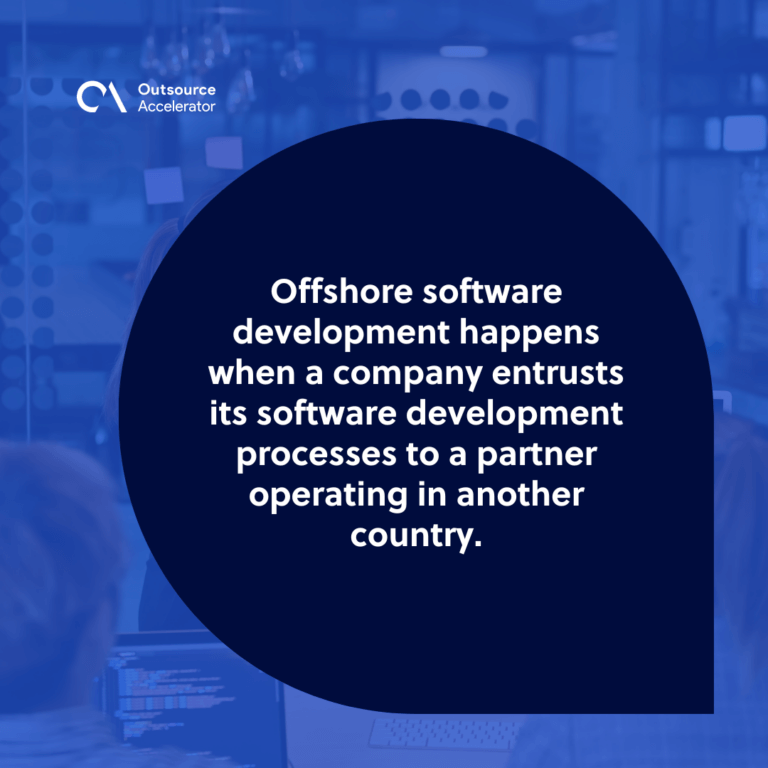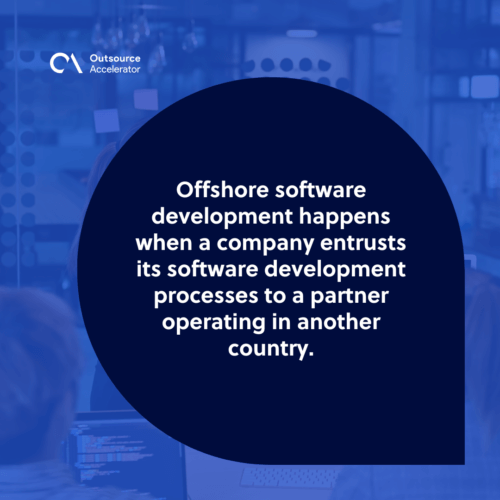 Why Australian businesses are turning to offshore software development
As stated earlier, businesses gain plenty of benefits from offshore software development. These are just a few:
Cost savings
Offshoring software development processes can help businesses save as much as 50% to 60% on operational costs. Even better, these reductions don't come at the expense of service quality as software team extension providers like Arcanys are able to provide their employees with competitive benefits and perks that higher-wage countries like Australia just can't match.
The lower living costs in developing countries where most BPO firms operate make it possible to attract top talents without compromising a business's bottom line.
Companies also save money when they offshore software development as they no longer have to spend on end-to-end recruitment, training, and equipment – especially when partnering with a provider that makes staff retention a high priority, such as Arcanys and their attrition rate that never exceeds 10%.
Flexible scalability
Offshore software development teams give businesses greater flexibility in scaling. Companies can increase or decrease the size of their offshore teams depending on demand.
Being able to downsize during a business's off-peak seasons lets them save on unnecessary employee costs. On the flip side, the capability to quickly increase their number as demands rise helps companies better cope with fluctuating demand.
Better recruitment processes
Hiring the services of offshore team augmentation firms gives you access to their vast pool of pre-vetted talents.
You can quickly fill your software development team's vacancies with seasoned remote workers with varying years of experience, specializations, and other skills.
When you turn to offshore outsourcing, you no longer have to spend days scouring for applicants. Instead, you'll go straight to interviewing the talents your offshore BPO partner has readied for you.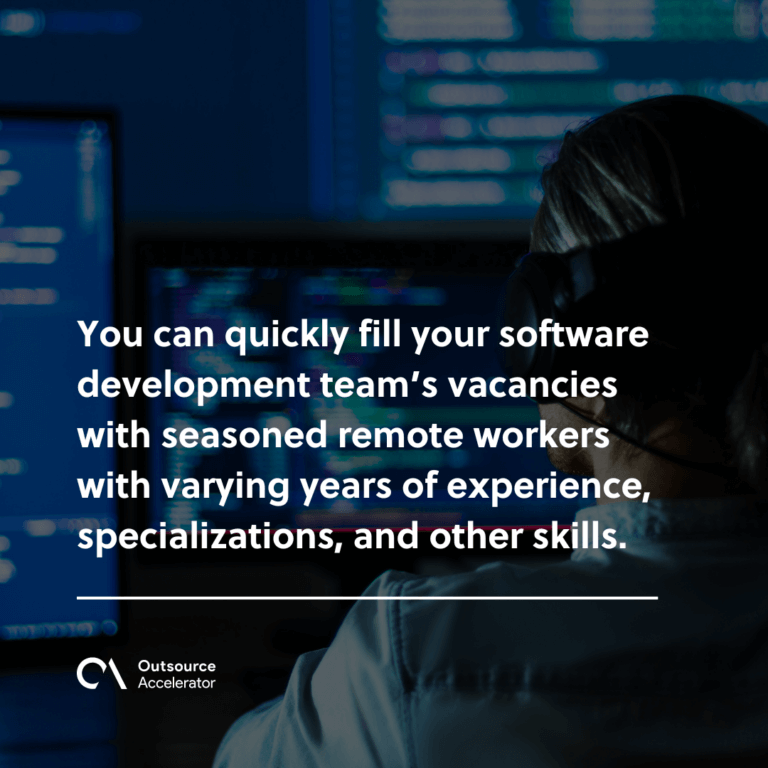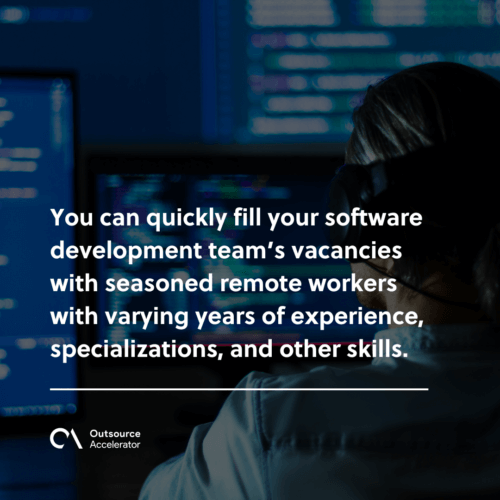 Qualities of a good offshore software development services provider
It's important to ascertain the competence and service quality of your potential offshore outsourcing partner before inking an agreement with them.
These are some of the qualities that your potential offshore software development provider must have:
High Net Promoter Score
A high Net Promoter Score, or NPS, is a good indicator of a high-quality company. A BPO firm's NPS goes up or down depending on the satisfaction rating of its past and present clients.
BPOs assess their own NPS through surveys they give to their customers. These surveys are one of the ways for BPOs to assure quality assurance.
Flexible and transparent
You'll want to partner with an offshore BPO provider that can accommodate the unique needs of your business. In this aspect, you should consider their business model, communication methods, and time zone where they operate.
When offshoring, you may want to move your operations to a region that closely matches your own time zone.
For instance, Australian businesses often outsource their operations to the Philippines as the two countries' time zones only differ by three hours at most.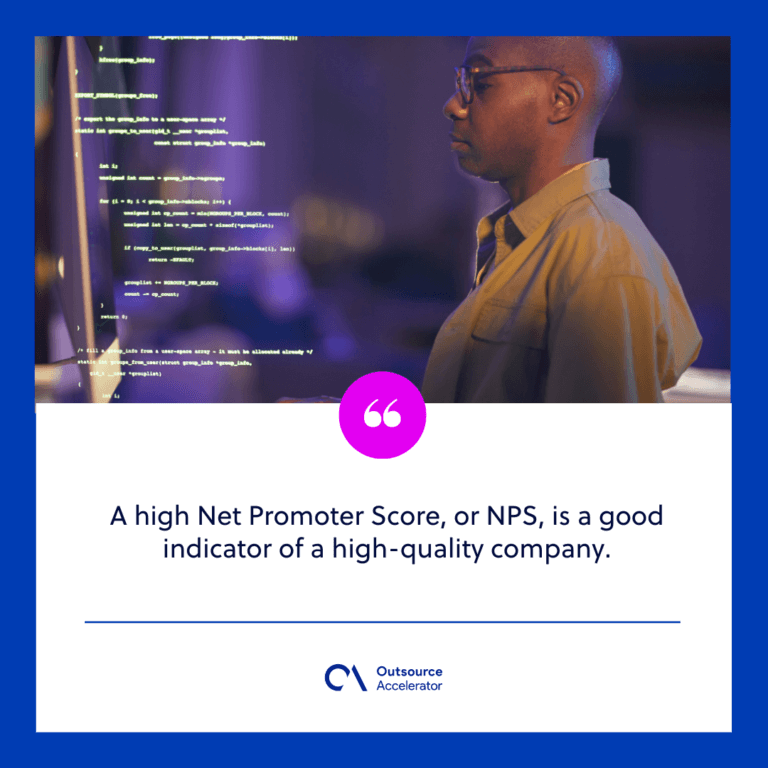 Offshore software development through Arcanys
Arcanys is a top choice for Australian companies wanting to offshore software development to the Philippines. The company lets businesses assemble their own team of dedicated Filipino software developers who effectively function as extensions of your team.
With access to the Philippines' labor market, you can essentially double your output without increasing your allotted budget.