What is an ideal payroll services provider?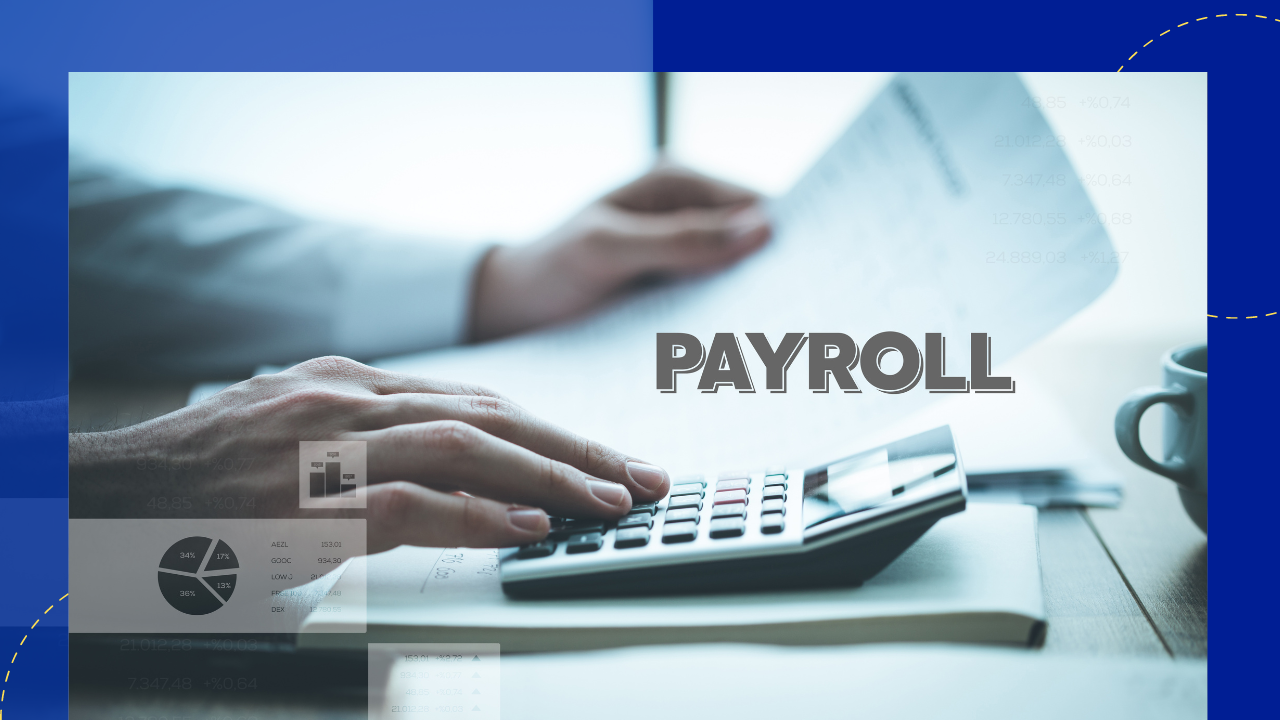 What is an ideal payroll services provider
Managing employee payroll is part and parcel of any business. Whether running a small business or a large corporation, you must handle your employees' payroll.
However, not every business owner has the needed skills to manage their payroll functions. Some businesses hire additional in-house employees to manage their payroll, but this option is not the best for every company.
If hiring in-house bookkeepers for your payroll is not a good fit for your business, you can always turn to offshore payroll services providers.
Offshoring payroll services is not only more cost-effective than retaining your payroll in-house, but it's also more efficient.
Read on below to learn more about offshore payroll services and what qualities you should look for in your offshore payroll services provider.
What are payroll services?
Payroll services are more than just handing out your employees' salaries. Various underlying processes make up what is called payroll. These processes are all connected to the final payout that your employees receive.
Thus, payroll services include:
Tracking employee attendance

Tracking the number of hours rendered by employees

Monitoring

compensation premiums

Calculating payroll taxes

Keeping electronic records of payroll records

Maintaining compliance with existing payroll laws and regulations

Preparing and submitting tax forms

Distributing payouts to employees, whether by direct bank deposit or check
Setting aside funds for your employees' social security contributions and other government-mandated benefits also falls under the purview of payroll services.
The myriad of responsibilities associated with maintaining an organized payroll process can be too much for some businesses. That's why they often turn to offshore payroll services providers that can better manage this process.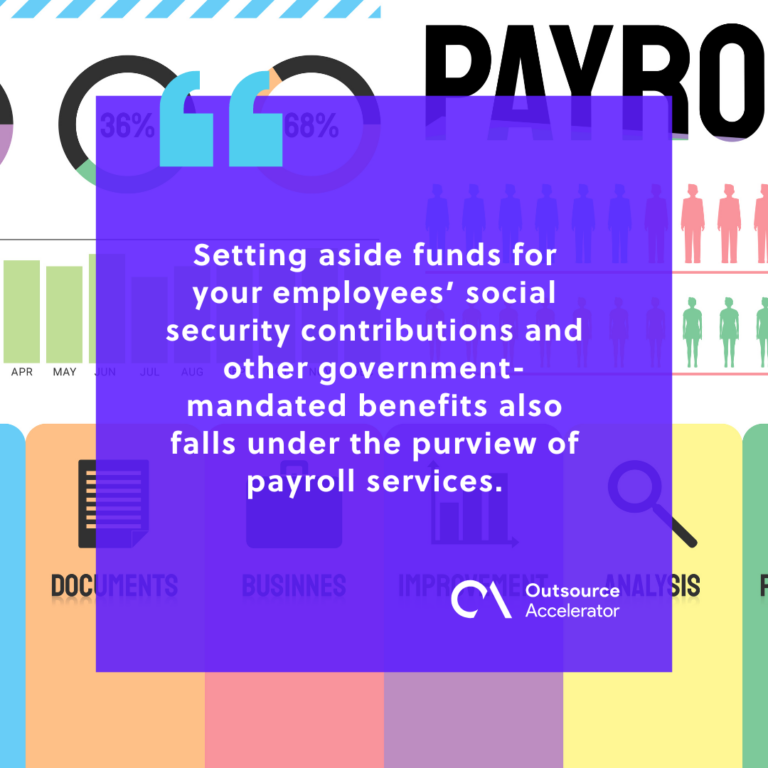 What are the qualities of a good payroll services provider?
Many business process outsourcing (BPO) firms offer payroll services. However, you should always thoroughly scrutinize the competence and service quality of your potential BPO partner.
Don't settle with a payroll services provider just because they offer massive cost savings. Take a step back and assess whether the promised cost savings are too good to be true. You may end up saving money, but the quality of the services you receive will be subpar.
Partnering with well-established and reliable offshore service providers like ConnectOS will save you a lot of trouble when offshoring payroll services.
When looking for potential payroll services providers, these are the qualities you should look for:
Proven expertise and reputation
Having certifications and industry awards to their name is a good indicator of a quality service provider. Look at the track record of your potential BPO partner and check its past and current clients to know more about the quality of the company's services.

Level of automation
Automation is the name of the game when it comes to offshoring services, particularly payroll services. 
Many payroll processes can be automated to save time and mitigate human error. Thus, automation capabilities are an essential criterion when choosing your potential provider.
Compliance
Payroll is subject to various state tax laws and regulations. It's imperative that you choose a service provider that can show you how well they're updating their payroll systems to remain compliant with existing laws and regulations.
Good value for money
Offshoring your payroll services will save you money, but you'll still have to pay. Since you'll spend anyway, you should find a service provider with the best bang for your buck.
Compare and contrast the level of services that your potential BPO partners provide and their prices.
Spending a little extra for an assured high-quality service can be better than settling for a low-cost provider with lackluster service.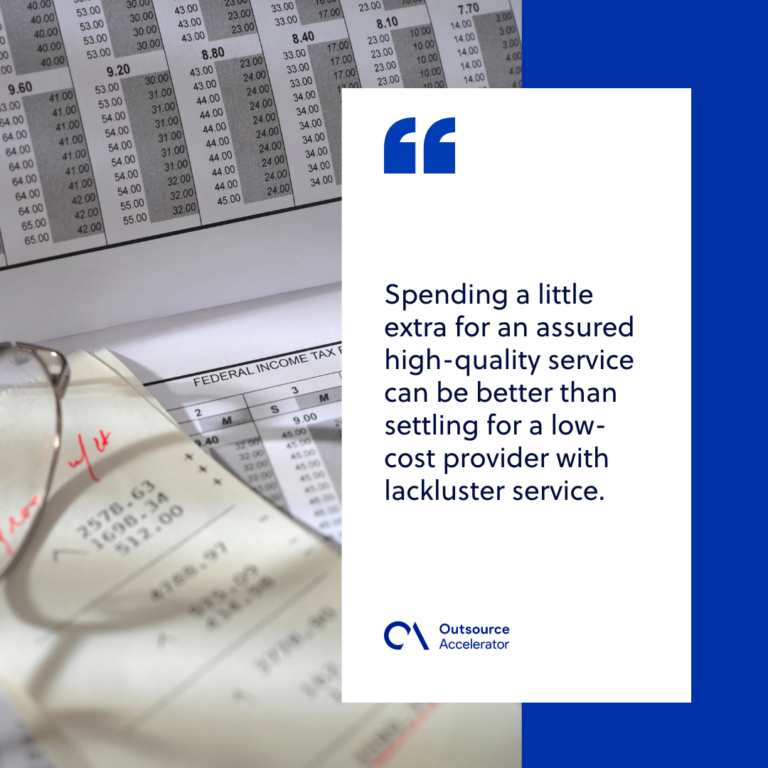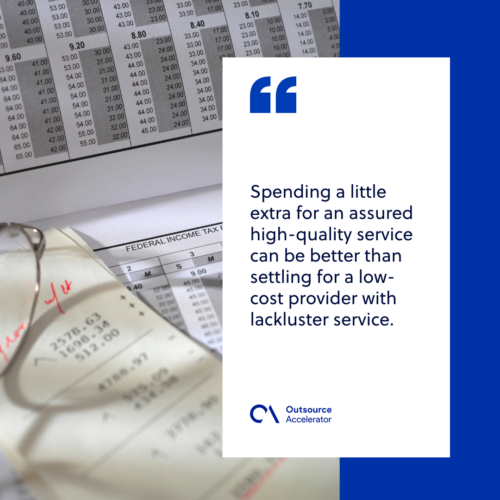 Should you offshore your payroll services?
Offshoring your business's payroll services can bring plenty of benefits to your company. These benefits include:
Reduced overhead costs
Offshore payroll services can help you save as much as 70% on salary costs by tapping into low-cost offshore labor markets. Additionally, it lets you save on expenses from end-to-end recruitment, training, and software and equipment purchases for your offshore staff.

Fewer errors, more expertise
BPO firms often employ in-house specialists for the various services they provide. This includes payroll specialists with in-depth knowledge of the process, the software tools, and governing rules and regulations.
Having experts take over your business's payroll services will result in fewer errors and more accurate and reliable execution of the processes.
Gets rid of complexities
Payroll can quickly become too complicated for businesses to handle. This is especially true if you have employees working offshore or even nearshore.
Some of the complexities you'll face will include:
Dealing with multi-currency arrangements

Remaining compliant with domestic and foreign tax regulations

More tax audits and notices
Entrusting your payroll services to an offshore service provider will take these burdens off your plate.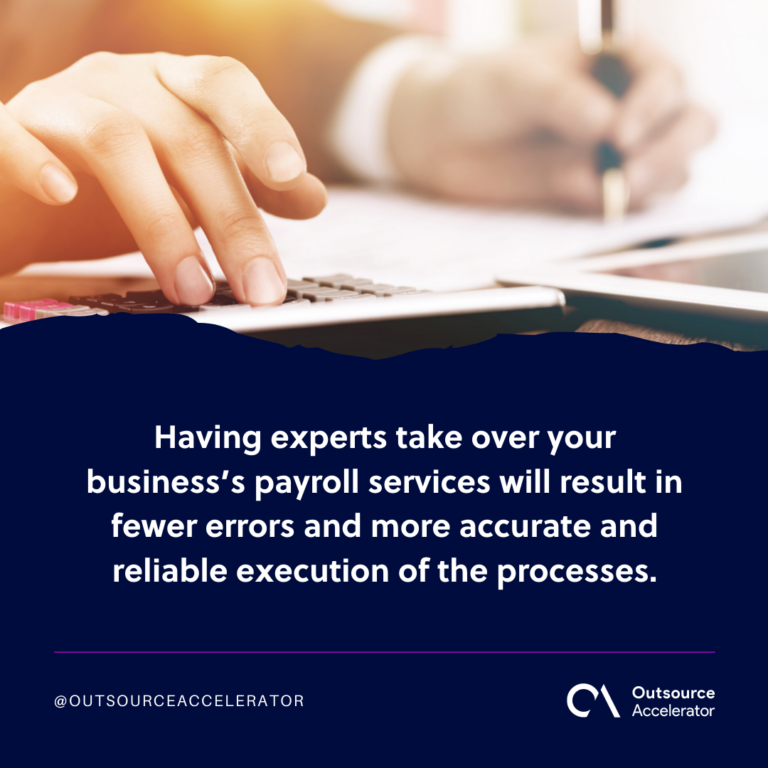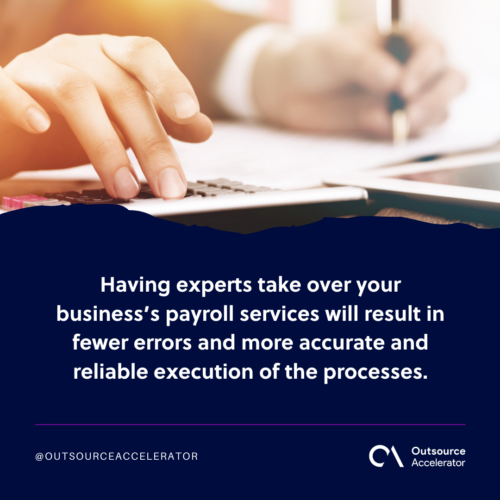 Improve your payroll services by offshoring with ConnectOS
ConnectOS is a leading provider of offshoConnectOS is a leading offshoring partner for growing businesses across a wide range of industries.For over a decade, they've been helping companies take a global approach to resourcing, tapping into the world-class talent available in the Philippines.
By offshoring through ConnectOS, you can augment your local team with remote payroll talent, saving as much as 70% compared to onshore hiring.
Unlike typical BPO companies, ConnectOS' Integrated Resourcing solutions enable you to retain a high level of control over the management of your offshored services. Essentially, the specialists assigned to handle your payroll services are managed by you but employed by ConnectOS.
Offshore your payroll services through ConnectOS now!