Hire an offshore call center with Executive Boutique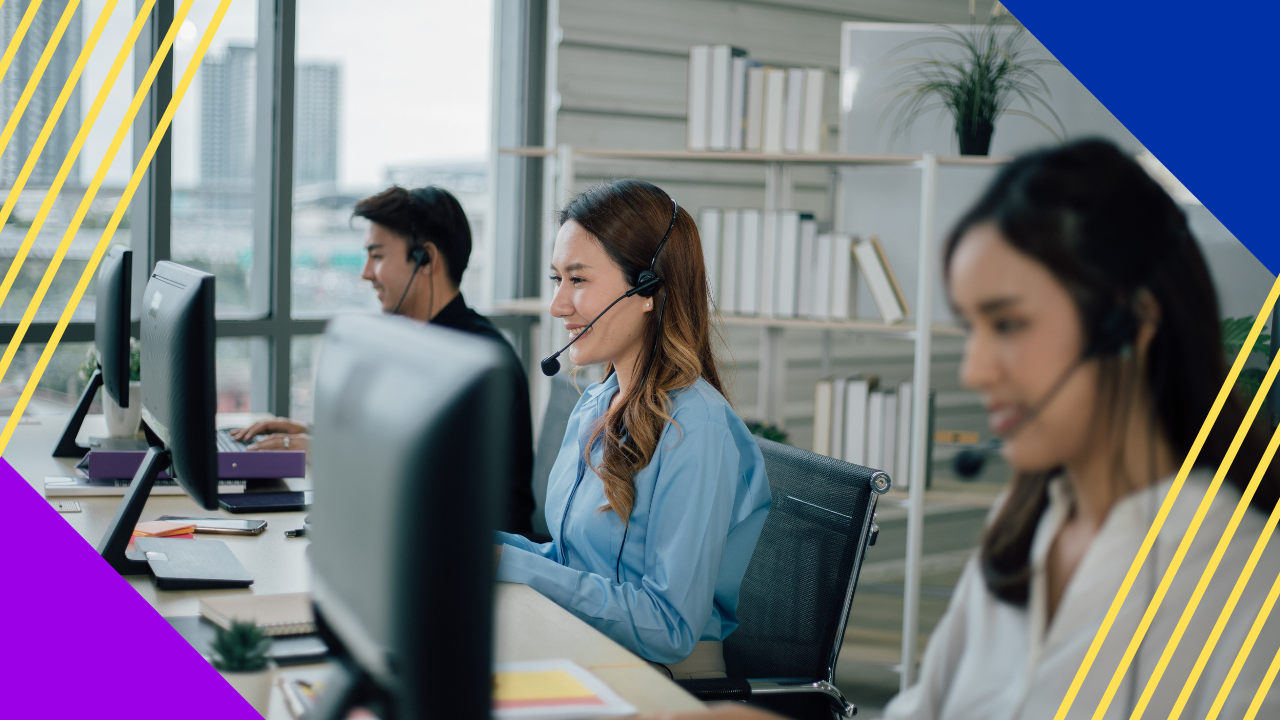 In today's cutthroat business world, delivering exceptional customer service isn't just a nice-to-have—it's the key to standing tall amidst the competition.
Every smart organization seeks innovative ways to enrich customer experiences while controlling costs.
One effective solution that has gained significant popularity is hiring staff from an offshore call center. A prominent and reliable partner in this domain is Executive Boutique Call Center.
Understanding offshore call centers
An offshore call center refers to a specialized facility strategically located in a foreign country, distinct from the company's central operations.
Offshore call centers undertake a wide range of customer support functions, encompassing the following services:
Inbound and outbound calls

Email assistance

Live chat services

Help desk support

Data and business analysis

Lead generation
The fundamental objective behind establishing an offshore call center is to offer cost-effective and streamlined customer support solutions. In fact, 71% of financial executives offshore parts of their services for cost savings.
By capitalizing on lower labor costs and access to a vast talent pool, companies can optimize their operational expenses without compromising on the quality of service rendered.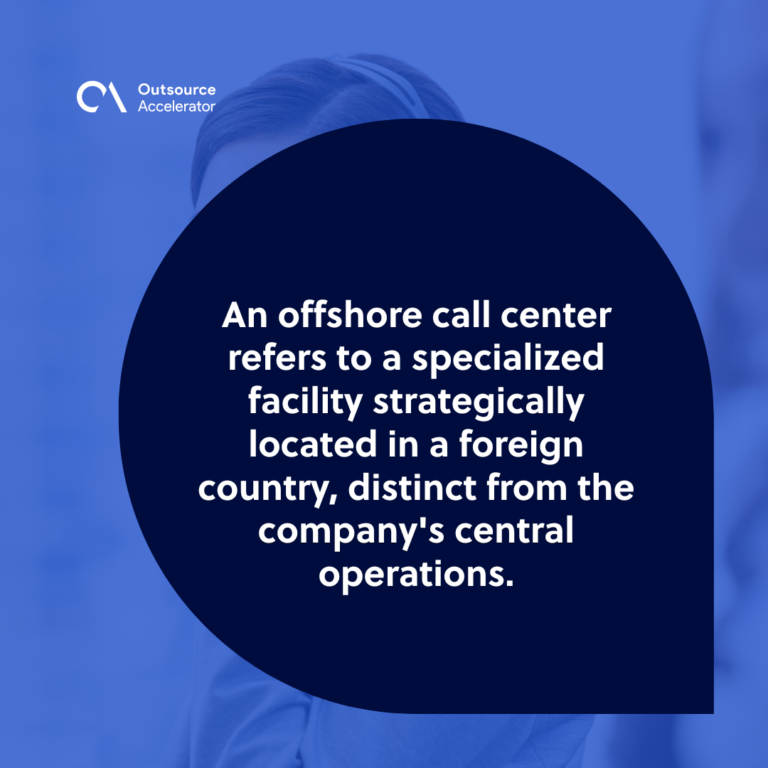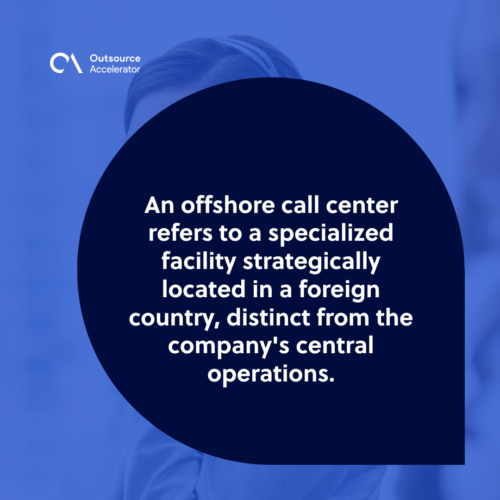 FAQs about offshore call centers 
Here are the frequently asked questions about offshore call centers:
How is data security ensured?
Data security is a primary concern for businesses when offshoring their customer support. But clients need not worry because offshoring companies employ robust security measures to safeguard sensitive information.
What are the communication channels used?
Offshoring companies leverage communication channels like phone calls, emails, live chat, and social media to ensure seamless customer interactions. 
This multi-channel approach enables customers to choose their preferred method of communication.
How does time zone difference impact operations?
One of the advantages of partnering with an offshore call center is the access to favorable time zones. 
Executive Boutique Call Center is an example of a third-party provider situated in the Philippines. For foreign companies partnering with Executive Boutique Call Center, the time zone differences allow them to operate over extended periods, even 24/7. 
What industries can benefit from an offshore call center?
Numerous industries can benefit from outsourcing customer support to an offshore call center. E-commerce, technology, healthcare, travel, and finance are just some sectors that can significantly enhance their customer service capabilities through offshore outsourcing.
Benefits of offshore call centers 
Let's take an in-depth look at the benefits of the offshore call center. When you partner with Executive Boutique Call Center, you can take full advantage of the following:
Cost savings
Working with an offshore call center brings substantial cost savings to businesses.
Executive Boutique Call Center offers a highly skilled and proficient workforce at a fraction of the costs of employing workers locally.
This cost advantage allows businesses to allocate their budget more efficiently, invest in growth initiatives, or enhance other critical aspects of their operations.
Round-the-clock support
Round-the-clock support is a hallmark of every offshore call center. Regardless of the customer's geographical location, a contact center can ensure 24/7 availability, promptly addressing inquiries and resolving issues.
This comprehensive support framework improves customers' waiting time and demonstrates the business's commitment to exceptional service.
With the capacity to provide round-the-clock support, Executive Boutique Call Center equips businesses with the ability to cater to their customers' needs anytime and anywhere.
Focus on core competencies
Offshoring customer support to a specialized partner like Executive Boutique Call Center enables businesses to refocus their energy and resources on strategic endeavors.
Businesses can concentrate on innovation, product development, and market expansion by offloading customer service management's time-consuming and intricate tasks.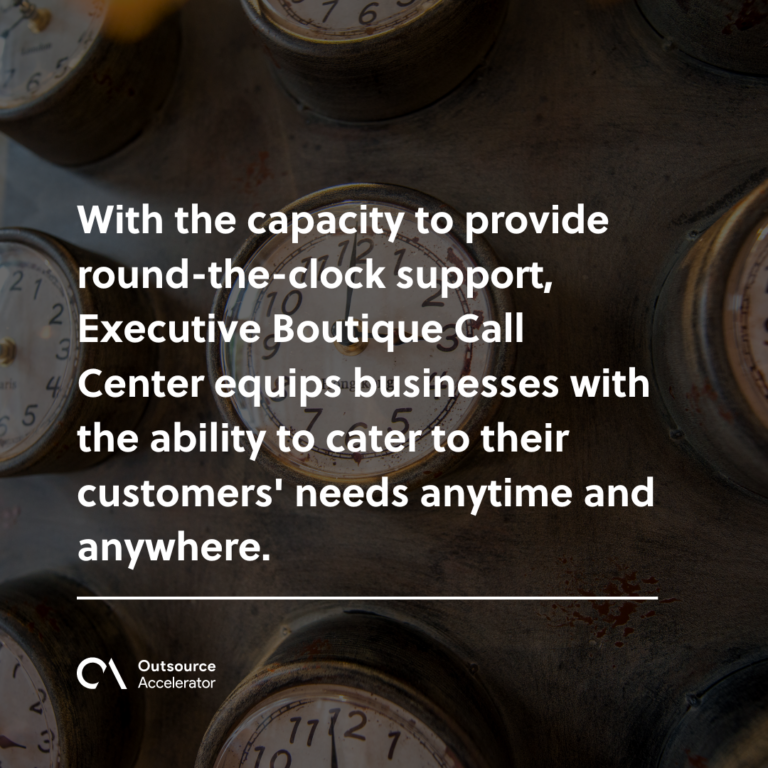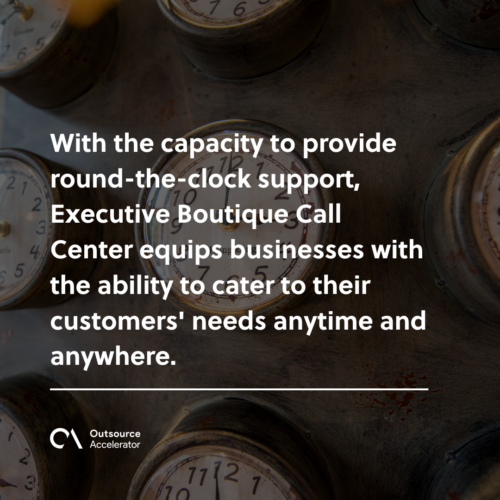 Offshore call center: Partnering with Executive Boutique
Here are the steps in partnering with Executive Boutique Call Center for your offshore call center requirements:
Initial consultation
Executive Boutique Call Center collaborates with clients by conducting an in-depth consultation to understand their requirements and challenges. This process helps devise solutions that align with the client's business goals.
Tailoring services to business needs
No two businesses are identical, and Executive Boutique Call Center recognizes this. The firm customizes its services to cater to the unique demands of each client, ensuring a seamless fit with the client's brand image.

Implementation and onboarding
Executive Boutique ensures a smooth transition during the implementation phase. It sets up the necessary infrastructure, trains agents, and integrates systems with the client's platform.
Performance monitoring and reporting
The company employs rigorous performance monitoring and reporting mechanisms to maintain high service quality. Regular updates and insights are provided to clients to track the services' effectiveness.
Executive Boutique Call Center stands out in offshore outsourcing
Executive Boutique Call Center is renowned in the offshore call center industry because of its unwavering commitment to customer satisfaction.
With a team of highly skilled agents, state-of-the-art technology, and adherence to strict data security protocols, this company ensures a seamless customer experience for its clients!