What to look for when hiring an offshore accountant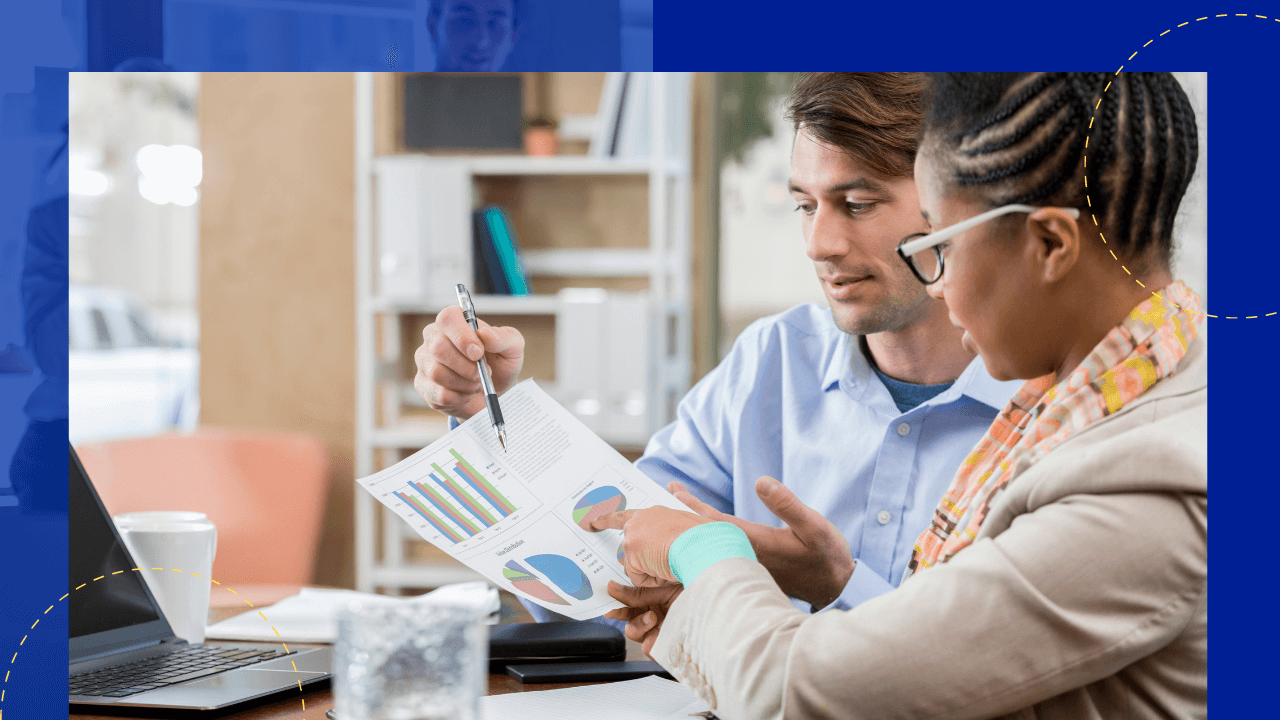 Your accounting department lets you determine your overall financial health. If done correctly, it helps you track all finances that come in and out of your business. And when you have well-detailed financial records, it can aid important business decisions for your company. 
Accounting roles involve labor-intensive tasks that require proficient skills, knowledge, and accounting expertise. This is why many businesses would rather choose offshore accountants than employ in-house for practical reasons. 
But how can offshoring accountants be a more viable solution for your business? More importantly, what things should you consider when offshoring an accountant? 
How can offshoring accounting services benefit your business? 
Finding quality talent can be hard work. In some cases, businesses that are not able to hire accounting professionals can be a result of a talent gap. Some do not have enough budget to acquire certified accountants. 
Offshoring accountants provides businesses of all shapes and sizes with the following benefits: 
Time-saving 
When hiring an in-house accountant, you would need to go through the entire recruitment process. Your new hire would also have to undergo onboarding and training to learn particular tasks, including the software they need to accomplish their job. 
You don't have to go through all these time-consuming responsibilities when you offshore an accountant. Offshore staffing companies like Doxa7 will take care of the hiring, training process, and employee management. 
Better productivity
Accountants provided by Doxa7 are always up-to-date with the latest accounting trends as they usually handle clients from various industries. 
To help with your core in-house staff's productivity, you can delegate some of the time-consuming tasks to your remote accountant. Examples of these tasks include bookkeeping, auditing, and financial reporting.
Cost efficiency 
Offshoring, in general, is more cost-effective than hiring an internal staff. Hiring an in-house accountant can be pricey, especially when factoring in the salary, benefits, taxes, office space, supplies, and other resources. 
Offshoring firms offer fixed prices depending on the accounting solution you require. Additionally, you can save up to 70% of your overhead costs when you offshore to developing countries. This way, you can leverage quality talent while saving massively on your finances.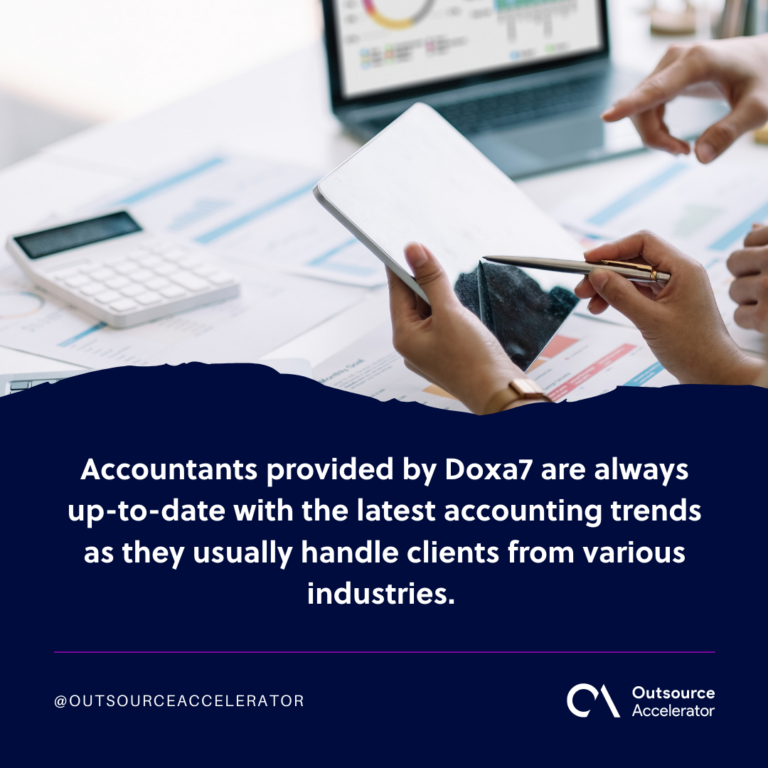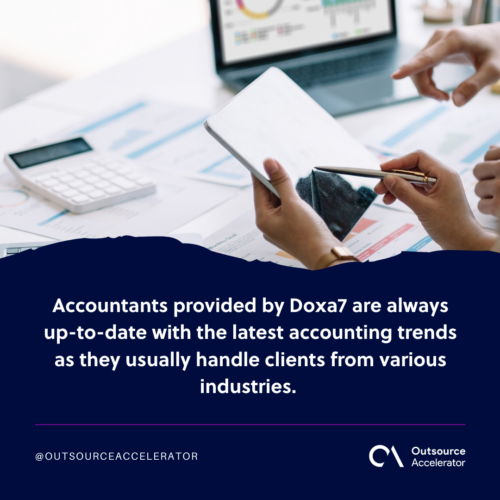 What to look for in an offshore accountant 
You need a reliable and trustworthy offshoring provider to handle your accounting roles. Looking for the right offshore accountant who fully understands your type of industry and requirements can be a challenge. 
To help with your search, here are some of the things you should look for in an offshore accountant: 
Solid accounting credentials 
A good offshoring company has a wide pool of qualified accountants properly trained to deliver high-quality results. Check if your chosen offshoring provider has licensed accountants who have all the necessary certifications for their job.  
Apart from credentials, do a background check about the offshoring company. Evaluate the reviews from their former clients to help you measure their capabilities. 
Cultural compatibility
Cultural compatibility is always critical in your offshoring success. It is best if you choose an offshore accounting provider that shares the same vision and understands your company culture. This helps ensure that you can work collaboratively without added barriers. 
Up-to-date technology and infrastructure
Look into the kind of accounting technology your offshoring partner is using. Choose an offshoring company that will give you access to the latest tools and technology as it can better support your business growth. 
Security measures 
When you offshore accounting, this also means that you will be sharing sensitive information about your organization with a third party. 
Learn what security measures your offshoring provider has in place to protect all your financial and accounting data. A non-disclosure agreement should be signed by both you and your offshoring partner.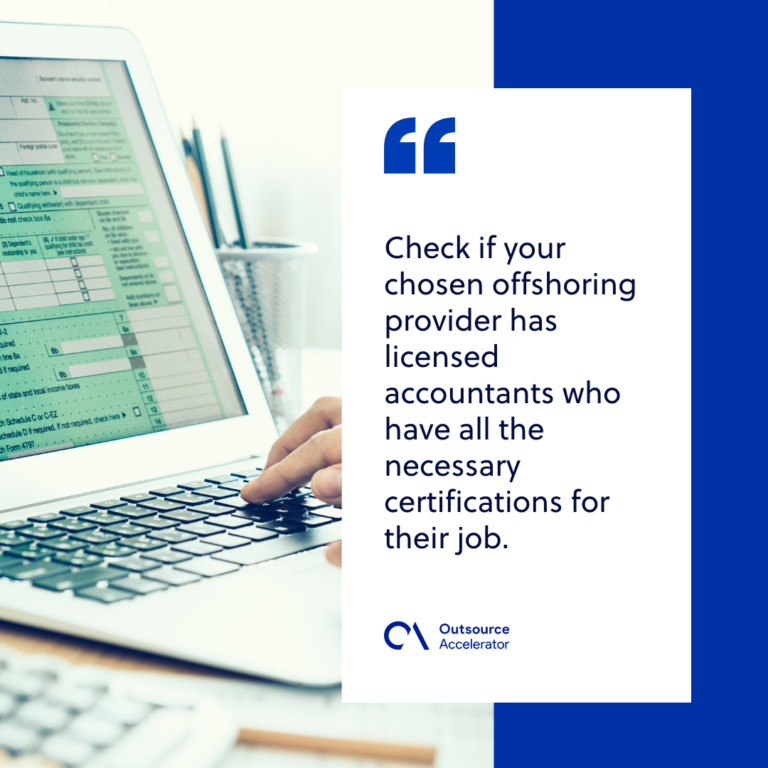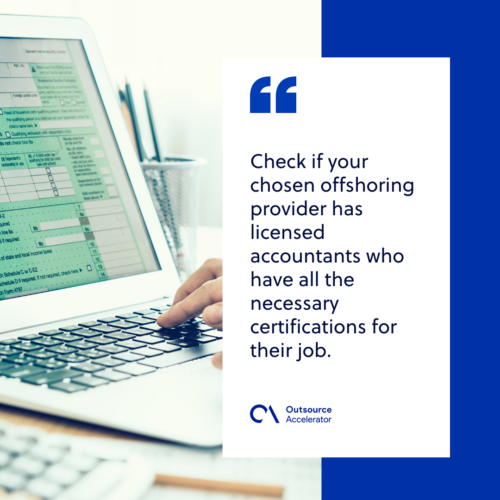 Find offshore accountants with an excellent track record with Doxa7!
Doxa7 combines highly-qualified talents with top-of-the-line technology! Work only with Offshore accountants that suit your company culture and care about your business growth. 
Get started with your offshoring venture, and hire your remote accountant today!