10 best mortgage software for streamlined lending operations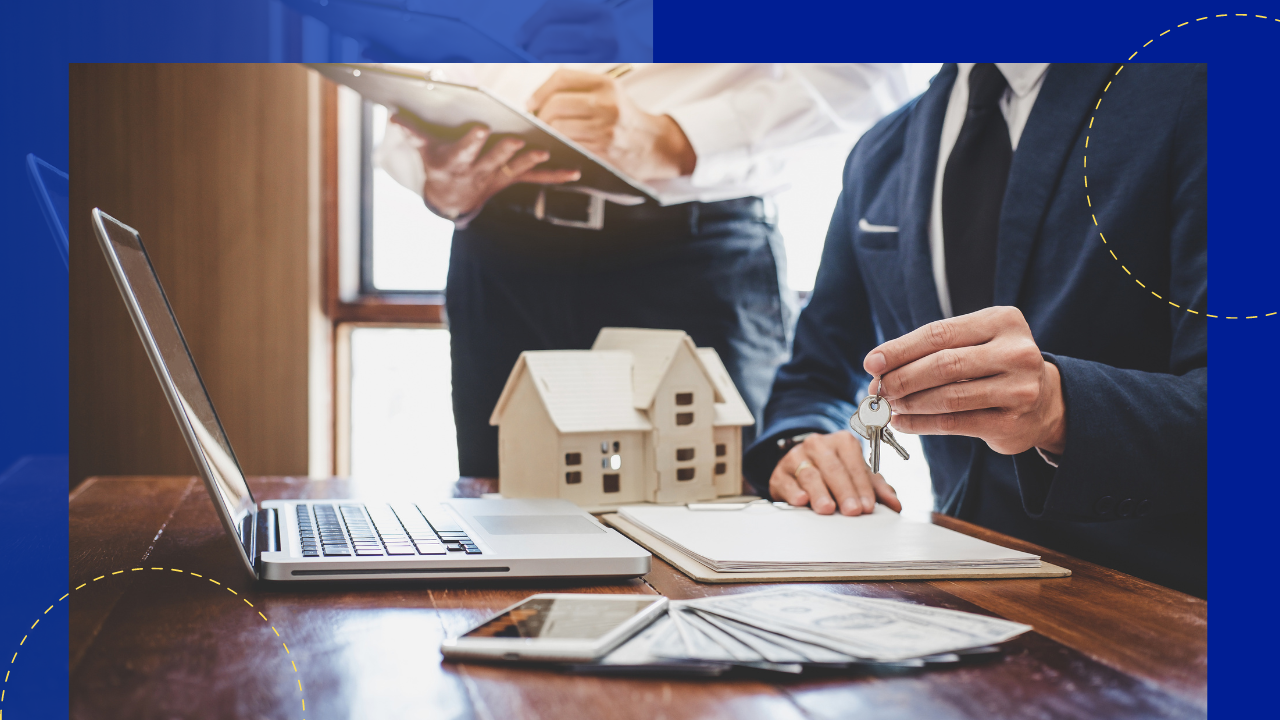 List of mortgage software tools
Efficient lending operations are the lifeblood of the mortgage industry, powering the dream of homeownership for millions. 
As lending institutions continue to evolve, technology has become a vital component. Mortgage software is one of the most important tools for loan officers in the modern business landscape.
Verified Market Research reveals the demand for mortgage software is driven by factors such as low home interest rates and lucrative developer schemes. The market for these tools is expected to grow at a CAGR of 4% between 2023 and 2030.
So if you're in the market for a mortgage and loan solution, we've listed the top ten software empowering lenders.
What is mortgage software?
Mortgage software is a technological solution designed to help mortgage lenders, brokers, and bankers manage their day-to-day operations.
This tool streamlines the mortgage process by automating key tasks, such as:

Loan origination

Loan servicing

Customer relationship management (CRM)
Mortgage software helps loan officers oversee their loan pipeline. This gives them better control, visibility, and collaboration in the lending process.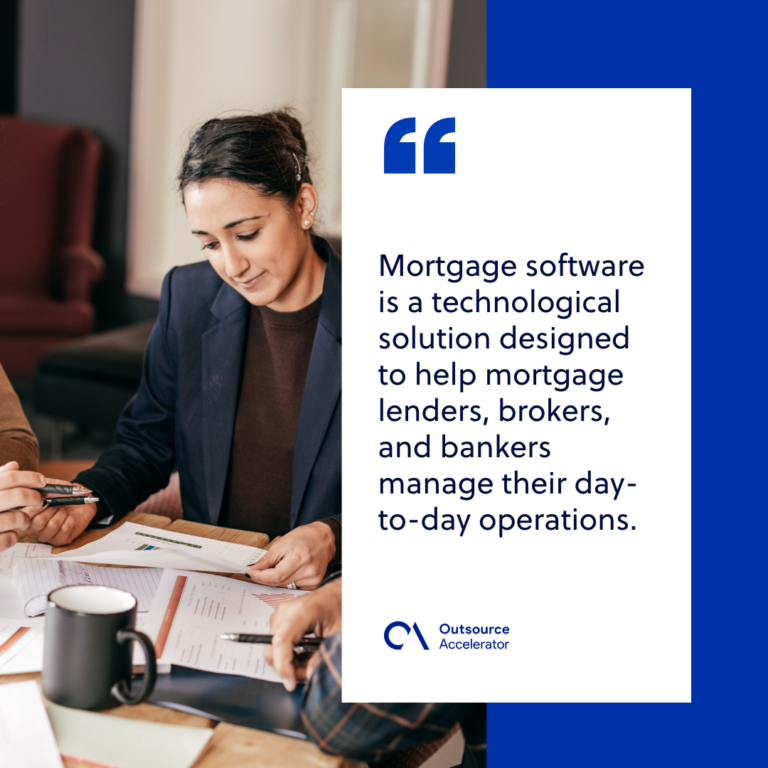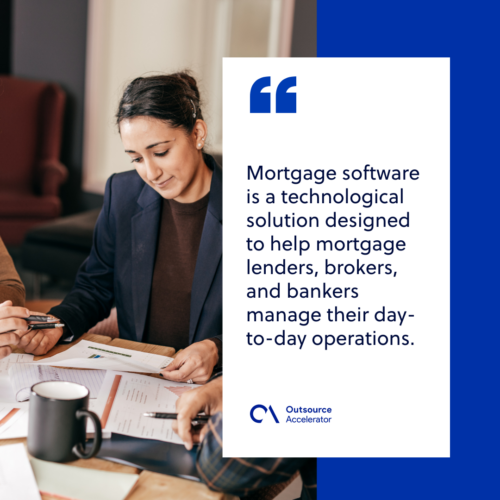 Key features of mortgage software
Mortgage software comes with various features aiming to streamline the lending process. Some of its common attributes include:
Application management
Mortgage software centralizes application data. This allows lenders to review, process, and communicate with borrowers easily. 
Automated workflows ensure that each step, from document submission to credit checks, is seamlessly executed.
Loan origination 
Loan origination is the process loan officers use to create a new mortgage loan. 
Mortgage software that automates the origination process can help build better loan packages. This results in more efficient workflows and reduces time-to-close.
Automated underwriting
Automated underwriting uses software to evaluate borrower creditworthiness. This feature improves the accuracy of lending decisions. 
Additionally, it can help lenders improve loan quality and reduce the risk of default.
Loan servicing
Loan servicing is the process that manages the ongoing administration of a mortgage loan. 
Mortgage software can automate critical servicing tasks such as payment processing, escrow management, and tax and insurance tracking.
Document management
Mortgage software helps digitally store and organize crucial loan documents in a secure platform. 
Users can easily access, review, and share documents with borrowers, real estate agents, and other stakeholders. This centralized approach enhances collaboration, reduces paperwork, and ensures compliance with regulatory requirements.
Customer communication
Effective communication is paramount in the lending process. Mortgage software facilitates seamless interactions between lenders and borrowers through integrated messaging systems. 
With this feature, borrowers can receive timely updates on their loan status. It guarantees transparency and a positive customer experience.
Reporting and analytics
Mortgage software generate actionable analytics by giving real-time insights into lending performance. It can do so through intuitive dashboards and reports.
This empowers brokers to monitor key metrics, identify trends, and make informed decisions. It also enhances operational efficiency and strategic planning.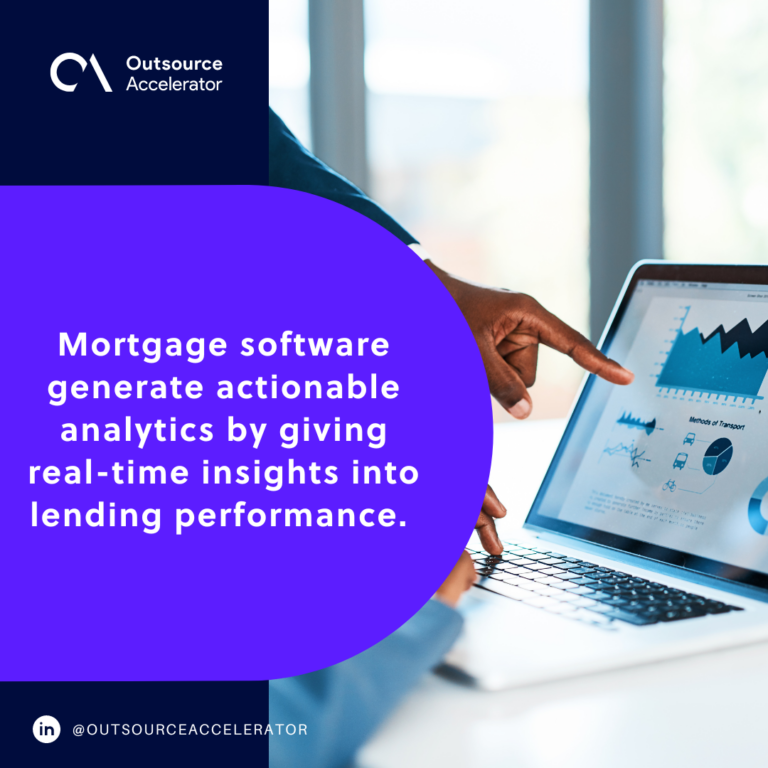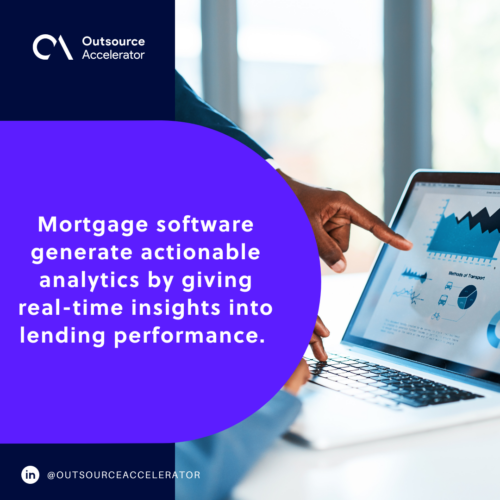 Compliance management
Navigating the intricate landscape of regulatory compliance is simplified with mortgage software. 
These solutions incorporate compliance checks and validations. They check if loans adhere to industry regulations and help avoid non-compliance risks.
Integration capabilities
Mortgage software seamlessly integrates with other essential systems, such as accounting, CRM, and title services. This interoperability streamlines data flow, eliminates data silos, and enhances operational efficiency.
Workflow customization
Adaptability is crucial in the lending landscape. Mortgage software offers customizable workflows that tailor processes to unique needs. This helps align with specific business strategies.
Document e-signatures
The convenience of electronic signatures is a game-changer in the lending process. Mortgage software often includes e-signature capabilities, allowing borrowers to sign documents digitally. 
This feature expedites the approval process and reduces the need for physical paperwork.
Benefits of using mortgage software
Mortgage software offers a wide range of benefits for loan officers. Here's why you should consider using these tools:
Speed and efficiency
Mortgage tools can drastically reduce turnaround times. This assures borrowers receive timely approvals and funds. Lenders can also easily handle higher loan volumes, boosting operational efficiency and revenue potential.
Accuracy and compliance
Built-in validations and compliance checks in software cut errors and ensure adherence to regulatory guidelines. 
This lets mortgage brokers confidently navigate complex regulations, reducing the risk of costly penalties or delays.
Enhanced customer experience
Borrowers can enjoy a user-friendly digital lending journey. From submitting applications online to e-signing documents, mortgage software enhances convenience. Therefore, it creates a positive and modern lending experience.
Reduced costs
Automation lessens the need for manual data entry and redundant tasks, leading to cost savings. Loan officers can allocate resources more efficiently, focusing on high-value activities rather than administrative tasks.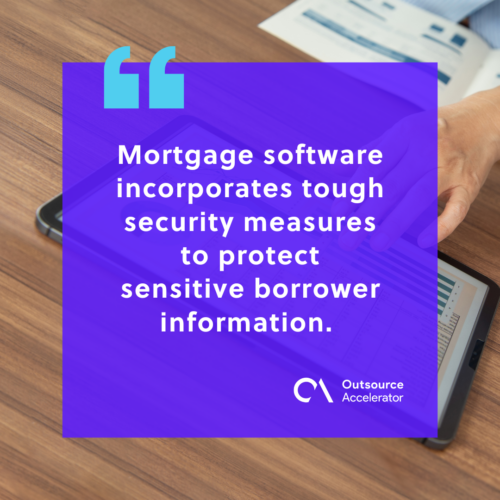 Data security
Mortgage software incorporates tough security measures to protect sensitive borrower information. This instills trust in borrowers and protects lenders from potential data breaches.
Scalability
As loan volumes fluctuate, mortgage software scales to accommodate increased demand. This flexibility ensures loaners adapt to changing market conditions without compromising service quality.

Top 10 mortgage software solutions
Here are the top ten mortgage software solutions (in no particular order) that are prominently used in the industry:
The Mortgage Office is a powerful, flexible, and intuitive loan management solution. It has been helping businesses across various industries for decades with its ultimate lending software.
The tool has powerful accounting and reporting features that help manage loans, payments, and collections.
Pricing: The Mortgage Office's pricing starts at $650 per month.
Qualia is a cloud-based real estate closing and title software that simplifies home buying. It gives lenders access to all critical documents and processes in one platform. 
The software uses artificial intelligence (AI) and a user-friendly interface to manage the closing process. It includes agency management, underwriting, escrow, accounting, and insights reporting features.
Pricing: Qualia's pricing depends on the type of user. Lenders can contact the company for a quote through its website.
SimpleNexus is a powerful homeownership platform that streamlines the mortgage process. It allows loan officers to connect directly with borrowers and manage their pipelines from anywhere. 
Its features include leads tracking, pre-qualification, and document collection. The software has a mobile app version, providing convenience for all users.
Pricing: Payment for using SimpleNexus apps is subscription-based. Users can reach out through its website for a quote.
Floify is a cloud-based mortgage automation and communication platform that simplifies loan origination. 
This tool collects and verifies borrower documents and tracks loan progress. It also lets borrowers and loan officers collaborate in one central platform.
Floify offers features such as document management, automated loan workflows, and integrations with various industry-leading tools.
Pricing: Floify offers monthly and annual billing for its plans. Its basic Business Plan for a single user costs $79 per month.
Roostify is a digital home lending platform that lets lenders better manage their pipelines. It does so by digitizing and automating many loan processes. 
This mortgage software offers an intuitive interface that leverages AI and automation to help loan officers originate more loans with speed and scale. 
Pricing: Those interested in how much Roostify's apps cost must contact the company directly.
The Loan Office is a complete loan management platform offering robust loan origination and servicing features. 
It automates the tracking of compliance, banking, and accounting tasks. This browser-based mortgage software is best suited for small lenders due to its simplicity and affordability.
Pricing: Base plans for The Loan Office start at around $249 to $389 a month.
TurnKey Lender is an end-to-end loan origination and servicing platform that automates critical loan management tasks and processes. 
It is customizable and provides features to manage a diverse range of loan types, including commercial lending and leasing.
Pricing: Interested parties need to contact TurnKey Lender to know its pricing.
LendingWise is a cloud-based mortgage software that streamlines the entire lending process. It allows loan officers to originate loans and manage their pipelines in one platform. 
Its features include CRM, LOS, and calendaring. LendingWise also offers API integrations, which can be an added advantage. 
Pricing: LendingWise offers monthly and annual plans. Its Starter plan with base features costs around $149 per month.
Margill Loan Manager is a comprehensive loan servicing and management software solution.
It offers powerful features that streamline loan origination, servicing, and collections. This means lenders can manage their loan portfolios effectively.
With Margill Loan Manager, loaners can automate payment processing, generate accurate amortization schedules, track borrower information, and manage loan documents.
The software also provides tools for compliance management and reporting.
Pricing: Margill Loan Manager's pricing is based on the number of users and loans, but users can sign up for a free trial. A one-time cost for installation and an on-site license is applied. There is also annual billing for software updates. 
BNTouch Mortgage CRM is a mortgage management system that offers custom automation and lead reporting features. 
This mortgage software includes lead, loan, and pipeline management. It also offers essential integrations with third-party providers and a mobile app platform.
Pricing: BNTouch Mortgage CRM's monthly pricing starts at $148.00 per user. An activation fee ranges from $79 to $99, depending on the number of users and the availed plan.