What is a medical writer?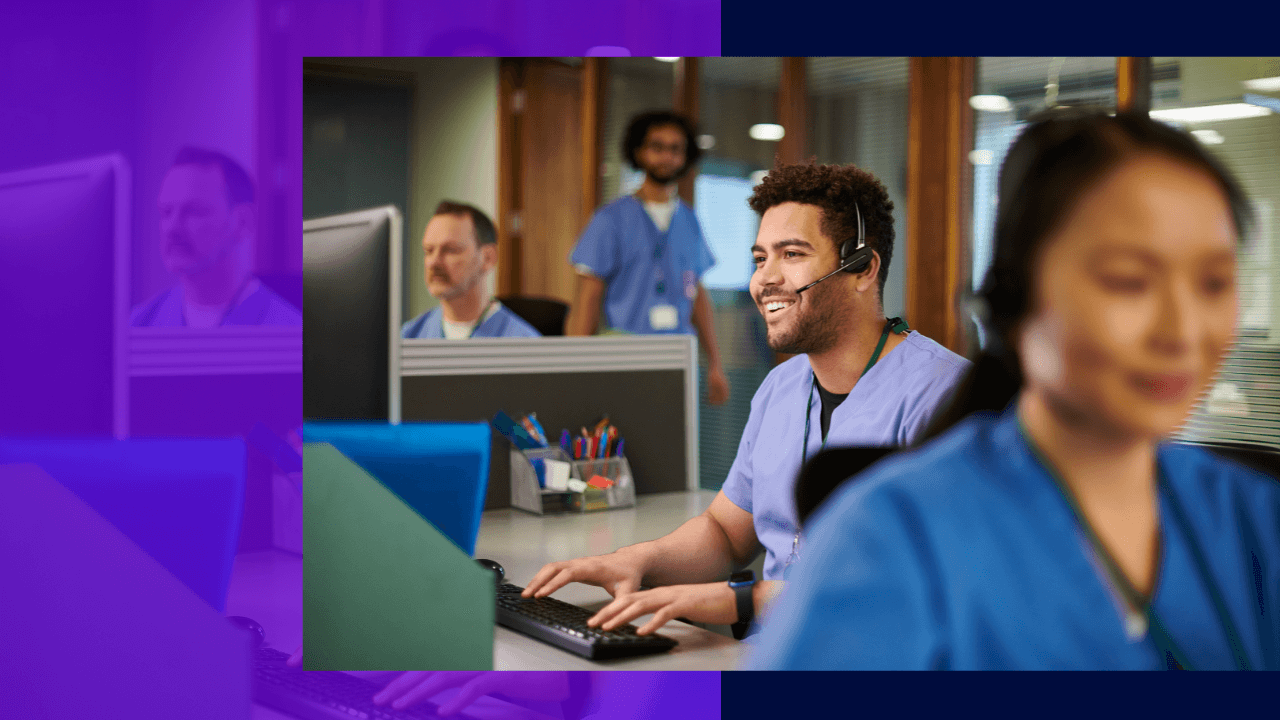 The world of healthcare constantly changes due to several factors that affect it. This includes technology, medical breakthroughs, and updates on medical trends.
One of a valuable health organization's tasks involves delivering this information to its audience and other professionals. Large institutions such as Harvard School of Public Health are the best examples of this, where they produce health and medical content everyone can use daily.
Combining their writing and scientific research skills, a medical writer has the expertise you need to replicate this in your healthcare company.
What is a medical writer?
Medical writers are the ones specializing in scientific writing in the medical field. They combine their expertise in writing and science to write detailed research, articles, and other papers with extensive detail and according to the scientific process.
With continuous medical advancements, medical writers are increasingly needed to convey the latest information in medicine to healthcare professionals and the general public.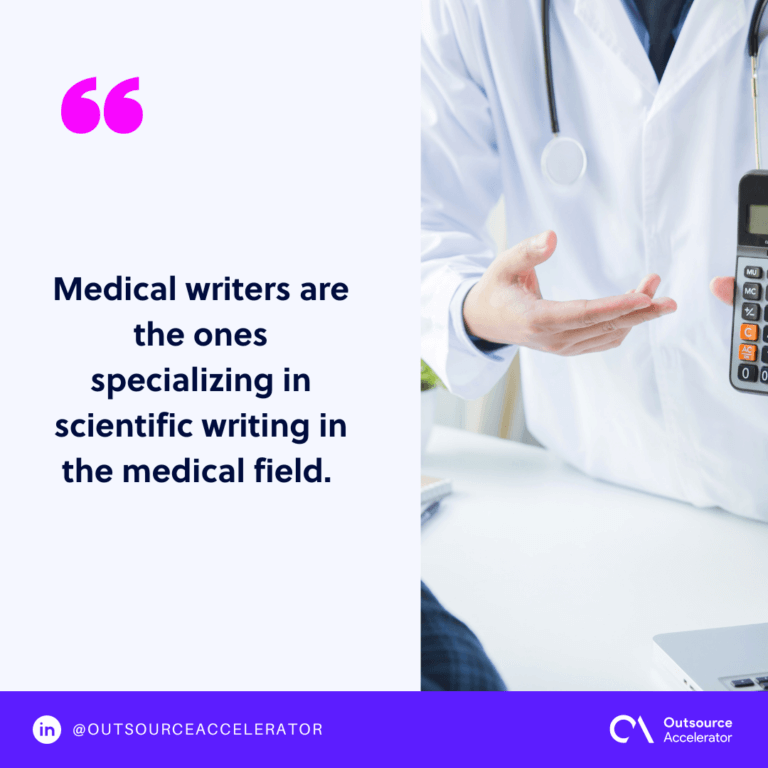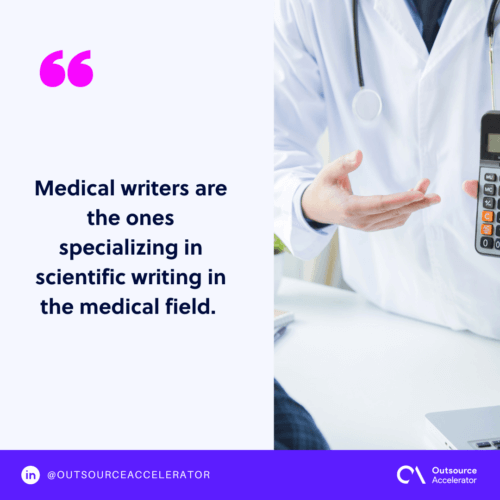 What do medical writers write
Medical writers produce content that varies according to their audience. Some of the works they produce include:
Abstracts

Medical textbooks

Advertising materials

White papers

Other documents related to healthcare policies



Qualifications for a medical writer role
Being a medical writer does not require extensive qualifications at hand. However, compared to other writing roles, it requires a wide knowledge of life science and medical fields.
At the same time, they need an understanding of medical jargon and terminology paired with good writing skills to relay their message better. Employers usually take extra measures to help their writers improve their craft. 
Service providers like Eclaro, for instance, arm their medical writers with related training and certifications to help them produce effective medical content for their clients.
If you are interested in hiring one, here are some qualifications you should look for in a medical writer.
Educational background
At a minimum, a medical writer should be a Bachelor's degree holder in medical or scientific fields. Some employers also consider applicants with English, journalism, or communication degrees as long as they have related work experience.
While it is not required, medical writers holding an MSc or Ph.D. degree have more chances of advancing their careers.
Certifications
Another qualification to look for in a medical writer is their certification. Even universities and hospital education programs provide comprehensive medical writing courses to those seeking certification.
Some institutions that provide medical writing certifications include:
Drug Information Association (DIA)

Medical Writing Certification Commission (MWCC)
Work experience
Having work experience in scientific research and medicine-related fields is a huge plus in hiring a medical writer.
While most beginners have difficulties getting hired instantly in this role, they can take some steps to increase their chances. This includes volunteering in health institutions and state health departments.
Freelancing is also a viable way for them to gain ample experience in medical writing.
Medical writer salary
Being a role with specialized qualifications, the salary of a medical writer is understandably higher than other writing roles.
Career site Indeed projects that a medical writer in the US earns an average of US$71.16 an hour. An entry-level writer makes up to US$47.14 an hour, while those with years of experience earn up to more than US$100 hourly.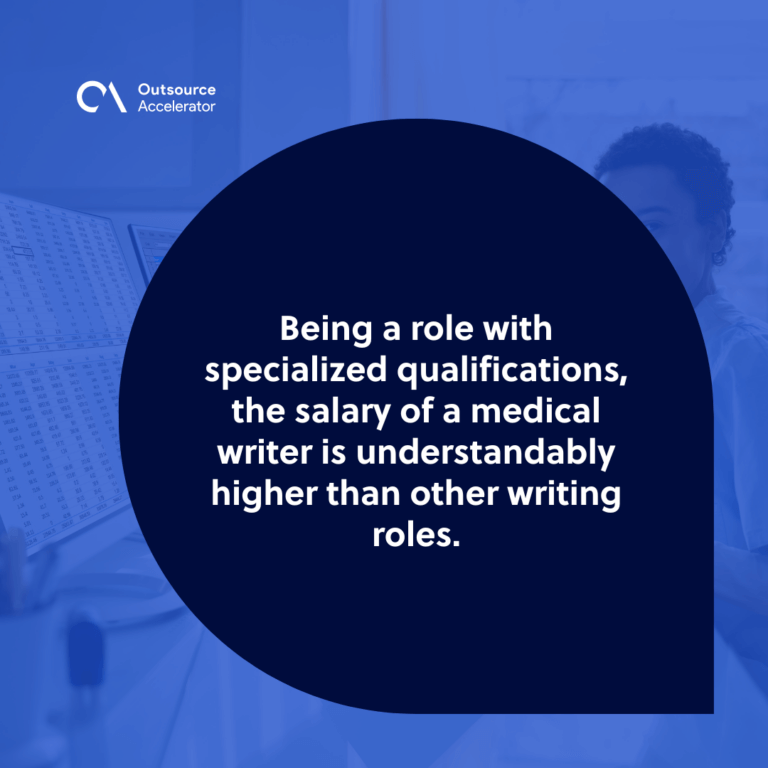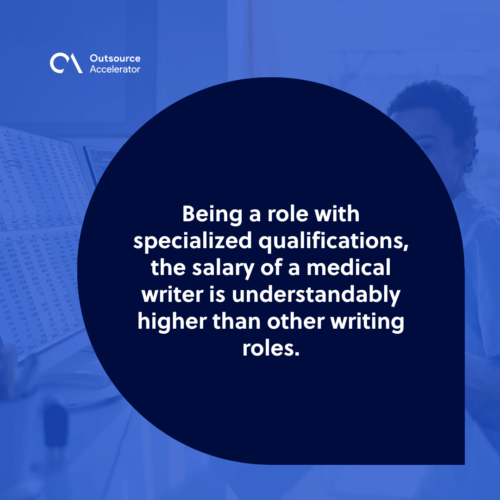 Hiring a medical writer offshore
Keeping medical writing in-house can be daunting, especially with limited funds. While having an in-house writer limits your possible growth, doing this alone is far from ideal, even when you are an expert.
Medical writing requires broad research and verification of everything your staff needs to write. Releasing dubious and unverified claims as your content risks your reputation and patients' safety since you deal with your client's health and welfare.
Not to mention doing this function alone can take you away from more valuable tasks, such as taking care of your patients.
Hiring an offshore medical writer is another way of getting this function done in a cost-efficient way. You can look at offshoring destinations such as the Philippines to get this function done at a fraction of the cost of a local hire.
By offshoring medical writing, you can produce quality health and medical content better and quicker.