Should you outsource your medical credentialing?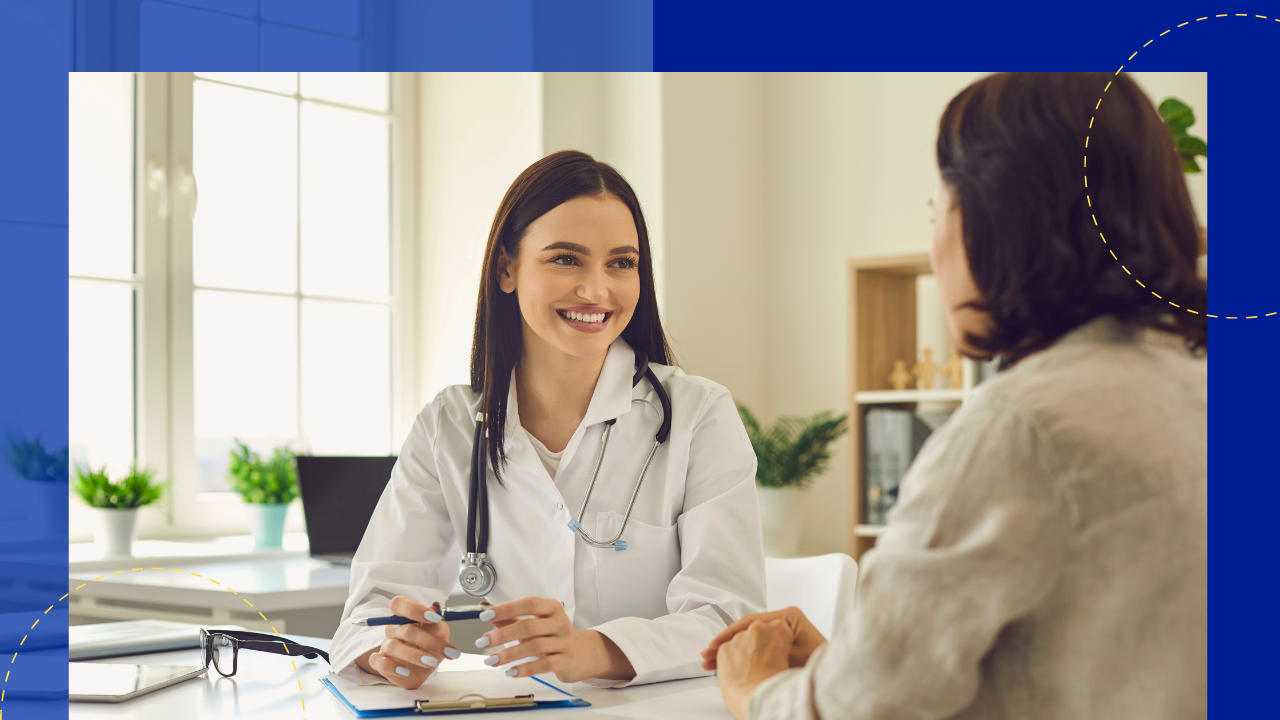 Should you outsource your medical credentialing
Medical experts now prefer to outsource their services to third-party providers.
The primary reasons outsourcing became the go-to resource of medical specialists are: reduced overhead costs and access to specialized expertise and the latest technology they may not have in-house.
Outsourcing can be particularly beneficial for medical credentialing, as it can quickly ensure that healthcare applicants submit valid, accurate, and up-to-date credentials.
How does medical credentialing work?
Medical credentialing is the process of verifying the qualifications of a healthcare provider. This process is necessary to ensure that healthcare professionals are qualified to provide their services.
The medical credentialing process begins as soon as the healthcare provider applies to a particular medical organization.  The first step is to check for proof that they are legally classified as licensed independent practitioners (LIPs).
Then, the credentialing coordinator scans the application form for other essential details. Specifically, here are some of the most often requested information:
Name, birth date, gender, ethnicity, postal address, and other personal information
Social security number and other details about citizenship
Immunization records and TB testing records
Certificates for controlled substances (in certain states)
A recently taken image
Curriculum vitae
Medical school transcripts or other certificates of healthcare training
Evidence of residence
License of specialties
Number of National Provider Identifier (NPI) and username
Certification by a governing body
Affiliations with hospitals or medical groups
Sanctions or disciplinary action (if any)
The organization then verifies the collected details by contacting the provider's references. Once verified, the provider is granted the credentials they need to practice.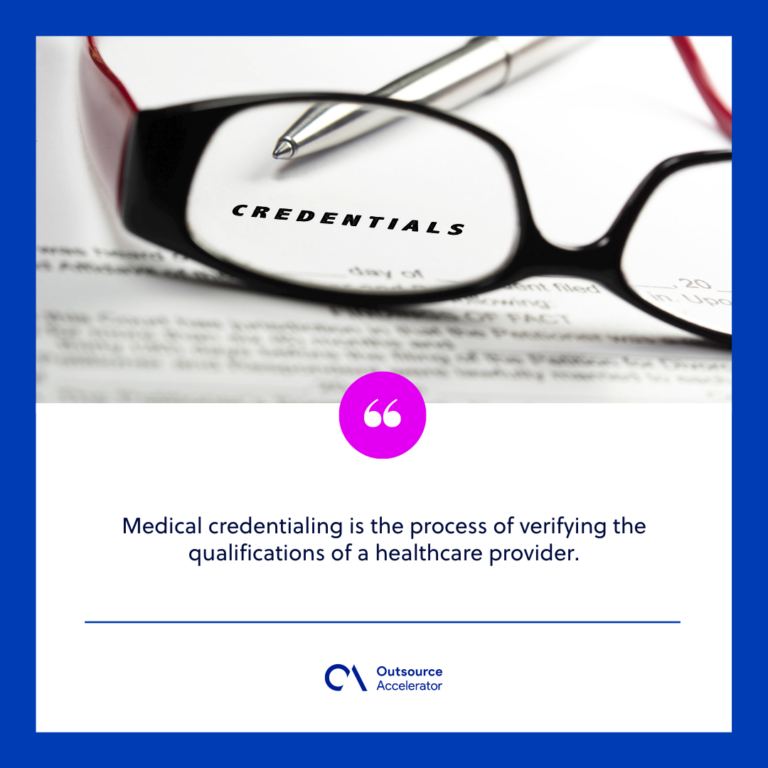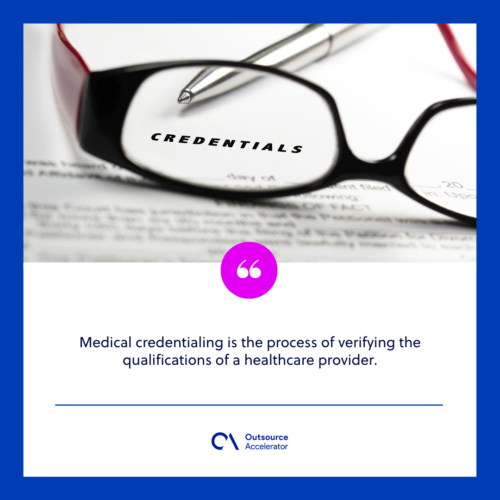 When does it make sense to outsource medical credentialing?
The medical credentialing process is a time-consuming one. It can take several months to complete. And it can also become even more challenging without the help of third-party providers.
When does it make sense to outsource medical credentialing?
Outsourcing is the best option if the process is too complex or time-consuming for healthcare providers to handle.
This can be beneficial when the medical facility needs more resources or expertise to complete the medical credentialing procedure. Third-party providers also offer the necessary requirements needed.
Moreover, outsourcing medical credentialing may allow you to easily add new services to your practice if you want to expand your services.
Primary reasons to outsource your medical credentialing
Medical credentialing is an essential component of a well-functioning healthcare facility. Without an appropriate credentialing coordinator, you might onboard inefficient and unqualified personnel.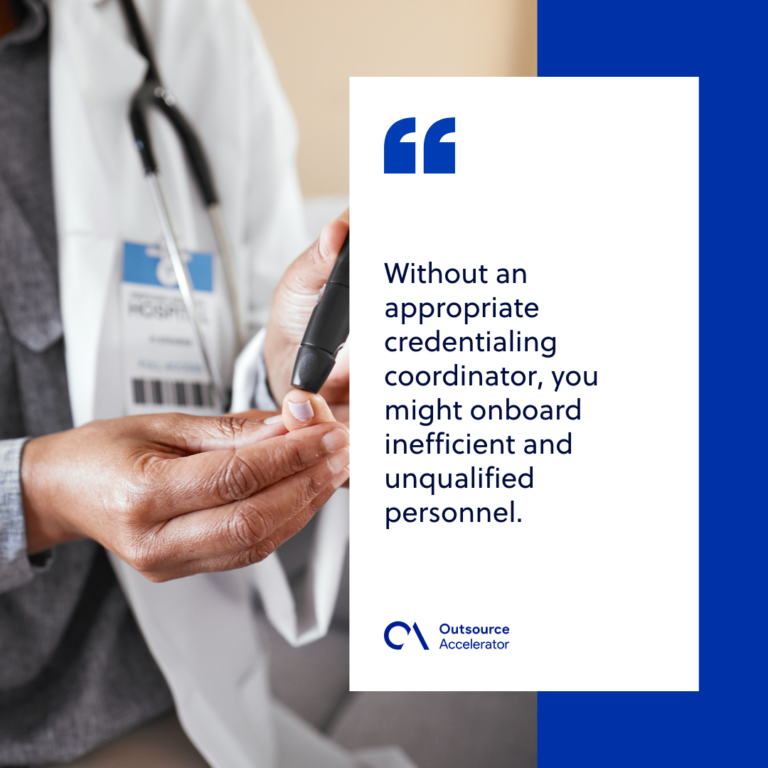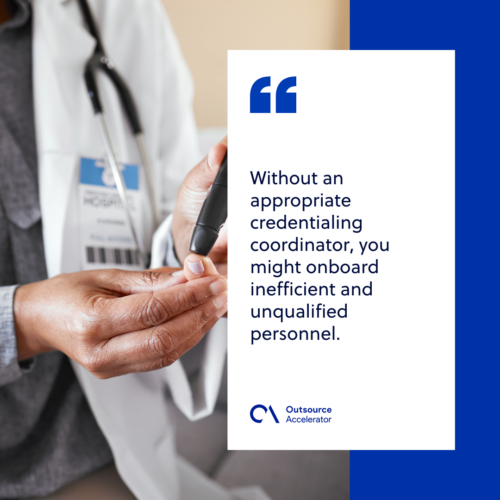 Outsourcing medical credentialing can be a winning decision for healthcare facilities. Here are the six primary reasons you should outsource medical credentialing:
1. Boost ROI
According to 99MGMT, the expense of medical credentialing labor per physician is about $100 per hour, which amounts to $20,000 per year. Take note that this is just for the salary expense.
Meanwhile, entrusting medical credentialing processes to a third-party provider allows medical professionals to reduce additional labor costs. They can also concentrate their expenditures on business expansion — achieving increased ROI.
2. Ensure compliance
Candidates' licenses may be revoked, and businesses may face lawsuits and responsibility claims if medical credentialing is handled wrong.
Applicants may also be asked to re-attest their credentials every 90 days, a requirement under payer credentialing.
Outsourcing a reliable medical credentialing specialist can help you navigate each payer's shifting criteria. This allows your application to be appropriately certified and receive payments on time.
It may also ensure that your provider credentialing requirements meet the latest healthcare compliance standards
3. Eliminate errors
Manually doing medical credentialing often results in human errors.
Credentialing requires routine fact-checking on various credentials, degrees, and papers for each application. It only takes one typographical error, missed call, or a misplaced document to reject a qualified candidate and onboard the ineligible applicant mistakenly.
Most third-party providers are equipped with the latest technology to automate the whole process and eliminate errors.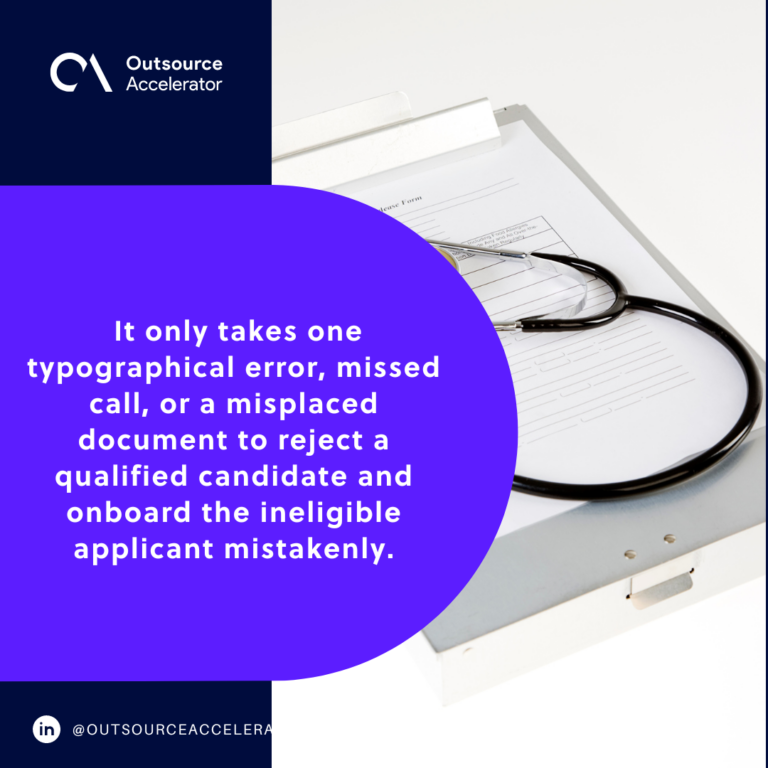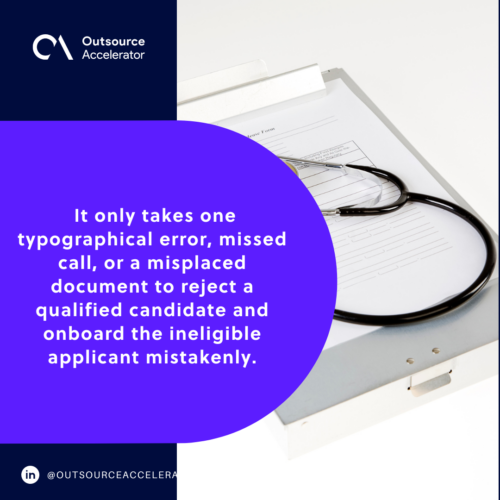 4. Increase turnaround times
As mentioned, the medical credentialing procedure is tedious. It often takes 30 to 180 days or more to finish the process. But it can even become more lengthy if there are any errors to correct.
Outsourcing can help you improve turnaround times because you'll be able to finish the task before the deadline.
5. Less paperwork
Traditional paperwork often leads to missing or misplaced documents. Meanwhile, outsourcing your medical credentialing allows you to acquire and keep the material online instead of using filing cabinets.
In today's digital age, secure online file managers have passwords or two-factor authentication codes for safe remote access and sharing of documents and profile data.
This helps reduce paperwork, saving costs for restocking bond papers and buying file cabinet extensions.
6. Improve efficiency
Too many processes and unexpected developments in healthcare sectors overwhelm medical practitioners. This results in job burnout, quiet quitting, and higher turnover rates.
Hiring a service provider can assist you with repetitive duties, such as:
Checking
Verifying
Updating
Revising
Notice how your team's efficiency significantly improves when these are taken care of by outside entities.
Outsource medical credentialing for high-tech solutions
In-house medical credentialing is a time-consuming and labor-intensive procedure. You should seek an ideal credentialing partner to prevent consequences and for better verification processes.
Furthermore, to onboard eligible healthcare applicants and streamline the process, outsource your medical credentialing today!