March Outsource Report: 4,864 Jobs Worth $146M, 1,961 Inquiries, 251k Visitors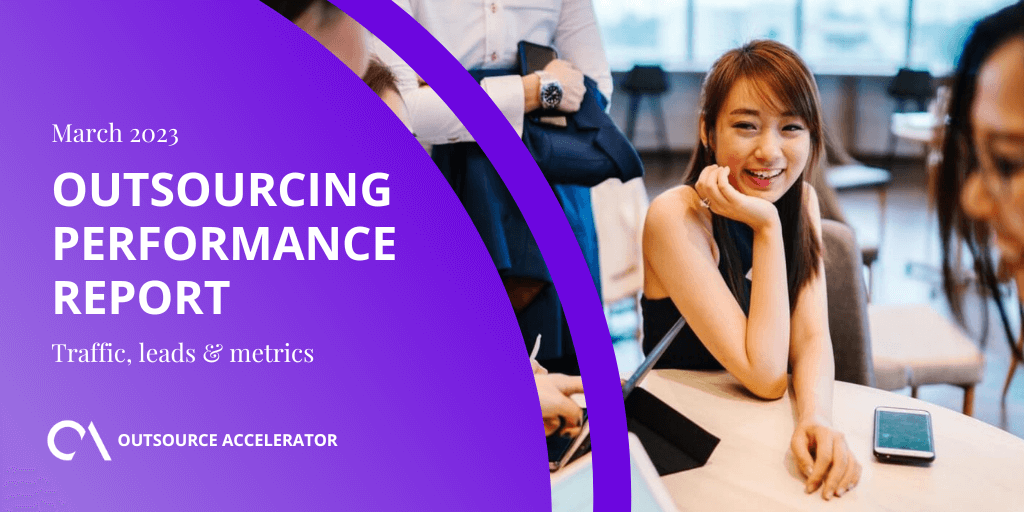 March outsourcing performance
Outsource Accelerator's web presence remained stable while the volume of inbound inquiries grew stronger in March. March ended strong with the website generating 797,849 page views (-4.92%) and 251,474 unique visitors (-3.51%). From this traffic, the platform generated a total of 1,961 inbound inquiries (+25.38%) coming from 64 countries, representing 28 sectors.
Of the 1,961 inquiries, there were 1,470 quotation requests (+17.32%) representing an estimated 4,864* full-time staff (-6.21%) with an outsourcing value of $145,920,000* (-6.21%). See all analysis in the Source Partner dashboard.
For the last 12 months, outsourcing quotation inquiries surpassed the mighty $1B mark for the first time, with a total value of $1,073,730,000* requesting 35,791* full-time roles.
*Conservative client value calculation: take the lowest end of their role request numbers, multiply by conservative top-line revenue of $1,250/role/month, multiplied by 24 months (conservative team lifetime value & duration)
Key metrics for March



Total outsourcing inquiry value – 12 months


Total outsourcing inquiry value – March 2023

Notable inquiries
Outsource Accelerator generated over 47 inbound outsourcing inquiries for every day of the month in February. Of these 1,470 inquiries, there were 1,253 quotation requests. Here are six interesting examples: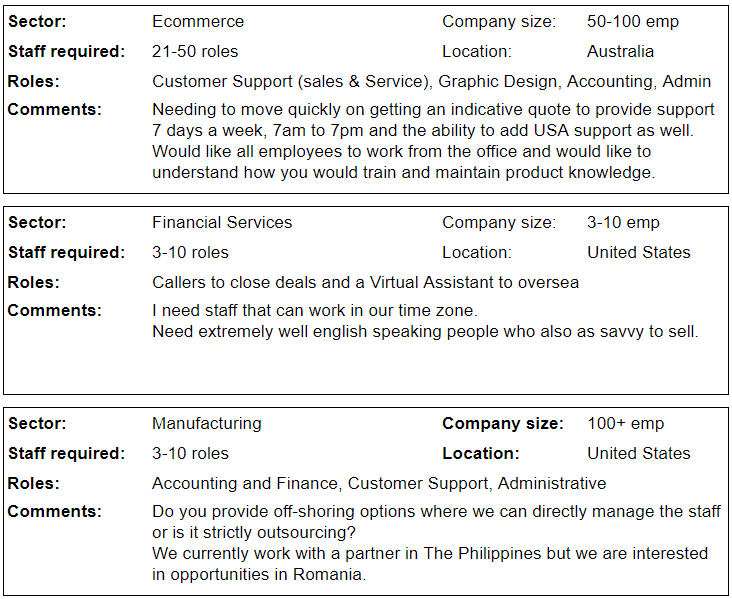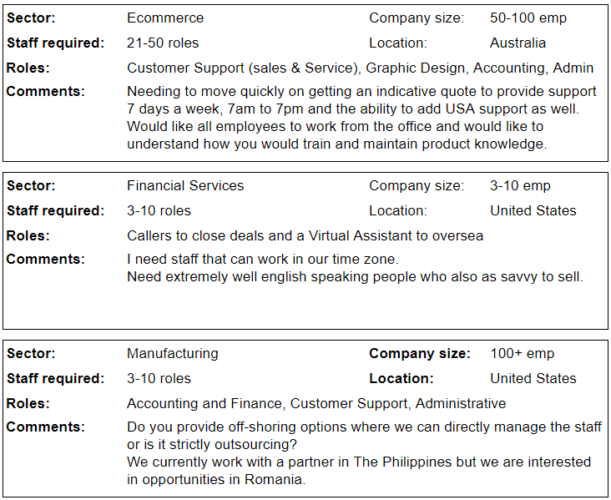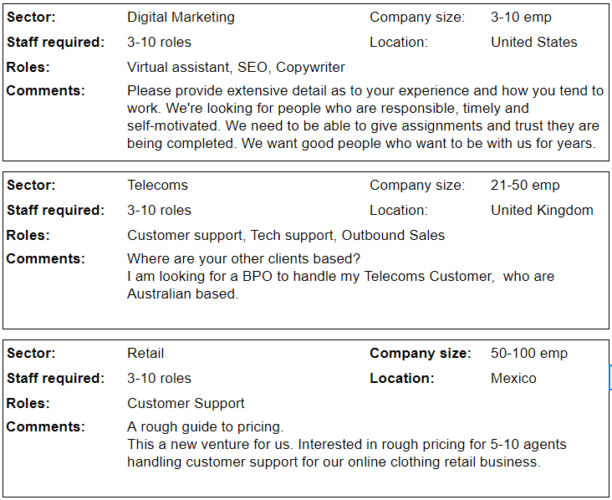 Quality analysis
Outsource Accelerator analyses the data from all inquiries monitoring them for quality. The platform assesses lead quality on a range of validation, quality, and engagement metrics.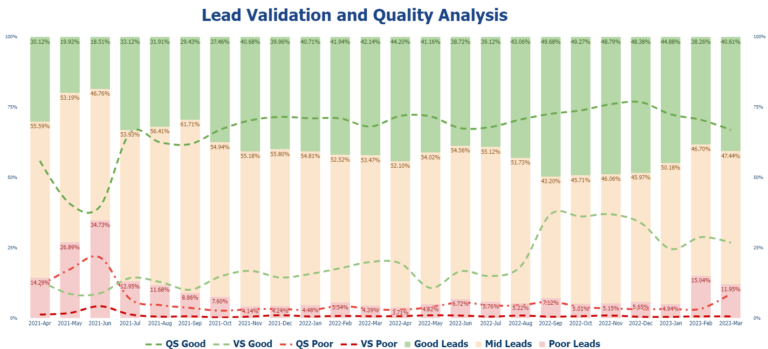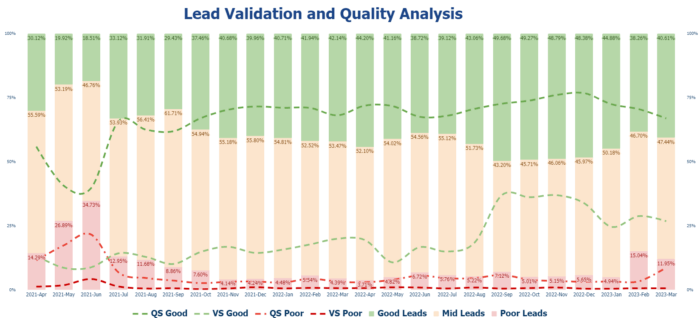 Time Doctor OA500 2023: Global Outsourcing Firm (BPO) Index
The First Global Outsourcing Firm Index
After 18 months of hard work, collecting the necessary data (measuring over 20 publicly available metadata points), analyzing, and publishing the findings, Outsource Accelerator, in partnership with Time Doctor, officially launched the Time Doctor OA500!
The Global Outsourcing Firm (BPO) Index catalogs, analyzes, and compares all known outsourcing firms globally. The index provides a great indicator of a firm's reputation and prominence.
Read the Time Doctor OA500 report here. , or browse the fully-interactive OA500 directory.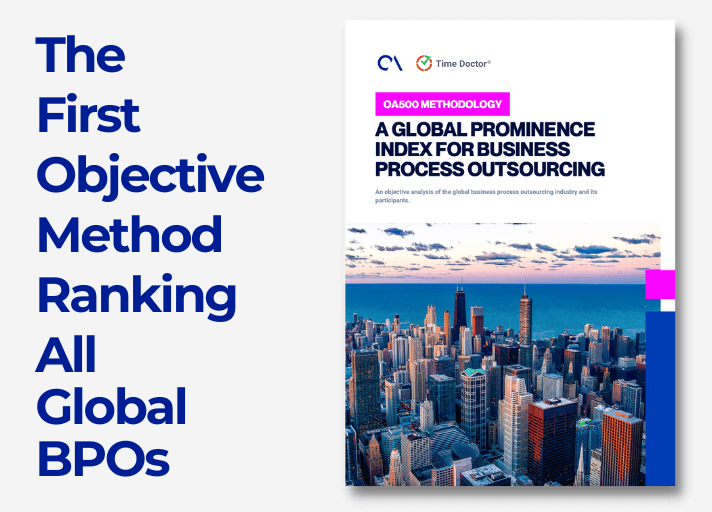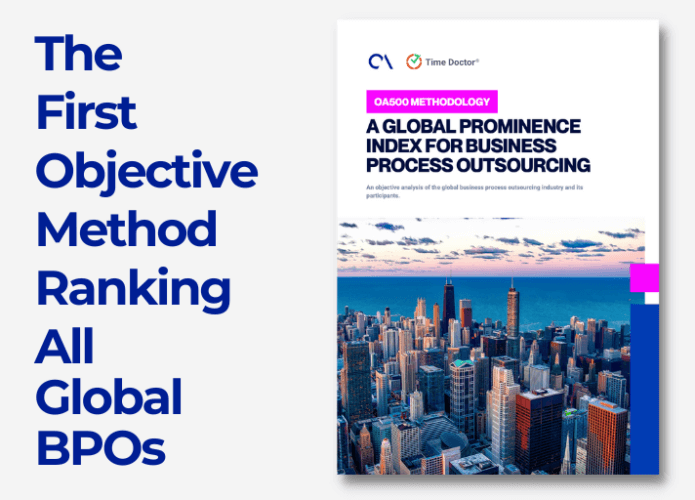 The Time Doctor OA500 is a prestigious index of the top 500 outsourcing firms globally. We expect this first, objective index of the top 500 outsourcing firms to become a vital metric for the industry moving forward.
Outsourcing inquiry insights – March 2023
The Source Partner dashboard provides live analysis and deep-dive insight into the traffic and inquiries coming through. Some insights from this month:
Number of roles initially required
Clients typically start with a smaller requirement and then grow the team once they settle the team
Size of clients' company
The inbound inquiries come from companies of all sizes – from startups to multi-national enterprise
Location of clients' company
The client inquiries come from across the globe – typically from the high-cost English-speaking nations
Clients' company sector
The client companies cover almost every sector possible, and the roles they seek are also very varied
Source Partner v3.0 is now live!
The new Source Partner dashboard is now live!  The v3.0 release is a complete rebuild and offers unrivalled tools to help outsourcing firms attract new clients, and make more sales. It offers:
➤ Powerful business intelligence tools to identify outsourcing client prospects.
➤ Get introduced to hot inbound outsourcing inquiries.
➤ Powerful analytics and business intelligence tools to assist the sales process.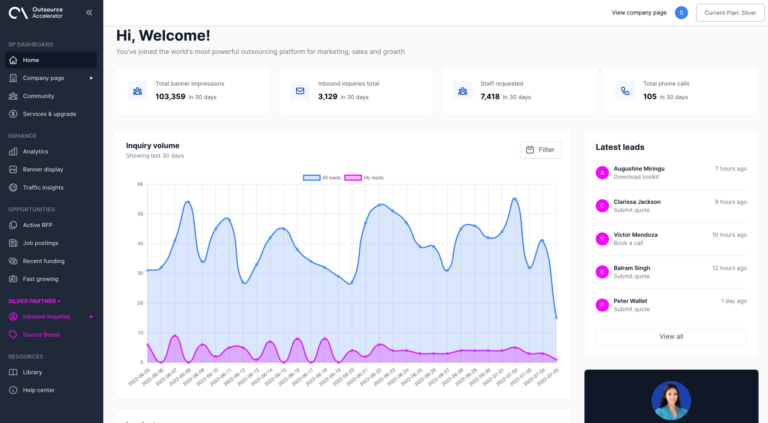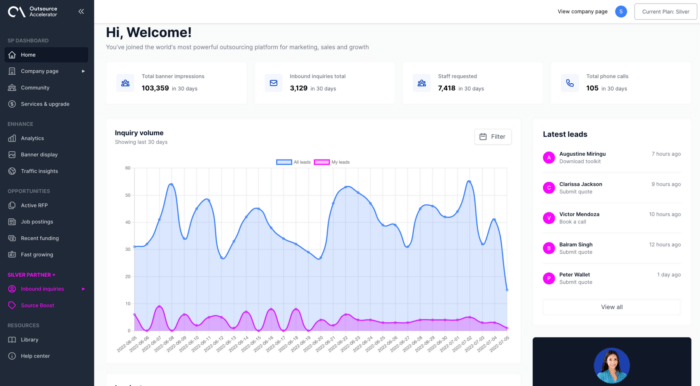 The most powerful outsourcing platform
The Source Partner platform is the world's most powerful outsourcing marketing platform, business intelligence tool, and community. Join us in this journey. Early birds catch the worm!
List or claim your company page today – and get access to the SP dashboard. It's free.