Loud quitting: Causes, impacts, and prevention strategies for employers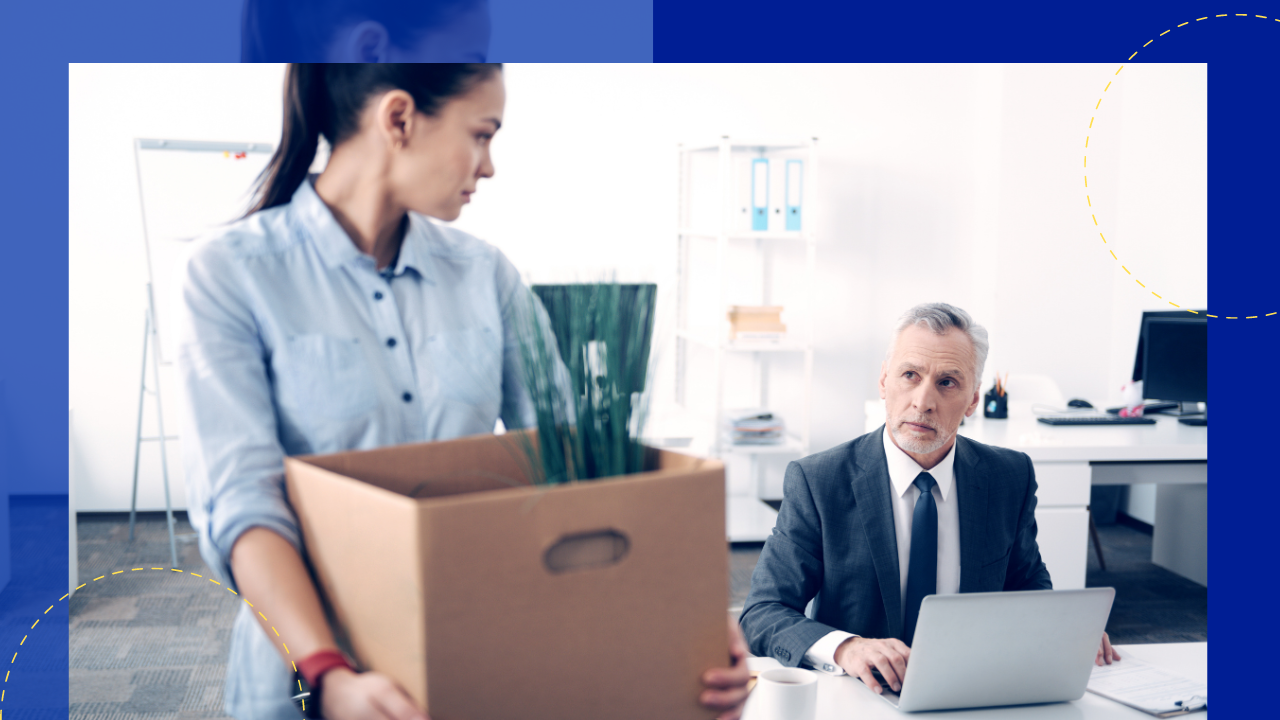 Many businesses face the challenge of employee turnover. Sometimes, individuals opt for a dramatic resignation approach — loud quitting.
In fact, a recent Gallup poll of 120,000 workers worldwide revealed that one in five, or 18%, are loudly quitting their jobs. The report cited disengagement as the leading cause.
Let's learn more about why employees do this and examine its effects on organizations. We'll also provide practical strategies for employers to handle this disruptive resignation.
What is loud quitting?
Loud quitting is the disruptive and attention-grabbing way an employee leaves a job. It is usually characterized by emotional outbursts, public displays of frustration, or even airing grievances publicly. 
This form of resignation can have significant repercussions for both the employee and the employer.
Loud quitting vs. Quiet quitting
Loud quitting differs from quiet quitting in the manner of departure and the level of disruption it causes. 
Quiet quitting (a.k.a silent quitting) is less disruptive and more discreet. But it can also have negative consequences if a valuable employee leaves without the employer knowing their reasons.
On the other hand, loud quitting tends to create a stir within the organization. Moreover, it may impact employee morale, productivity, and company reputation.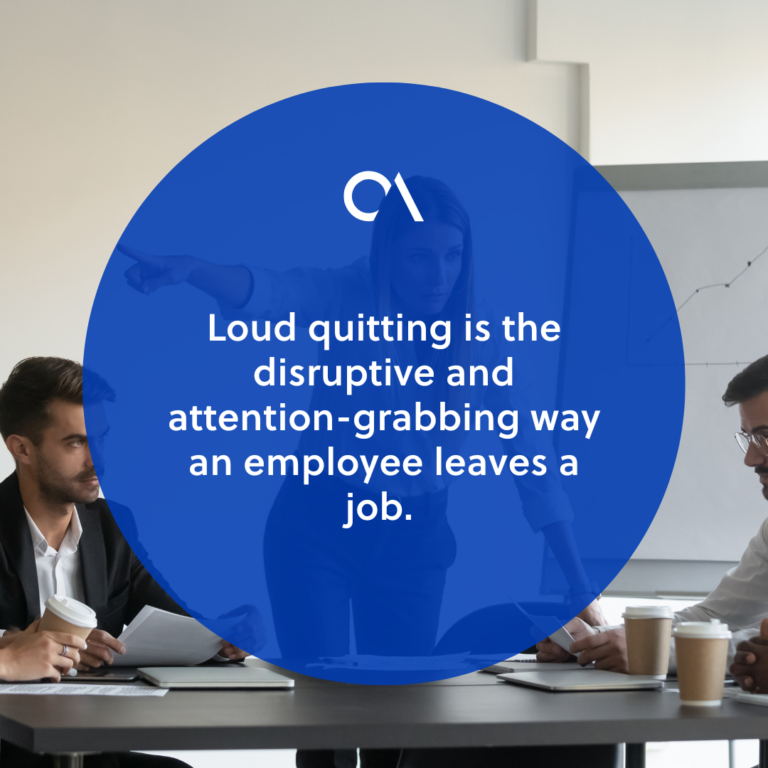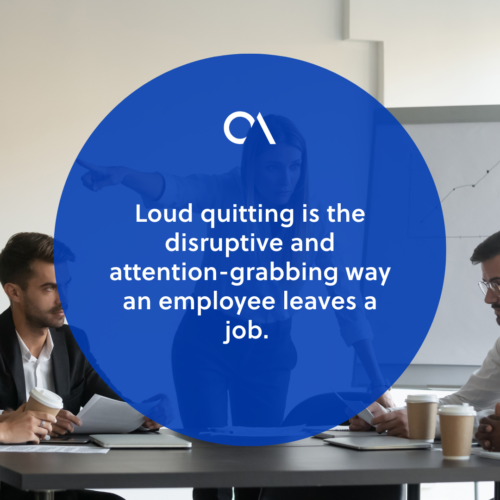 Causes of loud quitting
Several factors can contribute to loud quitting. Understanding these causes can help employers address the underlying issues and create a more positive work environment. 
Some common causes include:
Poor management
When workers feel that their supervisors are ineffective, it can create frustration and lead to loud quitting. This usually happens when higher-ups lack communication skills or engage in unfair practices.
High levels of stress
Excessive workloads, unrealistic expectations, and a lack of work-life balance can push employees to their breaking point. These issues increase the chances of loud quitting.
Lack of growth opportunities
Workers may become dissatisfied if they feel their career advancement or skill development is limited. This can lead to loud quitting as they seek opportunities elsewhere.
Toxic workplace culture
A toxic work environment can push employees to quit loudly in an attempt to draw attention to the issue. This work culture could be characterized by bullying, harassment, or discrimination.
Compensation and benefits disparities
If workers perceive unfairness in the compensation and benefits structures, they may choose to quit loudly as a form of protest. 
These gaps could be in the form of pay inequity or inadequate rewards for contributions.
How loud quitting affects companies
Loud quitting can have profound implications for both parties. It is essential to recognize these impacts to take appropriate measures:
Damage to company reputation
Loud quitting can tarnish a company's reputation, especially if grievances are publicized. This can deter potential candidates from applying and erode public trust.

Negative impact on employee morale
When employees witness loud quitting within their workplace, it can create a sense of uncertainty, lower morale, and decrease overall job satisfaction. In turn, it leads to decreased productivity and higher turnover rates.
Loss of skilled talent and intellectual capital
If a highly skilled worker quits this way, there may be a significant loss of expertise, knowledge, and institutional memory. This can disrupt workflow and hinder operational efficiency.
Legal consequences
In extreme cases, departing employees may engage in behaviors that breach employment contracts, disclose confidential information, or defame the company. 
These actions can lead to legal disputes and potential financial damages.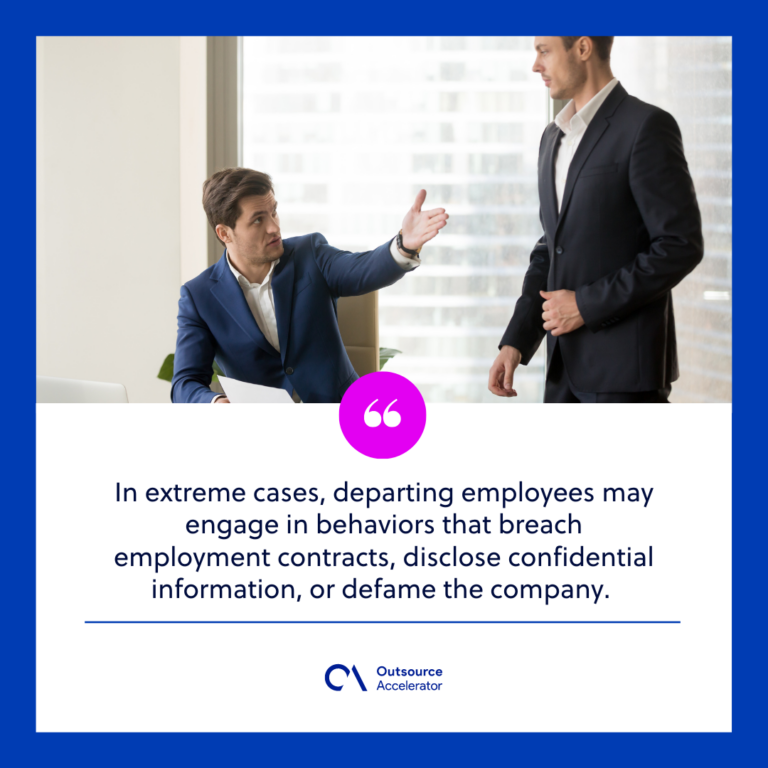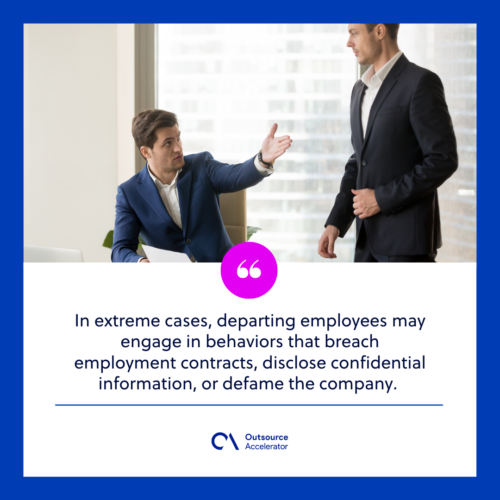 Ways to prevent loud quitting
Employers can take proactive steps to prevent loud quitting. They can create a supportive work environment that encourages employee retention. 
Some effective strategies are as follows:
Cultivate open communication
Foster a culture of open and transparent communication. This can help address employee concerns and grievances before they escalate. 
Organizations can do this through:
Encouraging regular feedback sessions

Anonymous suggestion boxes

Employee surveys 
These methods can provide valuable insights and help identify potential issues.
Empower employees
Provide opportunities for skill development, career growth, and autonomy. These can give employees a sense of purpose and motivation.
When workers feel valued and see opportunities for advancement, they are less likely to quit loudly out of frustration or stagnation.

Ensure fair compensation and benefits
Establishing clear and equitable compensation and benefits structures can help prevent employee dissatisfaction. It also prevents perceived injustices related to pay or rewards. 
Regularly review and benchmark compensation practices against industry standards. This ensures fairness and supports employee retention.
Foster a positive workplace culture
Creating a supportive and inclusive work environment that values diversity, promotes respect, and encourages teamwork can mitigate the factors contributing to loud quitting. 
It's crucial to develop clear policies against harassment, bullying, and discrimination. It's also important to provide training and resources to address these issues.
Prioritize work-life balance
Help alleviate stress and prevent burnout by:
Offering flexible work arrangements

Providing wellness programs

Promoting a healthy work-life balance
Employees who feel supported are likelier to stay with the organization.
Strategies to address loud quitting
In instances where loud quitting has already occurred, it is important for employers to respond promptly and effectively to minimize the impact:
Conduct exit interviews
Engaging in constructive exit interviews can provide valuable feedback and uncover underlying issues within the company.
This information can help identify areas for improvement and prevent future instances of loud quitting.
Preserve professionalism
Employers should strive to maintain professionalism and handle loud quitting with composure. They should refrain from retaliating as it can worsen the situation.
Responding in a respectful manner can help safeguard the firm's reputation and demonstrate its commitment to fair and ethical practices.
Address root causes
After a loud quitting incident, assess the causes and take appropriate actions. Address any systemic issues that may have contributed to the employee's departure. 
This can involve implementing policy changes, providing additional training, or improving management practices.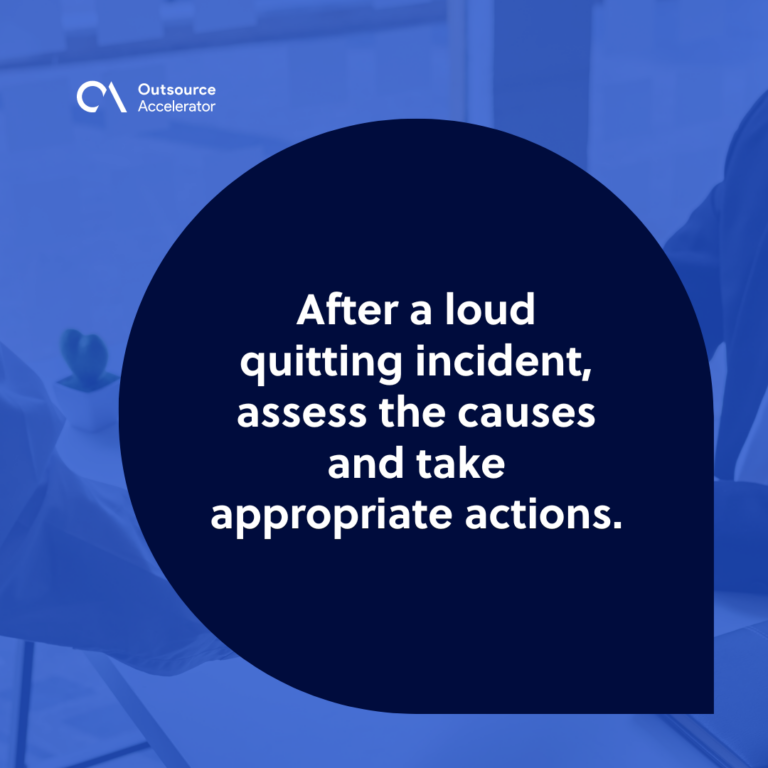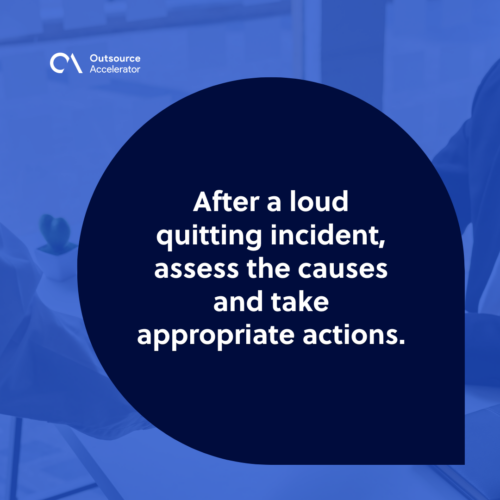 Communicate with the remaining workforce
Transparently addressing instances of loud quitting can help rebuild trust and reassure the remaining workers. 
Communicating the steps being taken to address the issue and create a healthier work environment can promote stability and restore morale.
Focus on employee well-being
Support remaining employees during the transition period to reassure them about their roles and the company's stability. 
Counseling or coaching services can help workers cope with anxiety or uncertainty.