Getting started with legal process outsourcing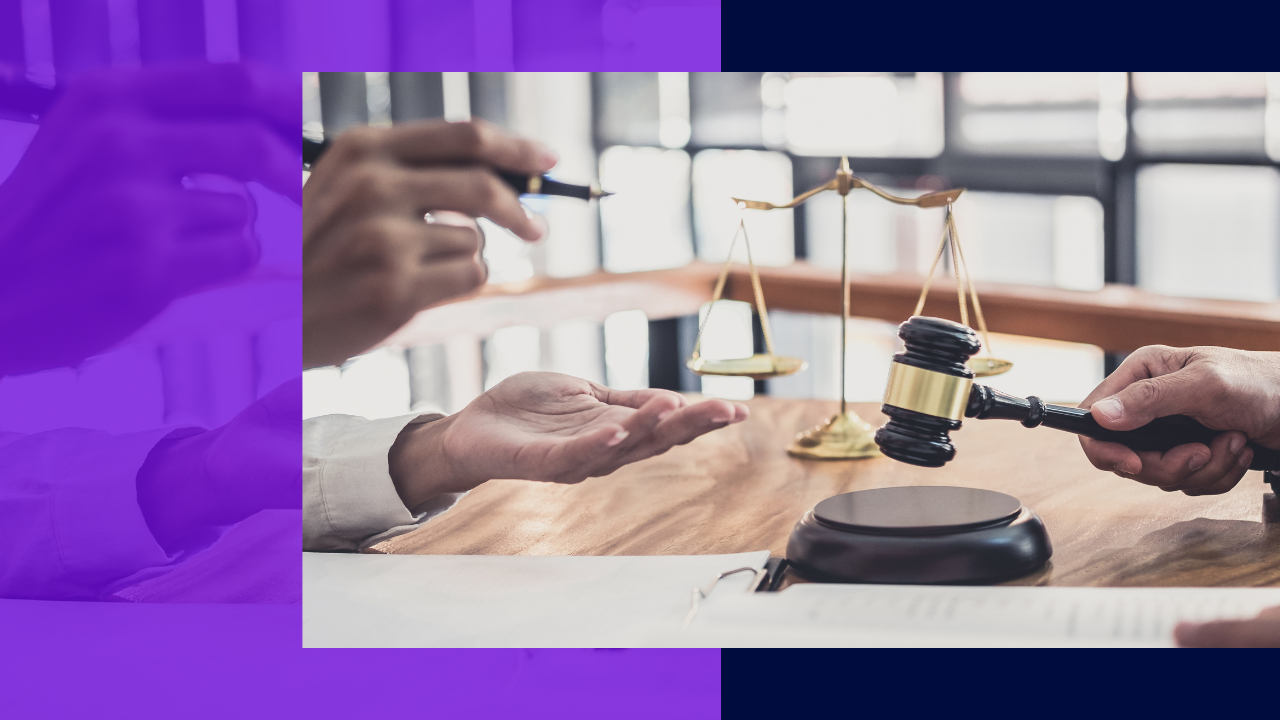 The business process outsourcing (BPO) industry has permeated numerous other business sectors.
From being a solely strategic business solution, outsourcing has become a staple business practice for many industries.
Traversing various industries from ecommerce, healthcare, banking to the travel sector, it would seem that organizations, no matter the industry, will inevitably find a business function they could entrust to an outsourcing firm like Cloudstaff.
In recent years, offshoring has added yet another function to its repertoire of outsourced operations, this time in the form of legal process outsourcing.
What is legal process outsourcing?
Despite the nature of its industry, law firms are as much a business venture as your run-of-the-mill brokerage company. This means that the people running a law firm are also constantly facing numerous mundane – but nonetheless crucial – tasks.
However, the very nature of its industry also makes it more demanding, tedious, and exacting than other businesses.
Legal process outsourcing is the act of delegating an organization's legal operations to a third-party service provider.
The process may involve a single function, such as contract and document review or conducting of due diligence, or the entire operations of a legal department.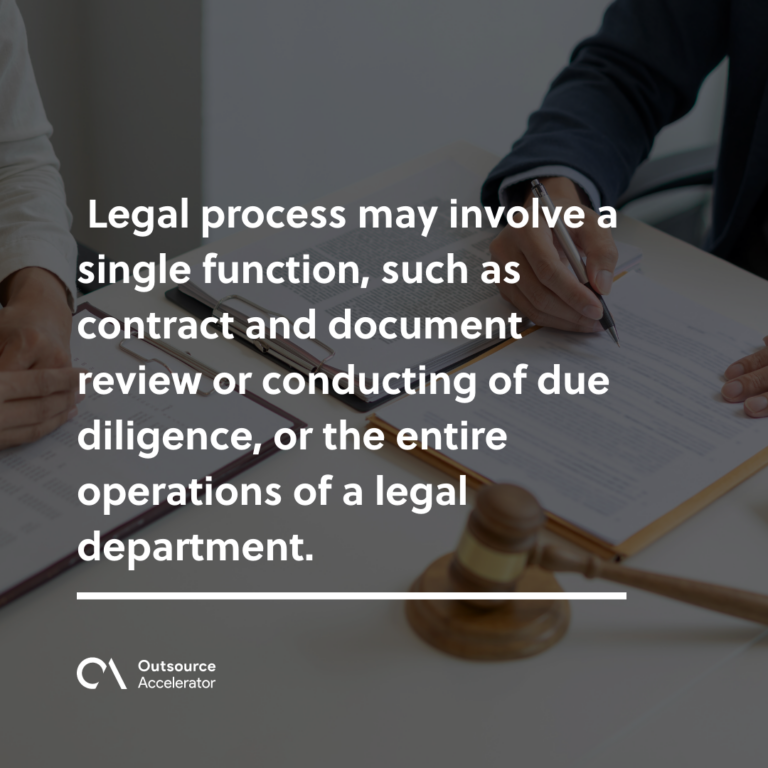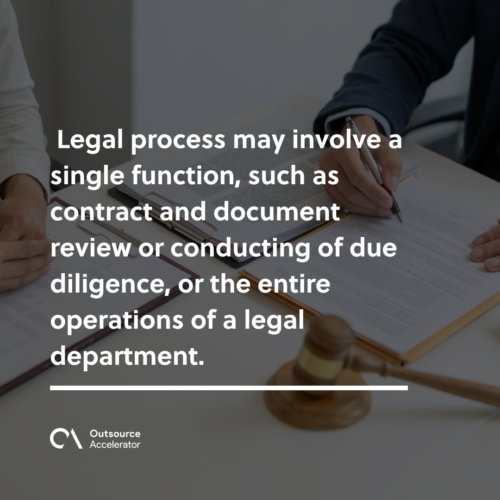 Commonly outsourced legal processes
As mentioned above, legal process outsourcing may involve offshoring an entire legal department or just specific functions of one.
In the case of the latter, here are some commonly outsourced legal operations:
Risk management and compliance
Compliance risk management is a legal function concerned with the identification, assessment, and monitoring of potential risks to a business's adherence to state laws and industry regulations.
A company's compliance risk management staff are tasked with documenting possible losses and potential legal liabilities the organization could face in the event of non-compliance.
Contract and legal document review
Attorneys, or sometimes other litigation professionals, oversee the review of a business's legal documents.
This process is paramount, particularly when drawing up business-to-business (B2B) contracts and other similar documents.
With a skilled legal document review staff, companies won't have to worry about loopholes and other legal clauses that can be subject to exploitation.
Due diligence assessment
Due diligence is the process of – conducting an investigation into, performing an audit of, or reviewing a company before doing business with it.
The process may involve inspection of an organization's financial, legal, economic, and fiscal status. This is to ascertain whether it's in good legal and financial standing and is compliant with existing laws and other regulations.
Legal research
Legal research is a necessary step to ensure that business owners are aware of existing laws and regulations regarding their business and make the necessary steps to comply with those.
In some cases, legal research is also used to search for precedents or other supporting statutes, regulations, court opinions, or decisions that can help solidify a business's case in a legal battle.
Benefits of legal process outsourcing
Delegating legal functions to offshore firms is advantageous for many businesses, especially for companies bound by various state and federal laws and industry regulations. Some examples of these busineses are in the healthcare, insurance, and banking. sectors
Here are a few of the benefits business organizations can gain from legal process outsourcing:
Cost-effectiveness
Acquiring professional legal services thru an outsourcing firm is significantly more cost-effective than hiring one locally.
To compare, the average hourly rate of a lawyer in the US ranges from 250 USD to 350 USD. Their Filipino counterparts, on the other hand, have an average hourly rate of just 14 USD to 53 USD– roughly 89% lower on average!
This labor cost reduction is on top of the other expenses they can save on, including payroll staff salary, equipment costs, and additional office space costs.
Focus on core business 
Businesses that aren't in the legal industry will benefit from outsourcing related functions to offshore companies as it removes a significant amount of workload off their plates.
This allows them to devote their full attention to the more critical and revenue-generating aspects of their operations. At the same time, they won't have to worry about having lapses in their legal compliance.
Flexibility
Having outsourced legal staff also gives companies more flexibility in managing their human resources. This means that they have complete autonomy to increase their outsourced personnel as demand goes up or let go of them as needed.
This flexibility in scaling saves businesses money that would otherwise be spent to a legal team that's basically just sitting around when their services aren't needed.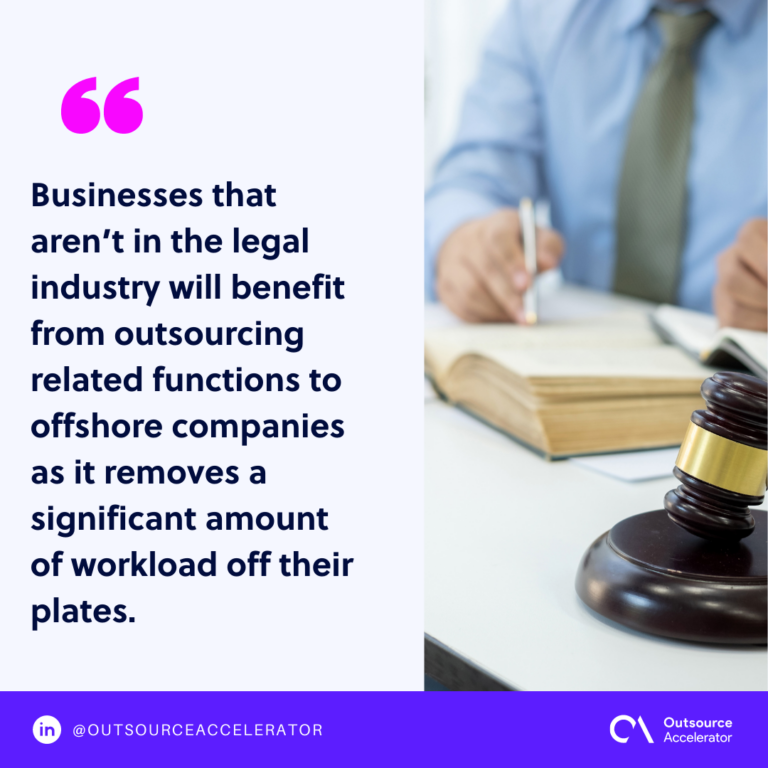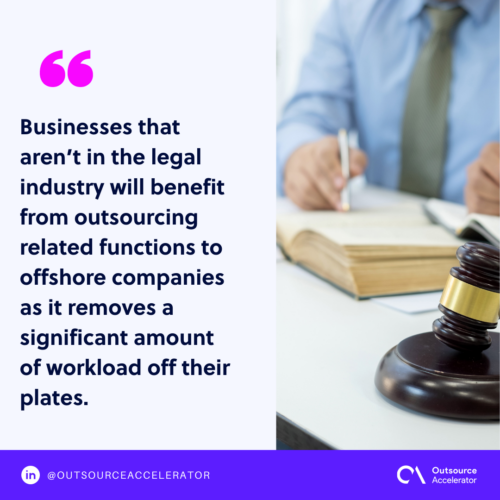 Factors to consider before outsourcing legal processes
Despite the numerous advantages that legal process outsourcing brings to organizations, they should still be careful when choosing to outsource this function.
Unlike other outsourced business operations, legal functions are quite complex. Entrusting these obligations to a less than competent outsourcing firm can result in legal complications.
Below are some factors businesses should consider before delegating their legal processes to an outsourcing company:
Local laws and regulations
Businesses are bound by the laws and regulations that apply in their local base of operations, However, they may also be subject to the local laws and regulations of the country where they offshore their legal processes.
Thus, a thorough appraisal of local laws and regulations should be done before partnering with an offshoring company to prevent potential entanglements over legal obligations.
Attorney-client privilege and confidentiality
Breach of attorney-client privilege is a federal offense that can result in many disastrous outcomes, the least of which is loss of company integrity.
It is, therefore, in a company's best interest to ensure that their partner outsourcing company has a proven track record of ensuring airtight security when it comes to confidential information.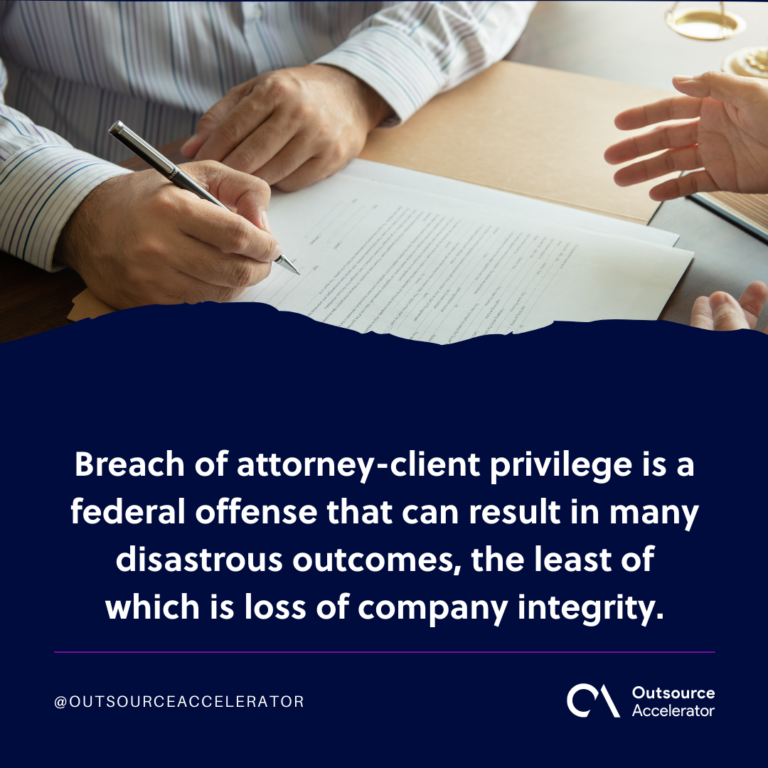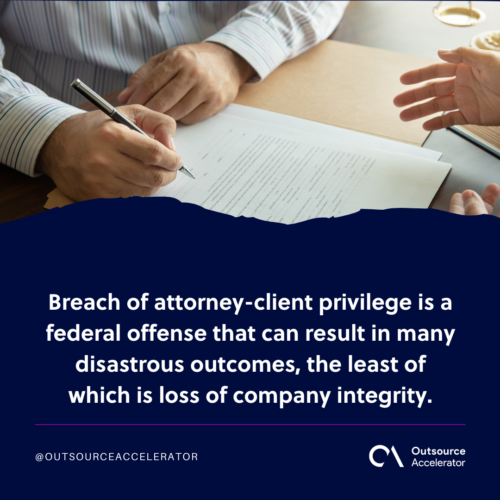 Why Cloudstaff is the best choice for legal process outsourcing
If you're looking for an outsourcing company you can trust to handle your business's legal functions, Cloudstaff is the way to go.
Cloudstaff's highly-skilled legal professionals are trained to work with firms in the US, UK, and Australia. These professionals are not only well-versed in local laws and regulations in the Philippines but are also  knowledgeable in the legal arena in these countries, as well.
Aside from their legal expertise, Cloudstaff ensures that its litigation experts are equipped with the leading industry software in the market. These software include Firm Central, Infinitylaw, MyCase, PracticePanther, Cilo, Zola Suite, and many others.
Moreover, Cloudstaff's cloud-based solutions enable seamless integration and transfer of data for companies augmenting their in-house legal team with Cloudstaff's cadre of experts.
With Cloudstaff as your outsourcing partner for your business's legal operations, you're guaranteed a cost-effective, globally competitive, and highly reliable legal team.