July Performance: Dramatic Quality Improvements; Traffic Steady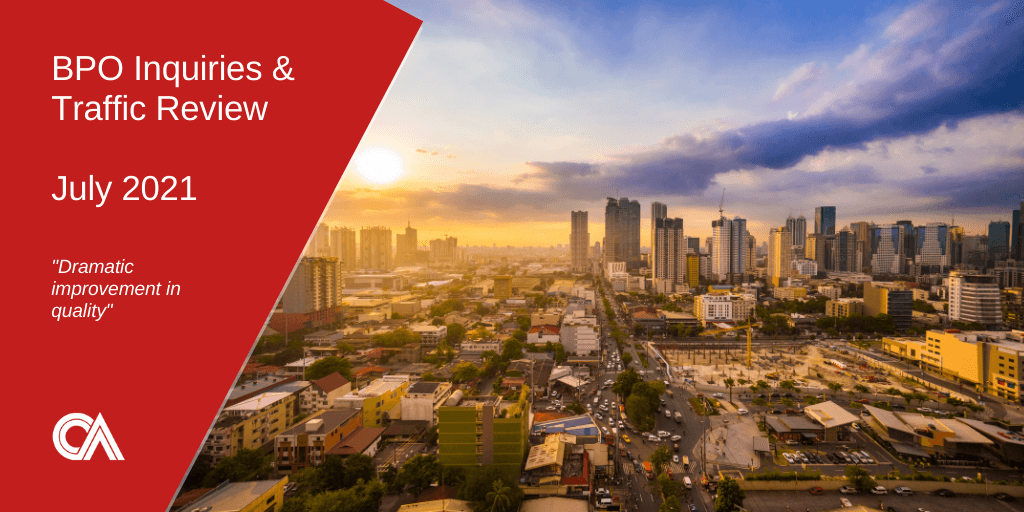 July outsourcing inquiry & traffic analysis
Outsource Accelerator has focused on quality of inquiries for the last 8 weeks.  This has resulted in a dramatic improvement of the quality of the inquiries for July. The OA Validation and Quality metrics for July have now exceeded almost all previous month's scores.  We are now more confident in identifying and ensuring high quality inbound inquiries.
We have dropped in lead volume slightly as a result of our reconfiguration, however, we will now focus on rebuilding the volumes again for our Source Partners.
July generated 573 inbound inquiries, representing 26 different sectors from 37 different countries. There were 306 outsourcing quotation requests, representing an estimated 1,345 full-time staff with an estimated value of $40,350,000. See all statistics in the Source Partner dashboard.
Outsource Accelerator is about to launch a new website, new landing pages, and new visitor engagement funnels over the next 2-4 weeks.  These new implementations will have a positive impact on conversion rates, client engagement and will also mitigate lower quality inquiries.
July was a relatively flat month for all traffic metrics.  The website generated 58,028 unique visitors and 191,335 page views, which is slightly down on last month.  Quotation requests were slightly down at 306, valued at approximately $40,350,000.
The annualised quotation inquiries amounted to an estimated total combined value of $291,150,000* requesting a total of 9,705* full-time roles.
*Conservative client value calculation: take the lowest end of their role request numbers, multiply by conservative top-line revenue of $1,250/role/month, multiplied by 24 months (conservative team lifetime value & duration)
Key metrics for July


Total outsourcing inquiry value – last 12 months


Outsourcing inquiry value – July 2021


573 inbound client inquiries
OA generated just under 20 inbound outsourcing inquiries for every day of the month in July and over 300 quotations requests for the month.  Of those 300 requests, here are just 6 interesting inquiries:  
Outsourcing inquiry insights
The Source Partner dashboard provides live analysis and deep-dive insight into the traffic and inquiries coming through. Some insights from this month:
Number of roles required – initially
Clients typically start with a smaller requirement and then grow the team once they settle the team
Size of clients' company
The inbound inquiries come from companies of all sizes – from startups to multi-national enterprise
Location of clients' company
The client inquiries come from across the globe – typically from the high cost English-speaking nations

Clients' company sector
The client companies cover almost every sector possible, and the roles they seek are also very varied

OA website performance
OA's website continues to grow in strength.  However, with seasonal variances in ranking and traffic, sometimes the gains are not so linear and stable.  July was a good month, but dipped slightly below June's performance.  The site generated 58,028 visitors, and 191,335 page views.
Every month, OA is producing 200-400 new articles to educate and inform the business community about outsourcing, and to increase ranking with Google.  We are also shortly launching a new website, which should increase visitor engagement even further. The 191k page views means that over 6,400 pages are visited every day of the month – all of them exploring Philippine outsourcing services.

OA website acquisitions
Outsource Accelerator has recently secured a $1.5m equity-free fund with the purpose of acquiring other websites and external (internet) traffic.  This will further OA's efforts to spread the knowledge of Philippine outsourcing far and wide. >> Read the full article here
New website launch
Outsource Accelerator is busy with product development. We are planning to launch the new OA website within 4-6 weeks. This is an impressive upgrade and should have a big impact on client engagement. We are also planning to build a launch a Client Dashboard – which aims to increase client inquiry engagement, stickiness and retention.
We are also planning to buy and integrate the new external websites.
So stay tuned for exciting things ahead. Slowly, we are educating the world about the power of offshore staffing, and demonstrating through action that the great outsourcing nations provide world-class professionals, skills and talent.
We continue to be excited about the prospects of 2021 and the opportunity to put outsourcing and offshore staffing on the global stage.