Job audition: Significance, benefits, and process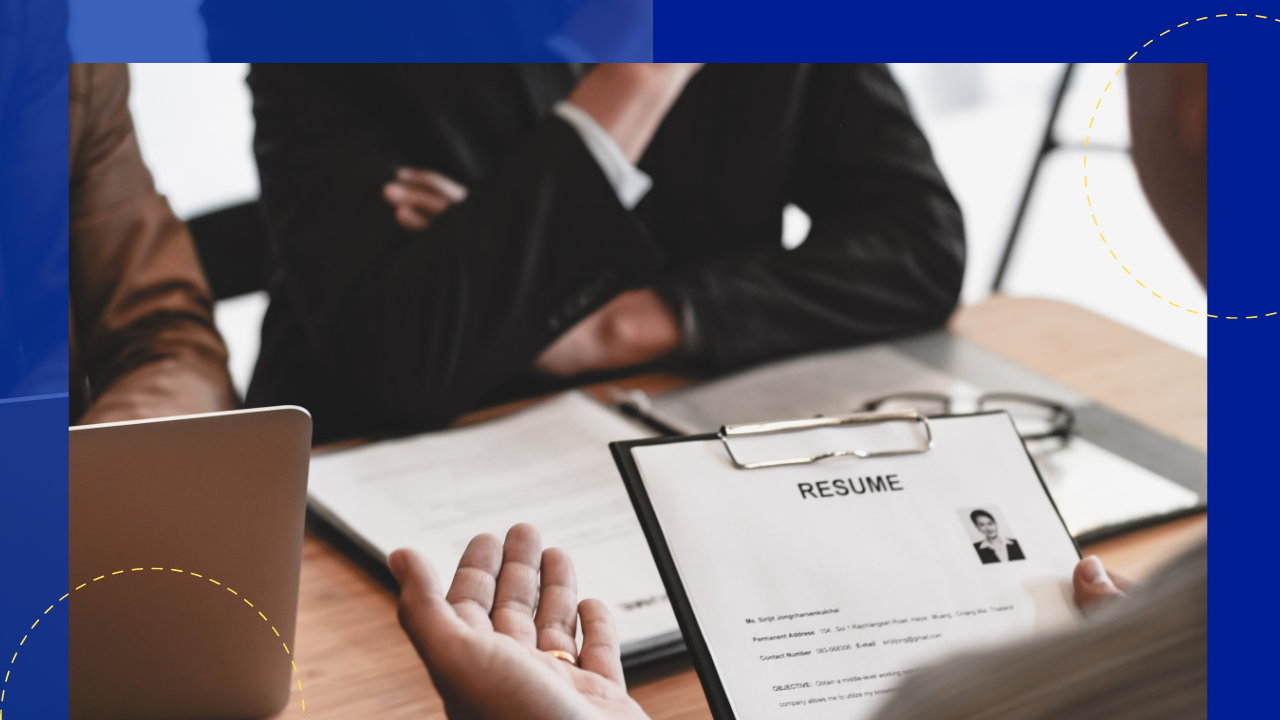 In the modern era of recruitment, a job audition has garnered significant attention for its ability to provide a more comprehensive and accurate assessment of candidates' abilities.
Unlike traditional interviews and resume evaluations, job auditions require candidates to engage in real tasks or projects closely aligned with the job they are applying for.
This hands-on approach enables employers to observe a candidate's practical skills, problem-solving abilities, and adaptability in a real-world context.
However, while job auditions are crucial in modern recruitment, job interviews remain essential in the overall evaluation process. Combining job auditions and interviews equips employers with a well-rounded view of candidates, allowing them to make informed hiring decisions.
This article explores the significance, benefits, and step-by-step process of job auditions within the hiring process.
Definition of a job audition
A job audition focuses on practical demonstration rather than verbal discussion. 
Candidates are given tasks or projects closely aligned with the job they're applying for. This allows them to showcase their skills and abilities in a real-world context.
Keep in mind that a job audition is distinct from a traditional job interview. While both are essential components of the recruitment process, they serve different purposes and offer unique advantages.
Job interview vs. Job Audition
A job interview primarily centers on verbal communication. It allows employers to engage with candidates, assess their soft skills, and delve into their motivations, aspirations, and cultural fit with the organization.
On the other hand, a job audition approach offers employers a tangible and objective assessment of a candidate's capabilities. It reduces reliance on self-reported experiences or credentials found in resumes.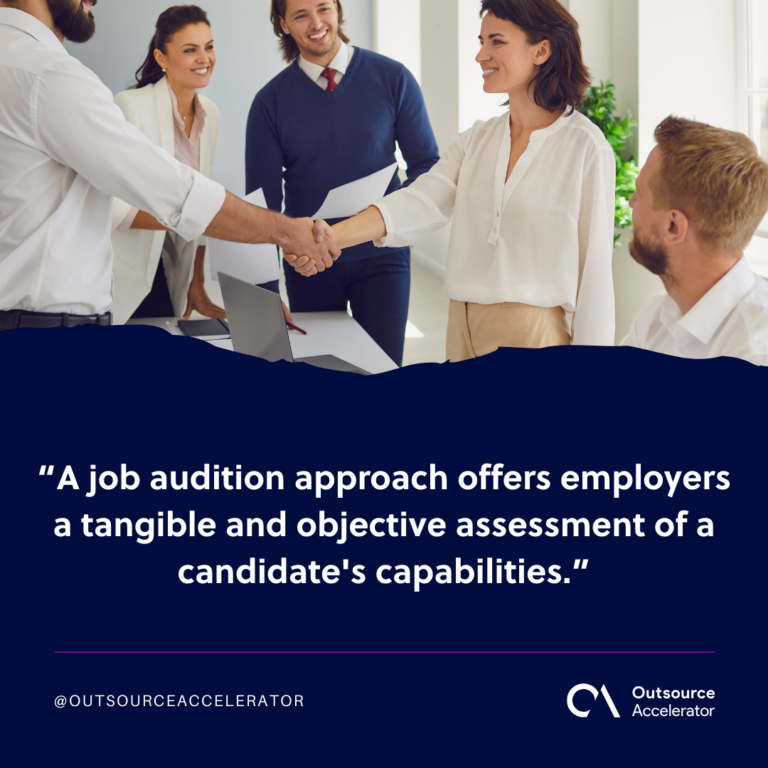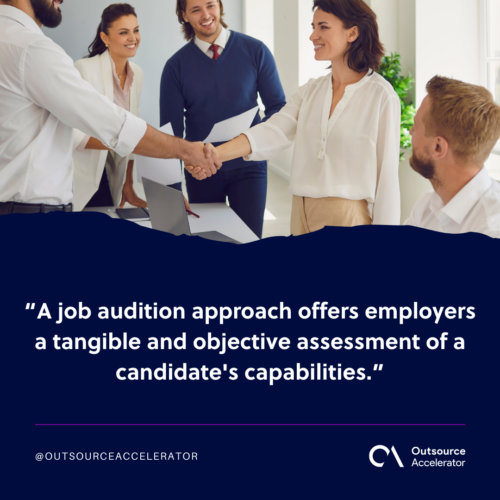 Significance of job auditions in the hiring process
The significance of a job audition in the hiring process is that it offers a more holistic and realistic assessment of candidates' abilities. It also poses potential contributions to an organization.
A job audition provides a platform for candidates to showcase their practical skills in a real-world context, demonstrating their competence and suitability for the role.
Moreover, job auditions allow employers to evaluate cultural fit, a critical factor in ensuring that candidates align with the company's values, work environment, and team dynamics.
Benefits of job auditions to employers
Here are the following advantages of a job audition to employers:
Assessing practical skills
One of the primary reasons job auditions have gained significance in the hiring process is their ability to provide a more holistic assessment of candidates.
Unlike traditional interviews that often rely on scripted questions and rehearsed answers, job auditions allow employers to witness how candidates perform in real work situations.
Cultural fit evaluation
Cultural fit is a crucial aspect of hiring. A job audition provides a unique opportunity to assess whether a candidate aligns with the company's values, work environment, and team dynamics. 
This evaluation can be challenging to achieve solely through interviews and resumes.

Reducing employment bias
Traditional hiring processes can be susceptible to unconscious employment bias based on race, gender, or age. A job audition focuses on a candidate's abilities and performance, minimizing bias in decision-making.
Modern job audition process for companies
Let's look at the step-by-step process companies can follow to incorporate job auditions into their recruitment strategy.
Define the job role and responsibilities
The job audition process may lack direction and effectiveness without a well-defined job role. This is why the initial step is to meticulously define the job role and its accompanying responsibilities.
A precise job description serves as a blueprint for crafting relevant audition tasks, ensuring that talents closely align with the specific demands of the position. It also facilitates a more accurate evaluation of candidates' suitability for the position.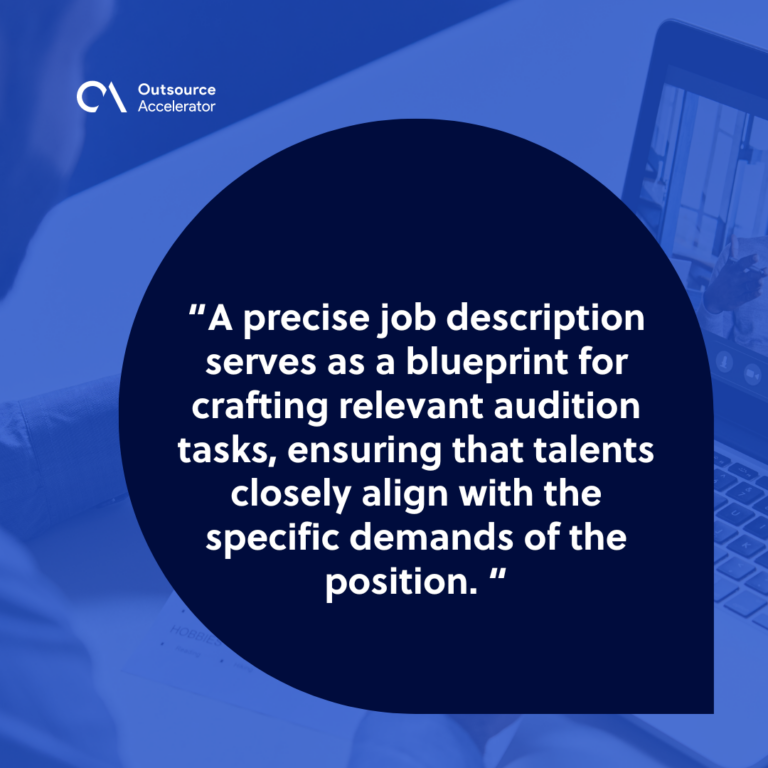 Create audition tasks or projects relevant to the role
The next crucial step in the job audition process is to create audition tasks or projects meticulously tailored to the job role. 
These tasks should mirror the real-world challenges and responsibilities that the successful candidate will encounter in the position.
For instance, if the role pertains to marketing, the audition task may involve devising a comprehensive marketing campaign strategy. Another task can be analyzing HR market trends to formulate data-driven recommendations.
Publish the audition details and requirements
Transparency is an integral element of the job audition process. To uphold this, employers must diligently publish all audition details and requirements when posting the job.
This includes providing the following details:
Comprehensive description of the audition task

Specific guidelines or criteria for completion

Clearly defined timeframe for submission
Prospective candidates should have access to all pertinent information about the audition, allowing them to prepare adequately and understand the expectations.
Invite qualified candidates to participate
After meticulously defining the job role, creating relevant job audition tasks, and publishing the audition details, the next step is inviting qualified candidates.
This crucial phase involves reaching out to applicants who have successfully navigated the initial resume screening or interview stages.
Set a timeframe for completion
Employers should set a specific timeframe for candidates to complete the job audition tasks to maintain a structured audition process.
The deadline encourages candidates to demonstrate their ability to manage their time effectively, a valuable skill in many roles.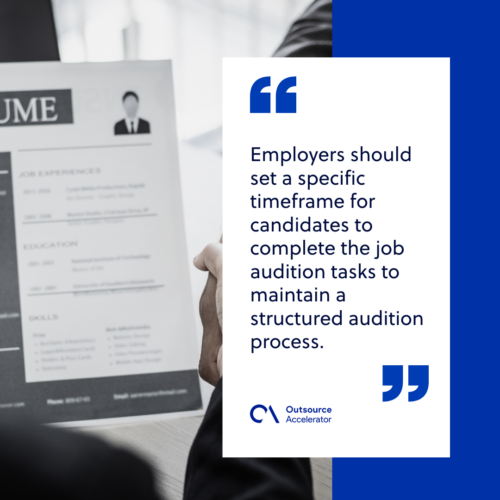 Make a hiring decision based on audition results
Employers can assess the results objectively once applicants have completed their audition tasks. This evaluation should focus on the quality of work, alignment with job requirements, and any additional criteria specified in the audition details. 
Keep in mind that the hiring decision should be based on the candidates' performance in the job audition.
Job audition is the new revolutionary approach to recruitment
As the job market continues to evolve, job auditions represent a valuable tool for staying ahead in the competitive world of talent acquisition.
Furthermore, following a well-defined process, companies can seamlessly incorporate the job audition process into their hiring strategy.