Discover the best IT monitoring tools in 2024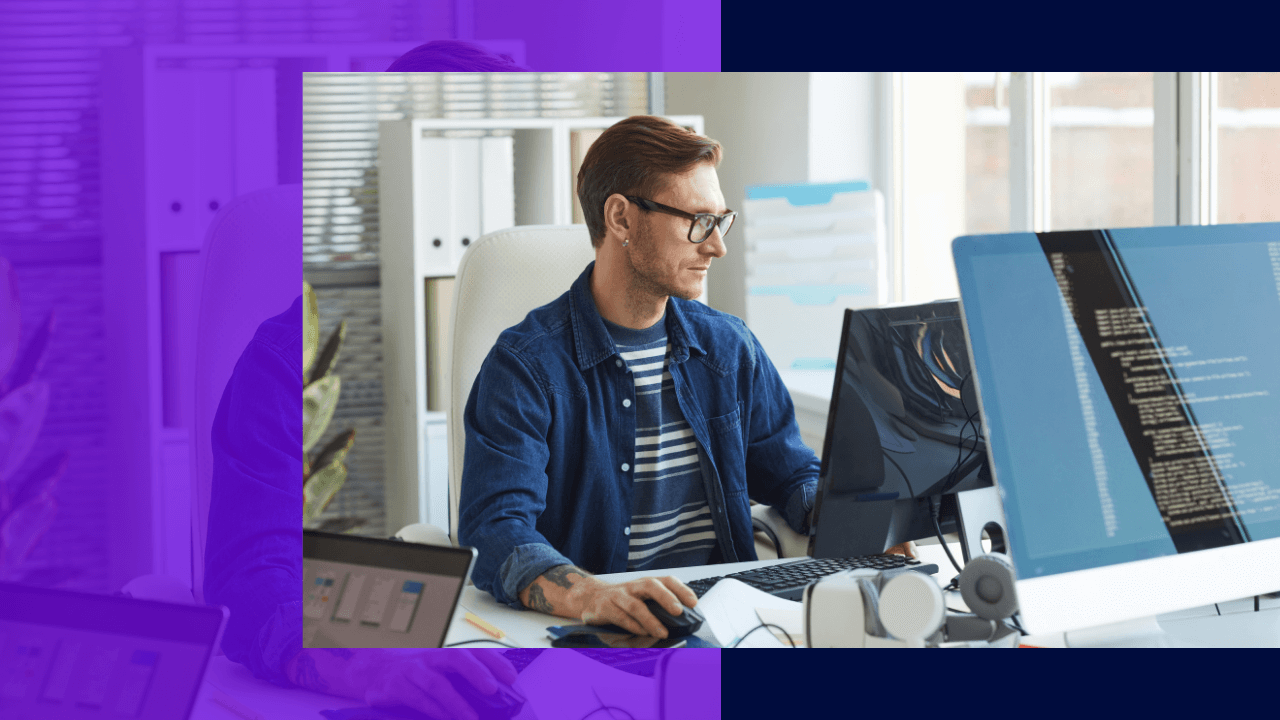 Aside from your teams and processes, your organization's performance quality lies in the reliability of your IT infrastructure.
Your teams, resources, and systems will grow at the same time as your business expands. Even when you're managing an in-house or remote team, you should make sure that your infrastructure can still support your growing company. With this, you need a reliable IT monitoring tool at hand.
With the abundance of IT monitoring tools in the market, it can be confusing to find a suitable platform you can use. Look no further – we have listed the best IT monitoring tools for all businesses this 2024 and how you can find the right tool for you.
How IT monitoring tools work
IT monitoring tools are used to monitor the health of a company's network infrastructure. These tools can diagnose performance and issues across a technology stack, making it easier to take action before it becomes critical.
The global market for IT monitoring tools is expected to increase at a rate of 28.54% by 2025, according to Technavio. This comes with the increasing number of global businesses using digital transformation as a strategy.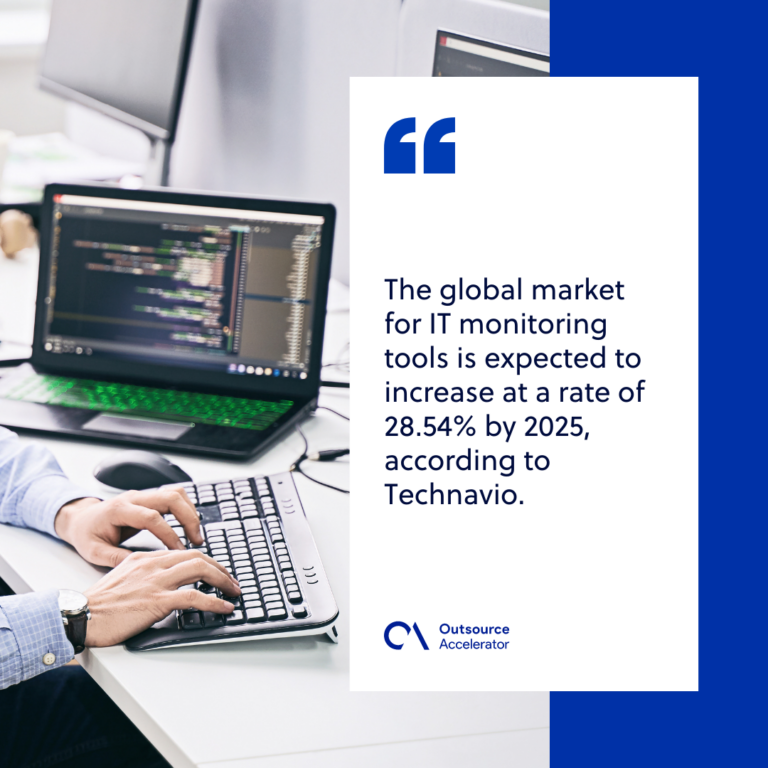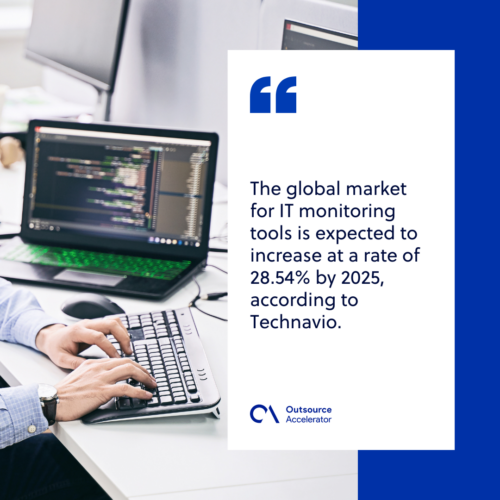 While It's possible for companies to manually configure their infrastructures at first, growing businesses use IT monitoring tools to manage their networks more efficiently.
When you should use IT monitoring tools
Time will come when manual network monitoring won't be as effective as when you're starting your company. Here are some indicators that you need to use IT monitoring tools.
When your network is expanding
According to a Gartner analysis published through Wired, owning and managing software systems could cost up to four times its initial purchase annually.
Having more teams, whether in-house or remote, means more computers and systems to monitor. You won't always be able to manage your computers manually at once, especially when you reach a thousand employees.
When you're having 'zombie servers'
Zombie servers are servers that are considered idle. They run unused and without external communication, yet they consume resources that could be allocated to other networks. 
Having zombie servers could be a complete waste of your company's resources. You could spend more budget maintaining an idle network once you don't resolve them soon enough.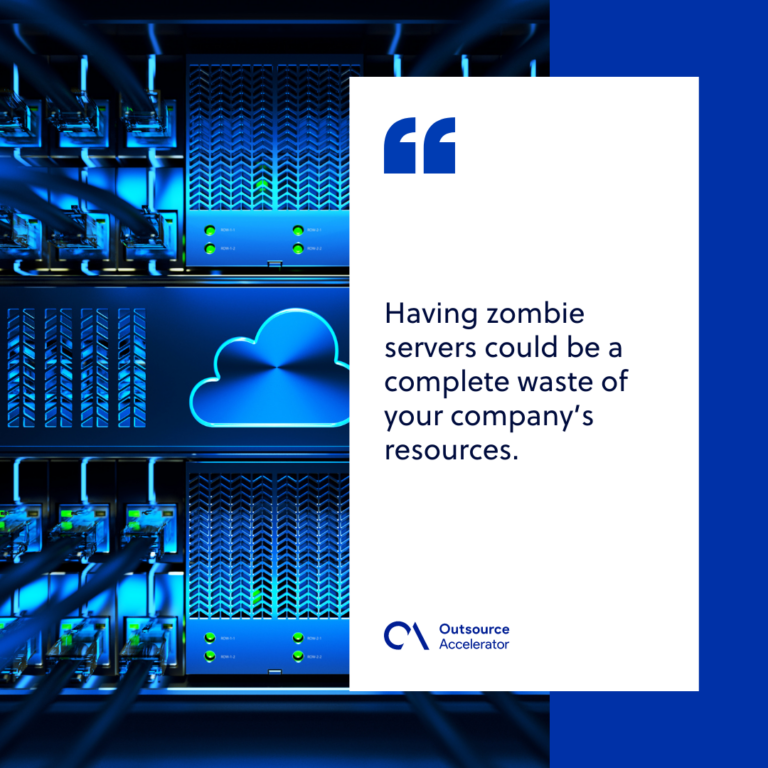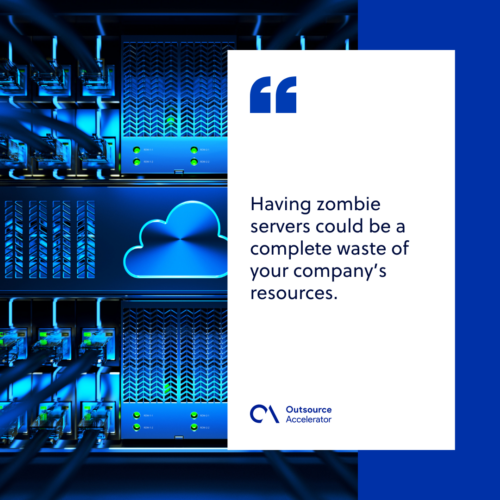 When you can't secure your data enough 
Poorly maintained networks have higher risks of malware infiltration. Once undiagnosed, it can affect your entire infrastructure with security breaches, malicious payloads, and network attacks.
10 best IT monitoring tools this 2024
| | | | |
| --- | --- | --- | --- |
| | Pricing | Free trial? | Integrations? |
| Dynatrace | US$21.00/month | Yes | Yes |
| Datadog | Free with limited features | Yes, for paid plans | Yes |
| Sematext | US$50.00/month | Yes | Yes |
| Zabbix | Free | N/A | Yes |
| SolarWinds Server & Application Monitor (SAM) | US$1,663.00 | Yes | Yes |
| SolarWinds Network Performance Monitor | US$1,638.00 | Yes | Yes |
| N-Able RMM | – | Yes | Yes |
| Site24x7 Infrastructure | US$35.00/month | Yes | Yes |
| New Relic One | Free with limited features | Yes, for paid plans | Yes |
| PRTG Network Monitor | US$1,750.00 | Yes | Yes |
Some of the most sought-after features in an IT monitoring tool include:
Performance delivery

. A good IT monitoring tool proactively observes a network and looks for performance issues at hand.

Real-time alerts

. At the same time, it delivers real-time and updated alerts on these issues for users.

Network mapping

. IT monitoring tools let users have a picture of each device connected to a single network. With this, clients can easily map their networks and see an overview of their issues.

Automated services

. IT monitoring tools should be able to automate most of its features. This includes automatic adding of devices and issue diagnostics.

Integration

. Lastly, most tools have the power to integrate multiple apps and systems into one place.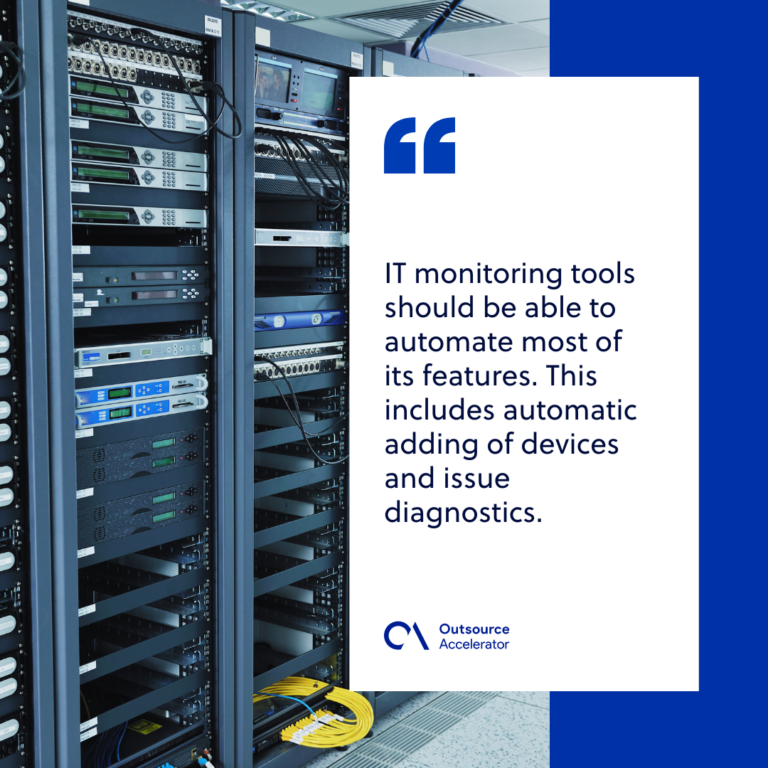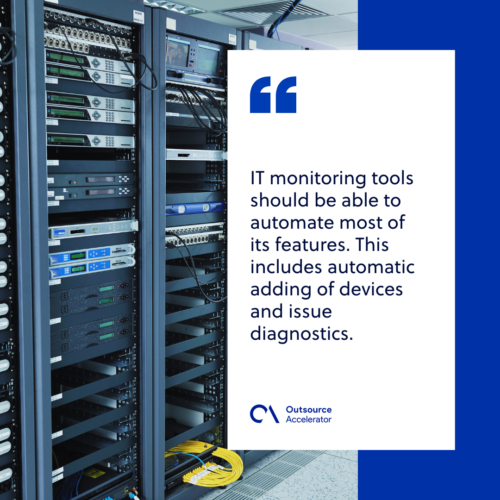 Given these features, here are the best IT monitoring tools for businesses of all sizes this 2024.
Dynatrace prides itself on "making software work perfectly." It provides all-in-one management solutions from infrastructure monitoring to cloud automation.
Compared to other systems, Dynatrace lets users monitor and analyze full-stack systems using AI. Their integrated features help businesses innovate quicker, collaborate, and deliver more value for less effort.
Plans start at US$21 per month for infrastructure monitoring and US$69 for full-stack management.
Datadog is trusted monitoring, security, and analytics software for IT professionals and teams. It integrates infrastructure monitoring with app performance, end-to-end tracking, and log monitoring to avoid downtimes and breaches and increase user experience.
Datadog's interface can be deployed in two ways: on-premise or as a software as a service (SaaS). It works on operating systems such as Windows and Mac and supports cloud service platforms.
The platform offers a free plan for limited features and a specific number of users. Pro plans, meanwhile, start at US$15.00 per user per month.
Sematext is an innovative all-in-one software designed for infrastructure, performance, and log monitoring in one place. The platform provides comprehensive tools that enable end-to-end visibility for all servers at a glance.
Aside from the platform, Sematext also offers expert advisory and training services for clients around the world.
Infrastructure monitoring plans are usually charged at an hourly rate. Full-stack monitoring, meanwhile, starts at US$50/month. 
Among the platforms on the list, Zabbix is the open-source IT monitoring tool that supports virtual machines (VMs). It provides a comprehensive set of tools to ensure top performance, including network utilization and disk space consumption.
One of its platform highlights is real-time alerts via SMS or email. Zabbix allows teams to collect, manage, and analyze information received from IT infrastructure.  It also helps in decreasing system downtimes by letting users detect server and device problems at hand.
Zabbix is completely free to use.
SolarWinds Server & Application Monitor (SAM) provides a deep and detailed view into performance issues in a server or application.
The platform provides users with both monitoring templates and customization options so they can freely monitor multiple devices, whether commercial or customized. It can also be used with other SolarWinds platforms or as a standalone tool.
However, with a price tag of more than US$1,000, SolarWinds SAM is more suitable for mid-sized and large businesses looking for a better way to monitor their infrastructure.
One of the leading IT monitoring tools by SolarWinds, Network Performance Monitor helps businesses minimize network outages by detecting and resolving network issues in real time. It supports both on-premise and cloud devices for companies with hybrid teams.
SolarWinds NPM can automatically detect devices on a network. Then, it instantly diagnoses devices for critical issues and resolves them in real-time.
Like its application monitoring counterpart, SolarWinds NPM is best for mid-sized and large enterprises that need a comprehensive network monitoring platform.
N-able Remote Monitoring & Management (RMM) provides extensive tools for monitoring and improving IT operations. It caters to businesses of all sizes and is trusted by service providers across the globe.
Compared to other platforms, N-able RMM has an Automation Manager that lets users automate processes without additional code needed. It also stands out with its portability. Users can download a mobile app that lets them manage their networks anywhere.
Site24x7 infrastructure monitoring provides unified cloud infrastructure management for small to large businesses. It integrates all devices in a network, whether in-house or remote, and lets users gain insights on uptimes, app performances, and internet services.
At the same time, Site24x7 allows mobile access so users can manage their networks even when they are away.
Regular plans start at US$35.00/month. However, small teams can get their starter plans at US$9.00 monthly with limited features.
New Relic One is a cloud-based monitoring solution designed to manage and optimize software stacks. It lets users monitor and debug their stacks for any issue to help them create "more perfect software."
The platform allows users to collect logs, root cause analysis, and performance visualizations. Meanwhile, it also helps them prioritize issues accordingly so critical ones will be solved right away.
Teams can start using the platform with a free plan or a pay-as-you-go option starting at US$99.00/user per month. 
Lastly, PRTG Network Monitor is one of the leading IT monitoring tools for businesses of all sizes and industries. It helps teams monitor networks for any outages and device performance issues so they can be at par with their expected service levels.
Businesses use the platform to make their networks faster and more reliable. While their perpetual licenses start at US$1,750.00, companies can get a free trial to test its features.
Choosing the right IT monitoring tools for your business
Investing in the right tool can help you get your desired outcome and increase your network perform better. 
However, not all IT monitoring tools can always fit your needs. Getting the wrong monitoring tool can cost you time, effort, and budget that should have been allocated to other business strategies.
Choosing the right IT monitoring tools is similar to outsourcing your services. You need to carefully plan your steps to ensure that you get the best service. Here are several tips when choosing the right IT monitoring tools for your business.
Learn about IT monitoring
It's ideal to learn more about IT infrastructures and how you can monitor them properly. This way, you can have an idea of what your network looks like and the best way you can maintain your device performance.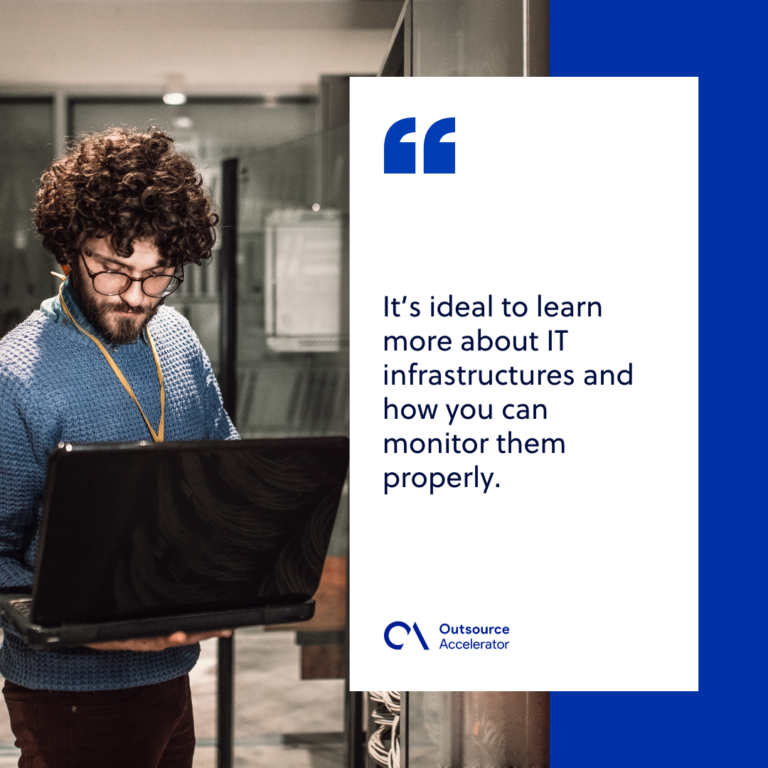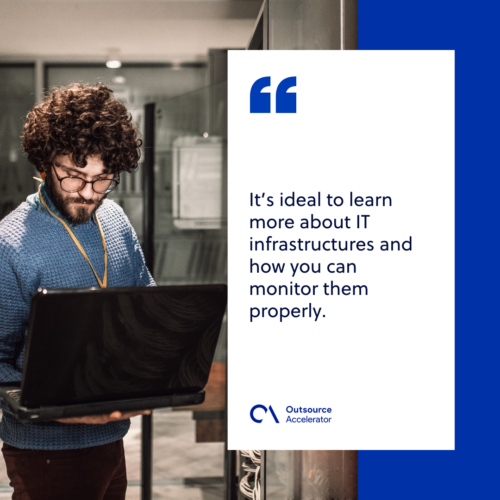 List your requirements
First, it's best to list what you need and a few details about your infrastructure. This includes the following criteria.
The number of devices, servers, and networks to monitor

Whether you need on-premise or cloud monitoring

What you want to improve on your IT systems
Research and compare each platform
Don't just settle for the first thing that appears in your search. Rather, have a few options available for you to compare. 
It's best to narrow down your choices into a few tools that would fit your requirements as you listed them.
Consider your budget
Also, consider your budget and resources when looking for an IT monitoring tool. As seen from the list, not all tools can be affordable for small and starting businesses.
While you think the "perfect" tool should cost more than what you think, there could be cheaper alternatives that offer better features than your current choice.