Understanding intermittent leave: An overview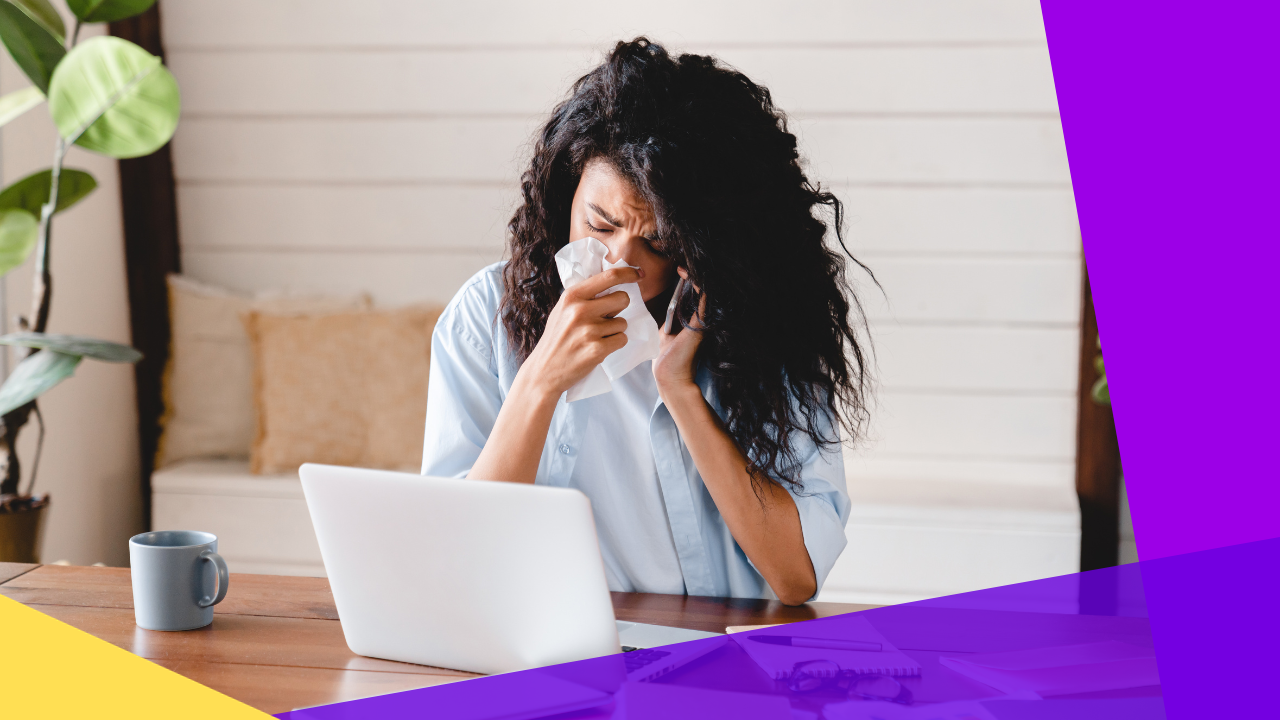 Intermittent leave is a challenging part of managing a workforce. It is normally unpredictable and can disrupt the usual operations.
However, this type of leave is a valuable and obligatory aspect of caring for your team when they or their families undergo unexpected circumstances, especially involving medical needs.
There is a way to handle and track your staff's leave without sacrificing your team's welfare.
In this article, we will delve into the concept of intermittent leave.
What is intermittent leave?
Intermittent leave refers to authorized time off from work taken in separate, short periods for certain qualifying reasons.
Unlike traditional leave, which is taken consecutively, intermittent leave allows employees to take time off as needed while still fulfilling their job responsibilities. This occurs as a reduced leave schedule or sporadic leaves from a few hours to days.
It is often granted for medical reasons, such as chronic health conditions that require ongoing treatments. This can be applied when either the staff or one of their family members needs urgent attention.
How does intermittent leave work?
Employees who require intermittent leave can take time off work in small increments as authorized by the employer. They would need proper medical documents, such as a medical certificate or doctor's recommendation, as proof for filing. 
For instance, an individual undergoing regular cancer treatments may request time off for medical appointments or recovery days following each session.
Employers are legally obligated to provide intermittent leave under applicable employment laws, such as the Family and Medical Leave Act (FMLA) in the United States.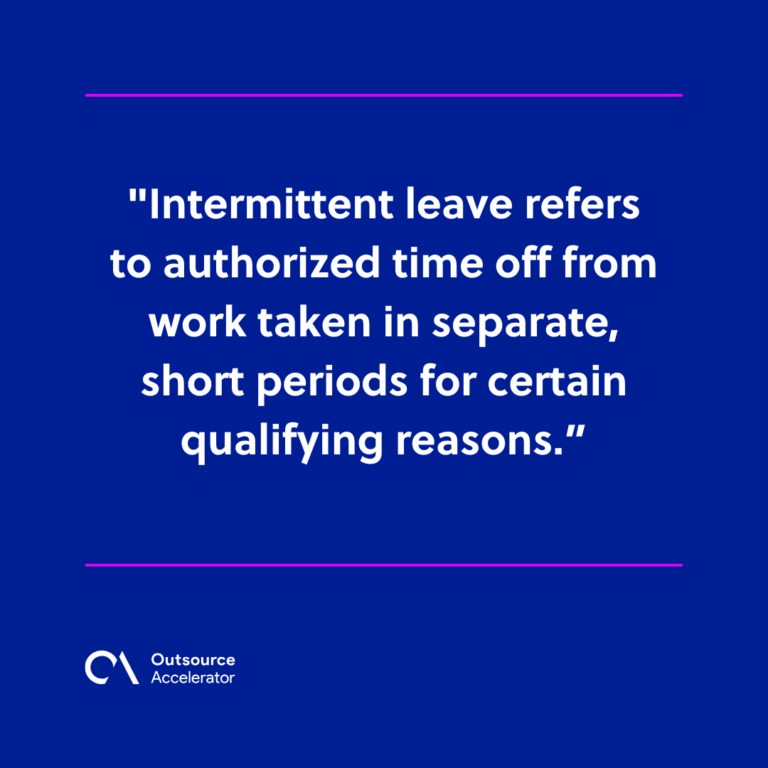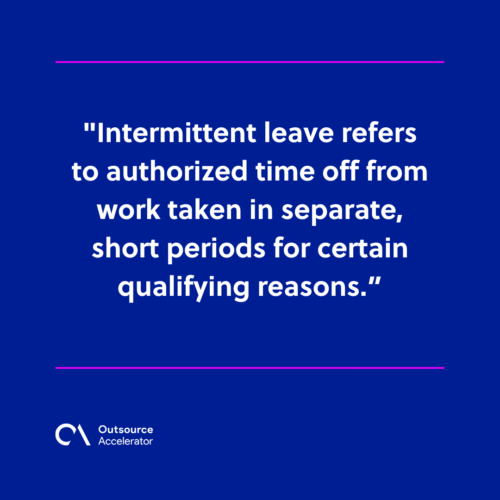 Importance of intermittent leave
Emergencies and other related circumstances are sometimes inevitable. Offering intermittent leave for your team members is a great way to show care for their welfare during these emergencies.
Specifically, this can help them in the following situations:
Accommodating medical needs
Intermittent leave is vital in accommodating employees with chronic or recurring medical conditions. It allows them to receive necessary medical treatment, attend appointments, and manage their health effectively.
Work-life balance
It promotes work-life balance by allowing employees to handle personal matters without sacrificing work.
Whether attending family events, caring for dependents, or dealing with unforeseen emergencies, intermittent leave helps employees maintain a healthy equilibrium between work and personal life.
Supporting mental health
Intermittent leave helps employees address their mental well-being.
It allows them to take time off when experiencing mental health challenges, attend therapy sessions, or engage in self-care activities.
Reasons for filing for intermittent leave
The FMLA identifies the qualified reasons for filing intermittent leave:
Chronic health conditions
Employees with chronic health conditions, such as asthma, diabetes, or heart disease, often need this type of leave to manage their symptoms effectively. 
This allows them to receive necessary medical care and perform their duties efficiently during periods of wellness.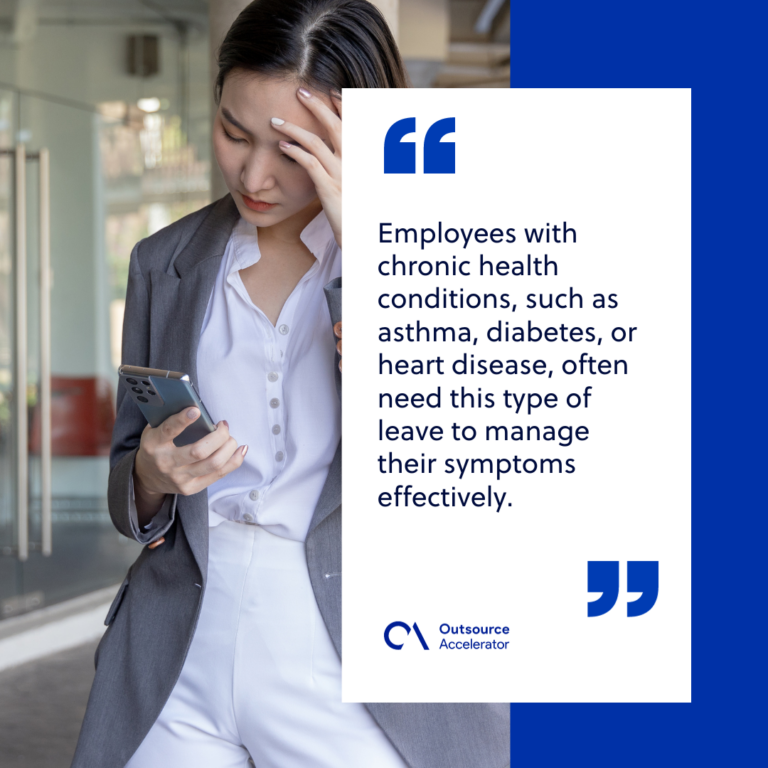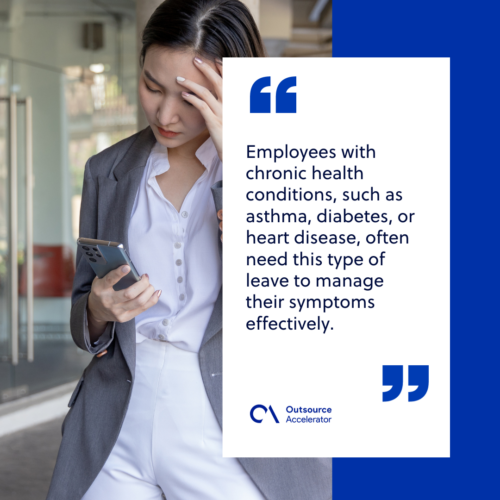 Serious illnesses
Intermittent leave also considers staff with serious illnesses like cancer or multiple sclerosis. These individuals may require ongoing treatments or experience periodic episodes that significantly impact their ability to work.
Parental responsibilities
Parents, especially those with young children, may need intermittent leave to attend school events, go to doctor appointments, or deal with childcare issues.
The FMLA also allows new mothers to file this type of leave to attend to their newborn child. However, in the case of other countries or firms, paid maternity leave is in place for them.
Disability or injury
This leave can also be requested by employees with disabilities or those recovering from injuries. It enables them to attend rehabilitation sessions and medical appointments or manage pain episodes.
Absence due to caregiving
Employees who serve as caregivers for elderly or ill family members may require intermittent leave to fulfill their caregiving duties.
In addition, the FMLA allows eligible staff to take up to 26 work weeks of unpaid leave to care for service members with serious illnesses.
Employers supporting such needs positively impact employee morale, loyalty, and retention, as they assist in creating a compassionate workplace environment.
Process for requesting intermittent leave
Given the eligibility and requirements for intermittent leave, employees cannot simply file this like other forms of time off.
They must follow the process for requesting this type of leave properly.
Understanding employer policies
Employees should familiarize themselves with their employer's policies regarding intermittent leave.
This includes knowing the eligibility criteria, notification requirements, and any additional documentation that may be required, such as medical certifications or supporting documents.
Providing timely notifications
Employees are responsible for notifying their employer promptly when requesting. This notification should include the expected duration of the leave, the reason for the request, and any additional documentation, if necessary.
Communication and coordination
Open and honest communication is essential when requesting intermittent leave.
Employees should discuss their needs with their supervisors or human resources department. Ensure mutual understanding and efficient coordination to minimize any potential disruption to workflow.
Documentation and record-keeping
Employees should maintain accurate documentation of their leave requests, including any supporting medical certifications or other relevant paperwork.
This helps maintain clarity, streamline future requests, and provide evidence should any disputes arise.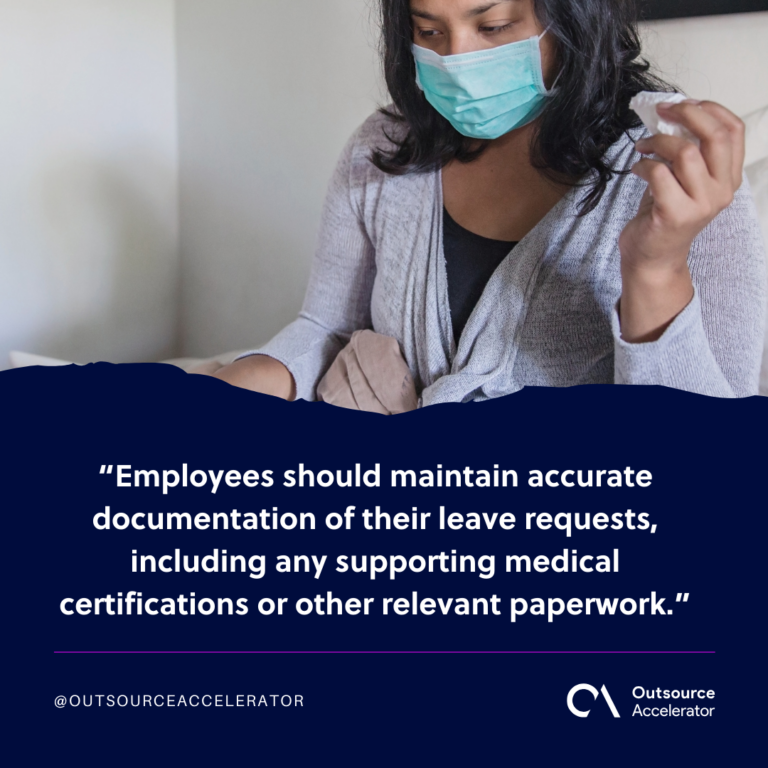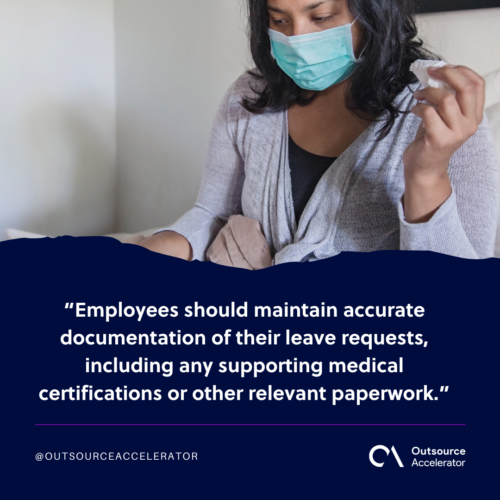 Regular updates
Keeping employers informed about the status of their condition or need for intermittent leave is vital. 
Regular updates help establish transparency, build trust between employees and employers, and facilitate effective planning and resource allocation.
Managing and tracking intermittent leave
Effectively managing and tracking intermittent leave is crucial for both employers and employees. The following strategies can streamline the process and ensure a smooth transition:
Implement a dedicated leave management system to track and manage leave requests accurately.

Develop comprehensive leave policies and procedures that provide clear guidelines and expectations regarding intermittent leave.

Encourage employees to maintain open lines of communication regarding their needs.

Alternatively, explore

flexible work arrangements

, such as telecommuting or adjusted schedules, to accommodate this without compromising productivity.

Regularly monitor and evaluate intermittent leave's impact on employee performance and company operations.