5 Notable advantages of in-kind benefits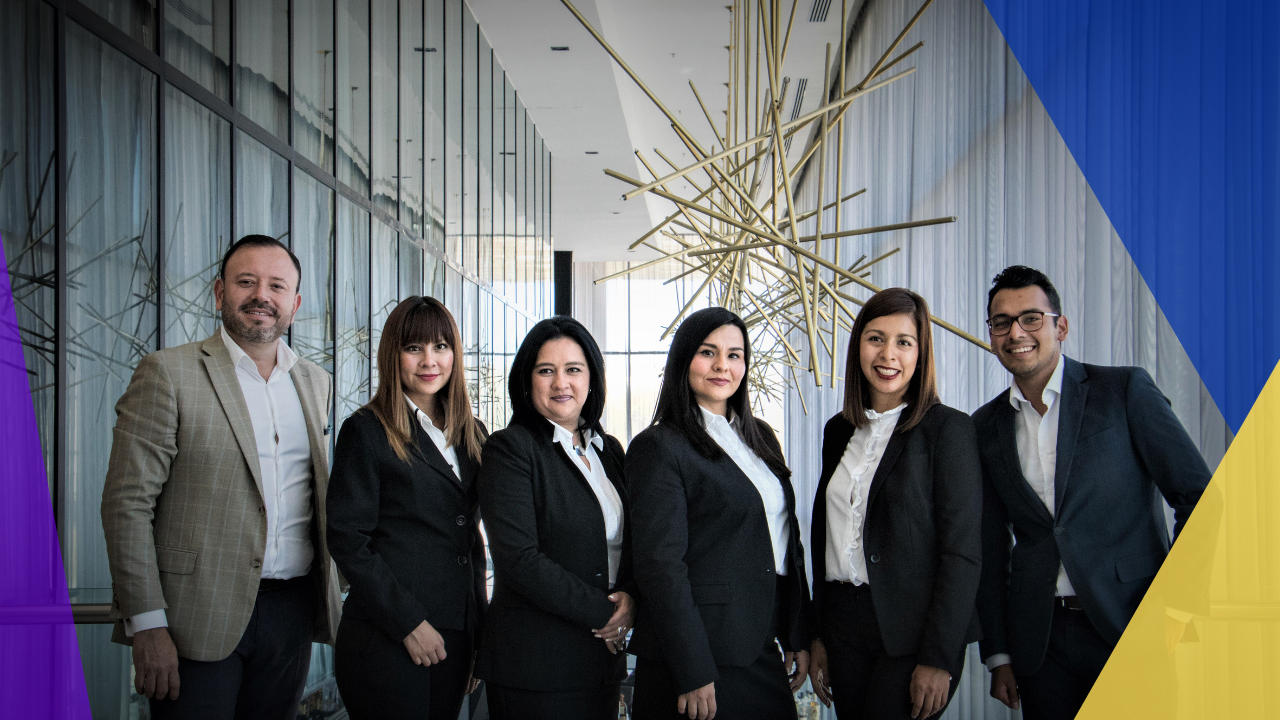 5 Notable advantages of in-kind benefits
Employees often receive non-cash incentives that enhance their well-being. Some employees treat these benefits as extra bonuses on top of a competitive salary.
Other employees receive important services such as healthcare and insurance—things that they would not be able to pay out of their taxable income alone. 
These benefits are called in-kind benefits. These are essential components of employee remuneration that can help employee retention and recruit top talent. 
In-kind benefits defined
In-kind benefits also referred to as perks or fringe benefits, are non-monetary benefits offered by an employer to its staff. They have a monetary value despite not being paid in cash. Depending on the country, taxes on this amount may be due from the employer, the employee, or both.
Although they may be taxable, they are not included in the employee's salary. Instead, companies include allowances for in-kind benefits in their elaborate employee remuneration strategy. 
In-kind benefits may also provide access to resources or services required, such as company vehicles or transportation expenses.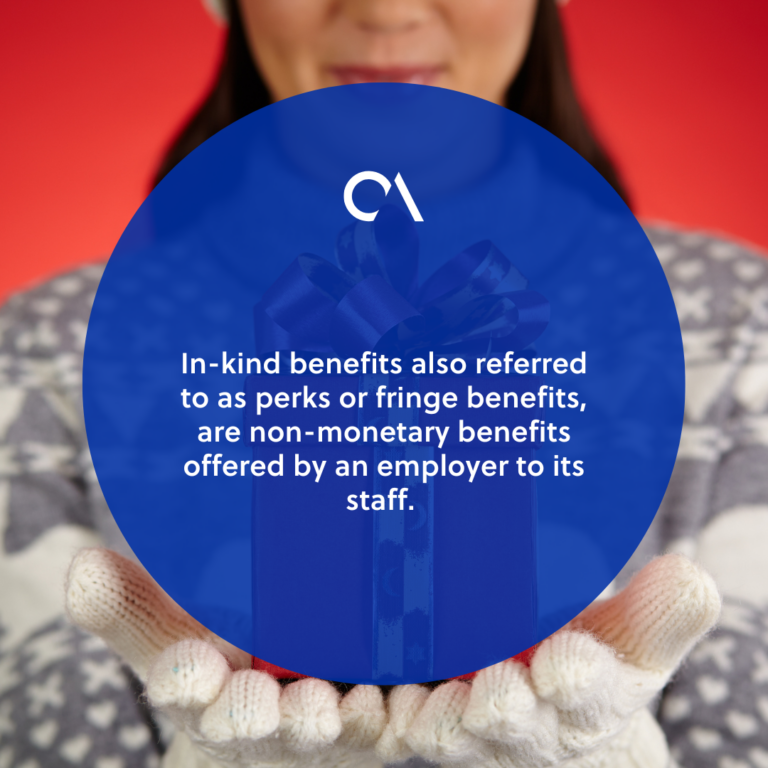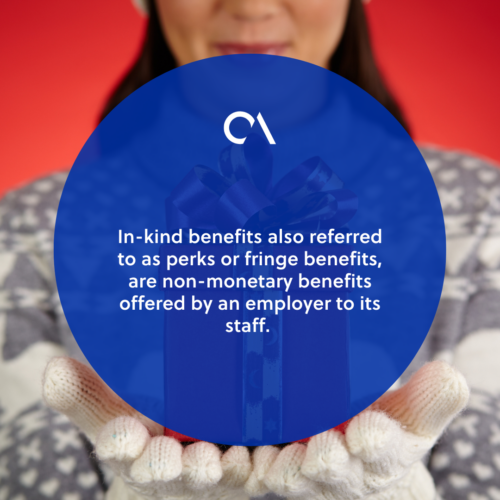 Examples of in-kind benefits
In-kind benefits are those that support employees in doing their job or provide them with a sense of security. Here are some examples of these perks:
Accommodation and relocation
Housing costs can be expensive. Some companies provide accommodation benefits to their employees. It can be a housing unit, an apartment, a bunkhouse, or other forms of living quarters. Meanwhile, relocation benefit helps employees to move from one place to another if their employment needs it.
In most cases, these expenses are paid for by the employer on top of the employees' salaries. Otherwise, their tax bracket is lowered, allowing them to still have a significant chunk of their wages.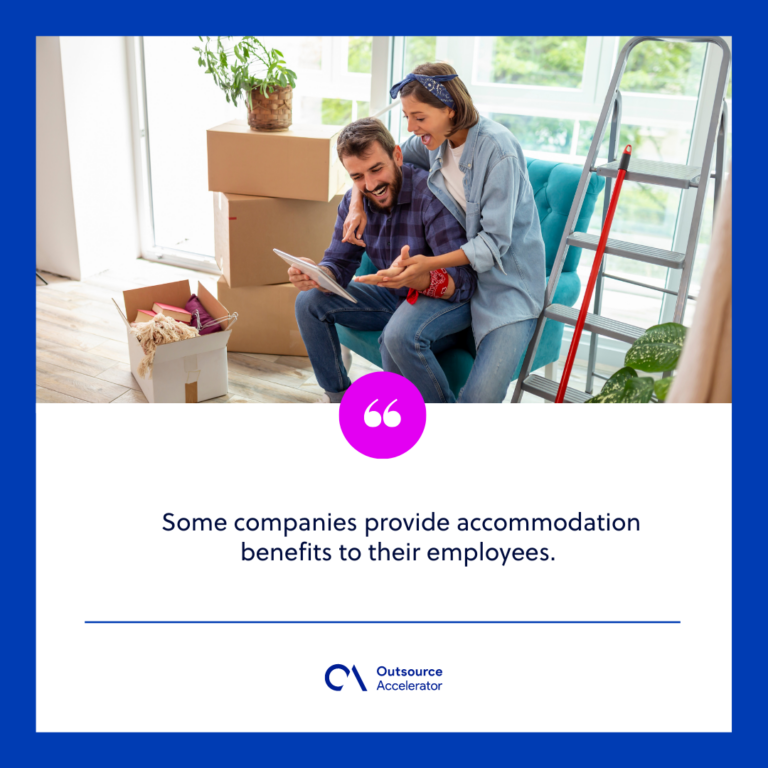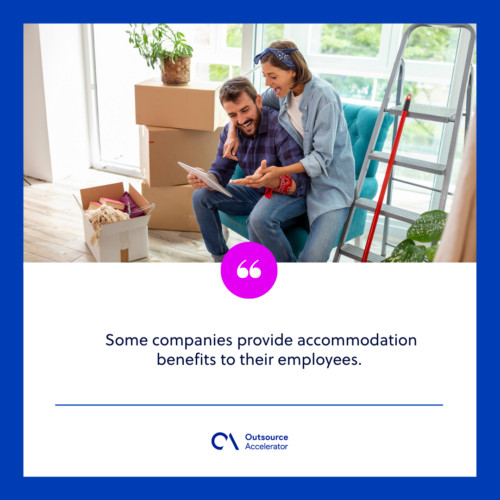 Medical benefits
One of the most common in-kind benefits is health care. Many workers in both the private and government sectors rely on medical benefits to maintain both their own and their families well-being. 
Both small businesses and huge enterprises provide medical benefits to sustain a healthy workplace environment. The expenditures related to routine medical procedures like checkups and wellness visits, prenatal care, or emergency care are greatly reduced by medical benefits. 
Many employees wouldn't be able to pay for the costs of required medical care without this in-kind benefit.
Car or transportation allowance
Not all companies offer this benefit, but a car allowance is also a common perk for employees. In a car allowance program, employees are given financial incentives in place of company vehicles. This is given on top of the fixed salaries and is intended to assist employees with their transportation expenses.
Car allowance is often stated in the employment contract. In some cases, this is a taxed benefit just like the normal salary. 
Educational assistance
One of the greatest in-kind bonuses a company can provide is educational allowances. This benefit is a highly sought-after in-kind perk, especially among younger employees. An educational benefit is an employee perk that supports their skills development. 
This can also help them in attaining their high school diploma, returning to school to finish their degrees, or repaying their students loans, if any. Any education benefits program is usually aimed at attracting top people upon recruitment. Likewise, it intends to enhance the overall skillset of the business.
Food and entertainment expenses
Many businesses provide employees with discounts and coupons for meals when they are in the workplace. Some of them even offer free tickets to movies and other recreational activities. This perk falls under meal and entertainment allowances.
For employers, it is also important to take into account the employee spending for meals and entertainment. These advantages lure especially young talents as they select firms who boast of providing them. 
This perk also gives the impression that the employer cares more about the welfare of your employees. Employees who believe their employer genuinely cares about their well-being are more likely to stay with the company.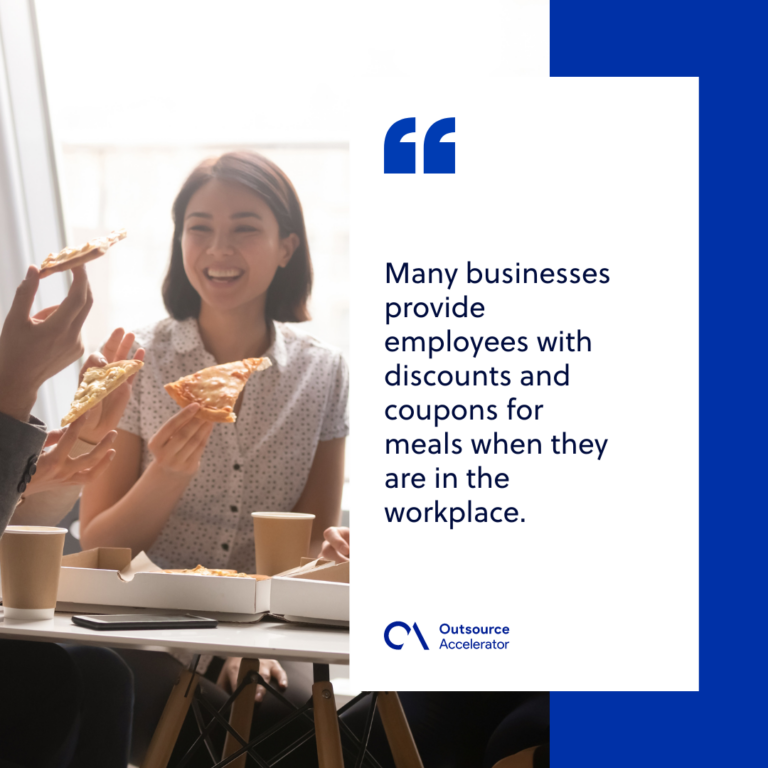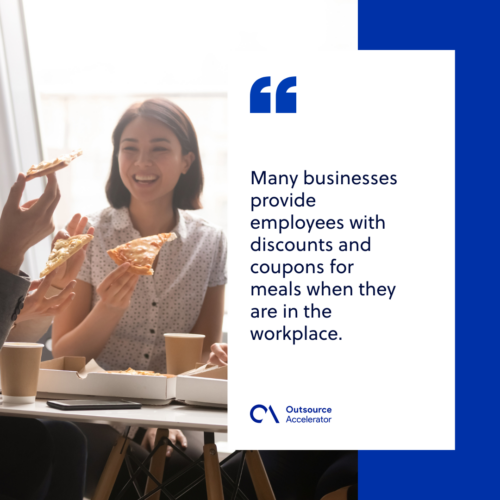 5 Advantages of in-kind benefits
Offering in-kind benefits has some benefits. In addition to tax advantages, providing these perks enables employees to use less money to access necessities like housing, transportation, meals, healthcare, etc.
In-kind benefits have the following benefits:
Great recruitment strategy
Employee perks are increasingly viewed as a deciding factor in the hiring process. Harvard Business Review states that 80% of workers would rather have more perks than a salary increase. It is advisable to use these perks when hiring new staff members and a game-changer for luring top talent for C-suite.
It's been said that the company's first ten employees will make or ruin its endeavor. Offering in-kind benefits with generosity and conviction is a great tool for attracting top candidates.
Improve employee retention
There are in-kind benefits that increase trust and loyalty. Employee loyalty is encouraged by retirement schemes, stock options, incentives, pensions, and healthcare programs.  
Not many people will acknowledge this, but in-kind benefits allow employees to forget about simple yet essential services. If their retirement is protected, they do not need to worry too much about savings strategies. When their travel needs are addressed, they won't think about working for another company.
Businesses should keep in mind that not every employee is the same. Empathy should always be observed.
Boost employee morale
Imagine a worker who receives free transportation to work. As they do their work conscientiously, they go for lunch provided for them, so it lessens their expenses. A strong private insurance plan will do the same thing by eliminating the need to put money aside for emergencies.
By providing such in-kind benefits, employers help their staff overcome trivial things and can put greater emphasis on their professional aspirations.
Promote employee mental well-being
Having a healthy mind involves more than just being content, upbeat, and productive. It also relates to clear thinking, getting enough sleep, and maintaining healthy relationships.
Insufficient mental health at work causes more absenteeism and lower productivity. The entire organization is impacted. 
Johnson and Johnson, for instance, was a pioneer in this situation. Employees and their families are covered by the company's mental healthcare program. They also have a staff of more than 1,000 workers who can provide mental health first aid and attend to the needs of the employees.
Tax benefits
Some non-monetary perks do not have taxes. There are some countries where taxation laws have made it simpler to grant benefits to employees. This makes a number of in-kind benefits no longer considered part of an employee's income.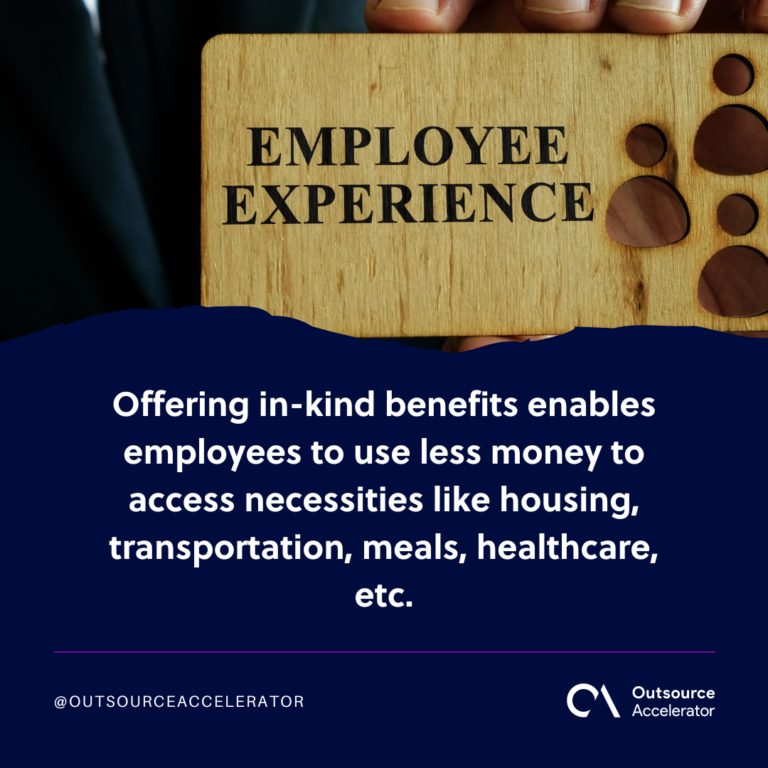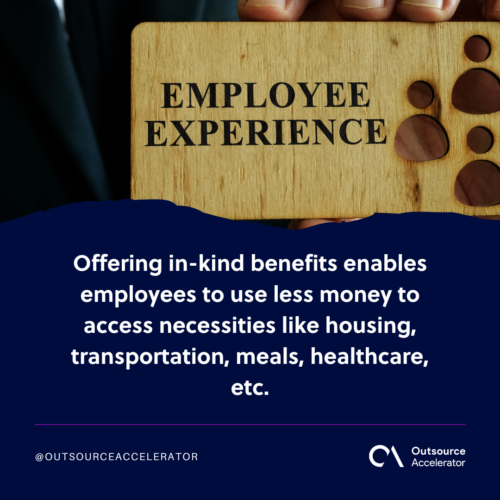 Providing in-kind benefits is all worth it
Providing employees with a solid benefits package is a smart way to improve employee retention. It effectively improves the employee's morale, productivity, and loyalty. It makes them work at ease and worry-free.
Offering in-kind benefits definitely helps attract and keep the best workers. This is important for business expansion and improving the company's overall skill set. As the old saying goes, take care of your employees, and your employees will take care of your business.