Why your business needs immutable storage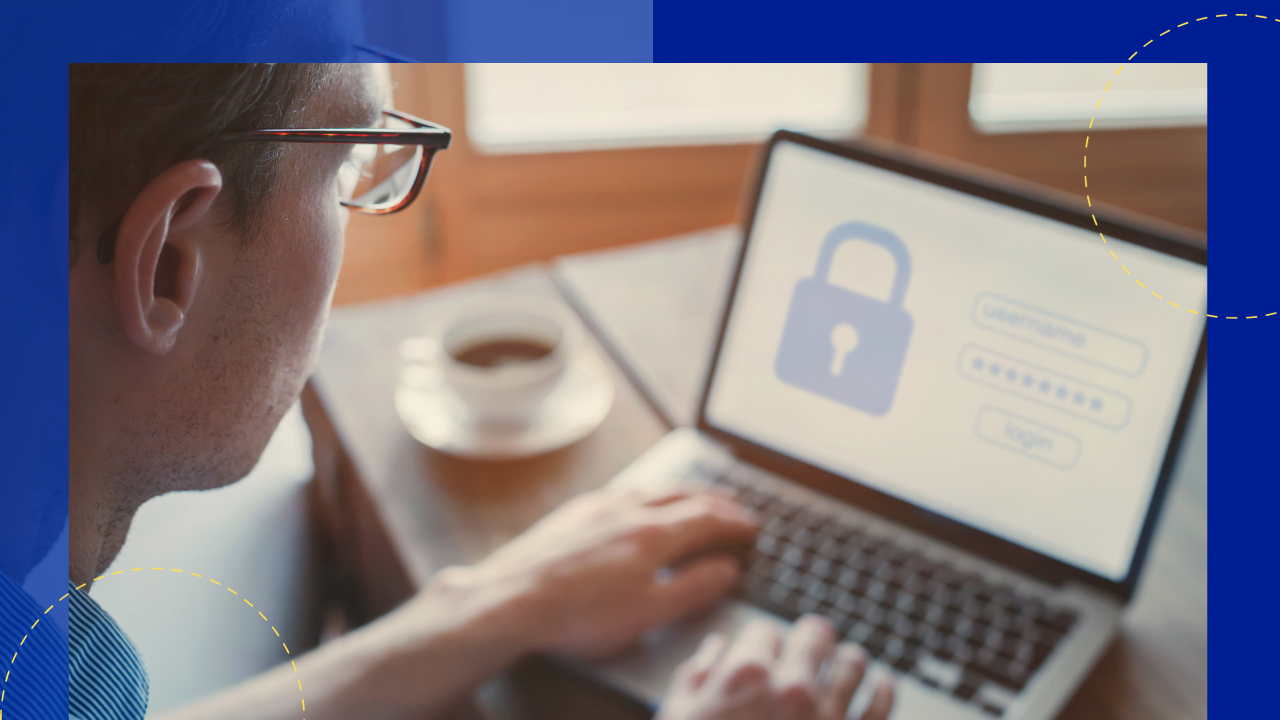 Keeping your confidential data safe is a priority whether you are a small or large business.
Unfortunately, some companies are still prone to cyber-attacks and data breaches because they have failed to implement stricter data protection methods. This is where immutable storage comes in handy. 
Read on to learn more about how it works.
What is immutable storage?
Immutable storage is a form of data storage that cannot be accessed, edited, or deleted. It leaves confidential information untouched and immune to cyber-attacks and ransomware.
This is especially useful when handling sensitive information, such as customer profiles, health records, or legal documents.
Apart from the main storage, this information is placed in an immutable backup storage, which cannot be touched or altered.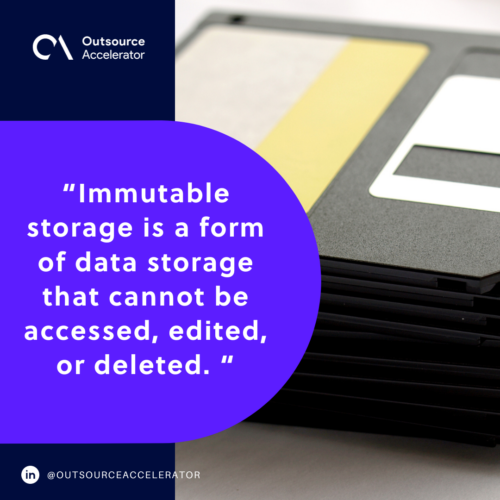 How does immutable storage work?
Data kept in immutable storage is protected by a write-once-read-many (WORM) format. Once a piece of information is written, it can no longer be rewritten or modified.
Some standard data protection methods can be bypassed, leaving your private information vulnerable to outsiders. However, this type of security system protects the integrity of the data and prevents it from being tampered with.
You can set the immutability of data for a specific amount of time. The data can be altered or deleted as needed when that period is over.
Benefits of immutable storage
There are many reasons why businesses resort to immutable data storage, as it provides the following advantages:
Safety from ransomware and cyber attacks
The main selling point of immutable storage is increased security and protection from external threats, such as cyber-attacks and data breaches.
Implementing immutable storage could protect your company funds from ransomware. According to Sophos' State of Ransomware in 2021 report, the average recovery cost for an attack was around $1.8 million.
You won't have to worry about shelling out large amounts of money just to retrieve your data, thanks to immutable storage.
Maintains data integrity
Immutable storage prevents sensitive data from being tampered with, ensuring its accuracy and authenticity. This applies to log files, data analytics, and video surveillance footage.
Furthermore, immutable storage complies with regulatory requirements, which is important for industries, such as finance and health that need to maintain data in its original form.
Avoids accidental deletion
Data kept in immutable storage cannot be deleted, whether accidentally by humans or through system failures. Your data will remain as it was when it was first stored.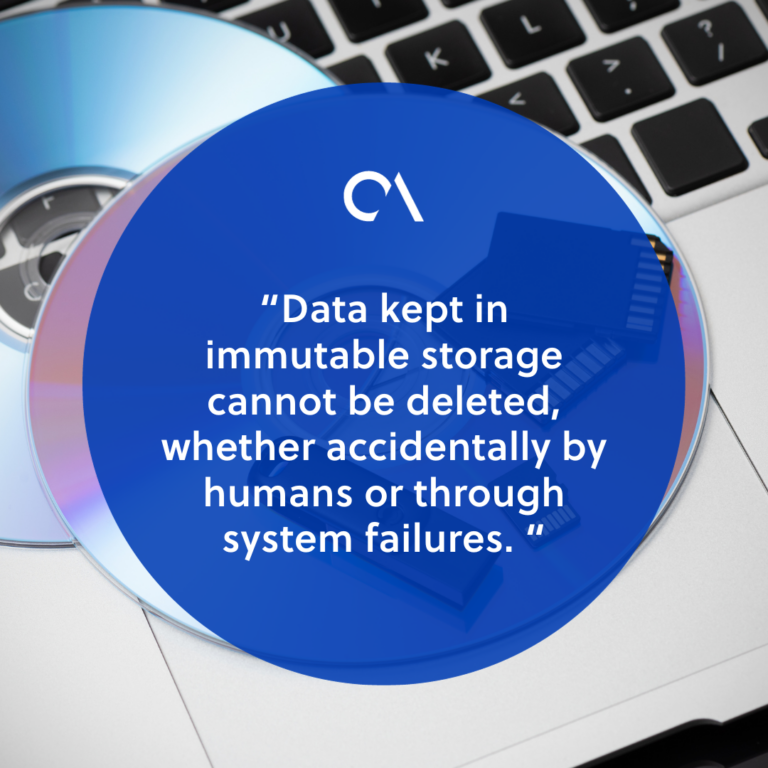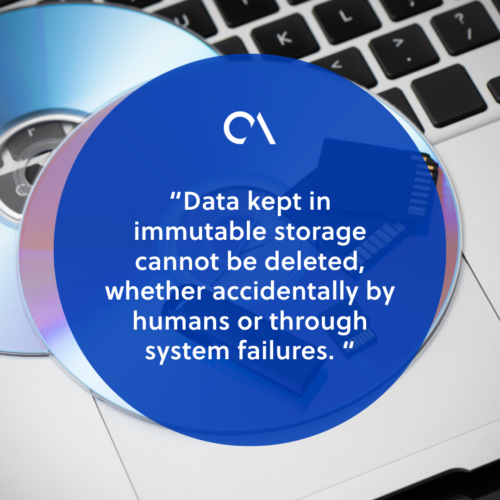 Challenges of immutable storage
While immutable storage has several advantages, there are also downsides that come with it.
Cost
Due to its increased security measures, immutable storage costs more to implement as it may require specialized hardware and software.
Unless businesses have the budget to use immutable storage, they may have to resort to less robust security mechanisms, which make data more vulnerable to external threats.
Not immune from physical damage
Although immutable storage safeguards your data from cyber attacks, they are not safe from physical damage caused by calamities, such as storms, fires, or earthquakes.
It is recommended that companies create backups upon backups of these data in the event a natural disaster happens.
Applications of immutable storage
Any industry can use immutable storage, especially those that work with sensitive information.
Here are some fields that benefit from using immutable storage:
Law enforcement
Law firms use immutable storage to keep case files and other legal documents safe from unauthorized access or being tampered with.
Additionally, law enforcement firms store large amounts of surveillance audio and video data, which are critical during criminal case trials.
These data can serve as evidence in the courtroom and must be kept in their authentic, unaltered form. Otherwise, they are deemed inadmissible.
Medical
Medical facilities and hospitals use immutable storage to safeguard their patients' personal information and maintain integrity.
Immutable storage is important when complying with healthcare regulations like HIPAA, a federal law that upholds data confidentiality and security of medical information.
Finance
Financial institutions, such as banks and loan firms, rely on immutable storage to protect people's private banking information, such as credit card numbers and social security numbers.
Furthermore, the write-once-read-many policy helps these institutions comply with SEC regulations, which promotes honesty and transparency of financial information.
When to use immutable storage
Consider upgrading to immutable storage if you have large amounts of sensitive data that need extra protection.
Despite its added cost, it is beneficial to boost your security measures as you can leave your data alone knowing that it is safe and unalterable.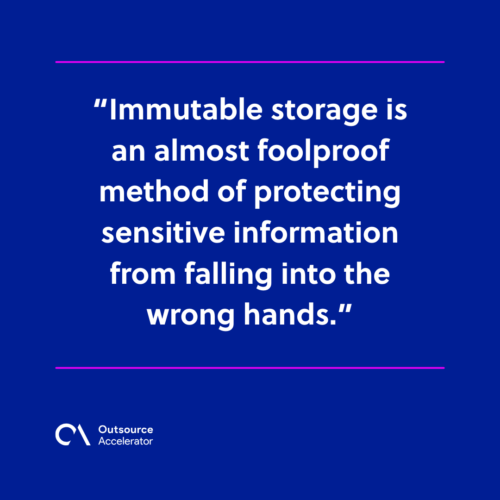 Immutable storage is an almost foolproof method of protecting sensitive information from falling into the wrong hands.
While it is still not 100% safe, it is definitely safer than most traditional storage methods, which are more vulnerable to outside attacks.