How BPO services benefit the hybrid work setup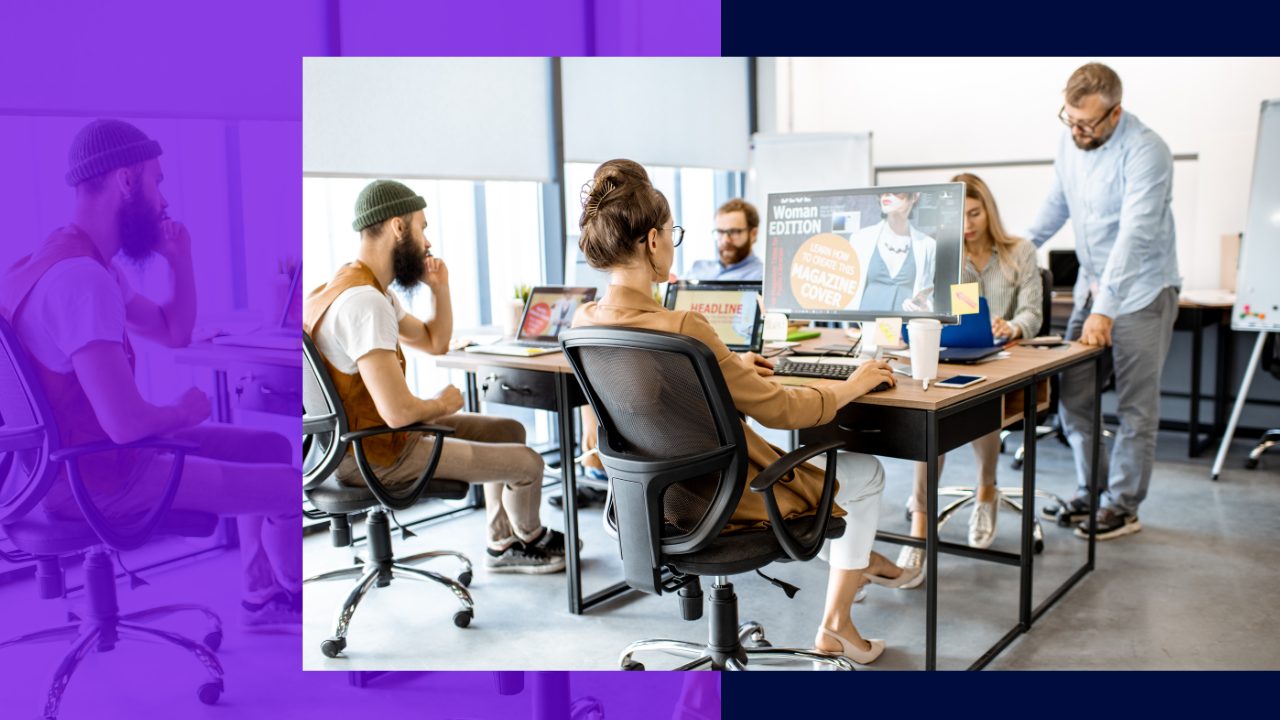 Because of the COVID-19 pandemic, how we work has changed drastically. Consequently, many businesses have adopted a hybrid work setup to accommodate the new normal. 
A hybrid work setup has become increasingly popular. It provides employees with a better work-life balance while saving the company on overhead costs. According to Forbes Advisor, 28.2% of full-time employees work a hybrid work model in 2023.
However, managing a hybrid work setup can be challenging for enterprises. One way to alleviate this challenge is by outsourcing some of the work to a business process outsourcing (BPO) provider. 
In this article, we'll discuss how BPO services benefit the hybrid work setup and the types of services fit for this arrangement.
What is a hybrid work setup?
A hybrid work setup is a work arrangement that allows employees to perform their duties both in the office and remotely. It is a flexible system that provides workers with the freedom to choose where they work. 
This setup has become increasingly popular, and the COVID-19 pandemic has accelerated its adoption. Gartner forecasts that 51% of US employees will work hybrid by the end of 2023. 
Analysts have determined that workers now expect a hybrid work setup, instead of just being a perk. Because of this, many businesses have turned to outsourcing and partnering with BPO providers.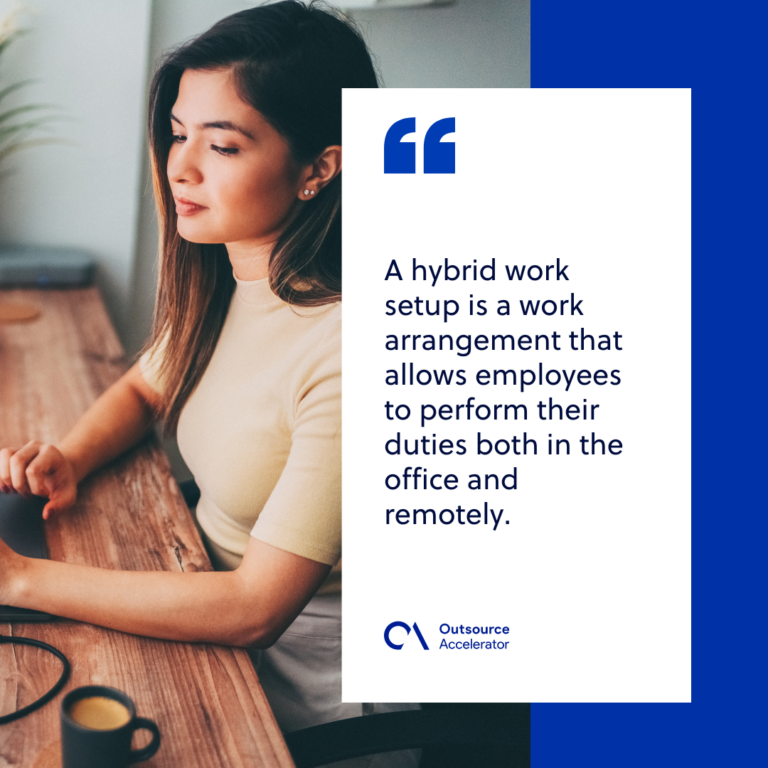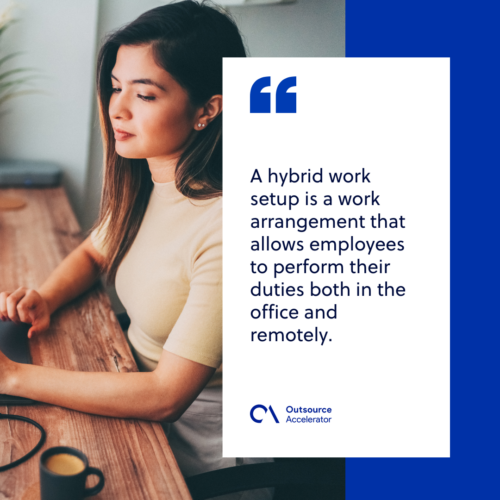 How outsourcing benefits a hybrid work setup
Outsourcing business processes can benefit companies practicing a hybrid work setup. BPO services allow organizations to focus on their core competencies while effectively managing their remote and on-site workforce. 
Here are several ways BPO services support a hybrid work setup:
Increased efficiency and productivity
Companies can streamline their operations and enhance their efficiency by outsourcing specific tasks. 
BPO providers specialize in delivering specific services, allowing businesses to leverage their capabilities and experience. This increased efficiency translates into improved productivity. 
Therefore, employees can focus on core responsibilities without being overwhelmed by additional tasks.
Cost savings
A hybrid work setup can save costs by reducing the need for office space and associated expenses. Outsourcing offers further cost-saving opportunities by providing scalable and tailored solutions.
Instead of hiring and training additional in-house staff, you can connect with BPO partners. You would only need to pay for the services you need. This flexibility allows businesses to reduce overhead costs while maintaining optimal productivity levels.
Access to specialized expertise
BPO service providers employ professionals with specialized skills and experience in various domains. By outsourcing specific functions to these experts, companies can access a high level of proficiency without extensive training or hiring. 
Scalability and flexibility
The hybrid work setup requires quick adaptation to changing demands and fluctuating workloads. 
BPO services offer scalability and flexibility, allowing organizations to adjust outsourced services as needed. This ensures that companies maintain operational continuity, regardless of workforce availability or workload volume.

Types of BPO services fit for a hybrid work setup
There are several types of BPO services that are fit for a hybrid work setup. Here are some of the most common functions a company can outsource:
Customer service
Customer service is among the most popular BPO services globally. Outsourcing providers can connect businesses with a team of customer service representatives who can handle customer inquiries and complaints.
Data entry and processing
Data entry and processing tasks can be time-consuming and labor-intensive. Outsourcing these functions helps reduce administrative burdens and improve data accuracy and efficiency. 
BPO experts are skilled in handling large volumes of data. They help you ensure data is processed, organized, and stored properly and securely.
IT support
With a hybrid work setup, employees may encounter technical issues while working remotely or on-site. Outsourcing IT support ensures prompt assistance for troubleshooting, software installations, network configurations, and other IT-related concerns. 
Virtual assistance
Virtual assistants (VAs) provide administrative support remotely. They assist with scheduling, email management, travel arrangements, research, and other related tasks. 
By outsourcing VA services, businesses can free up valuable time for their employees. It also ensures efficient task management, regardless of a VA's location.
Other back-office roles
Human resources tasks like recruitment, onboarding, and payroll processing can be easily done remotely. A BPO company can also handle accounting and financial responsibilities like bookkeeping.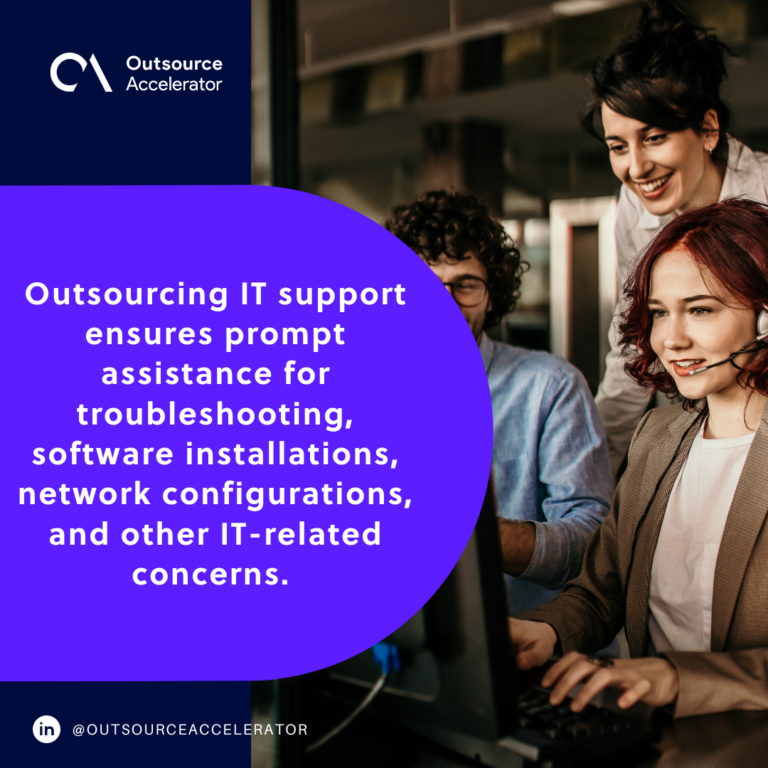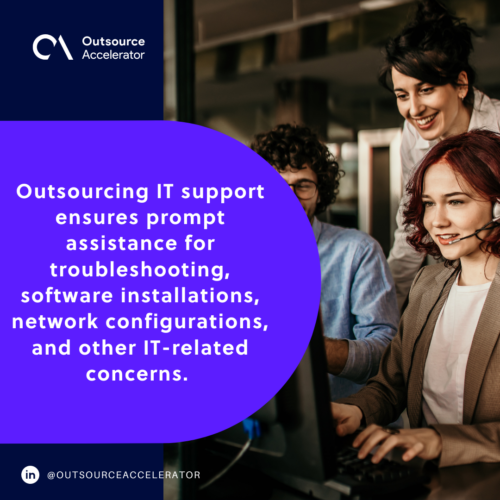 Enhance your company's hybrid work setup with SPLACE
SPLACE is a trusted BPO service provider that offers a range of services fit for a hybrid work setup. The outsourcing firm provides access to a team of experts who can help manage tasks and projects more efficiently.
Whether your company's work arrangement is on-site, remote, or hybrid, SPLACE has the tools to meet and adapt to your business needs. The BPO company offers flexible solutions that let you experience seamless collaboration while getting outstanding results.
SPLACE has a wide range of services designed to help you build, connect, or expand your enterprise. 
Learn more by visiting the official website and see how SPLACE can help enhance your company's hybrid work setup.