How do you measure a call campaign success in 2023?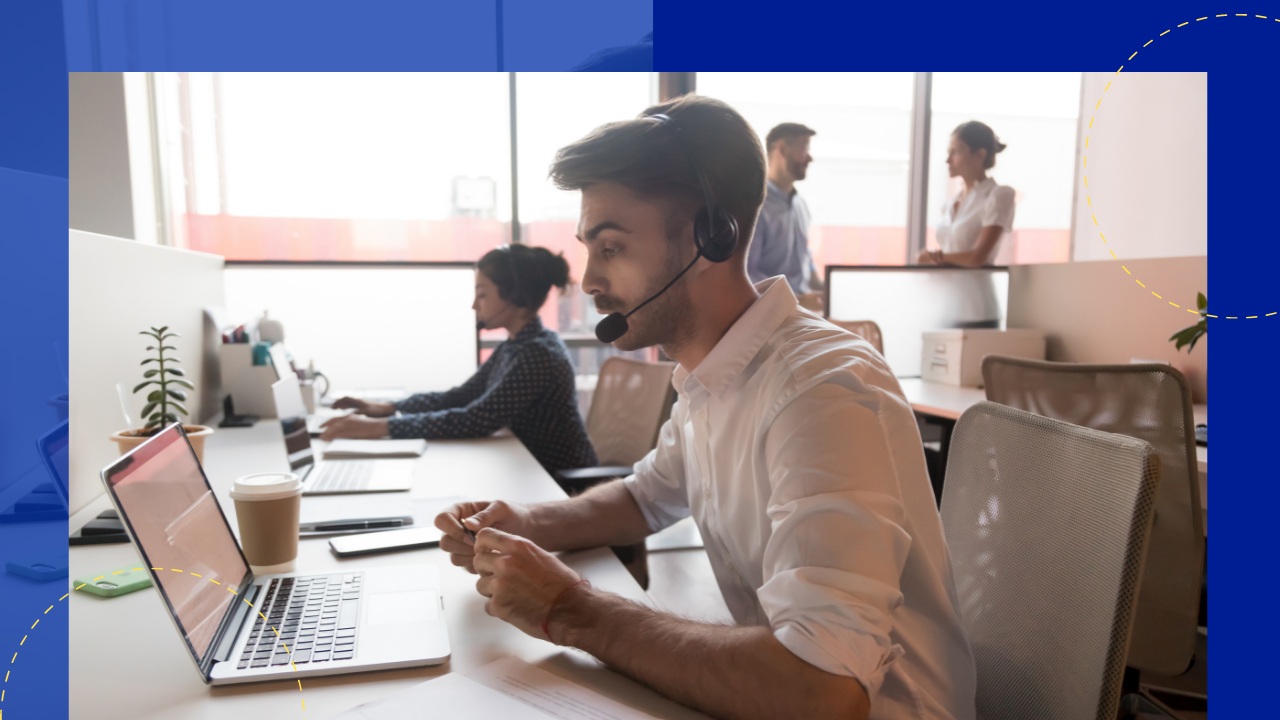 Over the last decade, calling and marketing have evolved dramatically. There were only 150 marketing technology tools in 2011. It has now surpassed 8,000! It is overwhelming in terms of options and frequently underwhelming in terms of value.
This investment in resources comes with high-performance expectations for marketers and callers who do marketing. Marketing must not only test, integrate, and train on these technologies, but also become power users, while also linking results to sales. Small businesses lack the resources and time to keep up. Instead of learning another tool, you should focus on driving sales.
How can you measure and analyse your call campaign like a pro? Understanding all of the different levels of performance is critical when it comes to all types of call campaigns. You must remain focused on your campaign's ultimate goal, whether it is the number of appointments set or the number of insights gathered. However, this alone will not get you there. Knowing that every step in between is important will help you achieve your goals in the end.
Measuring the success of your call campaign should rely on a thorough evaluation using methodical questions that you can gradually develop from simple tools. The first step in the assessment is to determine what type of call campaign you are running.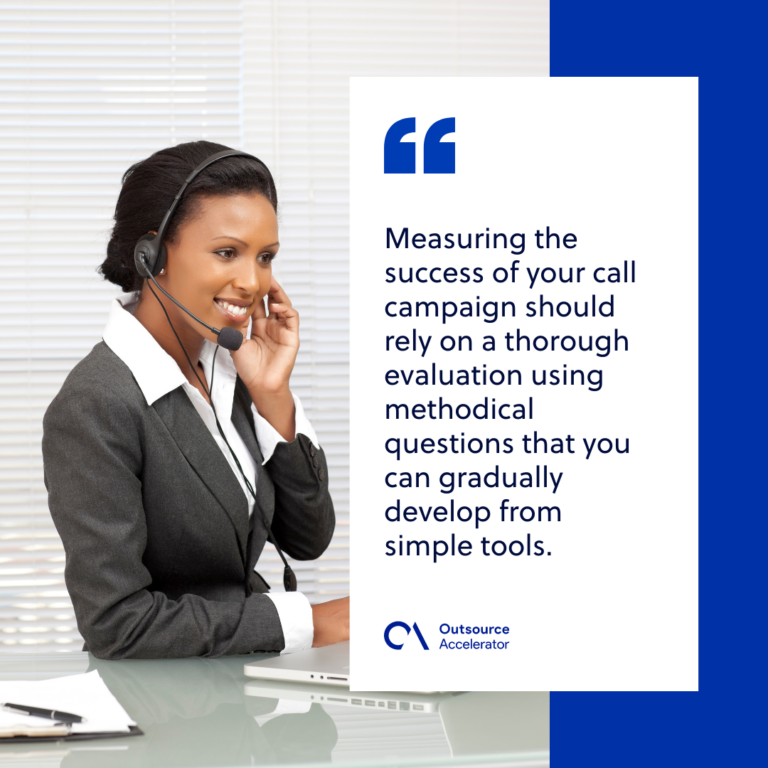 If the primary goal of the project is to generate leads, you should consider whether you are collecting enough data. When it comes to sales campaigns, the question to ask is whether you're effectively promoting your goods. 
If you're running an outbound campaign, the assessment should center on the people and organisations you're calling. If you launched an inbound sales project, you should pulse the frequency of calls you receive as well as the profiles of those who make the calls.
Step-1: Defining Key Performance Indicators (KPIs)
The Key Performance Indicators (KPIs) will be determined by the objectives and data available, so the indicators may differ for each campaign. However, there are some basic KPIs that may be shared by lead generation, sales, outbound, and inbound call services campaigns. Among them are:
Conversion Rates

Calls to follow-up

Information and Data gathered

The number of phone calls made/received
These KPIs are simple to track, but others, such as the caller's sentiment, the impact of the call, and the likelihood of future actions, can be more difficult. These questions can be answered with the help of various tools and generating surveys. Answering these larger questions early on can make it easier to measure other KPIs.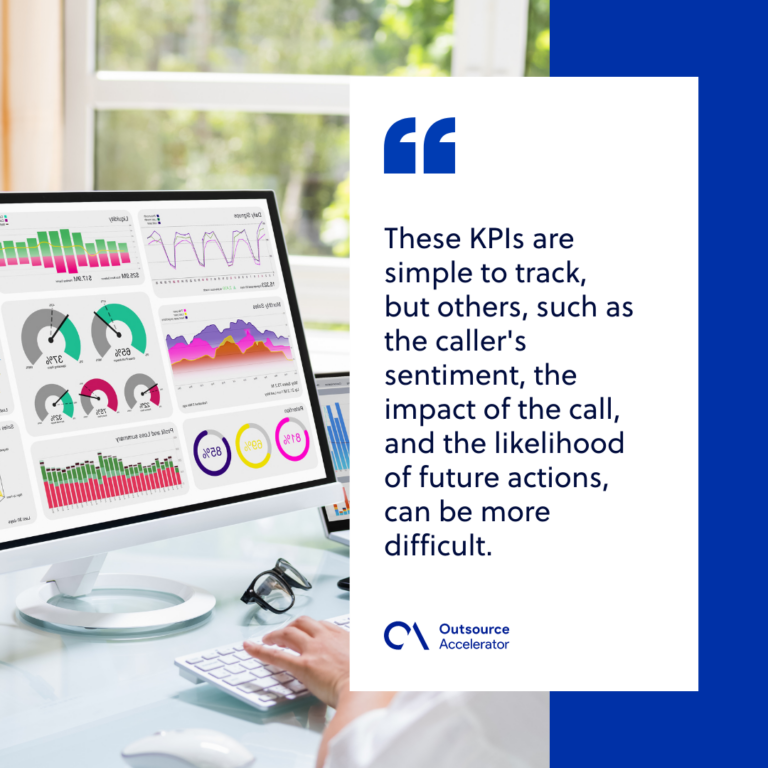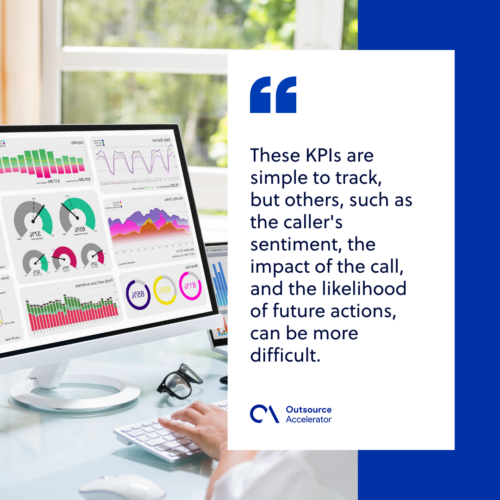 Step-2: Contextualising the Key Performance Indicators (KPIs)
Following the definition of the Key Performance Indicators (KPIs), the next step is to extract meaning from the measurements, which can be accomplished in the following ways:
Contrast your current calling activities with previous campaigns' efforts. This provides you with a clear picture of your campaign's progress.

Compare sales and leads generated during the campaign to levels prior to the campaign's launch. This will allow you to compare the overall performance of your company to a variety of other factors. In addition, by comparing conversion rates before, during, and after the calling campaign, you will be able to identify usage trends for future campaigns.

Define return-on-investment (ROI) to directly attribute success to the campaign itself.
After you have evaluated the performance of your campaign, you must effectively use the results to further define your company's success requirements. This means that regardless of whether the evaluation results were negative or positive, you should devise a plan of action to make progress.
KPIs, when used correctly, are an extremely effective way to assess the effectiveness of your calling and marketing campaigns. The most effective KPIs are closely related to broader business objectives and provide critical answers to critical questions posed by your company's executives and clients.
More importantly, they give you a better understanding of your outputs, allowing you to take more meaningful actions in your call campaigns. Before you choose your KPIs, it's a good idea to know what objectives you're working toward.
One should always begin with the fundamentals which are given below:
Make a list of your overall business goals.

Set your department's goals.

Assign the appropriate KPIs.
Visits, clicks, and conversions are just a few of the many different but equally detailed metrics that can be measured. Despite this abundance of options, consider how many you absolutely require.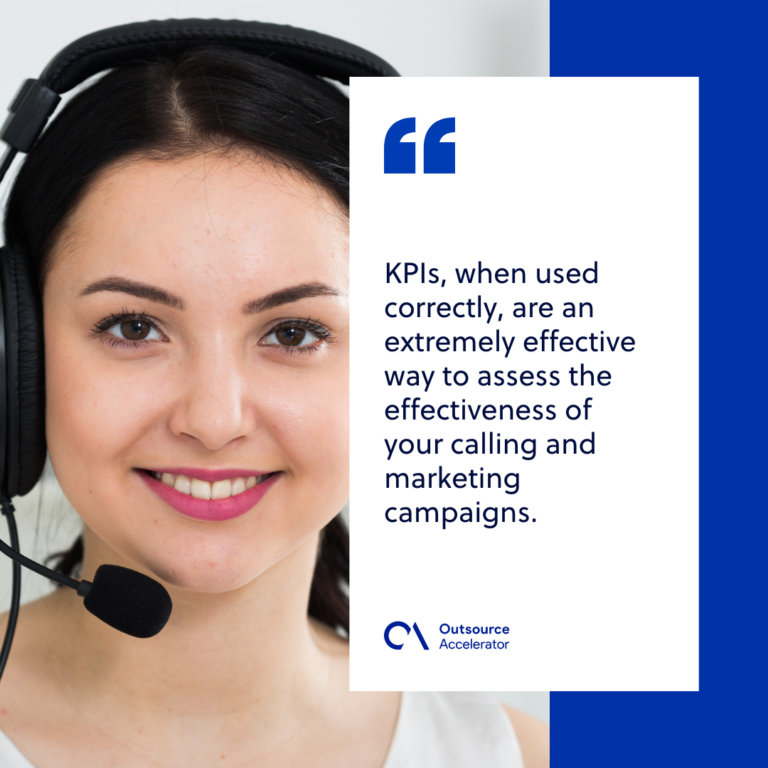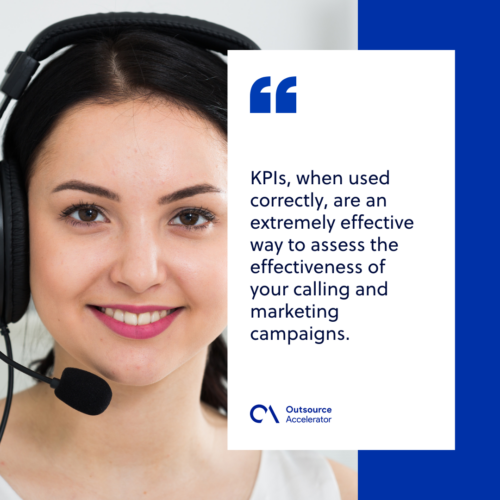 When it comes to KPIs, less is more. When you try to track too many KPIs at once, you risk undermining your performance efforts. As a result, you should avoid tracking more than ten KPIs at once.
Metrics viewed in isolation can lead to incorrect conclusions and poor decision-making. For example, your campaign may generate a lot of leads, but when you dig deeper, you may discover that these leads aren't ready to buy or are unqualified.
Your sales team suffers as a result of the calling campaign's failure to generate the right type of leads, which has a negative impact on their own specific metrics and goals. However, if you examine your KPIs holistically, you can ensure that your calling team is successful in driving qualified leads while also maximising the bottom line.
The prognosis is clear: callers must make more progress on data-driven initiatives or risk losing opportunities to connect with their target audience. Making sure you choose high-value, people-oriented metrics and then supporting those metrics with high-quality data is one way to make significant progress.
It is in your best interest as a caller to determine which types of calling campaigns are most effective in driving success. You can demonstrate your marketing success and justify your value to the company by using the right tools, metrics, and strategy.