Businesses are now realising that they can source incredible talent, globally.  It is really possible to access great full-time dedicated highly qualified staff from just $7,000 per year.
Now, in the new economy, virtually any role can be offshored. Accountants, marketers, analysts, salespeople, designers, developers and administrators can all be sourced. If the job can be done in front of a computer, then the role can be done offshore.  Businesses are hiring highly qualified professional staff covering almost any vertical. People often associate offshore staff with call centres or virtual assistants, but it is so much more than that.  
The Philippines is a world leader in offshore staffing solutions – which covers outsourcing, offshore staffing, virtual staffing, call centres – and now 'remote'.
Is it a fair salary?
People are often shocked at the low salaries on offer in the Philippines. 
They might also be concerned that the salaries at too low – or aren't fair for the staff.  This is not the case.  Generally, for the Philippines, an annual salary of $7,200 is very attractive and well above the average.
It's worth exploring how this can be the case.
Just to put it in perspective, the minimum wage in the Philippines ranges from just $1,708 – to – $2,904 PER YEAR.  The lower rate is for the provinces – at $0.82 per hour – and the higher rate – at 1.39 – is for Metro Manila and the big cities. Many people, including supermarket staff, retail workers, drivers and laborers, would all earn these minimum wages.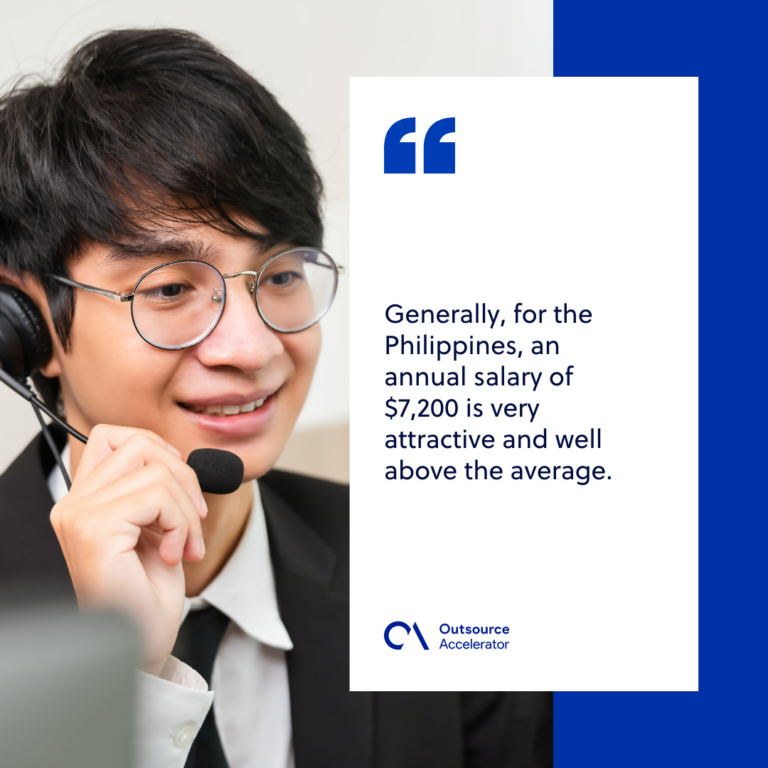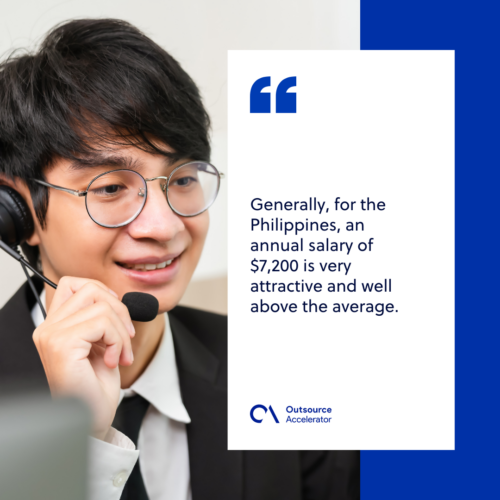 Who can you hire for  $7,200/yr?
For $7,200 you would be able to hire someone with a college degree, and skills within one of the general administrative, service or digital areas.  For example, this salary would apply to a mid-level admin assistant, call center agent, social media manager, content writer, designer and bookkeeper – or a lower level accountant.
It's also important to mention that salaries can also shoot well above the $7,000 mark.  Like any economy, salaries can vary greatly depending on the skills, role, experience, qualifications and market demand. This is no different in the Philippines.  Developers and senior executives are in high demand right now and can cost maybe $24,000-$48,000 per year. Whatever the salary, you can generally save about 60%-80% compared to salaries in the US market (or equivalent markets).
Below are some example salary guides:
| | | |
| --- | --- | --- |
| Roles | Monthly Salary (in PHP) | Monthly Salary (in USD) |
| Maintenance and cleaning crew | PHP 8,420 | $166 |
| Service personnel (driver, cashier) | PHP 12,885 | $253 |
| Office clerk (entry-level) | PHP 15,686 | $308 |
| Security guard | PHP 17,174 | $338 |
| Construction worker | PHP 18,824 | $370 |
| Teachers | PHP 18,998 | $373 |
| BPO employees | PHP 25,519 | $500 |
| Professionals | PHP 45,423+ | $893+ |
Cheaper living costs
Living costs are considerably cheaper in the Philippines.  For example, an entire apartment near the city center might cost $160- $200 per month – excluding utilities.  A room in a shared apartment will come in much less.  If people live outside of the big cities, then generally living costs are exceptionally low.
The opportunity to earn $7,200 per year for someone in their 20s or 30s is very attractive – and they can live a good life.
A good life – and a good opportunity
Everyone is driven by money – and the Philippines is no different.  However, the workforce is also motivated by purpose, engagement and career opportunity. Paying a salary of $7,200 is a great opportunity for a lot of people in the Philippines – but if you also offer them an engaging work environment, happy colleagues, a potential career ladder, and a mission that they can get onboard with – then they will likely become be a highly productive and loyal employee for many years to come.
Offshore staffing is very much a win-win.  And it is an incredible opportunity for businesses to dramatically cut their staffing costs, whilst at the same time driving revenues, growth, innovation and quality.
If you want to read more on this, see our full report: How a $500/mo salary supports decent living standards in the Philippines.