Unlock high-velocity sales: Benefits and best practices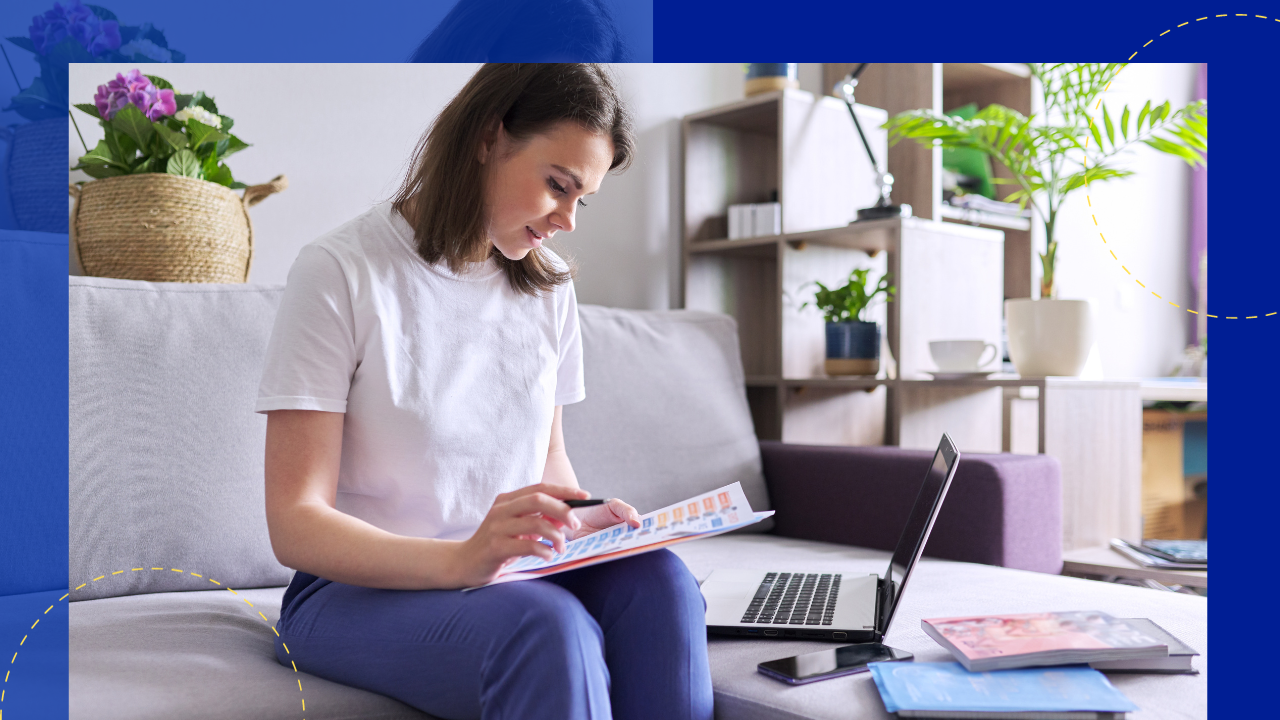 If you're in the world of sales and marketing, you've probably heard about high-velocity sales. 
It's not just another industry jargon – it's a game-changer! 
This article will explore its concept, the amazing benefits it offers, and the best practices to implement it. 
What are high-velocity sales?
High-velocity sales are like the Usain Bolt of the business world. It prioritizes quick and efficient sales procedures, which involve:
Promptly finding potential customers

Building relationships

Sealing deals rapidly
High-velocity sales are fast, precise, and highly competitive.
Benefits of high-velocity sales
Let's examine in more detail what these advantages entail:

Faster revenue generation
Picture this: your sales team operates like a well-oiled machine, identifying and closing deals at lightning speed. What does that mean for your business? 
Faster revenue generation. 
High-velocity sales are all about shortening the sales cycle, which translates to quicker revenue generation. 
When you can close deals faster, you're not just increasing your sales figures; you're also enhancing your cash flow and overall financial health.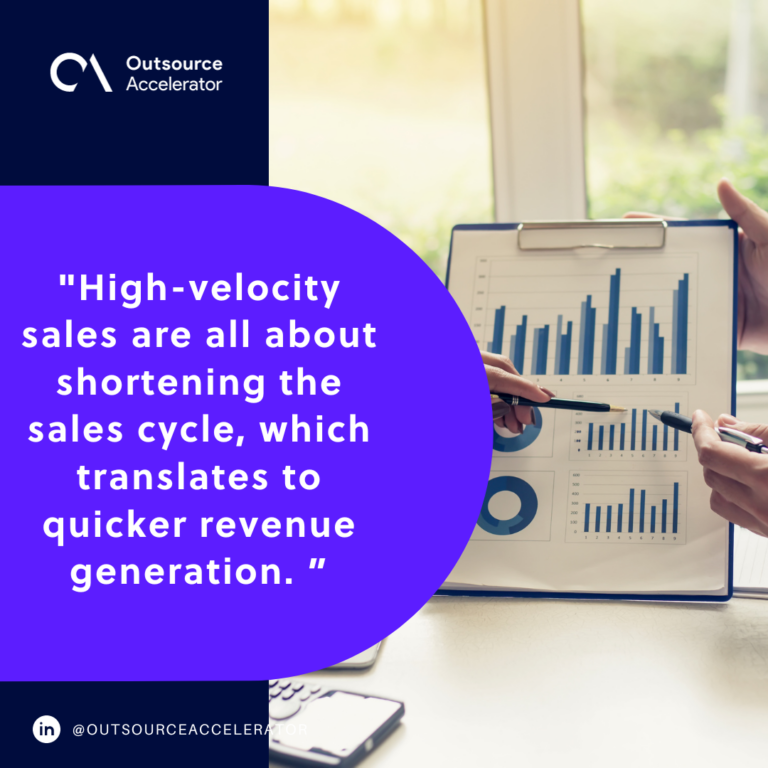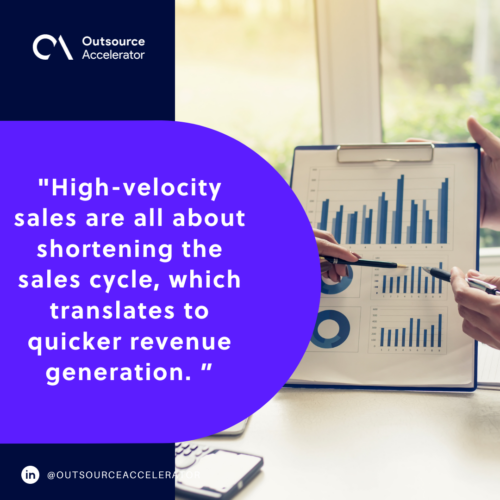 Adapt to rapid market changes
In a business environment, adaptability is key. Markets can change in the blink of an eye, and you need to keep up. 
This strategy equips you with the agility to pivot, adjust, and seize new opportunities.
One example is when a new trend emerges, and your product or service is a perfect fit. With high-velocity sales, you can quickly tailor your approach, target the trend, and ride the wave of success. 
It's all about staying ahead of the curve.
Competitive advantage
The ability to act quickly can be the ultimate game-changer. High-velocity sales give you that edge. 
While your competitors are still pondering their next move, you've already crossed the finish line with a signed contract.  Your customers won't have time to consider alternatives because you've already delivered what they need.
Customer satisfaction
Speed isn't just about your internal processes; it's also about providing exceptional customer experiences. 
High-velocity sales ensure that your customers get what they want swiftly and efficiently. In a world where convenience is king, this translates to higher customer satisfaction. 
Satisfied customers are more inclined to return and become enthusiastic brand supporters.

Data-driven insights 
Data is the modern-day goldmine. High-velocity sales provide you with a treasure trove of data that can be used to refine and optimize your strategies. 
It is like having a GPS for your sales process, tracking every twist and turn. 
With this data, you can analyze what's working and what's not and make well-informed, data-driven decisions to improve your sales performance continually.
Best practices in implementing high-velocity sales
Below are the best practices to make high-velocity sales work for your business.
Lead segmentation
Not all leads are created equal, and not recognizing this can result in inefficiency and missed opportunities.
This is where lead segmentation comes into play. By categorizing your leads based on various factors such as behavior, demographics, and interests, you can tailor your approach to each segment. 
This customized approach increases the chances of transforming prospective leads into paying clients.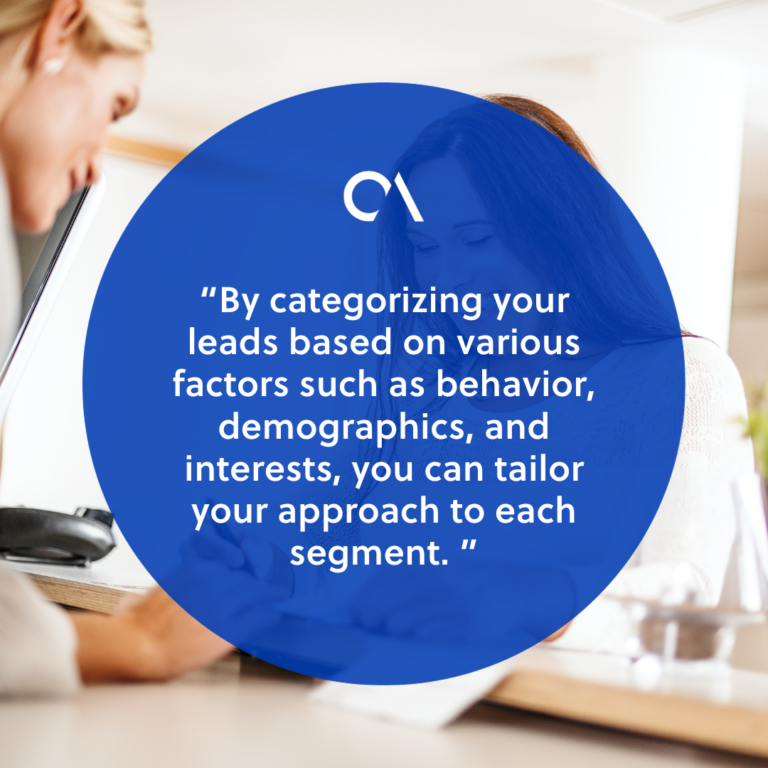 Sales cadences
High-velocity sales are a well-choreographed dance, and sales cadences are your steps to success. 
Visualize it as the rhythm that keeps the dance moving smoothly. Establishing well-defined cadences ensures that no lead gets lost in the shuffle. 
You set the pace, the timing, and the sequence of your outreach, which keeps your sales process organized and efficient.
Automated workflows
In the world of sales, automation is your best friend. It handles everything from sending personalized follow-ups to tracking lead interactions.
Foresee your sales team with a robot assistant, taking care of repetitive, time-consuming tasks and allowing your team to focus on what they do best – building relationships and closing deals.

Predictive analytics
Predictive analytics is the crystal ball of high-velocity sales. It uses historical data to forecast future trends and outcomes. 
It's like having a weather forecast for your sales. By utilizing predictive analytics, you can pinpoint the leads that have the highest probability of conversion.
This way, you're not just shooting in the dark; you're directing your sales team toward the leads that have the highest potential for success.
Continuous training
The world of sales is constantly evolving. What worked yesterday may not work tomorrow. 
That's why ongoing training plays a crucial role. Consider it like honing your abilities in an everlasting game of darts.
Regular training and updates on the latest tools and technologies keep your sales team at the top of their game. In a fast-paced environment, staying up to date-is key to success.
Utilize high-velocity sales for business success
High-velocity sales are not a one-size-fits-all solution, but they can be a game-changer for your business. By implementing the best practices and harnessing the benefits, you'll be on the fast track to success. 
So, why wait? Get started on your high-velocity sales journey.