Outsourcing in the age of gig workers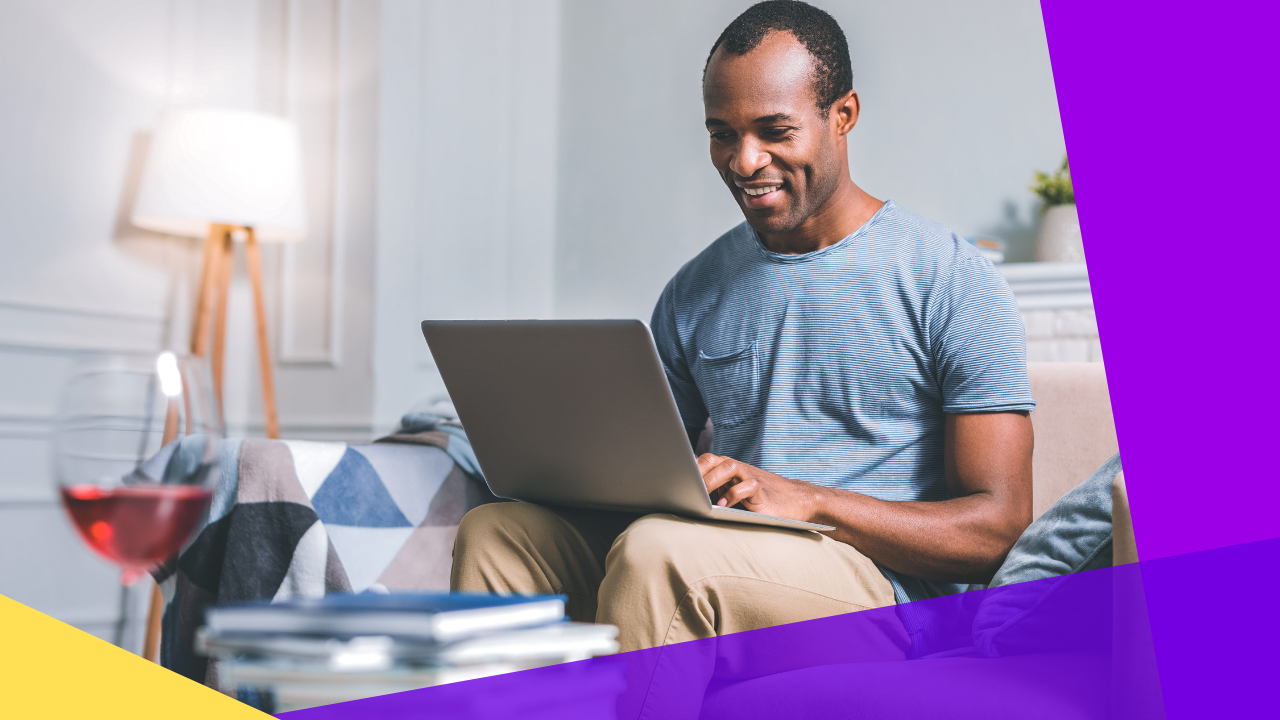 Traditional employment models are being refined as technology continues to shift the world's paradigm. 
The rise of gig workers, or individuals who engage in short-term contracts or freelance opportunities, has revolutionized how businesses operate. 
Even the outsourcing landscape has adjusted to include this flexible dynamic. It's with this business model that Omni Interactions fuels agility and drives innovation. 
In the 455th episode of the Outsource Accelerator podcast, Omni Interactions co-CEO Courtney Meyers goes over how their outsourcing solutions utilize the ripe gig worker market. 
"[We're] the middle ground between an Upwork, where you find people one or two at a time, and outsourcing, [which] is traditionally about employment largely on a big scale." 
"I feel Omni really bridges the gap between those two. We offer a managed service for our clients to leverage the gig economy so they don't have to do it one by one."
Overview of the gig economy 
The gig economy is a labor market distinguished by the dominance of temporary and part-time positions filled by gig workers. 
It's a paradigm shift from traditional employment models. The gig economy facilitates work through digital platforms that match them with clients.
The gig economy is booming, with McKinsey reporting that 36% of employed Americans define themselves as gig workers. 
It's a lucrative industry, and Statista foresees the global gig revenue reaching $455.2 billion by the end of 2023. 
Courtney credits the pandemic as accelerating this rise. 
"People needed to move their contact centers to home, and we were ready and waiting."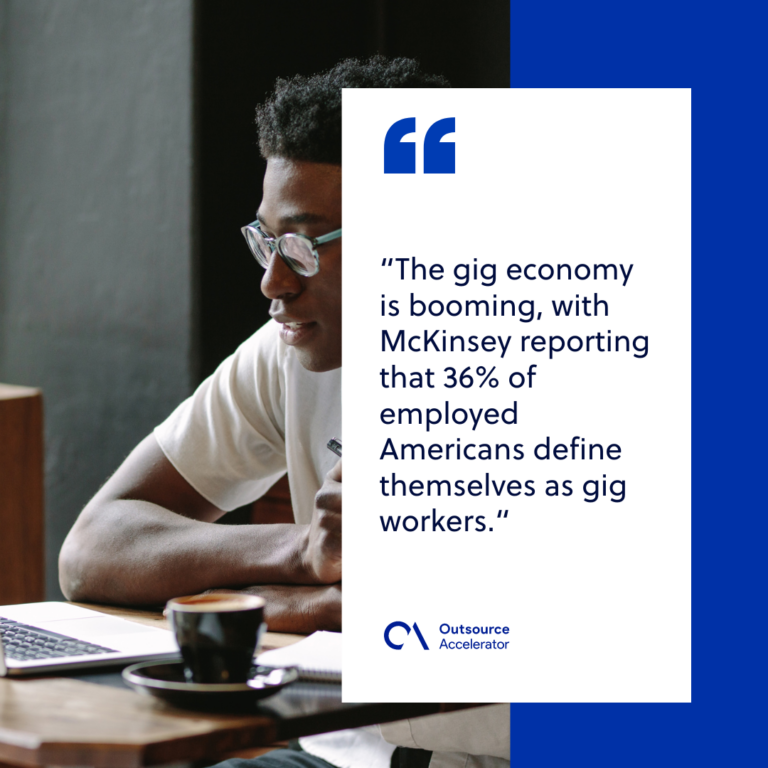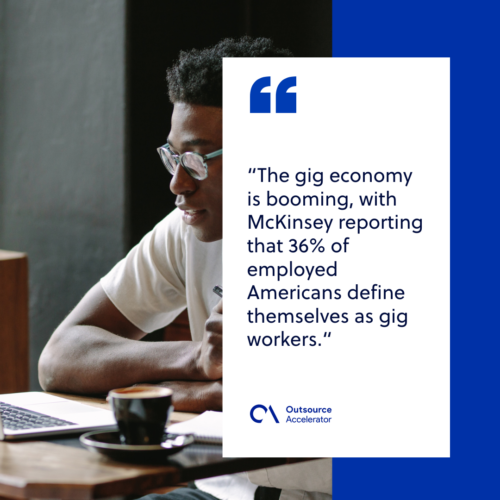 What do gig workers do? 
Gig workers are also called freelancers, independent contractors, or contingent workers. They engage in a wide range of tasks and activities across various industries. 
These roles can include: 
Creative services 

IT and technology 

Consulting and professional services

Retail and merchandising 

Research and data analysis
For their part, Omni Interactions mostly works in the contact center back-office space. 
Gig workers are characterized by their project-based or temporary nature, allowing them to take on specific assignments on a short-term basis. 
Courtney explains that this gives them plenty of flexibility, allowing them to "turn up the dial as needed."
Should a vendor not deliver, she says that it's easier to quickly find people to compensate. 
"It's that capacity from a part-time model [that] gives us the flexibility that allows us to deliver a lot of added value to our clients." 
This arrangement enables gig workers to create their own work arrangements and pursue a diversified portfolio of income sources tailored to their skills and preferences. 
Benefits of outsourcing gig workers
Here are some of the benefits of outsourcing gig workers:
1. Access to a global talent pool
The gig economy transcends geographical boundaries. Outsourcing gig workers allows businesses to tap into a diverse and global talent pool, accessing expertise worldwide. 
With gig workers being readily available through digital platforms, companies can find specialized skills that may be difficult to find locally. This also lets them find the one best suited for the job. 
2. Flexibility and scalability
Outsourcing gig workers allows businesses to scale their workforce based on demand. They can engage gig workers for specific projects instead of committing them to long-term contracts. 
This flexibility allows companies to adapt to changing market demands. This is particularly valuable for startups, small businesses, or enterprises with fluctuating workloads. 
Courtney describes her ideal clients as those who need flexibility. 
"Whether that's intraday, intra-week, month, or year, or a really big seasonal spike. It gives us the opportunity to really flex those gig muscles." 
3. Cost efficiency
Hiring full-time employees comes with costs like salaries, benefits, office space and equipment. Outsourcing gig workers can be a cost-effective alternative, eliminating many of these overhead expenses.
By outsourcing specific functions, businesses can allocate resources better and save significantly. 
4. Innovation and fresh perspectives 
Gig workers often possess niche skills and expertise that may not be available in-house. Businesses can tap into this talent pool to complete tasks that require specialized knowledge. 
Gig workers' unique perspectives can infuse creativity into projects, helping businesses stay ahead of the curve and foster innovation. 
In her experience, Courtney has encountered gig workers from all walks of life.
"We [even] see people that have never worked in customer service but have a long, storied career or background or education. [They're] looking to add value to the world, [and this is] a new opportunity for them." 
5. Agility 
The gig economy lets businesses quickly adapt and respond to changing market conditions. By leveraging gig workers, they can swiftly acquire capabilities that align with emerging trends. 
This agility enables companies to stay competitive and agile in rapidly evolving industries. 
Challenges of outsourcing gig workers
While there are many benefits, businesses must also contend with these challenges when outsourcing gig workers: 
1. Communication barriers 
Clear communication is critical for managing gig workers effectively. Without face-to-face interactions, it can be difficult to ensure that requirements are fully understood and quality is aligned. 
2. Quality and consistency 
Ensuring consistent quality can be challenging because gig workers are remote and working independently. It can be difficult to monitor work and assess performance. 
Businesses may need to invest in quality assurance processes and tracking systems to ensure that gig workers deliver the expected results. 
3. Data and IP security 
Outsourcing projects means sharing proprietary knowledge and information. Businesses must take care to protect their intellectual property and other sensitive data. 
Remote working also increases the likelihood of cybersecurity threats like data breaches and hacking attempts. 
4. Cultural differences
Working with gig workers from different countries can bring cultural differences that cause misinterpretations, misunderstandings, and collaboration challenges. 
This may require additional time to bridge cultural gaps. 
Future developments for outsourcing gig workers
The future of outsourcing looks promising as the gig economy continues to expand. 
Here are some future developments for outsourcing gig workers: 
1. AI and automation 
The use of artificial intelligence (AI) and machine learning (ML) will grow as more projects incorporate automation. 
This could create new opportunities for gig workers to offer more specialized services, including managing those new technologies. 
Omni Interactions has yet to implement automation for their customers, but Courtney describes what they call their "Omniverse." 
"It's a platform built around multiple cloud technologies, connected through microservices with a lot of bots that run off of that. And that's how we deliver our quality, consistency, [and] reliability." 
However, while she foresees more automation, she still expects clients to want the human touch. 
"Things will become more automated, [but will] also become more complex. And we still have a large population that enjoys human contact. There's some amazing AI products out there, but nothing's going to scratch that edge."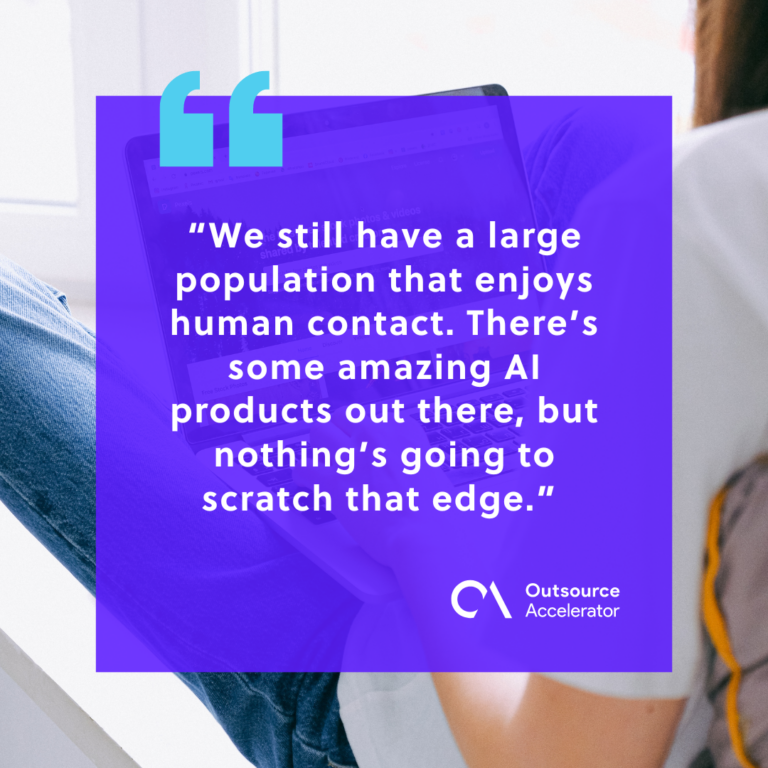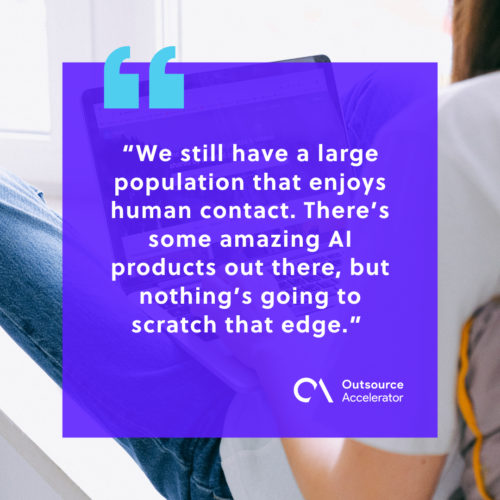 2. Improved collaboration tools 
Technology will continue to support remote gig workers with improved collaboration tools. This can introduce better management between remote staff and in-house teams. 
3. Regulation and protection
There is a hope that authorities will recommend new regulations and labor protections for gig workers. This could include measures related to minimum wage, benefits, and employment classification. 
Courtney hopes that Omni Interactions will be a standard for safe spaces for gig workers going forward. 
"We really want Omni to be a place that's great for gig workers. We want to do gig right, [not as] a mechanism to take advantage of someone. It should be a pathway for someone to build their own lifestyle on their terms." 
"We're optimistic [that] those negative practices disappear as more people like us pop up in the industry and continue to make [it] a great place for gig workers." 
Courtney can be reached at [email protected].