12 Best geolocation apps for your business
List of top geolocation apps
The geolocation feature is one of the latest and most advanced technologies that pave the way for detecting the users' location using particular location-based apps. 
The huge demand for geolocation support significantly redefined how people shop, travel, or meet with other people. Businesses from various areas adopt location-based services[1] to give their customers a more convenient experience. 
This article will feature geolocation apps and their uses, including the best geolocation apps for businesses.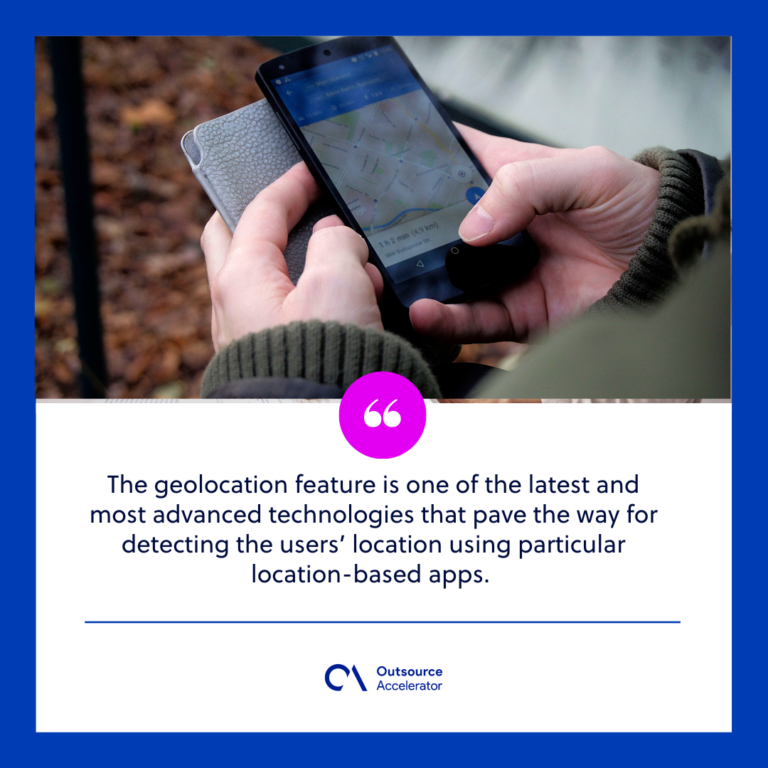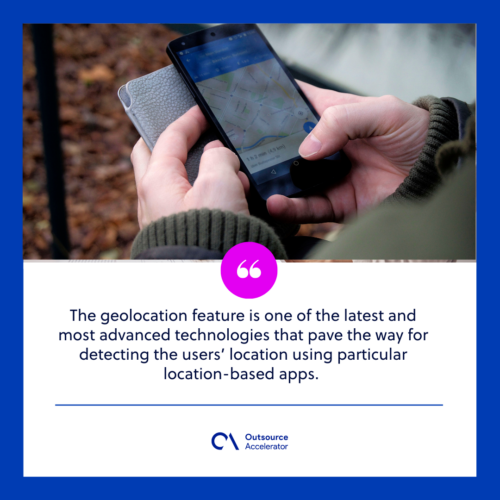 How do geolocation apps work? 
The geolocation feature in mobile apps nowadays is the latest technology that determines the real geographic location[2] of one's device, which is connected to the internet. 
Location-based applications have become a trend among businesses as they become a major asset and revenue-generating solution. 
According to Allied Market Research data, the location-based market is projected to amount to $318.64 billion in 2030. 
Geolocation apps give a richer experience to users and offer businesses a great feature that will boost their ROI. Some of the key components of geolocation include:
Identify user's current location

Detect user's movement from one place to another

Measure the distance between objects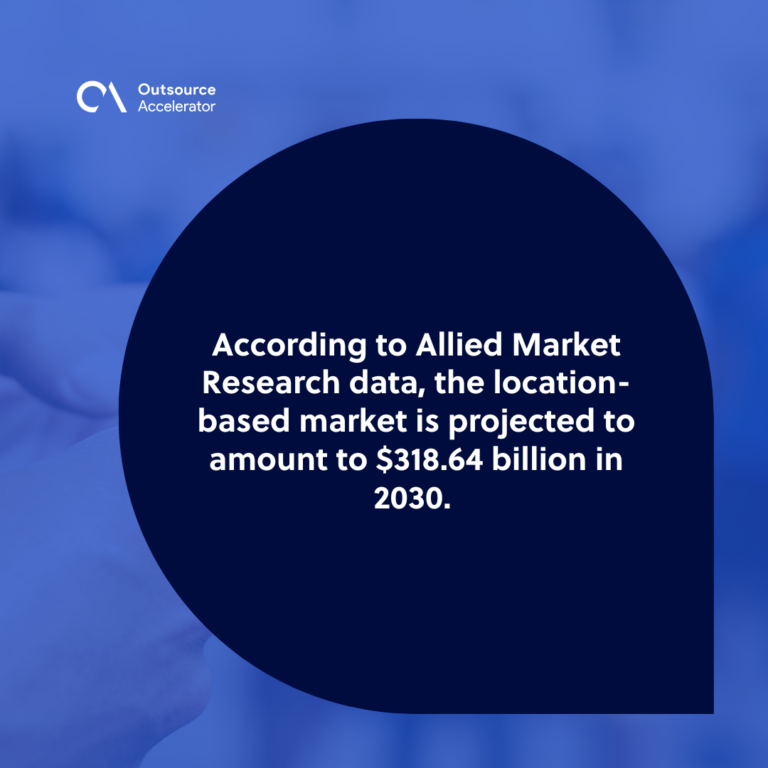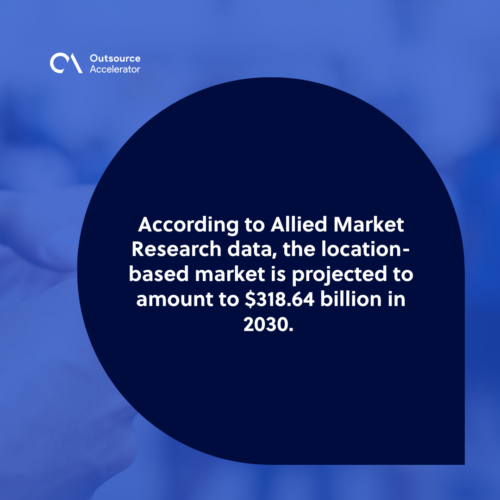 Uses of geolocation in apps  
Geolocation technology is used by numerous apps that require location data for various cases. Most areas where geolocation is currently used include travel, food delivery, banking, insurance claiming, and on-demand services. 
Here are some of the uses of geolocation in apps:
Maps

– geolocation feature included in apps based on maps and navigation. 

Weather forecast and location-specific alert

– this shows relevant weather forecasts to users' areas and provides accurate information for upcoming days or weeks. 

Task automation

– for instance, in smart home devices, users can program it to turn on the lights when they reach their home. 
12 best geolocation apps for your business 
Here's a list of the 12 best location apps for businesses: 
Smart GDPR updates the marketing program to be opt-in instead of opt-out, in accordance with GDPR. It disables Google Analytics, Shopify Analytics, and Facebook Pixel until consent is granted. 
Smart GDPR key features are:

Block Shopify Analytics, Facebook Pixel, and Google Analytics until users receive permission

To comply with GDPR, collect "unambiguous, opt-in consent"

Export customer consent history as CSV for GDPR audit

Permit users to withdraw their consent

Get a privacy policy that matches the design of the shop

Modify fonts, colors, banner messages, and other elements

Availability of all the 23 EU languages

A cookie policy that is automatically generated

Delete Shopify's 12 nonessential cookies
The MLV Auto Currency Switcher by MLVeda automatically detects the user's IP address and uses that information to identify the country where the user is browsing a particular store. 
The app shows all the prices in the user's home currency as soon as a page loads. The user also has the option to alter the currency using a converter. 
MLV Auto Currency Switcher's features include:

Users can check out in several currencies and take their business global

Determines users' country and instantly translates prices into their local currency based on the user's IP geolocation

It is simple to set up, and it offers round-the-clock assistance to help users integrate the changeover with one's business theme
GeoIP Country Redirect by Spice Gems is a necessary extension for stores with an online presence in more than one country. This software can redirect users to separate store sites based on their IP address. 
Spice Gems' GeoIP Country Redirect key features:
Automatic and Instant Redirect

Customizable Popup Box

Skip Redirect

GDPR Cookie Consent Bar

SEO Friendly

Multiple display options

Disable redirect for certain IP address

Disable Redirects for certain URLs (Whitelist URLs)

Google Bot Exclusion

UTM Parameter
Dropstile's Lingo & Currency GEO offers assistance in translating all forms of consent into numerous languages and converting 160 different currencies based on the user's location. 
Dropstile's Lingo & Currency GEO key features:

Automatically translates into multiple languages and currencies

Translate particular store using UNLIMITED words for any plan into the 100+ languages that they want to target

Integrated Google Translation to improve the accuracy of language translation

Allows manual editing of translation material and simple management of all translations in one location

Third-party apps for quicker, more accurate, and bulk translations

Ability to translate any material in front-end applications

Convertor for currency in native exchange rates to localize shopping experiences
GeoIP Product Blocker by ZendApps is a software that blocks specific products, product variants, and collections. 
This app blocks them to a particular country and state within that country, and it prevents showing the product to blocked countries and fraud users within those countries. 
ZendApps' GeoIP Product Blocker key features:

Products block down according to country and state

Choose multiple items to block

Choose multiple countries for each rule

Choose multiple states for each rule

Block items by product name 

Block collections by collection name

Block variants by variants name 

Store URL Locked according to country

Secret Link for Unlock Products

Disabling the app at any time 

No coding skill is required
GEO Express Redirect App by MarbGroup is an easy-to-install and simple-to-configure app that allows certain store sites to detect their user's location. 
It allows stores to mechanically redirect users to the exact country website that will impress their customers and upsell a particular store. 
GEO Express Redirect App key features:

Multiple currency redirections 

Automatically redirect customers to the precise country webpage 

Redirect popup for presenting country-specific information

Flexible desired design 

Customization of visual layout
Geolocation Redirect – Open Geo by Reveniux is a simple application that helps stores control the geo of their customers so they can redirect or block specific countries or IPs. 
Reveniux's Geolocation Redirect – Open Geo key features:

Drive UK consumers away from a client's USA store and toward its UK store – if the client has multiple stores

Block custom countries

Bock any IP servers of spy tools

No coding knowledge is needed
Nexus Media's Easy Location – GeoIP is an app that redirects users to local stores or international stores. It blocks unwanted visitors according to their geolocation (block country) or IP address. 
Nexus Media's Easy Location – GeoIP key features:

Flexible geolocation redirects options

Block by geolocation (country) or IP

Domain redirects

Flexible layouts

Color customizations

Simple API



It is a geolocation app that permits every merchant with multiple stores only for GeoIP Redirect and even single stores for others to edit everything in Pop-Up or Bar. 
Cozy eCommerce Addons' Geo Country Redirect/Blocker key features:

Enable editing anything in Pop-Up or Bar

Decrease the chance of destination mismatch

Not closure Google bot

Googlebot and Adwords Safe

Integrated into Google Analytics

Show popup in Visitor's Geo IP Country' Language
MLVeda GeoFly Lang & Market Selector provides consumers with simple-to-find language and currency. It also has country selection options using the market selectors, which are customizable for mobile and desktop. 
MLVeda GeoFly Lang & Market Selector key features:

Multi-language switcher

Highly customizable advanced market selector widget

Geolocation-based automatic currency, country, and language detection

Market selector integrated within store theme

Search widget to quickly lookup a particular country
This is one of the best geolocation apps for stores that want to improve their targeted marketing campaign. With Mod Media Geolocation Country Redirect, this will detect a visitor's current location and redirect them based on the set-up conditions. 
Mod Media Geolocation Country Redirect key features:

Automatically redirects customers to the correct country website 

Redirect users to another URL if they access a specific page on the store site based on their location

Customers can select stores specific to their regions with a notification bar

No coding knowledge is required

Unlimited amount of country redirects
Smart Store Locator by ENS Enterprises Private Limited is a geolocation app installed directly within the store's theme and instantly generates one page within that live theme. 
This is a great tool for distributors that handle multiple retailers within the country or internationally. 
ENS Enterprises Private Limited's Smart Store Locator key features:

No coding is necessary 

Bulk import 10 or 10,000 locations (It can import every location using a CSV file)

Fully customizable
Why geolocation apps are vital for businesses
Essentially, geolocation apps help businesses in many ways. It helps to track the real-time locations of their customers and historical location data. 
With this data, enterprises can improve their customer services and create richer personalized content for their customers. 
That being said, geolocation features help merchants make more sales and increase efficiency. More and more geolocation apps are available to optimize their business solution through the location. 
To get started, check out the list of the best geolocation apps mentioned above. 
Article References:
[1] Location-based services. Dey, A., Hightower, J., de Lara, E. and Davies, N. (2010). Location-Based Services. IEEE Pervasive Computing, 9(1), pp.11–12. ‌
[2] Geographical location. Erra, U. and Capece, N. (2017). Engineering an advanced geo-location augmented reality framework for smart mobile devices. Journal of Ambient Intelligence and Humanized Computing, 10(1), pp.255–265. ‌