12 fun personality tests to get to know your colleagues
List of top fun personality tests  
Personality tests are a great way for employers to gain insights about their employees — their way of thinking, traits, skills, motivation, and preferences.
Employers use them in the pre-employment stage, as well as job candidates themselves, to figure out the best job for them and their career paths. 
A personality test is also an excellent opportunity for team building and in improving employee engagement and motivation.
These fun personality tests have become a practice in the working environment for the past decade. In fact, 80% of Fortune 500 and 89% of Fortune 100 companies have used the Myers-Briggs Type Indicator (MBTI). 
That being said, due to numerous personality tests available, choosing the right tests for teams is quite a challenge. 
This article will discuss personality tests are, their role in the workplace, including the list of best fun personality tests that employers can use in teams.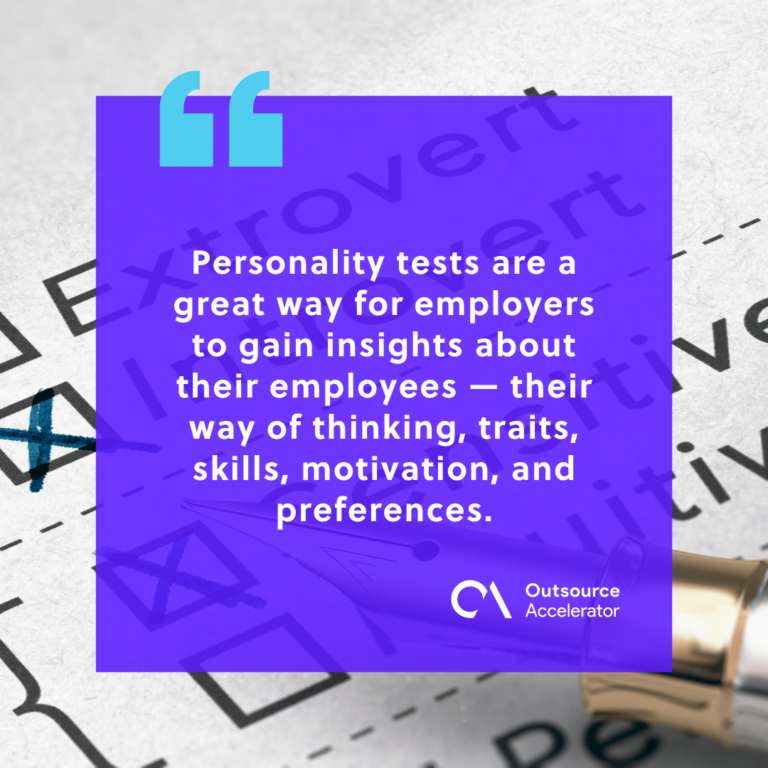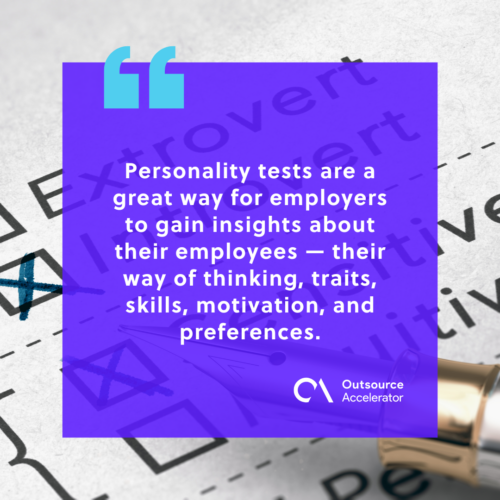 What is a personality test? 
Personality tests are the assessment that determines the personality or traits of a person. More specifically, it shows a person's psychological preferences, character, temperament, and beliefs. 
Besides the workplace, these tests are also used in various settings. Mental health professionals make use of personality tests  for diagnoses. 
In most working environments, these fun personality tests play a significant role in the success of the day-to-day operations of a particular organization. 
Employers use these assessments for screening candidates that fit their company, team building, and in optimizing employees management approaches.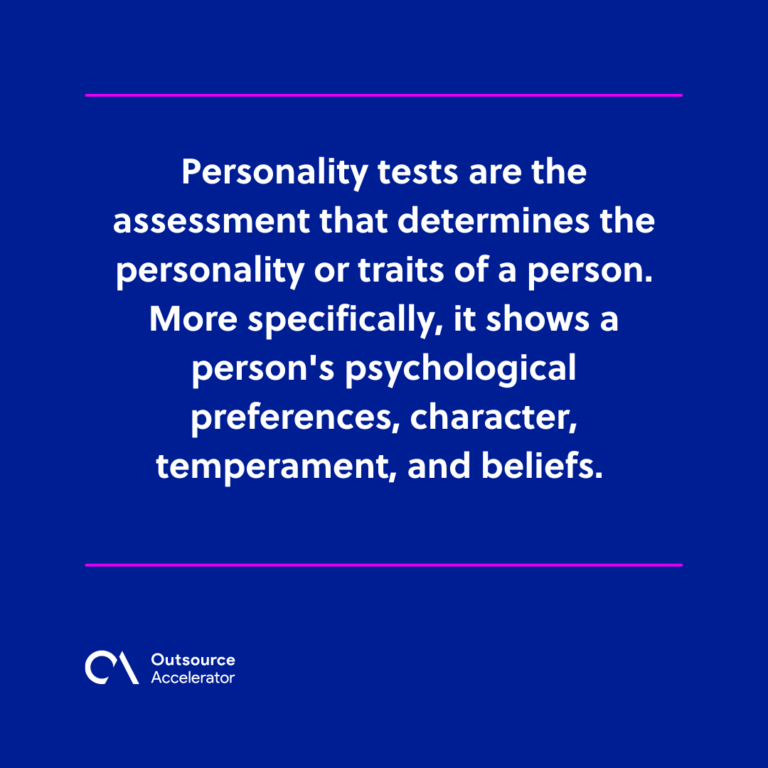 What do personality tests tell you? 
Simply put, personality tests make individuals aware of their thinking process. The results give insights into peoples' behaviors, skills, attitudes, values, and preferences. 
Not all personality tests are 100% accurate since they involve many factors. All in all, personality tests are guides to knowing a person's strengths, weaknesses and communication style that help build connections with people — especially with colleagues. 
Top 12 fun personality tests  
Myers Briggs Personality Test (MBTI) was developed by Isabel Briggs Myers and her mother, Katharine Briggs. 
It is a type of personality test that gives descriptions of one's personal tendencies as they relate to the acronym. This acronym shows psychological preferences based on the four categories;
Extraversion (E) vs Introversion (I)

Sensing (S) vs Intuition (N)

Thinking (T) vs Feeling (F)

Judging (J) vs Perceiving (P)
The result resembles a code with four letters; 
ISTJ – Inspector

ISTP – Crafter

ISFJ – Protector

ISFP – Artist

INFJ – Advocate

INFP – Mediator

INTJ – Architect

INTP – Thinker

ESTP – Persuader

ESTJ – Director

ESFP – Performer

ESFJ – Caregiver

ENFP – Champion

ENFJ – Giver

ENTP – Debater

ENTJ – Commander
MBTI is quite similar to the 16 Personalities test or the Jung Typology test. With 93 questions in all, the results can highlight which employees collaborate most effectively and who are fit for the company's culture. 
Enneagram Test is a personality test that tells human-specific traits based on the nine major personality types: 
Type 1: The Reformer/Perfectionist

Type 2: The Helper/Giver

Type 3: The Achiever/Performer

Type 4: The Individualist/Romantic 

Type 5: The Investigator/Observer

Type 6: The Loyalist/Loya Skeptic 

Type 7: The Enthusiast/Epicure 

Type 8: The Challenger/Protector 

Type 9: The Peacemaker/Mediator 
These nine personality types are so-called "wings". For instance, if someone's personality profile suggests that they may be predominantly a type 3 (Achiever), they may share some qualities commonly found in type 4 (Individualist) and/or even 5 (Investigator). 
DISC is a 28-question assessment with four categories —dominance, influence, steadiness, and conscientiousness. 
Its questions are based on social situations, asking respondents to rate whether the statement is accurate or choosing the word that most represents them. 
DISC can highlight an individual's interpersonal style, and it can help companies with their conflict management and improving communication. 
It was designed by The Greater Good Science Center at the University of California, Berkeley. This test is more like a visual assessment that can be used in workplace environments. 
Instead of lengthy questions, Berkeley Emotional Intelligence Quiz presents respondents with photographs and asks them to choose from four possible emotions.
For instance, through this test, employers will understand a team's body language and expressions, especially in meetings.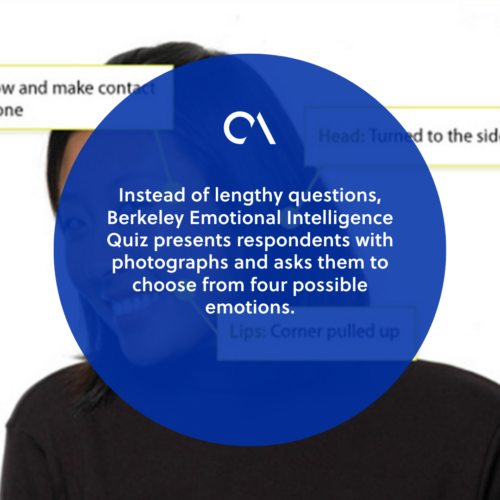 Caliper Profile is developed by an Australian-based company that has worked with over 30,000 businesses worldwide. It gives insights into a person's potentially positive as well as negative qualities. 
It is a 180 multiple choice question that measures a person's compatibility for specific roles. It presents questions that ask respondents that align with their views. 
This type of personality test is used by a lot of organizations for candidate screenings and for employee promotion. 
The High 5 Test is a strength assessment that determines a person's top five dominant traits through 100 prompts. 
Respondents will rate each statement applied on a scale from 0% to 100% in terms of strongly agree to strongly disagree. 
This is one of the fun personality tests that companies often use for team building, coaching, leadership, and personal development. 
16 Personality Factor Questionnaire is often referred to as 16PF. It is a type of test that measures a person's emotional stability, sensitivity, dominance, self-reliance, rule-consciousness, perfectionism, and openness. 
This test helps organizations to determine employee behaviors, including their progress and career development. The respondents answer the extent to which statement they agree or disagree with. 
HEXACO is a personality test that assesses various dimensions of one's personality and how one will apply these theoretical interpretations to different situations. 
The model measures key dimensions, including honesty/humility, emotionality, extraversion, agreeableness, conscientiousness, and openness to experience.
The assessment is comprised of 200 questions (full-length assessment), 100 questions (half-length assessment) or 60 questions (HEXACO 60). 
John's Personality Test is an assessment with results based on Myers-Briggs Indicator. It is comprised of 25 questions, and it only considers five personality types such as ISFJ, ISTJ, ISFP, ESFJ, and INFJ. 
This is among the fun personality tests that allows respondents to conclude similarities and differences between other personality types. 
With this, John's Personality Test can be used in employment screening, and it gives an insight into whether the new hire is compatible with the rest of the team. 
The SHL Occupational Personality Questionnaire is also called OPQ32. It has 104 questions designed to give employers insights about how their employee's personality traits and behaviors influence their performance at work. 
This test measures 32 characteristics, and it is categorized into three main areas; thinking style & feelings, emotions, and relationships with people. 
The results significantly help employers with reports that can be used to compare job applicants to one another.  
Eysenck Personality Inventory was developed by two psychologists, Sybil B.G. Eysenck and Hans Jürgen Eysenck. It is a test that assesses an individual's personality based on two categories:
Neuroticism and stability

Extroversion and introversion
What makes Eysenck Personality Inventory different from other tests is that it includes a "lie score." This measures a person's honesty in answering the test. 
Emotional Intelligence Test is a short test that measures individuals' EQ level. Thus, this test will help them understand their own emotions as well as the emotions of others. 
The results are based on the four quadrants:

Self-Awareness

Self-Management

Relationship Management

Social-Awareness
Emotional Intelligence Test is a great tool in the workplace as it will reveal employees' emotional intelligence that might affect how they emphasize one another. 
Why are personality tests useful in the workplace? 
These may be simple, fun personality tests for some, but this personality tests significantly help employers for a wide range of reasons. 
From employee screening process to promotion to self-assessment, personality tests help people figure out whether that person is best suited for the role and to company culture. 
Simply put, knowing your colleagues' personalities makes work efficient, which creates more productive and happier teams.