A quick dive into friendshoring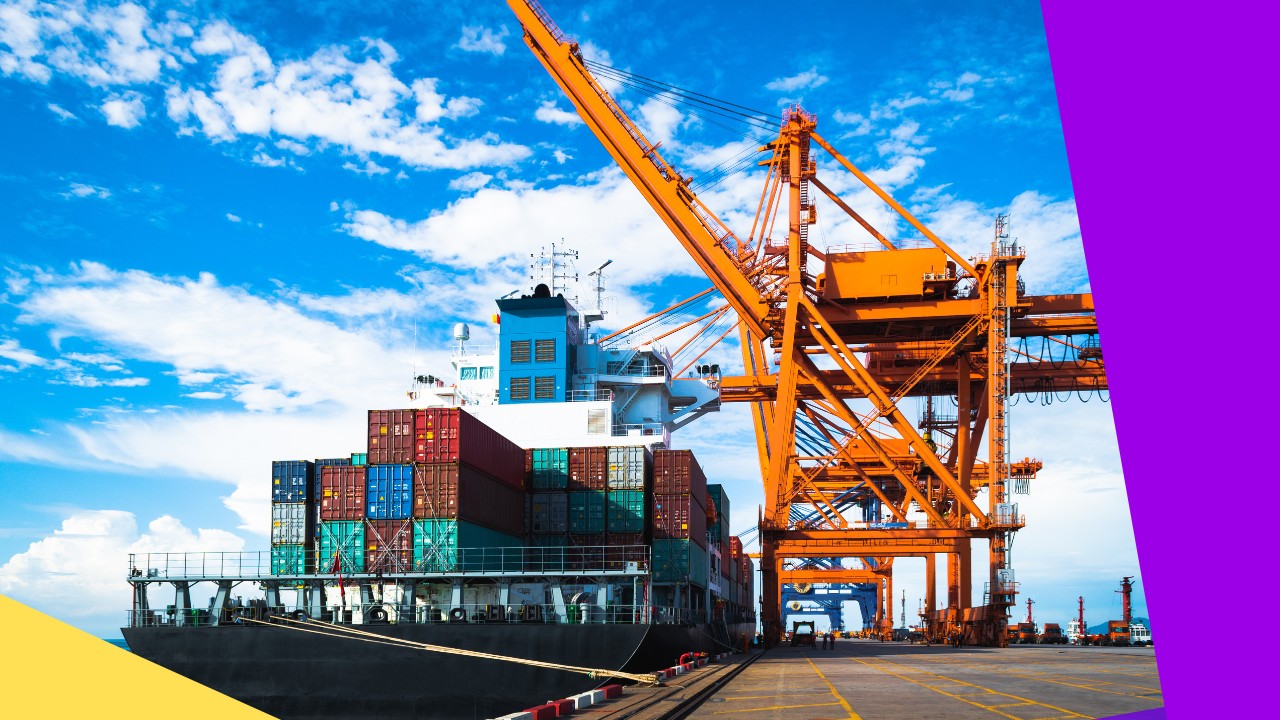 Globalization has defined a large part of the worldwide economy's thrust. It moved goods and services across international borders and has been important in modernizing countries like Japan and South Korea.   
That all may soon change with the arrival of friendshoring. 
Friendshoring is a term that has been popping up in the news lately. Because it concerns global trade, it's a bit of an intimidating topic to enter. 
Read on to learn why friendshoring has been making waves. 
What is friendshoring?
Friendshoring refers to rerouting supply chains to countries perceived as politically or economically safe or low-risk to avoid disrupting the business flow. 
It has drawn similarities to one of its parent terms, offshoring. Whereas offshoring moves work overseas to where production costs are low, friendshoring moves work towards ally countries. 
Friendshoring is also seen as a less extreme version of reshoring, which brings key manufacturing processes back within its home country's borders. 
"Friends" have included political allies and trusted, long-term suppliers. However, there is a considerable amount of overlap between those descriptions.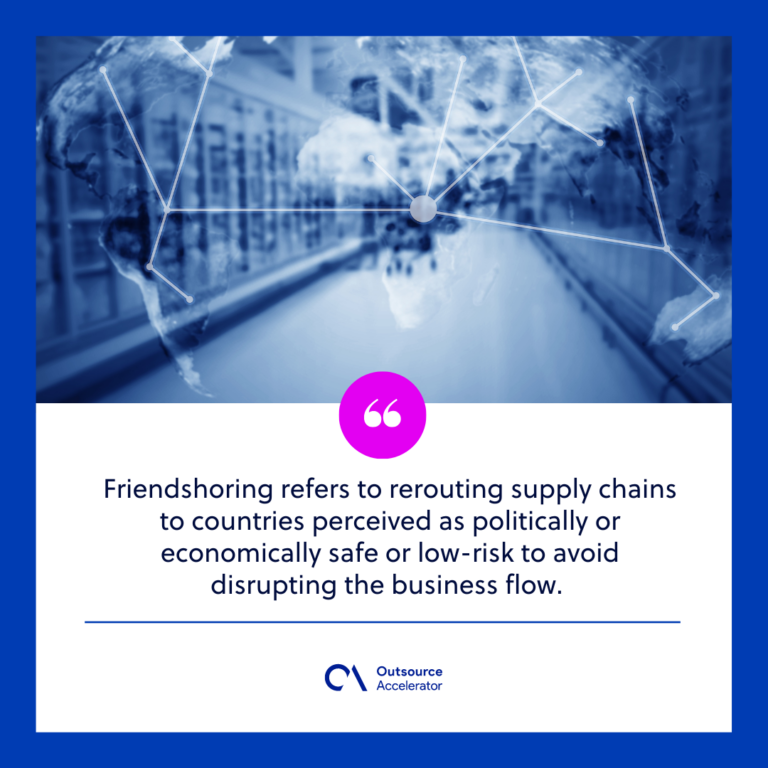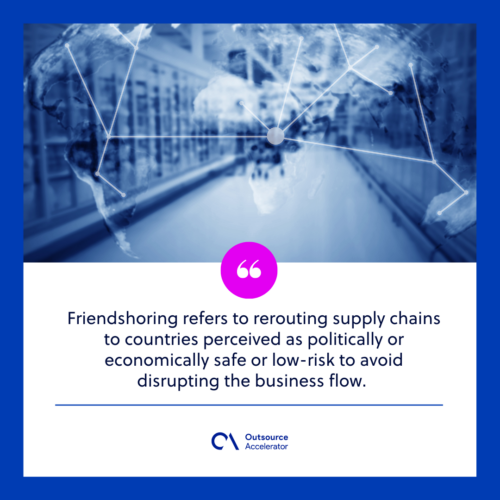 Comparing friendshoring to nearshoring and offshoring
You can't bring up the term friendshoring without your mind going to similar "-shoring" terms. In conversations about friendshoring, nearshoring and offshoring are also frequently brought up. 
Nearshoring
Nearshoring is when a company moves production to a nearby country, often with a shared border. Increasing numbers of companies have been nearshoring, investing in the location of plants closer to their target, domestic markets. 
It's often done to reduce the time and costs associated with long-distance shipping and to respond more quickly to changes in customer demand. 
Businesses can avoid spending much on heavy import tariffs and have easier supply management. This makes for an overall more reliable performance. 
Nearshoring is more similar to friendshoring in that both prioritize nearby friendly countries. 
Offshoring
Offshoring is when production and business are moved to another country, regardless of location. However, it usually refers to distant countries.
It's frequently confused with outsourcing, which means contracting work to an external organization overseas. 
Offshoring is done to reduce labor costs and ensure the ready provision of certain skills. It also means greater proximity to certain raw materials, like oil or rare earth. 
Friendshoring in the news
Friendshoring became a newsworthy topic among discussions of recent economic crises and the strain on global supply chains. 
An escalating series of trade disruptions, such as the global pandemic and notable wars, called into question the vision of a globalized economy. 
Friendshoring: Origins of the term
Friendshoring came up when in mid-2022, US Treasury Secretary Janet Yellen said, "Rather than being highly reliant on countries where we have geopolitical tensions and can't count on ongoing, reliable supplies, we need to really diversify our group of suppliers,"
"Friendshoring means… that we have a group of countries that have strong adherence to a set of norms and values… and we need to deepen our ties with those partners and to work together to make sure that we can supply our needs of critical materials."
Earlier in 2019, Bonnie Glick, then-deputy administrator of the US Agency for International Development said, "US companies should focus on making products at home, closer to home, or in countries aligned with US interests."
US President Joe Biden seemingly echoed the sentiment with his plan for American supply chains, saying, "The United States cannot make, mine, or manufacture everything ourselves. We must cooperate with our allies and partners to foster and promote collective supply chain resilience." 
Moves toward friendshoring
The US and its allies rely on authoritarian regimes like China for materials like rare earth and other minerals. Additionally, many commodities like gas, foodstuffs, and fertilizer are produced by Russia. 
However, heavy political fallout in recent years has caused corporate and political leaders to lean towards friendshoring to make supply chains more resilient. 
Motivated by human rights and national security concerns, friendshoring could see western countries move production away from powers like China. "Friendly" nations like Indonesia, Malaysia, and Vietnam would be prioritized.  
Supposedly, the goal is to prevent nations like Russia and China from leveraging their market advantages in vital raw materials, products, or tech industry inputs to disrupt the US economy.  
The friendshoring trend has already begun in some capacity. Major gadget assemblers have either expanded or set up new production in other parts of Asia, Eastern Europe, or Mexico under the "China-plus-one" business strategy. 
Friendshoring obviously hasn't been easy for all. For example, Apple has spent nearly two decades setting up shop in China and now has to deal with the effect of the country's estrangement. 
The two sides of friendshoring
Let's look at the possible advantages and disadvantages of friendshoring.
What are the advantages of friendshoring? 
Friendshoring envisions a world where supply chains are more robust and less subject to economic blackmail. The doors will be opened to nations previously passed over. 
Notably, Janet Yellen pinpointed India's potential to become an important manufacturing center, naming it the US's biggest trading partner. 
Other locations like Indonesia, Malaysia, South Korea, Japan, Brazil, and European countries could also benefit. Plants, jobs, and investments could move toward nations deemed trustworthy. 
Additionally, diversifying the geographic concentration of global supply chains through friendshoring would also build resilience. Shocks like war, famine, political unrest, or even another pandemic would be withstood.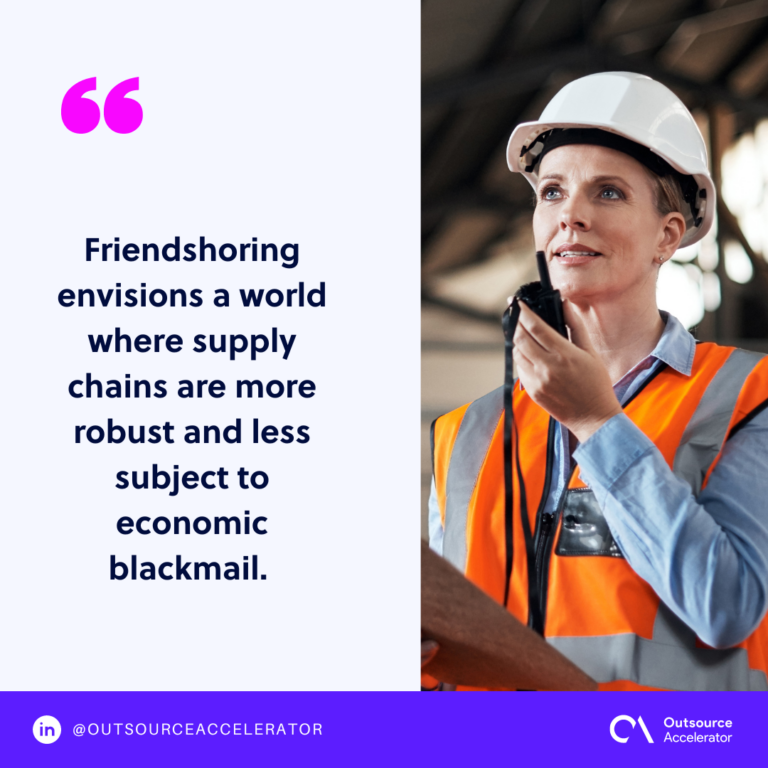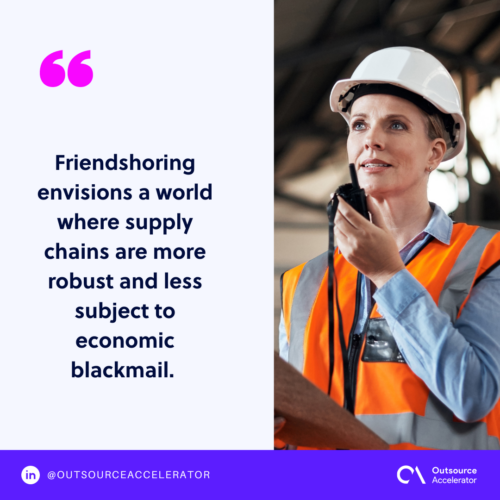 What are the disadvantages of friendshoring? 
Naturally, with such a major movement, fears and concerns have been raised. 
The biggest question: Who is a friend?
Reporting on the trade implications of the war in Ukraine, the World Trade Organization said that global GDP would drop 5% if the world split into Eastern and Western trading blocs. 
Friendshoring would strongly contribute to deglobalization. The effect could see further supply shocks and higher prices in the short term with lower long-term growth. 
The burden of friendshoring is projected to fall on poorer countries who ally in neither camp. These nations need global trade to gain wealth and democracy. 
Friendshoring is likely to be expensive. Sourcing materials only from Western allies will entail high labor and production costs. The sudden price rise will be noticeable and may even cause social unrest. 
 While on the surface, it seems like a moral endeavor; the world is currently not ready for friendshoring. There's no easy answer to this, and it remains to be seen if friendshoring will make significant movements soon.