Derek Gallimore is a contributor to Forbes.com and a member of the Forbes Business Council.  This article was first published on Forbes. 
You might have heard or read success stories from companies that outsourced and wondered if it's good for you.
Today, more companies have realized the potential business benefits of outsourcing. Especially during crises, they have been delegating services to offshore countries to cut costs and have uninterrupted operations.
If you want to know whether you should consider outsourcing your services, look out for the following indicators.
When you should consider outsourcing
Once considered a sunset industry, outsourcing experienced a spike in demand in 2020. A 2020 report by NTT revealed that 45% of companies globally expected to outsource more IT than they insource, almost double the amount of the previous year. This came along with the lockdowns and disruptions brought by the pandemic, making companies rethink their strategies for running their companies.
There are several reasons why companies should outsource for the next few years.
Cost-cutting: Cost is the main driver for many companies that outsource. It helps them save up to 70% of operational expenses in the long run.
Shared business risks: Aside from the actual expenses, they also share their operational risks with a service provider who can take care of the compliances they need.
Improved customer experience: Outsourcing helps improve the customer experience, through enhancing the company's website, content or interactions.
Business continuity: Lastly, outsourcing is a great way to ensure business continuity in case calamities occur.
While some businesses already plan to outsource some functions, you might find it easy to handle your business first, with a small team to help you with your tasks.
However, there may come a time when you need to hire a service provider.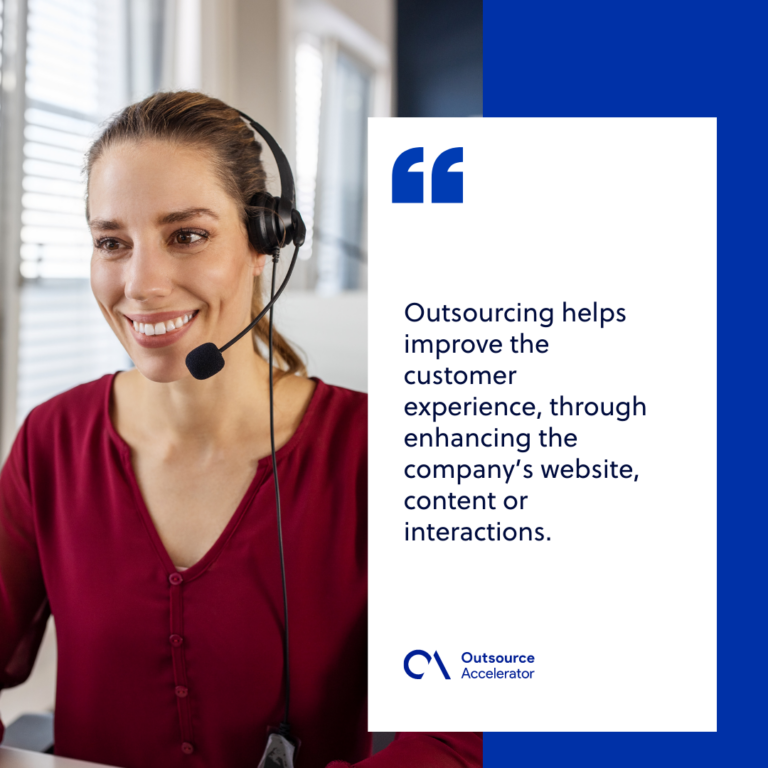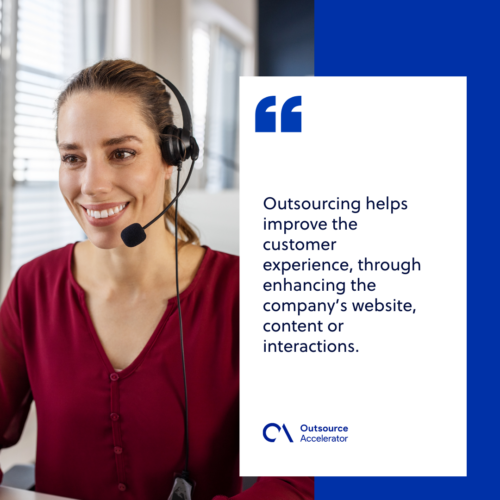 When your teams are getting overworked
Your employees are still humans, and they have a tendency to get overworked on certain projects.
Employees could experience burnout when they are forced to put in long hours and fewer breaks at work. A 2019 Asana study stated that more than 80% of workers feel burned out at work, which could pose a problem to your company in the long run.
You might see increasing instances where your teams work longer hours to meet new and existing deadlines. When this happens, you may want to consider what of their workload could be outsourced.
When you're missing out on opportunities for growth
While keeping your team small helps you keep your expenses low, you could miss out on better growth opportunities. Since you're too overwhelmed to finish your existing projects, finding another in-house talent can be a burden on your resources.
Another sign that you're holding back your growth is when your team is decreasing over time instead of expanding. This is usually a result of your employees getting burned out at work.
One way to free up your time is to consider outsourcing when you feel you're missing out on opportunities to scale up.
When you can't attend to all customers' needs
As you grow your business, you might notice an increase in your customer base and an increase in challenges as well. It's natural for you to get overwhelmed with the sudden increase in customers when you join e-commerce platforms such as Amazon.
If it's getting hard for your teams to handle customer requests and complaints on top of your core activities, you can outsource functions such as customer service and order fulfillment. Doing so can help you fulfill your customers' needs better.
When finding talent starts to become challenging
As a growing business, you may feel the increasing challenge of finding the right talent for your services.
An increasing number of executives agree that there's a gap in workforce skills with the low unemployment in developed countries.
This is one of the reasons companies have been outsourcing for decades: to hire the best talent possible for their team.
When you're looking to scale
Your business might be growing, but is it scaling the way you want to?
Nowadays, growing a business is not always attainable since most companies only run on limited resources. Keeping everything in-house won't be ideal if you want to scale quickly and effectively.
Try to look at outsourcing options that would fit your needs. Start to plan and research your preferred company, location and services to help you get the best for your company and customers.
However, outsourcing is not without its own challenges.
Choosing a suitable provider: Not all providers will suit your company's needs and objectives. Large business process outsourcing companies (BPOs) are less likely to give you more flexibility while small-scale ones have limitations when expanding.
Unnecessary charges: Cheap costs do not always mean quality services. If you're looking to outsource for the cost savings alone, you could end up paying more for the poor quality you get.
Legal compliances: Lastly, legalities in terms of intellectual property, tax compliance and other matters may arise between you and your provider.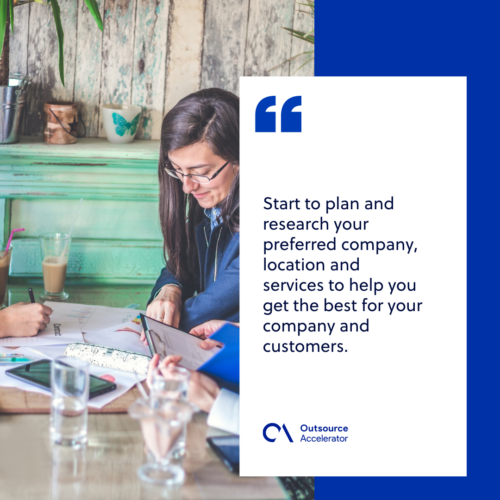 This is why you need to carefully evaluate your company and plan your move in delegating your services.
As much as possible, find a middle ground when you outsource. You won't have to find the cheapest or the most expensive provider out there, as long as you can get optimal quality for your functions.
At the same time, learn all about the nooks and crannies of outsourcing with the help of an expert. Tons of resources and content such as articles and videos are available online so you can explore more about the industry.
Lastly, don't be afraid to get started. Reach out to your preferred provider and talk to them about your plans and strategies to help tailor your services to your needs.
Timing when to outsource
Nowadays, businesses have to find a way to keep up with the fast changes in their industries and customer needs. Entrepreneurs have to act quickly on maintaining the efficiency of their operations if they want to keep their audience happy. These are the types of situations where scaling solutions such as outsourcing should be considered.