5 Ways how outsourcing is helping fintech firms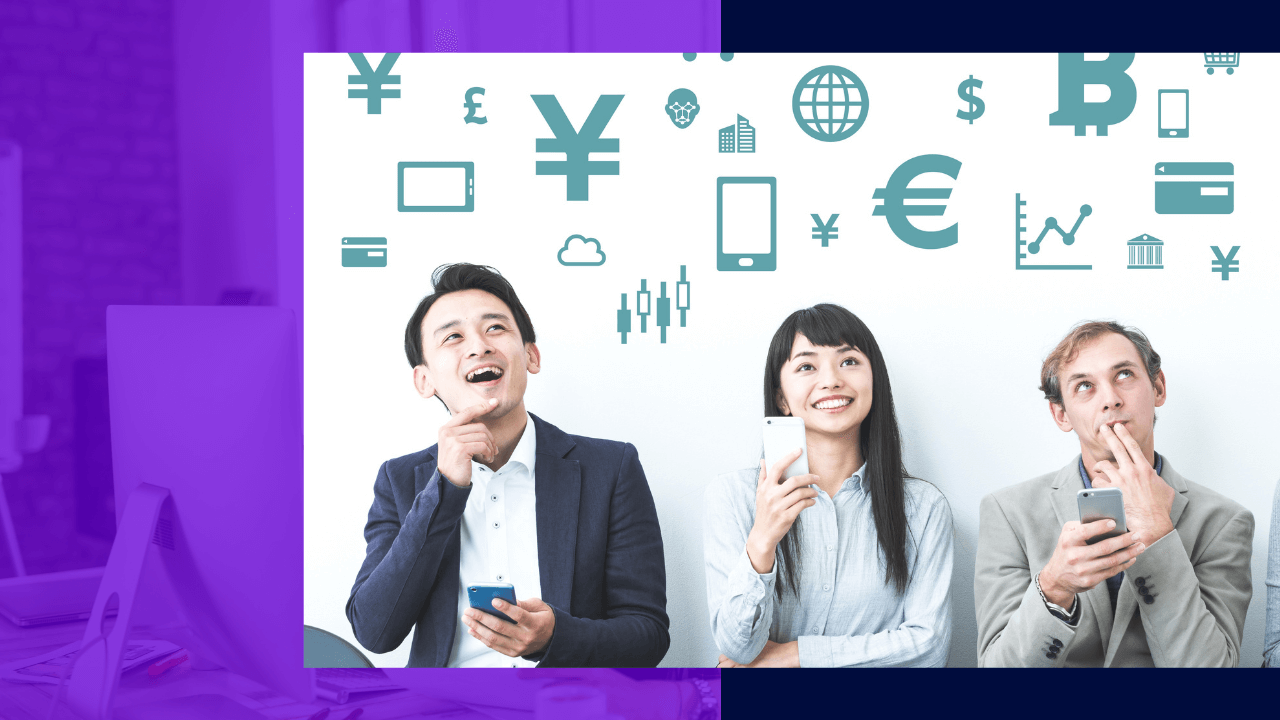 5 Ways how outsourcing is helping fintech firms
Fintech is fastly becoming one of the most promising and ambitious industries in the world. More and more people are tapping into fintech applications to use the benefits and advantages that this sector has to offer.
To meet the sector's growing demand, fintech startups and industry leaders are choosing to delegate some tasks to outsourcing companies. 
This type of partnership is an effective solution for financial services providers to maintain everyday operations and fulfill their critical, value-adding workloads. 
What is fintech?
Financial technology, or fintech, is an innovation that automates the financial services and processes of businesses. It is a rapidly growing industry that serves the interest of consumers and companies everywhere.
Fintech is not a new industry. Technology is slowly being adapted to the financial sector since the introduction of credit cards and ATM machines. 
However, some of the newest technological advances like machine learning algorithms, blockchain, and data science have made the industry more popular than it has ever been before.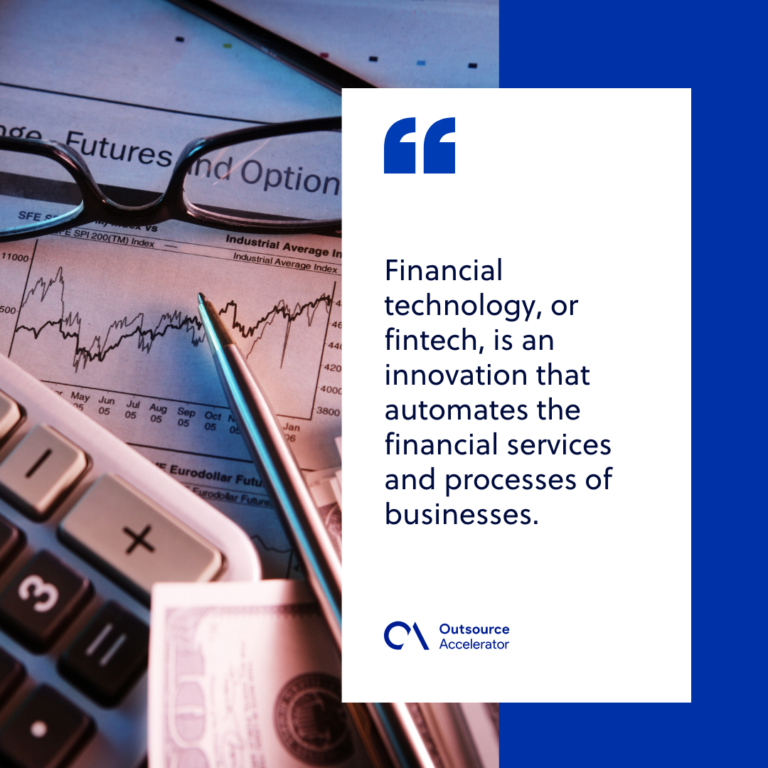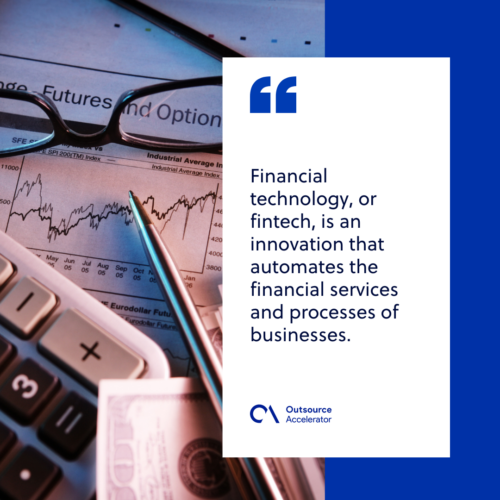 What do fintech startups do?
Fintech companies are making several financial services more accessible to the greater public by integrating new technologies — such as Artificial Intelligence (AI), blockchain, and data science. 
Because of this, anyone can now transfer money to other people's accounts and have it received instantaneously. 
For example, grocery shopping has been made efficient. Investing has become more doable and secure as well, as it can be done with just a few taps on a mobile screen. 
Revolutionary developments like blockchain and cryptocurrency can also now be easily explored by anyone with a phone or computer. 
How can outsourcing help fintech companies in the industry?
Fintech outsourcing is a strategy used by companies that hire third-party service providers to effectively maintain their everyday operations.
Because it reduces the workload of the internal team, this approach is considered cost-effective for startups and small businesses.
When effectively set up and managed, an outsourced team can give you several benefits like the following:
Access to skilled employees
Outsourcing agencies help small fintech companies to discover and hire the right talent for their technical needs. This is particularly valid in the current global shortage of technology and development experts these days.
With the recruitment of talented IT workers a great challenge, partnering with a third-party provider gives you access to teams with knowledge and skills in the industry.
Faster project delivery 
Fintech firms choose to outsource their services to ensure smooth and fast project delivery. Since they do not need to look for and train new employees, projects can be worked on immediately and finished in no time.
Moreover, outsourcing companies with experience in the fintech industry have multiple related projects in their portfolio that they can utilize should they need a reference on certain tasks.
Better data handling 
Being in the financial services sector means that you have to collect and analyze numerous data regularly.  
These days most businesses combine their in-house employees with an external fintech software outsourcing partner to enhance this service.
Outsourcing partners can help integrate well-tried analytics tools, design comprehensive dashboards, and provide cybersecurity specialists that can protect sensitive data in the company.
Cost-efficiency 
Outsourcing is cost-efficient than creating a fully-staffed internal department. With a third-party service provider, you won't need to worry about payroll, computer costs, and management fees, among others.
You also need additional office space, which can be a little challenging for a start-up. Developing techs and apps can also be easier as you do not have to start from scratch.
Using outsourcing technology, your company can operate a lot of functions that are already built into their system. 
Flexibility and scalability
Most startups need flexibility in their operations. An external service provider makes sure that you get everything that you need to successfully run your business.
Hiring additional employees to try out a new framework is not needed as the outsourcing company already has resources to assist you with everything. 
Additionally, fintech startups can easily scale up and down to meet their goals.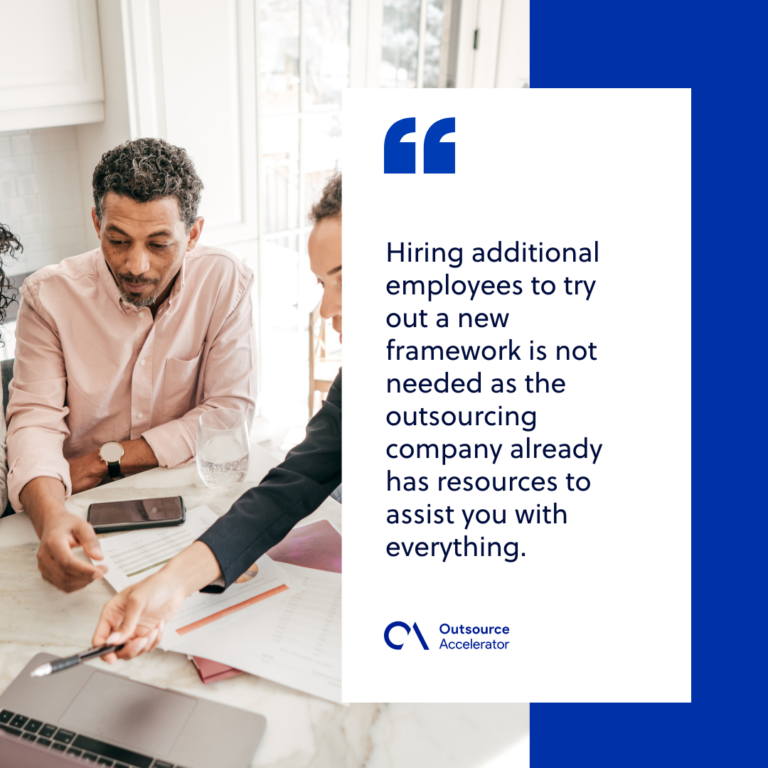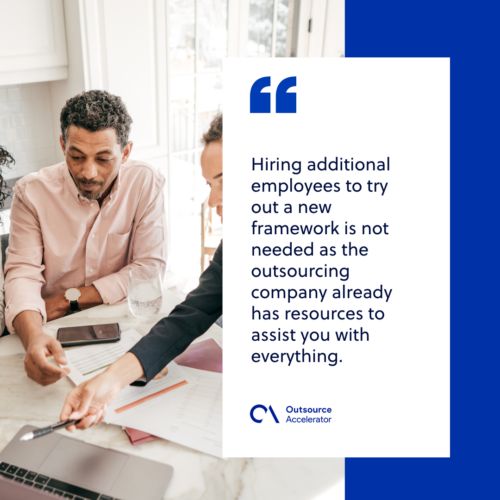 Explore fintech outsourcing with Infinit-O
For many fintech companies, recruiting the right outsourcing partner is a competitive advantage that lets them stay a step ahead of competitors. Infinit-O could be the perfect partner for you.
At Infinit-O, you can gain access to a pool of highly qualified professionals who can perform tasks in sales, sales enablement, marketing, customer service, software engineering, financial services, data analytics, HR. 
Equipped with the latest technology and automation solutions, you can delegate several workloads to them while you prioritize other functions in your operations.
Partnering with Infinit-O ensures that you can gain these five key benefits:
Cost reduction

. High-quality service and highly-skilled teams with 70% operational cost savings.

Scalability

. Can easily respond to every shift your business demands. 

Access to world-class talent

. The firm's A+ recruitment process attracts world-class talent with an industry-leading retention rate.

Operational excellence

. Collaborative SLAs and metric-intensive performance.

Trusted partnership

. Have confidence in Infinit-O's >97% client retention rate and 75 Net Promoter Score, as well as its ISO 27001 & 9001 certified, GDPR, and HIPAA compliance.
Visit Infinit-O's website now to explore their other offerings.