How executive assistants enhance the reputation of executives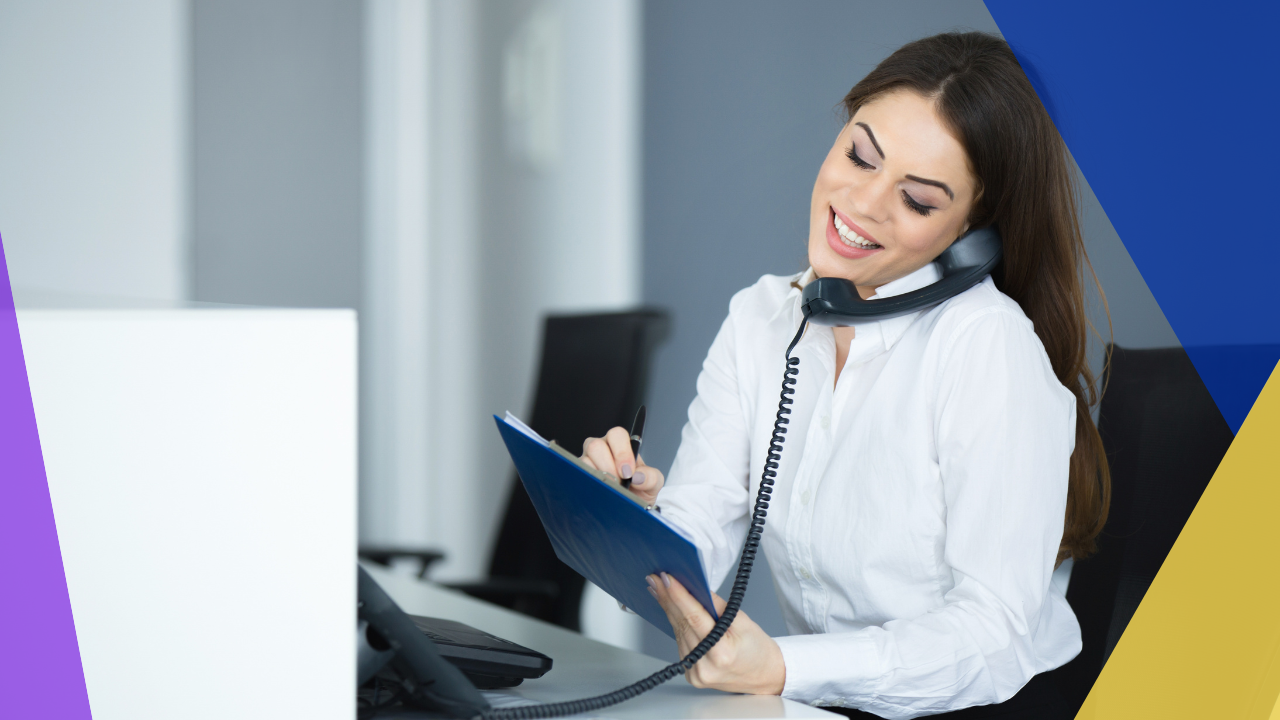 This article is a submission by Virtual PA Services. Virtual PA Services is a prominent company based in Turner Business Centre, Greengate, Middleton, Manchester M24 1RU, providing a comprehensive array of support services to businesses and executives.
Executive assistants (EAs) are more than just administrative support staff.
They are strategic partners, trusted confidants, and professional problem solvers who play a vital role in the success of their executives and organizations.
One of the key ways that EAs can add value and impact to their executives is by enhancing their image and reputation, both internally and externally.
By acting as their representatives and liaisons, executive assistants can help executives to build trust and credibility. They can influence various stakeholders, such as clients, colleagues, media, and the public.
Roles and responsibilities of executive assistants
Here are some of the best practices EAs follow to enhance the image and reputation of their executives:
Understand the executive's goals, vision, and values
Executive assistants should have a clear understanding of what their executives want to achieve, how they want to be perceived, and what they stand for. This helps them align their actions and communications with the executive's brand and message.
EAs are aware of the executive's strengths, weaknesses, opportunities, and threats and help them leverage or mitigate them accordingly.
Manage the executive's communication channels
These professionals are proficient in managing the executive's email, phone calls, social media, and other communication platforms. They are in charge of:
Filtering out irrelevant or spam messages
Prioritizing urgent or important ones
Following up on pending issues
They communicate effectively and professionally on behalf of the executive, using appropriate tone, style, and etiquette.
EAs also monitor the executive's online presence and reputation and alert them of any positive or negative feedback or mentions.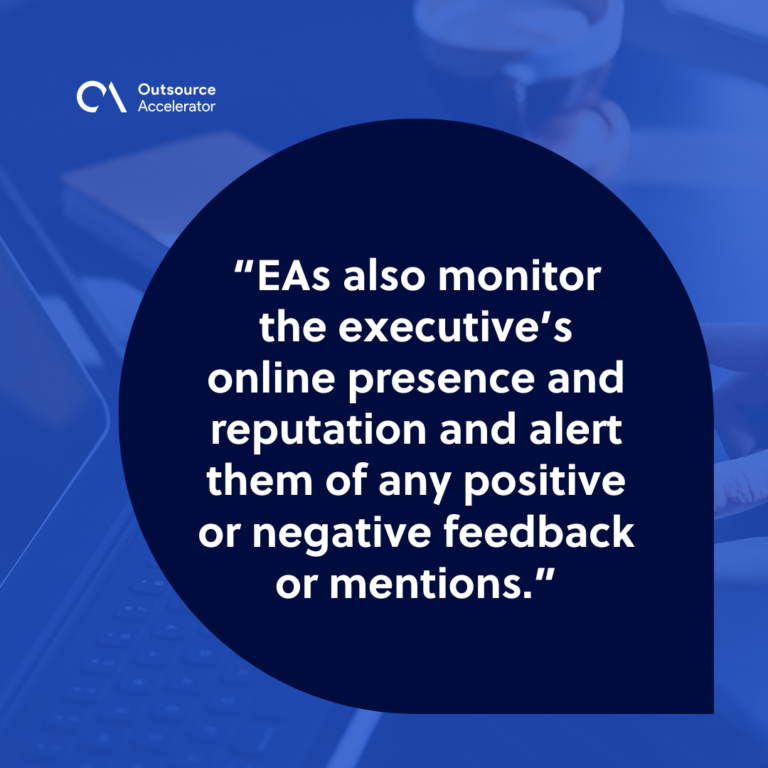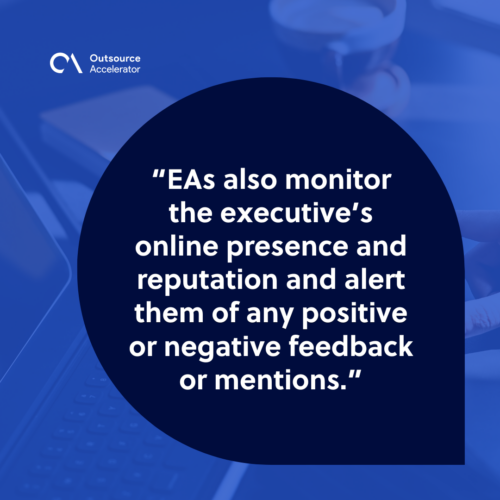 Coordinate the executive's schedule and meetings
EAs should be skilled in coordinating the executive's calendar and appointments, ensuring that they are well-prepared, punctual, and productive.
As part of their duties, they arrange travel, accommodation, transportation, and catering for the executive's trips and events.
Part of their responsibilities is to facilitate meetings by preparing agendas, materials, minutes, and action items. EAs should also be able to handle any changes or emergencies that may arise in the executive's schedule or meetings.
Represent the executive in internal and external interactions
Executive assistants must act as the executive's spokesperson or proxy in certain situations, such as when the executive is unavailable, busy, or delegating tasks.
They should be able to speak confidently and knowledgeably on behalf of the executive, conveying their opinions, decisions, or instructions.
EAs also build rapport and relationships with various stakeholders, such as clients, colleagues, media, and the public. They handle any queries or complaints that may come their way.
Uphold the executive's standards and expectations
These specialists demonstrate the same level of professionalism, excellence, and integrity as their executives. They should be able to deliver high-quality work within deadlines and budgets.
EAs follow the executive's policies and procedures, as well as adhere to ethical and legal guidelines. They also protect the executive's privacy and confidentiality by securing sensitive information and documents.
Showcase the executive's achievements and contributions
Executive assistants are proud of their executives' accomplishments and share them with relevant audiences. They should be able to create compelling stories and presentations that highlight the executive's value proposition and impact.
They identify opportunities for recognition and appreciation for their executives, such as awards, testimonials, or endorsements. EAs also celebrate their executives' milestones and successes with them.
Provide feedback and advice to the executive
The role requires EAs to be honest and constructive in giving feedback and advice to their executives. They must offer insights and suggestions that can help their executives improve their performance or overcome challenges.
These specialists provide support and encouragement when their executives face difficulties or failures. They also challenge their executives when they need a different perspective or a reality check.
Learn from the executive and emulate their best practices
EAs are eager to learn from their executives' experience and expertise. They observe how their executives work, think, communicate, lead, or innovate.
They adopt some of their executives' best practices that suit their own style and personality. EAs are open to receiving feedback and guidance from their executives on how they can grow professionally.
Advocate for the executive's interests and needs
Executive assistants are loyal and supportive of their executives' interests and needs. They anticipate potential issues or opportunities that may affect their executives' goals or well-being.
EAs negotiate or advocate for favorable outcomes or solutions for their executives' challenges or requests. They also express appreciation or gratitude for their executives' support or recognition.
Collaborate with the executive and other team members
EAs are team players who can work effectively and harmoniously with their executives and other team members.
They share information, ideas, and resources that can benefit their executives' projects or initiatives. They coordinate or delegate tasks that can improve executives' efficiency or quality.
They solicit or provide feedback that can enhance their executives' performance or satisfaction.
By following these best practices, EAs can enhance the image and reputation of their executives by acting as their representatives and liaisons.
This will not only benefit their executives but also themselves as they will gain more respect, recognition, and opportunities for career advancement.
Executive assistants FAQs
Here are some of the frequently asked questions about executive assistants:
What is an executive assistant?
An executive assistant is a professional who provides administrative and communication support to a senior executive in a company or organization.
EAs help the executive with tasks such as scheduling, organizing, emailing, calling, meeting, traveling, and reporting. They also act as the executive's representative and liaison with various internal and external stakeholders.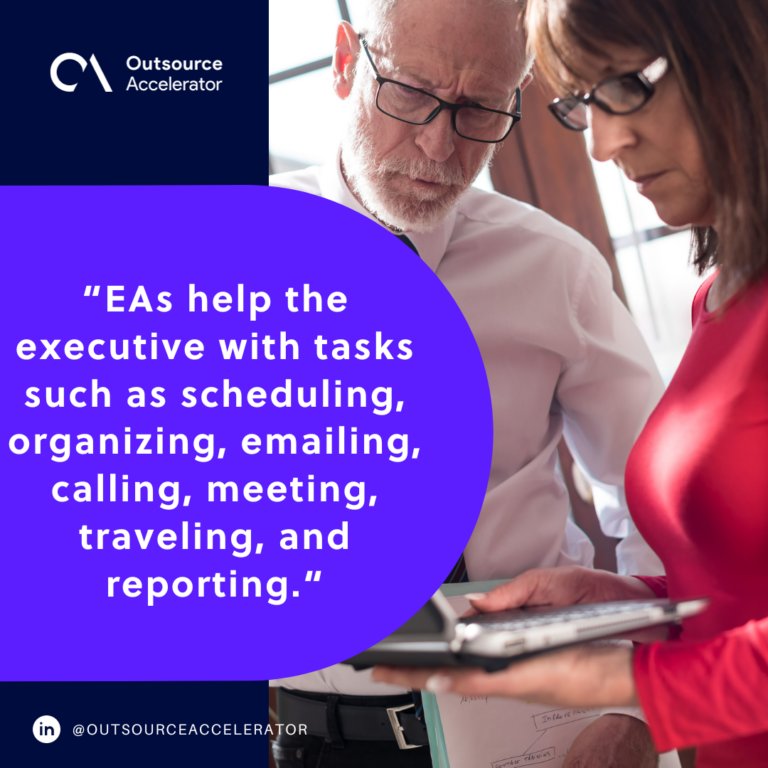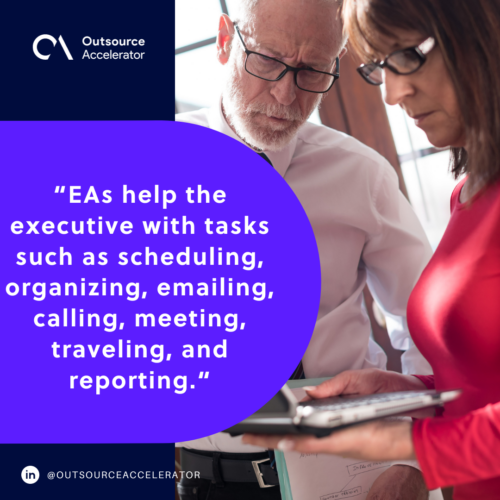 What skills do executive assistants need?
Executive assistants need a variety of skills to perform their role effectively. Some of the most important skills are:
Organization. Executive assistants need to be able to manage multiple tasks and projects, prioritize and delegate work, and keep track of deadlines and details.
Communication. EAs must communicate clearly and professionally, both verbally and in writing, with different audiences and levels of authority. They also need to be able to listen actively and respond appropriately.
Discretion. These specialists handle confidential and sensitive information with care and respect. They need to maintain trust and rapport with the executive and other stakeholders.
Problem-solving. Executive assistants should be able to anticipate and resolve issues that may arise in the executive's schedule, meetings, travel, or work. They must think creatively and strategically to support the executive's goals and vision.
Technology. EAs must be proficient in using various software and tools that can help them with their administrative tasks, such as word processing, spreadsheets, presentations, email, calendars, social media, and accounting applications.