Top five skills to look for in an executive assistant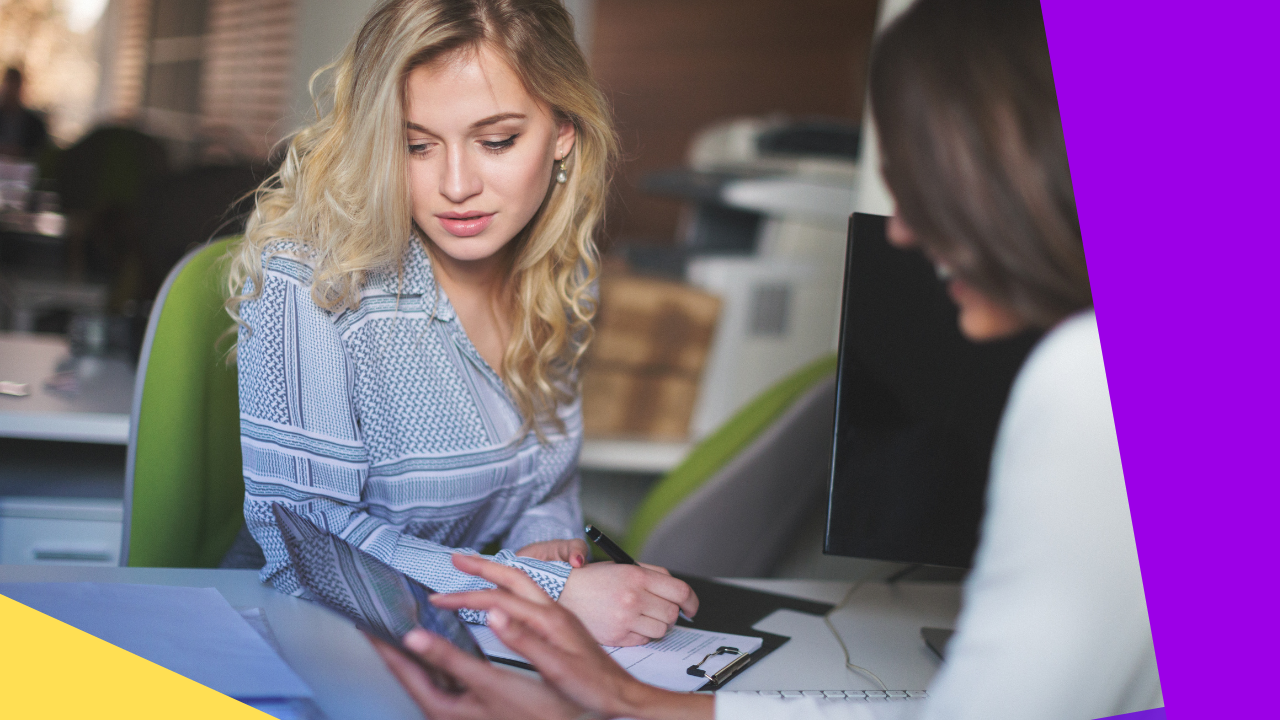 Top five skills to look for in an executive assistant
Executive assistants operate in a wide range of workplace environments. The demands and policies of their employers strongly influence their job obligations.
Generally speaking, an executive assistant can carry out many of the same routine tasks as secretaries, personal assistants, and administrative assistants.
Read on below to learn more about the ins and outs of being an executive assistant in the corporate world.
What is an executive assistant?
An executive assistant is an employee who offers high-level administrative support to executives at work.
Their everyday tasks range from answering phones and setting up meetings to handling executive requests and other office tasks. They also manage administrative tasks and direct less senior administrative staff. 
To fulfill deadlines, an executive assistant must have exceptional communication skills, sound judgment, and efficient time management abilities.
Business owners and solorepreneurs can choose to hire skilled executive assistants from among the Philippines' many BPO providers, such as Remote Employee.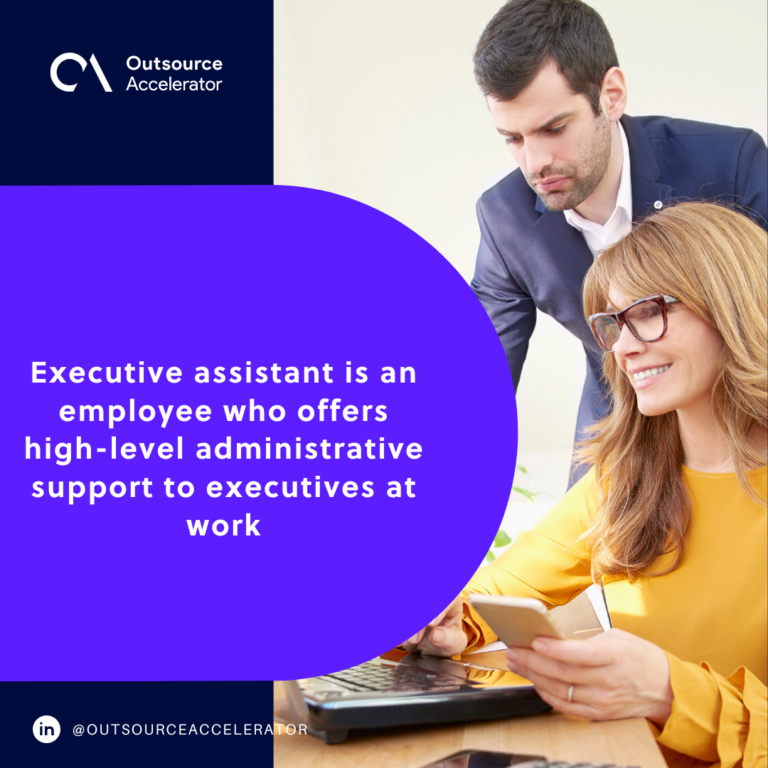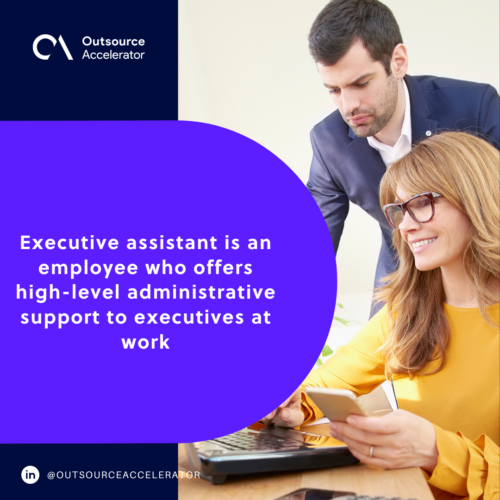 Who does an executive assistant work with?
High-level executives, including firm presidents, CEOs, and other C-suite members, receive administrative support from an executive assistant.
As mentioned earlier, these assistants carry out a wide range of functions for their employers. 
Their regular duties may include:
Scheduling meetings

Setting appointments

Fielding phone calls

Booking travel and other reservations

Creating and filing key papers

Other ad hoc tasks.
The responsibilities stated here are by no means the only duties of an executive assistant. The work and scope of their position can change depending on the firm and executive.
An organization's unique projects are frequently led by executive assistants who supervise the other administrative assistants.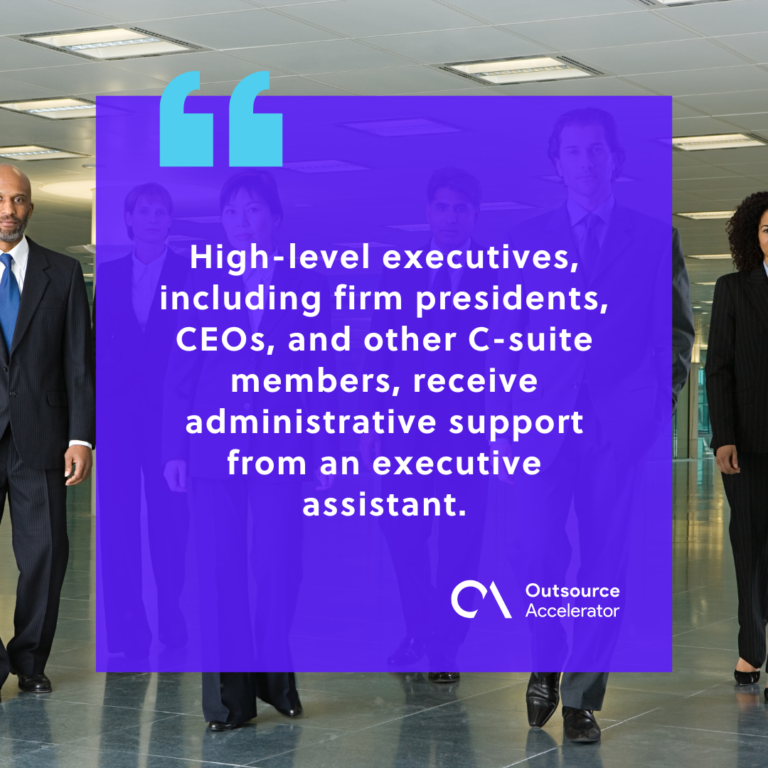 5 essential executive assistant skills
Rarely do executive assistants' jobs get boring. Their tasks go well beyond just setting up files and answering the phone.
In reality, executive assistants take care of various requirements and situations, many of which go outside the purview of their job descriptions.
Here are the top five skills you should have to become an excellent executive assistant:
1. Organizational skills
One of the essential abilities an executive assistant must have is organization.
High-level assistants juggle a lot of jobs and a lot of data. Without a well-organized system, assistants could quickly get behind schedule, forget vital information, or miss deadlines. 
A well-organized assistant keeps things running smoothly and can immediately find answers, as executive assistants should be the best problem-solvers. Their employers expect them to be composed, effective, and presentable.
Assistants often have to overcome several obstacles or deal with odd issues. Innovative, creative thinking is required to find solutions to these problems. Executive assistants must be able to think quickly and creatively to handle the daily challenges they encounter.
2. Multitasking
An executive assistant rarely has the freedom to move at a leisurely pace and concentrate on one task at a time. A skilled executive assistant must be able to multitask and be flexible when a sudden, pressing need arises. 
Once they've taken care of the more urgent matters, they must pick up where they left off. This scenario typically takes place numerous times throughout the day. Colleagues are asking queries and experiencing workplace issues; plans change as phones ring.
A competent executive assistant must learn to deal with distractions and prioritize well.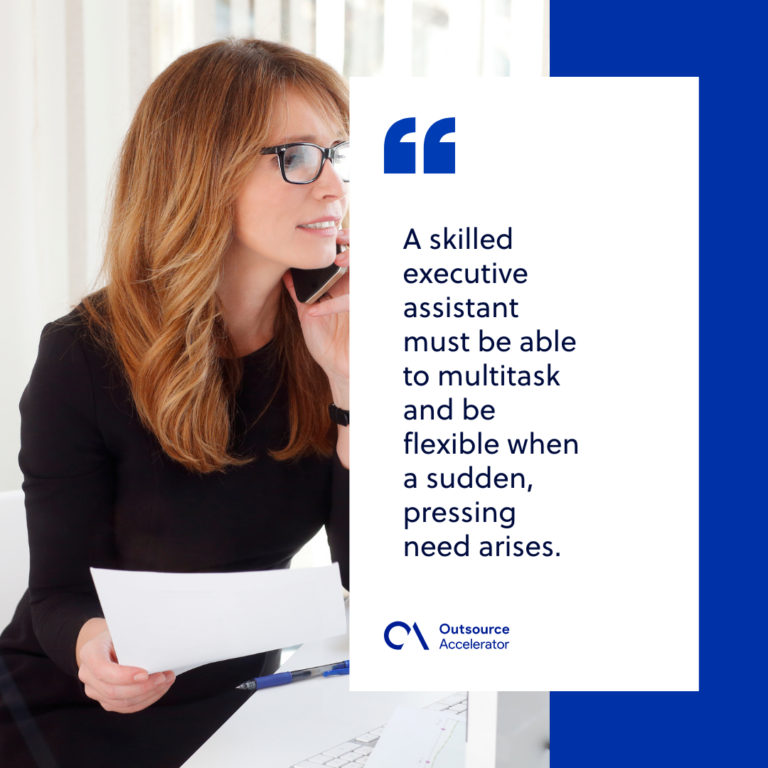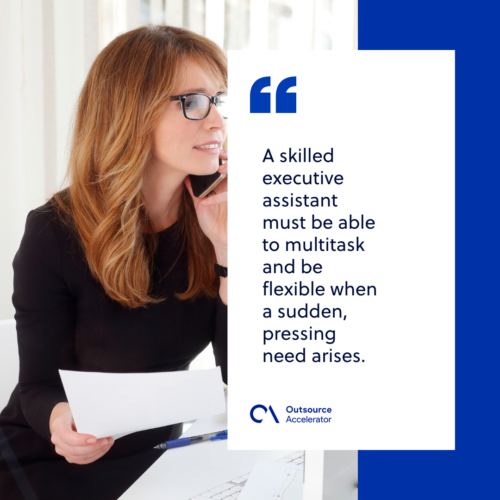 3. Time management
Most of an executive assistant's tasks are time-sensitive. Success in the workplace depends on maintaining attention and finishing projects on schedule.
Additionally, executive assistants have a lot of work to complete and risk falling behind if they do not stay on top of their duties.
A good awareness of which tasks to prioritize and how much time to devote to each is essential for executive assistants. They must know when to ask for help o when to delegate certain assignments.
Moreover, competent executive assistants can define boundaries and create effective workflows. They risk overworking themselves or working late hours if their tasks are not well-distributed during the workday.
To prevent burnout, an effective executive assistant concentrates during working hours, unplugs at night, and only responds to emergencies during off-hours. Good time-management skills also help prevent burnout, as reduced stress and smooth operations are benefits of effective time management. 
4. Communication skills
Executive assistants need to communicate effectively with high-level clients, business partners, and executives. Writing rules and grammar are both fundamental in their role.
For instance, assistants should be able to construct a formal business letter correctly and double-check their emails' content before sending them.
Intelligent assistants are also aware of their tone – they know when to be more casual and personable and when to be strictly formal. They should also consider the message length and the medium of communication.
Minor announcements or problems may only require a brief mention in a memo, but more critical ones need a thorough email or formal report.
Executive assistants should be able to direct people as well. They frequently supervise subordinate administrative assistants and work with departments to coordinate individual tasks. 
These duties call on their skills to speak politely with the staff and deliver clear instructions.
5. Data entry
One of the primary responsibilities of assistants is record-keeping. Executive assistants frequently record and modify minutes of meetings, maintain databases, and control filing systems. They must be quick and accurate when entering information and be able to retrieve data swiftly.
It is crucial for an executive assistant to be technologically savvy. An executive assistant should have a working knowledge of Microsoft Office or Google Suite.
Their ideal typing speed of at least 70 words per minute. They should also adapt to new technology quickly and be comfortable using email and the internet for research.
Learning the operating systems of their boss's phone and computer is also advisable as they might need to troubleshoot at some point.