Executive assistant vs. personal assistant: Who do you need?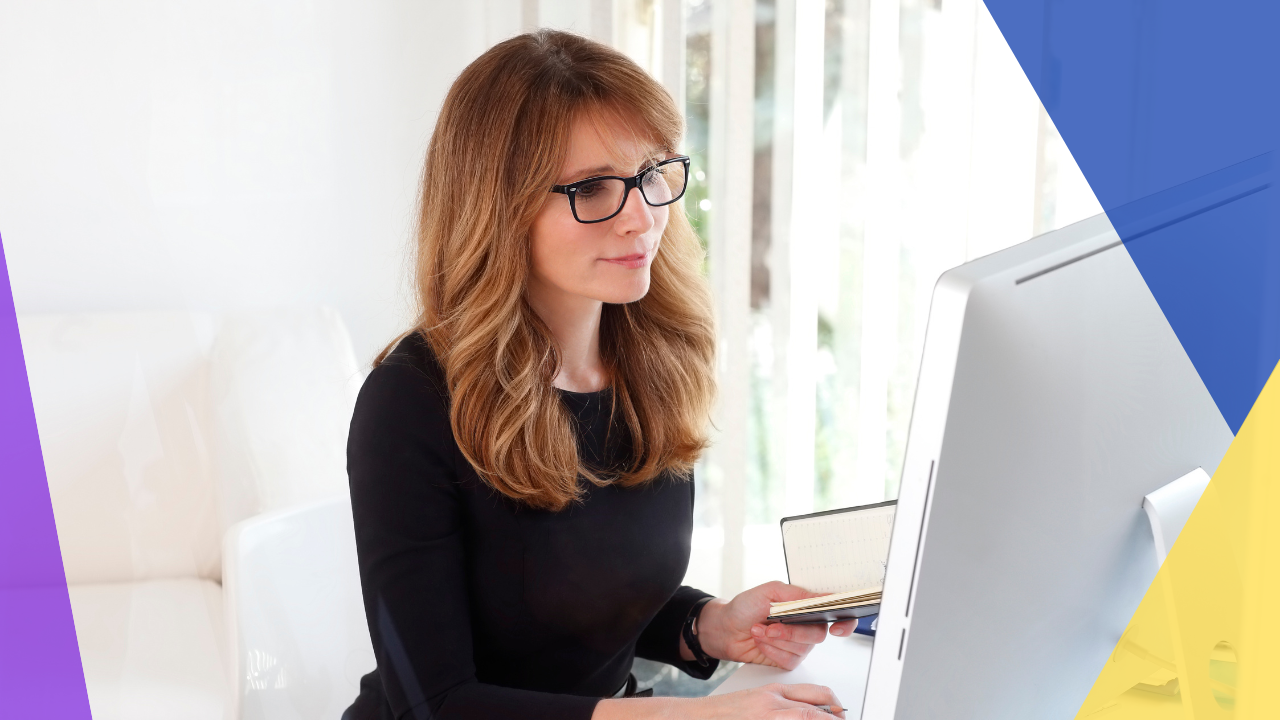 Executive assistants and personal assistants are both valuable members of an organization, but they work in different capacities toward different goals. 
The terms are frequently used interchangeably, but their roles have key differences. In the 434th episode of the Outsource Accelerator podcast, Kristel Kuit, the CEO and founder of Headroom Assistance, touches on how the positions have become defined together. 
"What we're seeing is that due to technology, the lines between personal and business are being blurred.
Nowadays, you work, you know, it's very fluid. And since there is such an overlap between personal and business, that is exactly what is also increasingly needed from an assistant.
It's not only helping you realize your business goals but also to help out with that work-life balance at home, right?" 
In this article, we'll go through the differences between an executive and a personal assistant and which is the best fit for you.  
What is an executive assistant? 
An executive assistant (EA) works closely with a senior-level manager, helping to manage their schedule, organize their tasks and projects, and keep them organized. The executive assistant may also perform administrative tasks and responsibilities. 
Executive assistants are usually employed in the corporate world by executives or middle managers. They may work in various industries, including healthcare and information technology. 
Kristel notes how the specific role of the executive assistant evolved out of the catch-all virtual assistant job. 
"[We see] that people are becoming more aware of this, these needed specialization skills. So they're transforming their titles of VA to a more specialized role with what exactly they're good at."
What does an executive assistant do?
Executive assistants are required to cover a lot of responsibilities, and Kristel notes that the job is a good opportunity to "see where your special skills lie within the assistant profession. So some assistants really like the legal roles, or they are really good in finance, or they're really good in project management. And you see that they sort of branch out to that." 
Known responsibilities of an executive assistant typically include: 
Providing general administrative support 

Filtering and routing calls and emails 

Calendar and schedule management for meetings

Conducting research and creating reports 

Attending meetings as a proxy

Project coordination

Accounting and basic bookkeeping

Corporate event and travel planning
What is a personal assistant? 
Personal assistants usually work for individuals (and companies to a lesser extent). In the case of an individual, PAs manage their calendar, schedule meetings, and perform similar duties.
PAs also help with shopping, vacation arrangements, and household tasks. 
Personal assistant roles are typical among those who don't have an official title at work, such as celebrities. 
Kristel observes that "the diversity makes the job really interesting. A personal assistant in the US really means something different than Europe, [where] PAs [are used] in the same job description as a management assistant or a secretary or an executive assistant.
While in the US a personal assistant is really taking care of your laundry, walking the dogs, really doing also a lot of physical chores and also joining maybe like on family trips or business trips.
And that is really what a traditional executive assistant normally doesn't do."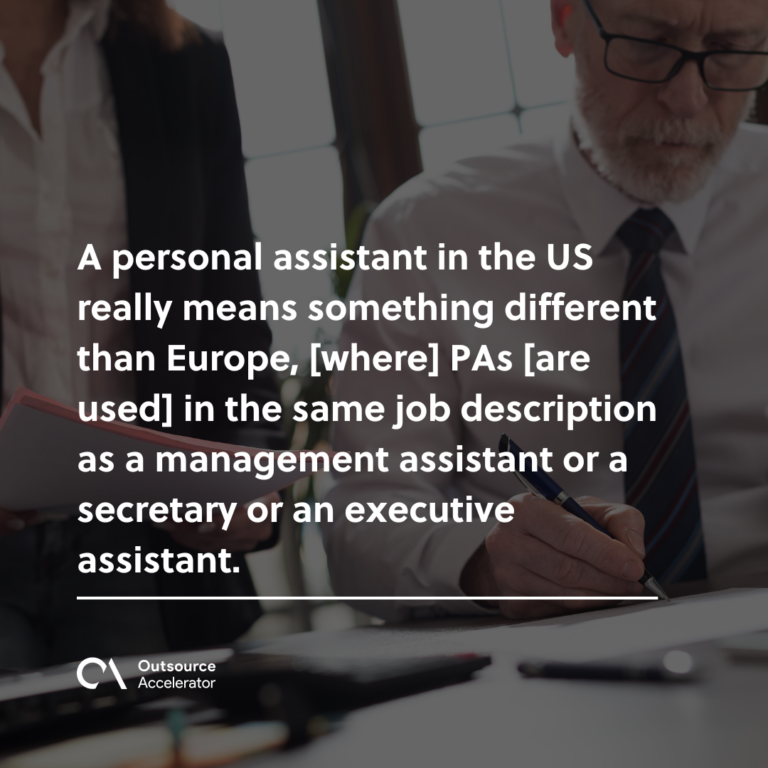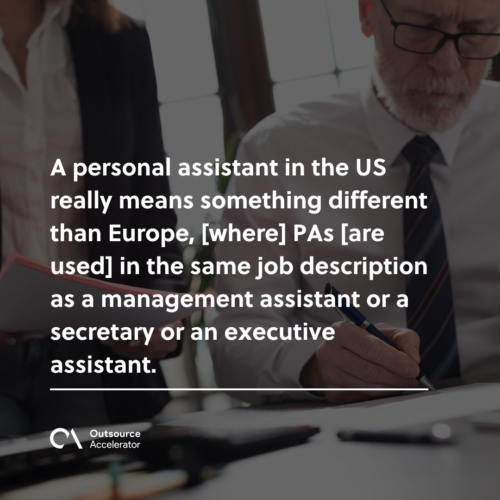 What does a personal assistant do?
A personal assistant typically handles personal and professional matters for their client. 
Many of the responsibilities of an executive assistant can also be performed by the personal assistant, but with more focus on errands than strategic work. 
Known responsibilities of a personal assistant typically include: 
Manages client's errands (especially if local, in-person PA)

Personal calendar management

Handles expenses and personal finances

Monitors emails and phone calls  

Arranges travel and accommodations

Personal research (gifts to buy, places to see on vacation, etc.)
Choosing between an executive assistant and a personal assistant 
The difference between executive and personal assistants lies mainly in their duties. But an important factor is the settings they will be working in. 
Ask yourself these questions when selecting between an executive or personal assistant. 
What responsibilities will they hold? 
First, you must know what your executive or personal assistant will do. The main purpose of an assistant is to relieve some of your workloads so you can focus on bigger projects and tasks. 
The type of responsibilities will determine which assistant you need to hire. 
If you're looking for someone to help run your business, hire an executive assistant. A personal assistant will suffice if you're simply looking for someone who can handle some of your busy work. 
Kristel speaks on some people's hesitancy before hiring an assistant, thinking they can do all the work themselves. 
"Some people really like to be in control. And they get energy from taking care of these details or organizational skill tasks.
But be very aware where you put your time and energy, [it's] taking care of your calendar, taking care of your personal tasks or travel. [If you can't do it] then outsource it to somebody who can do it actually probably better and faster than you."
What kind of working environment do you have?  
Before hiring an assistant, consider the working environment you have. 
Executive assistants frequently work in office settings. Personal assistants may do the same but are also required to be more flexible and work wherever. 
Kristel shares, "I know some CEOs who have multiple offices around the world; they sometimes like to have the assistant in-house on location because they can be a little bit of a tentacle for them.
How is the team over there? You know, being the ears and eyes." 
What level of pressure will they face?
An assistant's pressure can range from very high, where they manage multiple projects, to very low, where they simply answer phone calls and emails. 
Executive assistants are expected to handle more pressure on the business side, while personal assistants handle more pressure on the personal end. 
Additionally, outsourcing assistants provide you with external parties that can more readily handle the pressures of either role. 
Kristel remembers a client: "The inbox caused him a lot of stress, and he really didn't want to give [that duty] to somebody within the company, because there was a lot of confidential information in there. And so that's why he chose Headroom."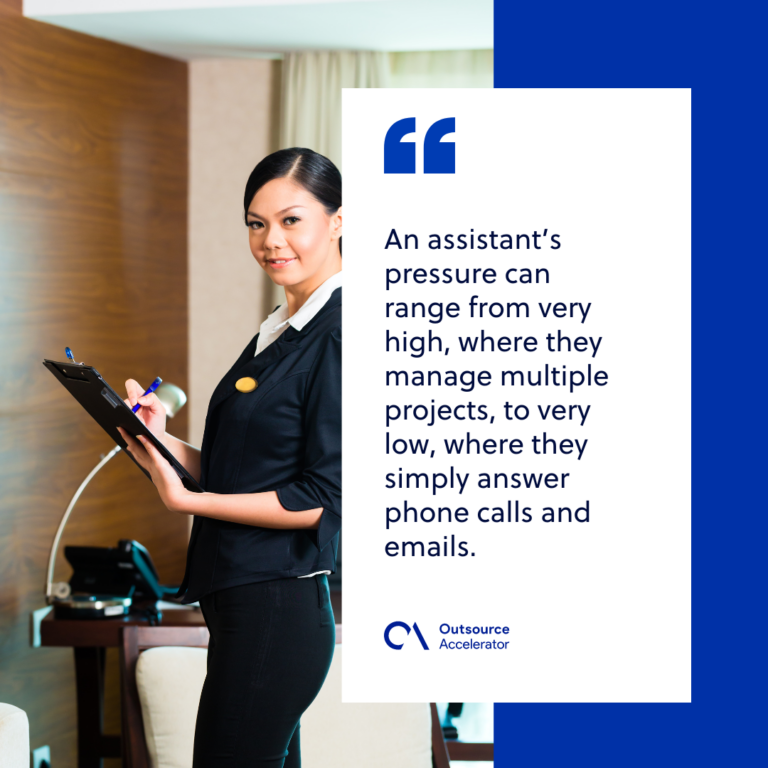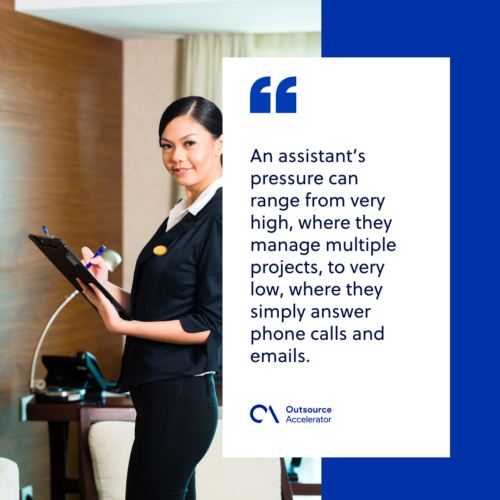 What career growth is expected for them? 
When it comes to career growth opportunities, executive assistants can move up in the company and become leaders themselves. Personal assistants will likely remain in the same position until they retire or quit. 
This is because the role of the executive assistant also evolves as their client's role evolves. Personal assistants tend to stay in one area because they handle tasks requiring more specialized skill sets. 
What kind of work culture do you prefer? 
If you like structure and order in your office, an executive assistant might be a better fit than a personal assistant.
Executive assistants are trained in business etiquette and protocol, with more experience working in professional environments.
A personal assistant is likely more familiar with running errands or booking travel arrangements and less with client strategy meetings. 
Whether you choose an executive or a personal assistant will depend on you. What matters more is the benefit of making your life significantly more manageable. 
Kristel reiterates this, saying, "Running a business is hard; it's a challenge. And you can start the day thinking [you] have everything planned out perfectly, but then something happens. 
And as an assistant, you have to be just as flexible and make sure you say to [your client], 'Don't worry, I'll take care of it.' And that is the best feeling you can give somebody." 
Kristel can be reached through her LinkedIn. Look up Headroom Assistance's website and listen to episode 434 of the OA podcast here.