Employee turnover statistics to drive your retention strategies
High turnover rates within an organization can have far-reaching consequences. The disruptive effects of turnover resonate throughout various facets of a company, influencing its overall health and performance.
Elevated turnover disrupts productivity, and as employees exit, their institutional knowledge and expertise walk out the door with them. It leaves a void that can hinder the seamless flow of operations.
This disruption demands additional time and resources to bring new hires up to speed, impeding achieving strategic goals and delaying projects.
The more frequently an organization must undergo this process due to employee churn, the higher the associated costs. Financial strains impact the bottom line and divert resources that could be better utilized for innovation and growth initiatives.
Here, the importance of employee turnover statistics becomes evident in tackling these challenges.
The discussions below will serve as a tangible representation of the scope of the issue, offering insights into the magnitude and patterns of turnover in 2023.
Overview of recent employee turnover statistics
The departure of employees disrupts a functioning enterprise's operational flow and achievements.
CNN reports that 50.5 million individuals voluntarily left their positions in 2022, excluding layoffs or involuntary terminations. Such resignations create a void in knowledge, placing additional responsibilities on the remaining staff.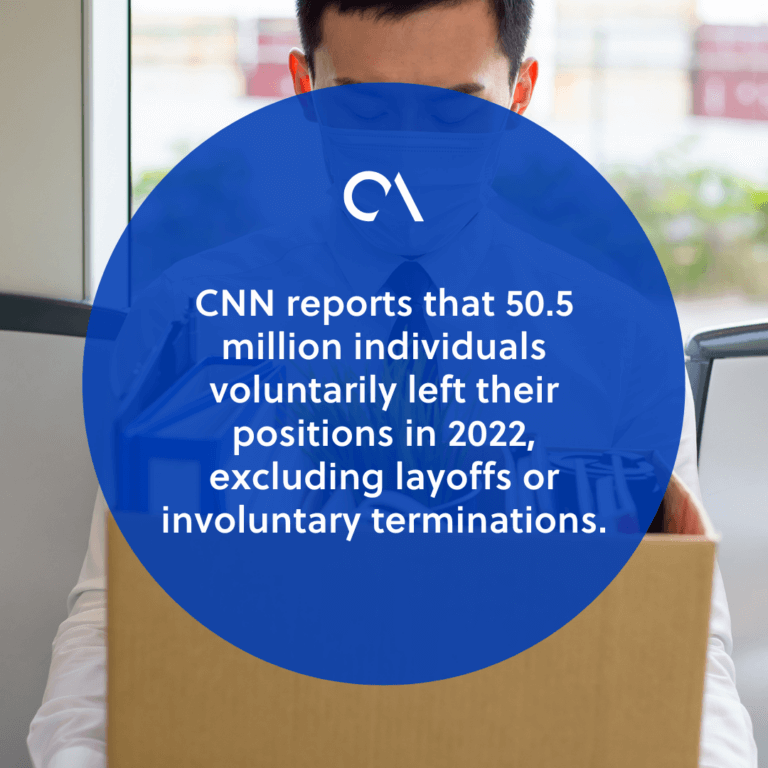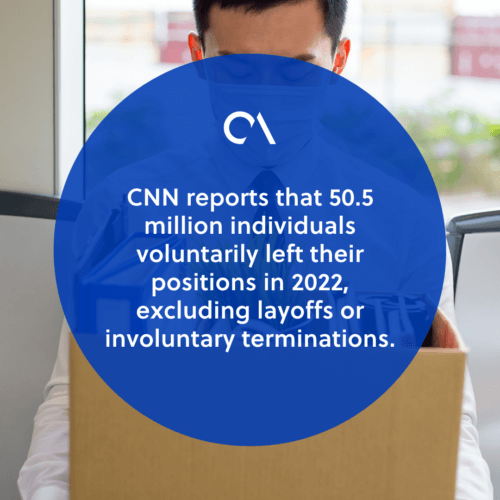 Understanding employee turnover statistics can assist in identifying issues and enable the implementation of strategies to counteract a high attrition rate.
Maintaining a successful employee retention ratio can also result in the following:
Reduced corporate expenses:

As per Gallup, the collective expense incurred by American companies due to voluntary employee turnover amounts to

$1 trillion annually

. This sum is comparable to an employee's 6-9 months earnings.

Increased employee effectiveness:

The longer employees remain with a company, the more proficient they become. A significant annual turnover rate can lead to decreased efficiency and diminished productivity.

Enhanced employee engagement:

Evaluating your mean employee retention proportion monthly, quarterly, or yearly facilitates the assessment of the effectiveness of your employee engagement endeavors.
It's a good thing that the overall annual quit rate (excluding the agricultural sector) in the United States for the year 2023 stands at 2.5%.
However, as per a Bankrate study, 56% of American employees who participated in the survey expressed their intention to search for a different job, in contrast to 51% in the previous year.
Economic instability might cause certain workers to reconsider resigning before securing a new position.
However, the apprehension of potential layoffs could motivate other employees to explore different job options.
Here are some of the main reasons why:
These employee turnover statistics shed light on some prevailing trends in the job market. Employees are proactively exploring other job opportunities, predominantly driven by the pursuit of better compensation packages.
This aligns with job seekers' need for higher income due to rising inflation and increasing living costs. 
The figures collectively emphasize the critical importance of fair compensation, positive workplace culture, and genuine recognition in retaining a satisfied workforce.
Average employee turnover rates per industry
What constitutes a favorable employee retention percentage? 
Typically, the target is to achieve an average retention rate of 90% or above. This implies that a company should strive for an average employee turnover rate of 10% or lower.
How can you determine whether your turnover rate is high or low? 
One approach involves contrasting your company's turnover rate with the industry's standard average.
It's important to note that turnover rates can significantly differ among various industries. Certain deductions can be drawn after comparing your rate and the average rate in your industry or location.
For instance, if your turnover rate surpasses the industry's typical average, it likely indicates that your management may not be operating at its highest efficiency. You should also consider pinpointing and rectifying any internal challenges contributing to this.
Here are some employee turnover rates per industry: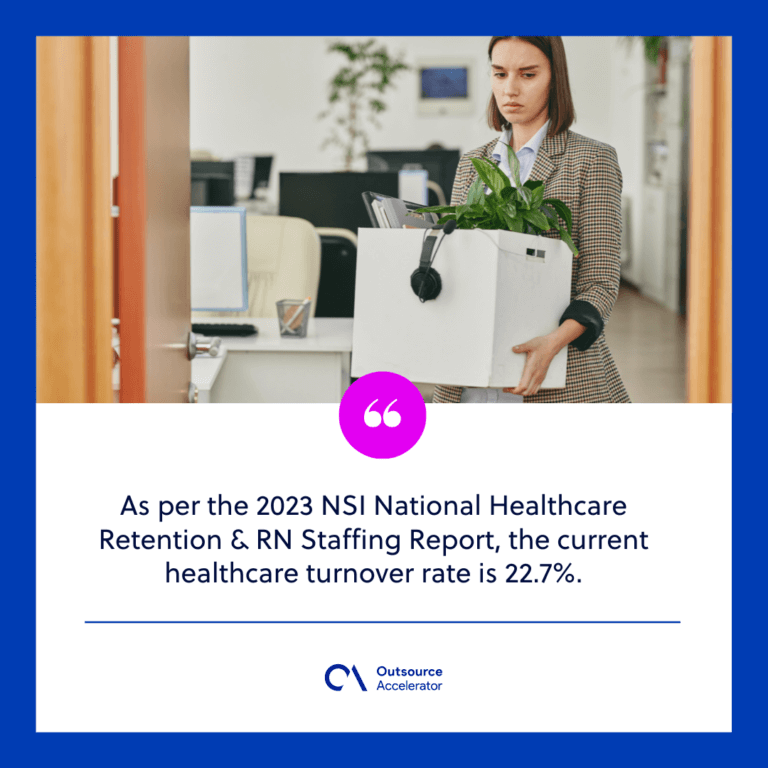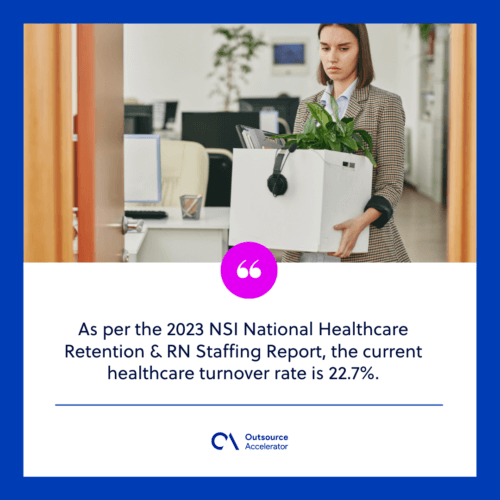 Employee turnover statistics: Why employees churn
Employee turnover is a complex phenomenon influenced by job-related, organizational, and external factors.
Understanding these factors is essential for developing targeted strategies to enhance employee satisfaction and commitment.
Here are the following employee turnover statistics that influence the decisions of workers to churn:
Job-related factors
Job-related factors delve into the core of an employee's daily experiences, encompassing aspects directly impacting their satisfaction, motivation, and commitment to the organization.
Job satisfaction and engagement
Gallup's State of the Global Workplace: 2022 Report reveals that a significant portion of the U.S. workforce, specifically 65%, lacks engagement. 
This lack of engagement is a significant turnover driver, as disengaged employees are more likely to seek new opportunities.
Another study by PwC shows that roughly 40% of adults who departed from their employment the previous year left due to excessive hours they had to work.
In contrast, 30% attributed their departure to insufficient working hours. This reflects that dissatisfaction and exhaustion with tasks, responsibilities, and growth prospects are primary factors in employee churn.
Compensation and benefits
A report by Business News Daily highlighted that most respondents who quit their jobs and found either full-time 55% or part-time 23% work say they've found more fulfilling work.
Among these respondents, 56% said they were now earning more money, with more opportunities for promotion. 
Employees are more likely to explore alternative opportunities when these aspects fall short of expectations.

Work-life balance
According to a Work Institute report, the percentage of employees who leave their jobs to desire an improved work-life balance has increased by 20%. This is with 12 out of every 100 workers citing this as their reason for quitting.
Within this category, the primary drivers of attrition are issues related to scheduling and commuting. Notably, the incidence of employees leaving due to commuting challenges has shown a significant surge of 403% over the past ten years.
This underscores the importance of remote work options for maintaining work-life balance and preventing turnover.
Organizational factors
These encompass the broader environment within which an employee operates, encompassing the culture, leadership, and growth opportunities the company provides.
Company culture and values
A recent study conducted by LinkedIn has revealed that a significant proportion of American employees, specifically 61%, are contemplating the idea of changing their current employment this year, in 2023.
The report highlights that the intention to resign is particularly pronounced among Generation Z (categorized as individuals aged 18 to 25) and millennials (aged 26 to 41) compared to other age groups. 
A misalignment between an employee's values and the company's culture contributes significantly to this inclination.
Leadership and management styles
According to a report from PwC, the primary factors driving Americans to leave their jobs were the absence of chances for career progression and a sense of being undervalued.
The report revealed that 63% of the survey participants experienced the latter issue. Dissatisfaction with leadership practices and lack of respect can erode job satisfaction and drive employees to seek better managerial relationships elsewhere.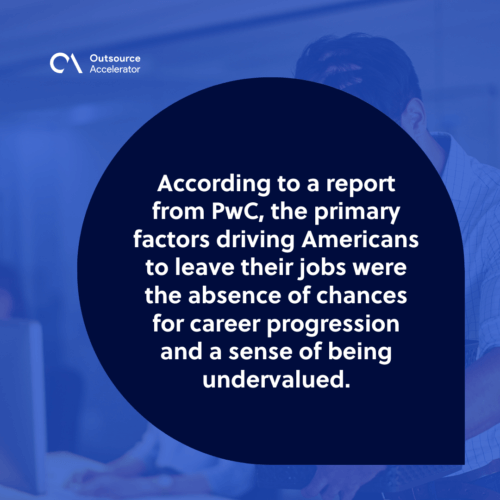 External factors
While internal dynamics play a substantial role in turnover, external forces should not be underestimated. 
Economic conditions, technological shifts, and industry trends can exert pressures that impact an employee's perception of stability and growth potential. 
Economic conditions
In 2022, 84% of employers faced challenges when filling job positions, marking a 20% surge from the previous year, 2021.
A similar report from ManpowerGroup stated that the current scenario reveals that 77% of employers face difficulties in staffing roles. This is a challenge that persists during the pandemic.
This talent scarcity can lead employees to explore new job prospects during favorable economic conditions.
Technological advancements
The most recent statistics regarding the robotics industry indicate that by 2030, approximately 90% of companies intend to adopt robotic automation within their operational framework.
This significant trend could raise concerns about its impact on human employment prospects.
Moreover, fear of technological displacement can prompt employees to seek job security in industries less susceptible to automation.
As businesses increasingly automate tasks previously performed by humans, there's a valid concern about the impact on employment opportunities and job stability for the workforce.
Address your churn rate with these employee turnover statistics
Companies must integrate data-driven retention strategies to effectively address high churn rates underpinned by crucial employee turnover statistics.
One fundamental step is conducting regular employee surveys, which provide valuable insights into job satisfaction, work-life balance, and growth opportunities.
Organizations can pinpoint areas of concern by analyzing employee turnover statistics alongside industry benchmarks and tailoring their retention efforts precisely.
Furthermore, investing in robust training programs to enhance leadership skills and foster a healthy work culture is paramount.