Why positive employee experience should be your company's top priority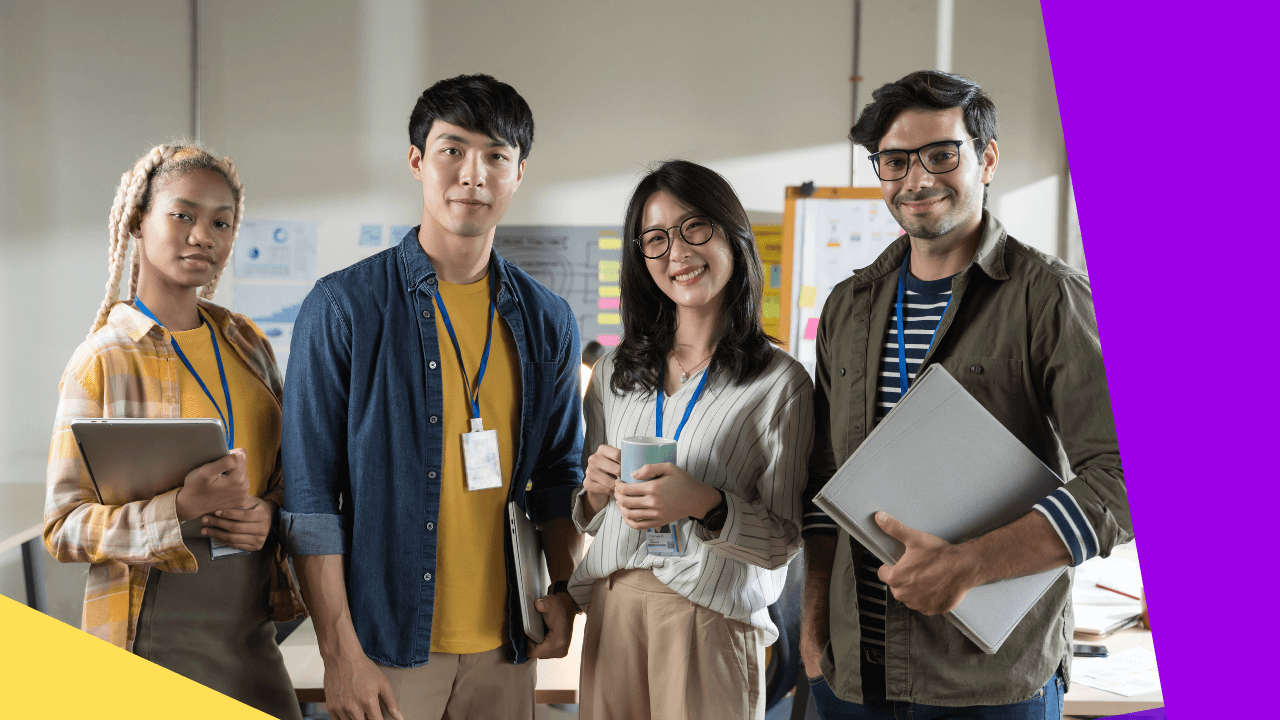 There's no doubt that when it comes to running a business, the customer is king.
It's an undisputed fact that customer experience is one of the most important factors in keeping your business running smoothly. However, there's another factor that some companies unfortunately neglect.
This factor is employee experience.
Disregarding employees' work experiences is an unfortunate consequence of some businesses' pursuit of increased productivity and customer satisfaction.
This often proves counterproductive as not paying proper attention to their employee experience is ultimately detrimental to employee performance. Consequently, it impacts their overall business operations.
But what exactly is employee experience, and in what ways does it affect your company?
Read on below to find out.
What is employee experience?
Employee experience, or EX, can be summed up as a worker's perception of their overall development and activities within the company.
This overarching impression covers the entire course of an employee's journey in the company – from the moment they click on that Indeed job advertisement up to the moment they send in their resignation letter.
Many companies are now seeing just how different the millennial consumer group is from their boomer and Gen X predecessors.
As an emerging dominant consumer group, millennials are more brand-conscious, involved, and vocal with the businesses they support.
In the same vein, members of this generational cohort are also vastly different as employees compared to their counterparts from the previous generation.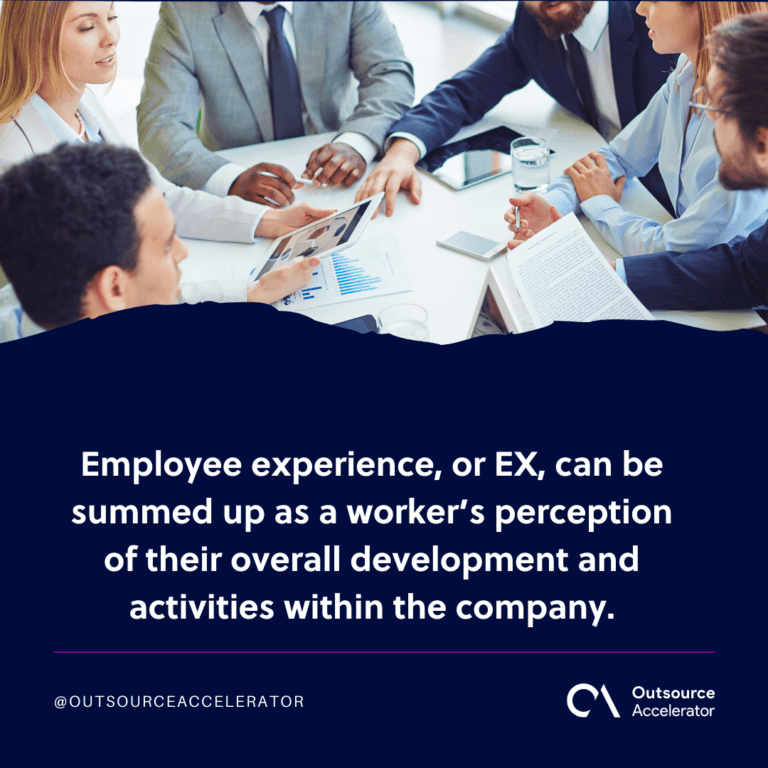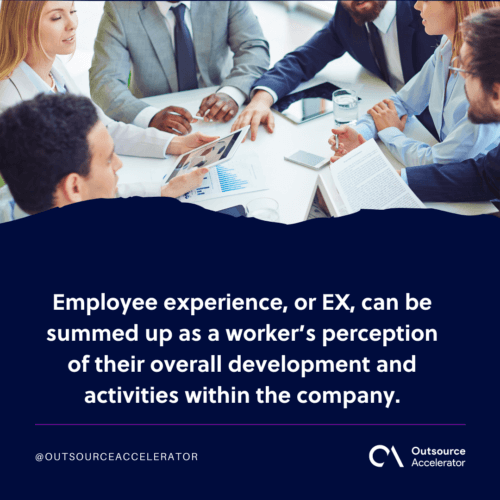 Purpose beyond profit: What the millennial generation considers a positive employee experience
With millennials – and the succeeding Gen Zs – a good salary alone is not a good enough motivator for staying in their jobs.
These young workers actively seek jobs that provide employees with a healthy work-life balance and a positive environment. More so, they should be interesting enough to commit to and keep doing for a long time.
Millennial employees clamor for a job that looks after its people as much as its profits. And this has been apparent in Gallup's 2018 poll, which shows what different age groups look for in their employers. 
The poll's results also showed millennials seek diversity, equity, and inclusion (DEI) in the workplace just as much as they do with products and services.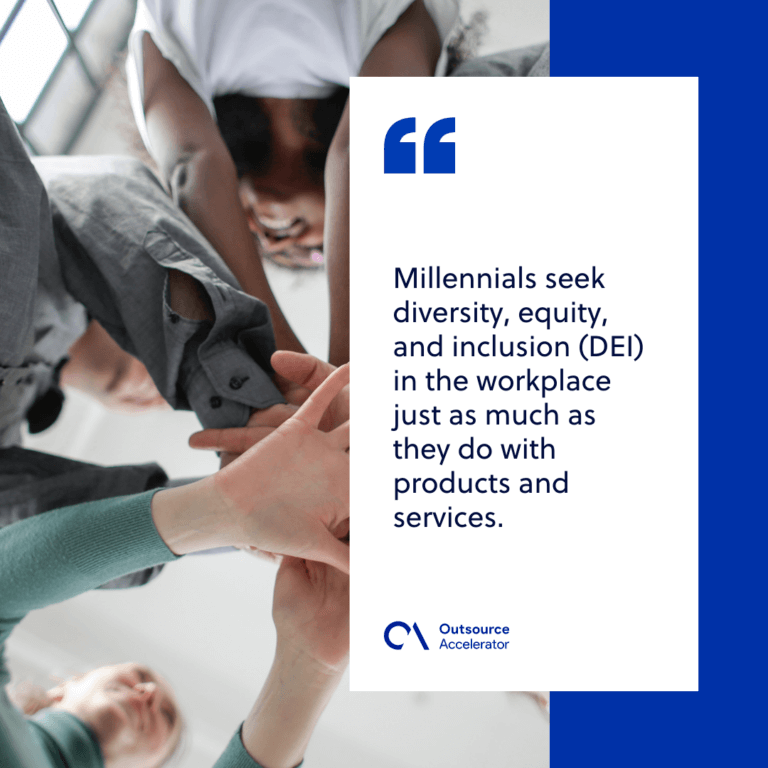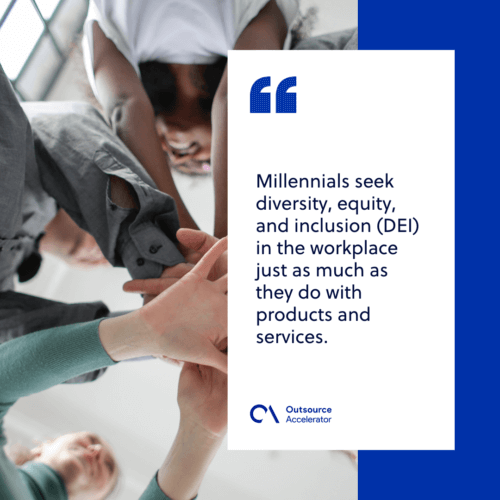 How does employee experience affect your business?
The impact of employee experience and satisfaction on businesses is just as consequential as that of the customer experience.
Below are some workplace aspects directly affected by employee experience.
Recruitment
Job seekers, particularly millennials and Gen Zs, are more likely to go through job applications that present fewer hassles and are more upfront with the specifics of the position.
Moreover, employee experience also comes into consideration when job seekers look through a company's online reviews. This includes sites like Glassdoor, Indeed, Google reviews, and Great Place to Work.
Companies with a positive reputation are more likely to attract talents, while those with negative reviews are more likely to get bypassed.
Retention
Just as job seekers are more likely to apply to companies with good reviews, employees are also more likely to stay in companies with a positive environment.
The Great Resignation is still looming above business organizations. So it has become even more crucial to keep employees satisfied not just monetarily but also physically and mentally.
Productivity
Increased employee satisfaction leads to an increase in workplace productivity.
Workers are more likely to put in more effort when they feel that the business organization they're working for values them.
In addition to increased productivity, a positive employee experience also reduces absenteeism.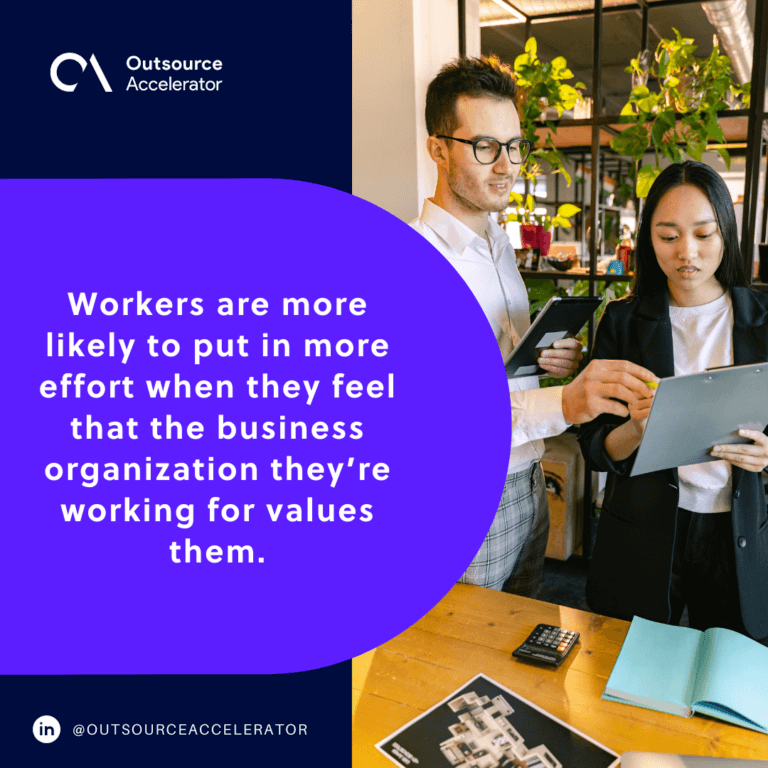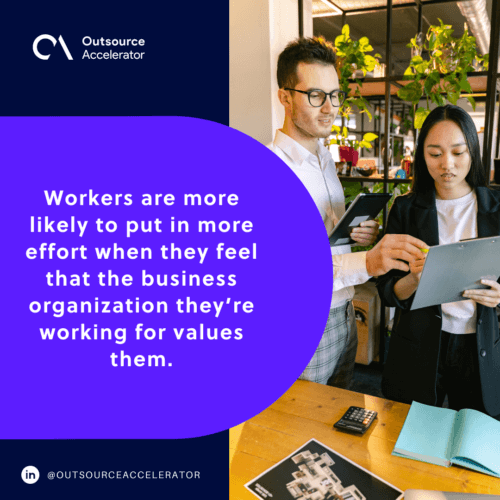 Customer satisfaction
Happy and satisfied employees are more likely to convey the same feelings to the clients they're dealing with.
These employees are also more likely to be more understanding and empathetic. At the same time, they will be more dedicated to understanding the products and services they offer.
How to improve employee experience
Employee experience is affected by various factors in the workplace.
By implementing improvements on important employee touchpoints, a company's management can ensure that their employees will be more satisfied. In turn, they will be more dedicated to their work.
The following are just a few crucial aspects employers should consider improving to foster a positive employee experience.
Company culture
Company culture is a somewhat hard-to-define concept as it varies from one individual to another. It could be a mixture of the following definitions: 
What the C-level management tells it to be

What an employee makes of the company's mission, values, and practices

The interactions between the rank and file employees when senior management isn't around
However one defines company culture, it ultimately boils down to the "vibes" employees have when clocking in for work – vibes that could drain, motivate, discourage, or empower them.
Outsourcing companies like MVP Asia Pacific take good note of this, selecting team members that can fit into your company culture even from a remote setup.
Workplace technology
The technology that employees have access to and use in the workplace also affects their job satisfaction and performance.
For example, employees working with company-provided computers or other needed hardware will be more satisfied with their working conditions than those who have to use their personal equipment for work.
In addition, using software that streamlines work processes also contributes to a positive employee experience as this removes redundancies and reduces their workloads.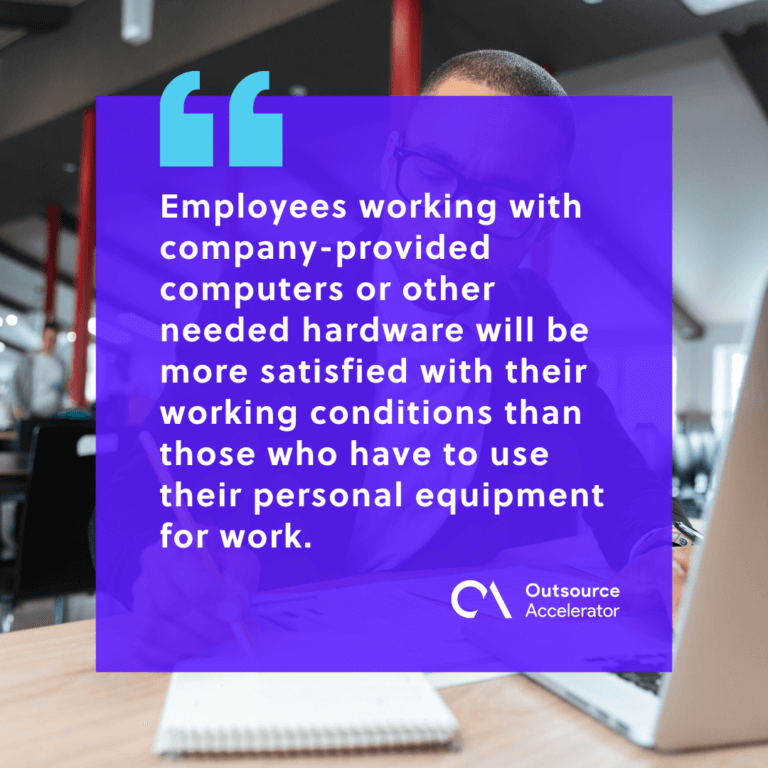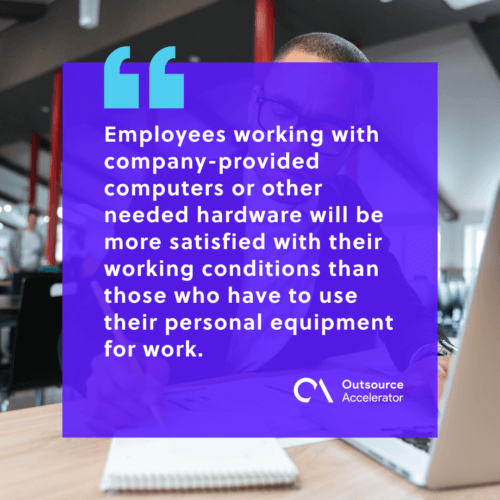 Workspace flexibility
Brick-and-mortar physical set-ups are not conducive working environments for every employee. Likewise, neither is a permanent work-from-home set-up favored by everyone.
The COVID-19 pandemic has underscored the importance of a flexible work environment for employees.
Workers are now actively choosing jobs that cater to their favored set-up. Whether it is a permanent work-from-home arrangement, an on-site office work, or a hybrid of the two.
Thus, to boost employee morale and productivity, employers must adapt to the necessity of a flexible workspace that accommodates their workers' preferences.