Be prepared: MCI's emergency on-demand call center services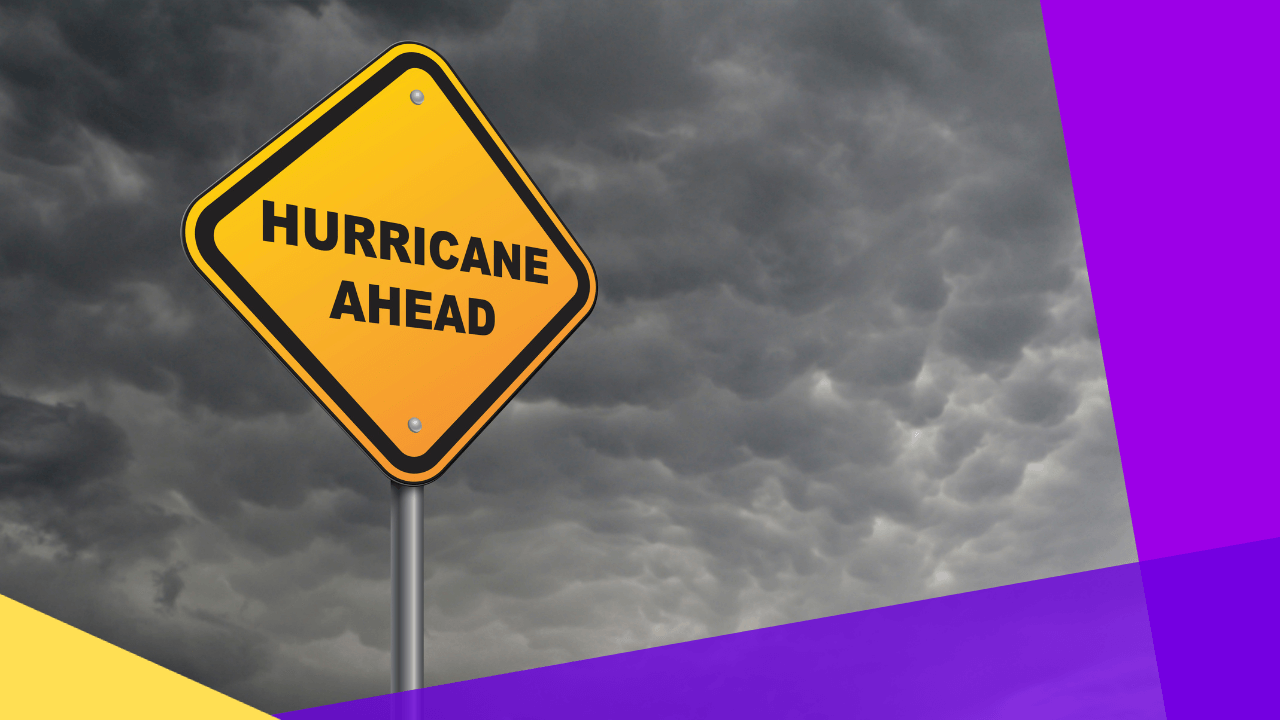 Emergencies can strike at any moment, leaving people grappling with unexpected crises. During these critical moments, the lifeline to immediate assistance often lies in the hands of emergency call center services. 
These vital coordination hubs serve as the first contact point when catastrophes unfold. They are the unsung heroes of disaster response, public safety, and healthcare.
MCI stands out as a leader in the industry. Aside from being among the top BPOs worldwide, it is also at the forefront of providing on-demand emergency call center services. 
MCI specializes in granting insurance first notice of loss, regularly deploying its force of 10,000 agents. Their efforts have been a big help to those affected by the recent Hurricane Idalia. 
This article explores emergency call center services, their key functions, applications, and how MCI can be there in your time of need.  
Key functions of emergency call center services 
The key functions of emergency call center services are pivotal in ensuring efficient and effective responses to critical situations. 
These functions are essential for managing emergencies across various sectors:
Immediate response

– Agents are trained to respond immediately with appropriate protocols and procedures. 

Information gathering

– During emergency calls, agents gather essential information to assign resources where needed. 

Documentation

–

Accurate records

of calls are used to analyze trends, evaluate effectiveness, and continuously improve. 

Non-emergency support

– Agents can also handle general inquiries to alleviate the burden on emergency services or other businesses. 
Applications of emergency call center services 
Emergency call centers have real-world applications across a variety of industries, each serving a unique purpose. 
Let's explore how these firms are utilized in the following contexts: 
Insurance
Emergency call center services handle calls related to accidents, property damage, or other emergencies covered by insurance policies. 
Of particular focus is the First Notice of Loss. Insurance companies rely on call centers to receive reports from policyholders. Policyholders contact these call centers when incidents occur to initiate the claims process. 
They help insurance companies provide timely assistance, streamline claims processing, and ensure efficient resolution of emergencies.  
E-commerce 
In the e-commerce industry, an emergency call center can handle increased customer inquiries, product support, order tracking, or returns. 
They can also assist with issues like fraud protection, data breaches, or customer account security.  
Travel and hospitality 
Emergency call centers are vital in the travel and hospitality sector. They assist travelers facing unexpected disruptions such as flight cancellations, missed connections, or health emergencies while abroad. 
During these times, an emergency call center can offer guidance on alternate travel arrangements, hotel accommodations, or transport solutions. This ensures that travelers receive prompt assistance and have their concerns addressed. 
Healthcare 
Aside from assisting during medical incidents, an emergency call center also handles general non-emergency medical inquiries. 
Emergency call centers can offer telehealth services, support for appointment scheduling, and answer general health-related questions. These services are particularly valuable for patients seeking guidance outside regular office hours. 
Financial services
Emergency call centers are essential for financial service companies, especially in situations like fraud alerts, account compromises, or security breaches. 
Agents can quickly identify and respond to potential threats, place holds on accounts, and guide customers on necessary steps to mitigate risks and protect financial assets. 
Some institutions even offer emergency call center support for those seeking financial advice, assistance with account management, or investment guidance.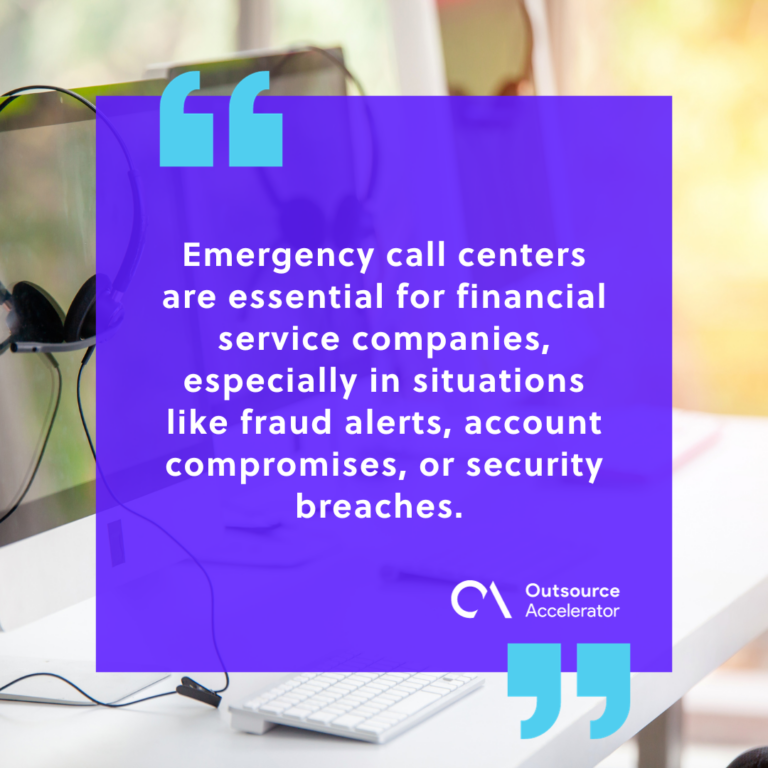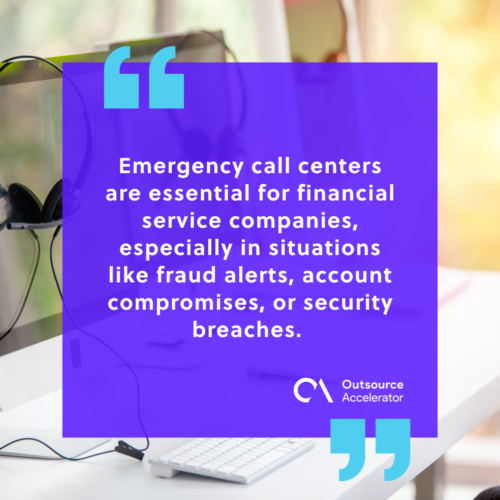 Benefits of on-demand emergency call center services
Utilizing on-demand emergency call center services offers several significant benefits for those in need of immediate assistance during critical situations. 
Here are the key advantages of using on-demand emergency call center services: 
Scalability and flexibility 
An on-demand emergency call center can easily scale its operations based on call volume, ensuring response remains effective. It also offers flexibility by being operational 24/7. 
Swift response 
Prompt response is critical during emergencies. An emergency call center can significantly reduce response time by efficiently managing incoming calls, gathering accurate information, and quickly allocating resources. 
Specialized expertise 
On-demand emergency call centers have specialized agents who are trained to handle specific types of emergencies, such as medical or technical incidents. 
This expertise ensures that callers receive the appropriate assistance.

Cost-efficiency
On-demand emergency call center services are often more cost-effective than maintaining an in-house call center. Companies can save on infrastructure costs, staffing, training, and operational expenses by outsourcing as needed. 
Reliability and redundancy 
Emergency call centers often have redundant systems and backup infrastructure for uninterrupted service. They offer enhanced reliability and resilience, guaranteeing that calls will be answered and responses are initiated. 
Data analytics and reporting 
Emergency call centers provide real-time reporting and data analytics. These features allow organizations to assess response times, identify trends, and improve emergency services over time.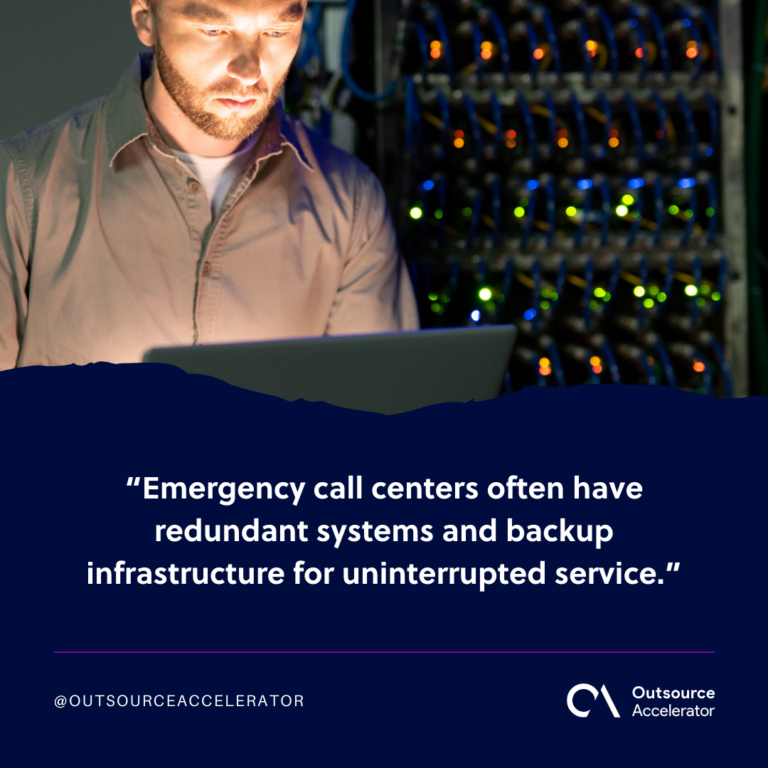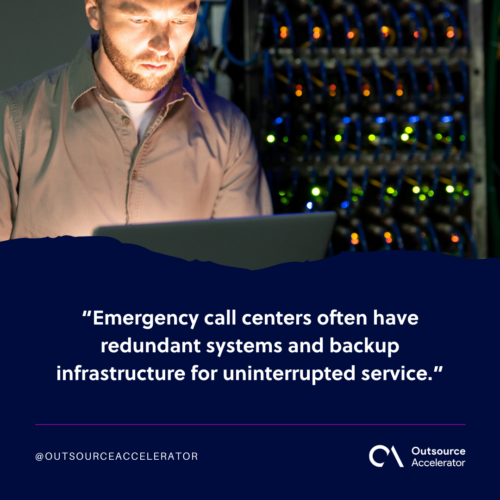 MCI's emergency call center for every scenario
MCI has over 20 years of experience elevating customer experience, capturing efficiencies, and reducing operating costs. 
Its emergency call center, in particular, makes it stand out, letting you sustain business operations through:

Emergency helplines

Urgent notifications

Remote assistance

24/7 telephone support
Connect with MCI to learn more about its emergency call center services!