Distance working: The dos and don'ts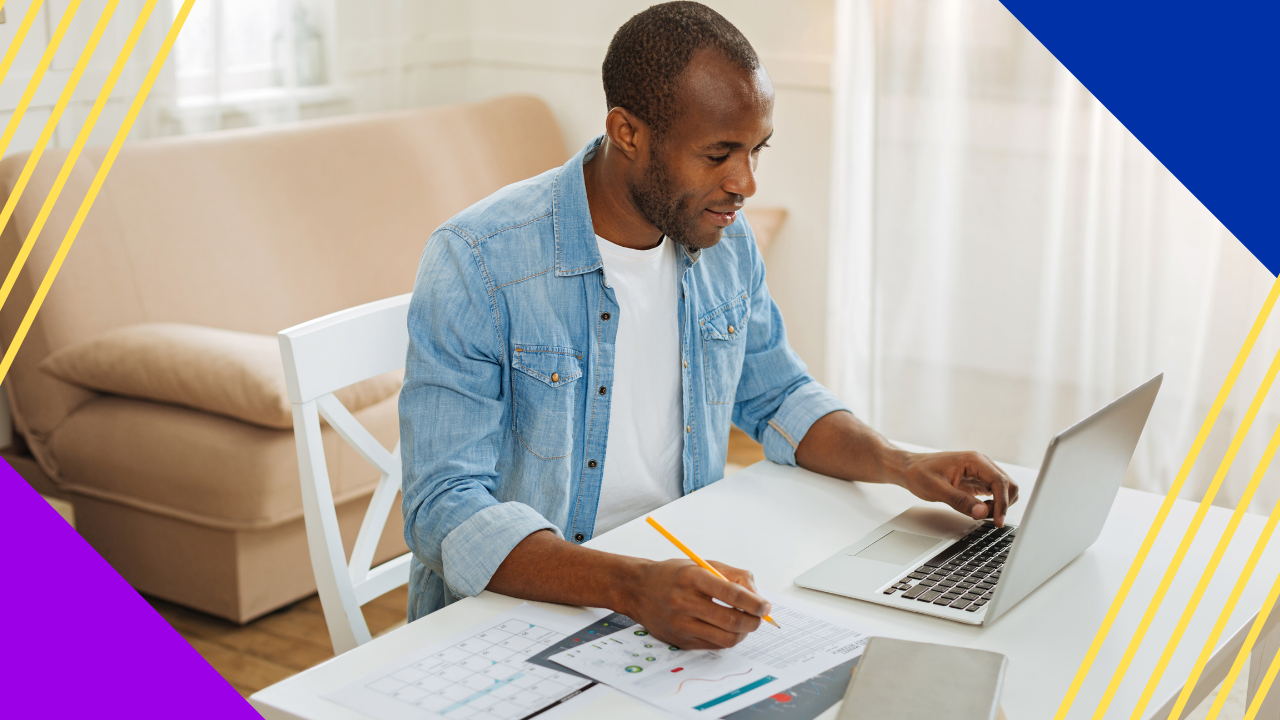 Just recently, major companies and businesses have adopted distance working to give way to innovation and meet the demands of their workforce. 
Just like at the office, there are best practices when it comes to distance working. While they aren't as rigid as the traditional ones, these can help employees be more efficient while rendering hours.
In this article, we discuss what to do and not to do when distance working.
What is distance working?
Distance working refers to the setup wherein employees are working out of the office. Also known as remote working, this model promotes self-discipline, accountability, and efficiency.
As long as the employee has a computer and a stable internet connection, they can adopt the remote lifestyle. This is most popular with digital nomads and freelancers.
More and more employees are looking for remote jobs—mostly for the benefits:
No more commuting.

More time for personal hobbies and family activities.

Better work-life balance.

Freedom at work.

Cost-efficiency.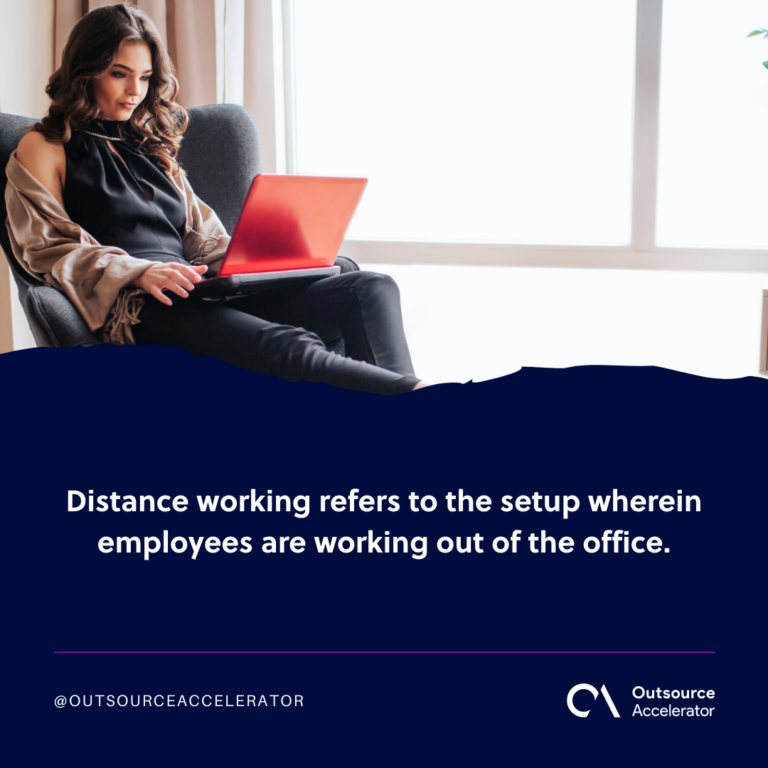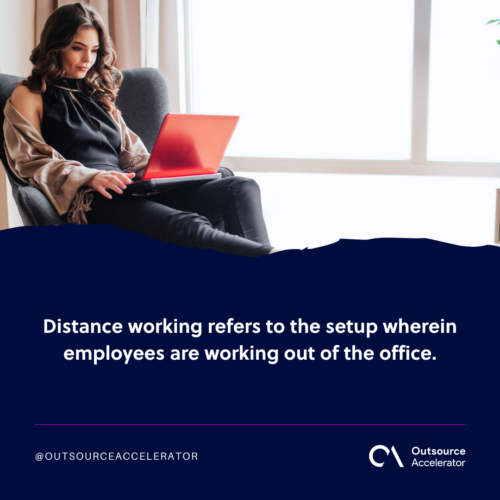 What to do when distance working
By getting into the right mindset, you're helping yourself ease into "work mode." This will allow you to organize your thoughts and plans for the day as well.
Having a clear distinction between working and relaxing is important to anyone's wellbeing.
Organize tasks
By being organized, you'll be on top of the things you need to do and figure out if you will need an extension or not.
Set reminders and alarms for meetings and virtual events if you're someone who likes to see plans ahead of time. For deadlines, there are free project management tools that you can utilize.
For instance, Google Workspace has Tasks built into its web app. With Tasks, users can input items and add a date as a reminder.
Communicate well
Distance working can feel lonely at times, especially with your teammates scattered around the globe. Miscommunications in the workplace can be avoided if people observe proper email and chat etiquette rules.
For example, instead of sending an emotion-driven, passive-aggressive email, you can schedule a call with the other party. While video calls can't replicate a traditional office, they can carry out conversations just as well.
Emails and chat messages are hard to read at times, so if you think that a conversation should happen over a call, set a date and a time. 
Remove distractions
If possible, put your phone on silent mode—even better if it's on "Do Not Disturb." Notifications from social media and other non-work-related apps can distract you from your workflow.
When you're at home, digital distractions are a couple of clicks away, and the temptation to lounge around will always be present. Install website blockers and productivity apps to help you stay on your task.
Utilize breaks and paid time off
Remote-only employers give mandatory paid time off (PTO) and breaks so employees can take time for themselves even when working from home. By utilizing holidays and weekends, workers can recuperate after days of working eight hours a day.
Also, be sure to log off after work as this signals the end of your shift. You don't have to take any calls and answer any emails unless there is an emergency.
Create boundaries
One major disadvantage of the distance working setup is that it blurs the line between professional and personal life. Studies have shown that most people end up rendering more hours when working from home.
Avoid burnout by creating a clear boundary between work and home life:
Create separate accounts on your computer, labeled appropriately.

Follow the "no shoptalk" policy when at home.

Set your work hours.

Create a physical boundary between your workstation and personal areas at home.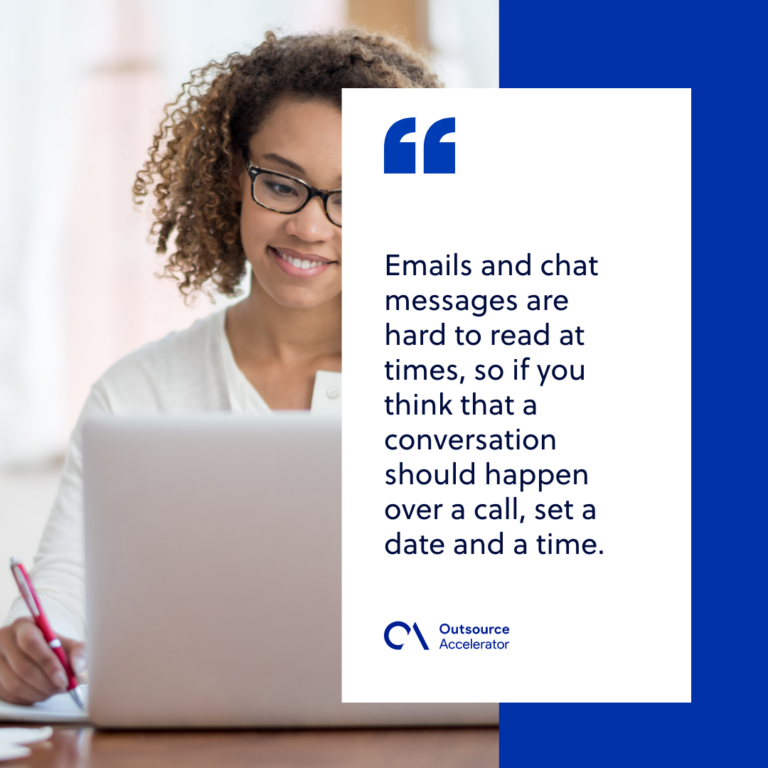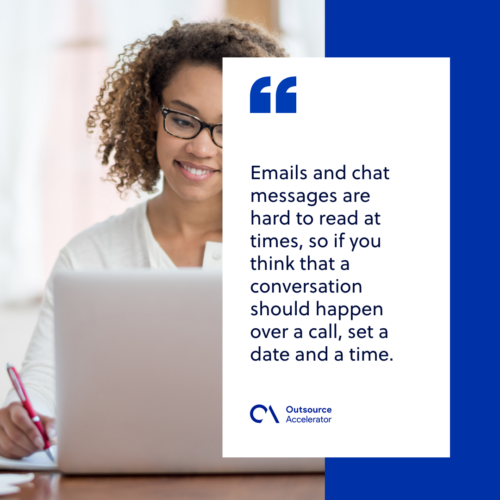 What not to do when distance working
It is important to take the time to identify any bad habits in distance working. If you're aware of what you shouldn't do during this setup, you can easily replace them with healthier work habits. 
It's easier said than done but not impossible if you put in a little effort each time.
Procrastinating
Sometimes, deadlines are set so far off in the future that we basically forget about them. We tend to put off those tasks because "They're not due until next week!" 
While some people work better and more efficiently under pressure, procrastination is not the way to go. Severe procrastination can lead to missed deadlines and sloppy output.
Multitasking between work and personal chores
The remote work setup gave people the freedom to do their job at their own pace. For some, that means working at their most productive hours, and for some, it means doing chores while on the clock.
There's nothing wrong with doing chores if there's a lot of downtime with your job. It only becomes a problem when you can't own up to your responsibilities anymore.
Working on breaks
Sometimes people can't help but be online during lunch breaks, beyond shifts, and even on weekends. Rendering more hours than necessary can lead to occupational burnout.
As mentioned, it is best practice to utilize paid time off and keep your mind off of work on your days off. Once your workday is over, be sure to log out of your work email and chats.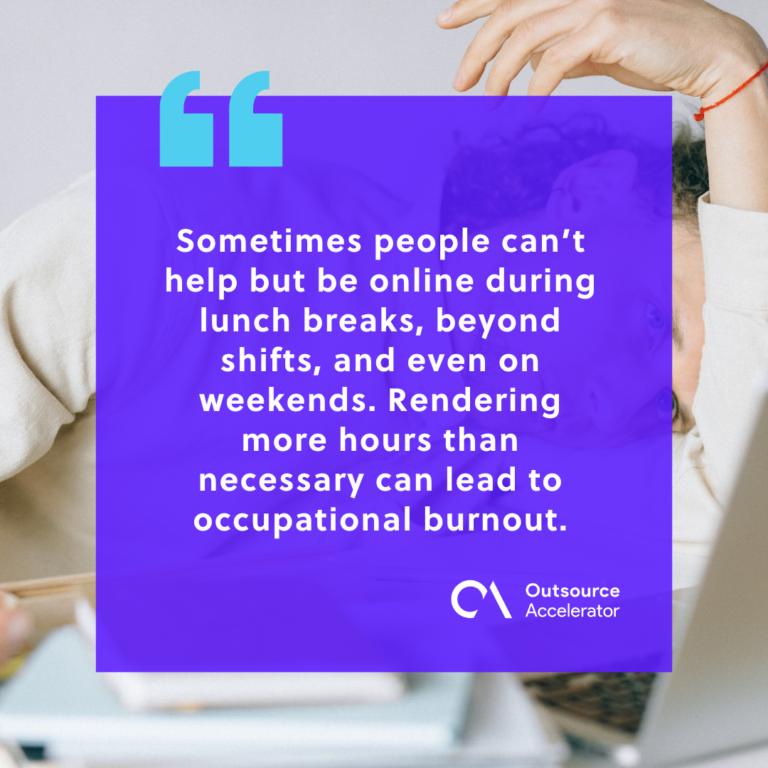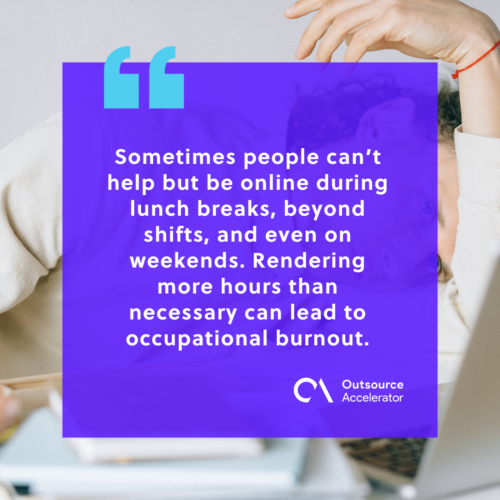 The positive impact of distance working
With this setup, professionals have more time to pursue their hobbies, take care of themselves, and spend more time with their loved ones. Apart from these, people seem to be more productive at home too.
Remote work is hard, especially when you're not ready for it or you're unfamiliar with the setup. You may feel uneasy and nervous during your first few days—pressured to be as perfect as possible.
Making mistakes will be inevitable. Remember that blunders while working from home is normal—own up to them and learn your lesson.