Direct Inward Dialing (DID): What you need to know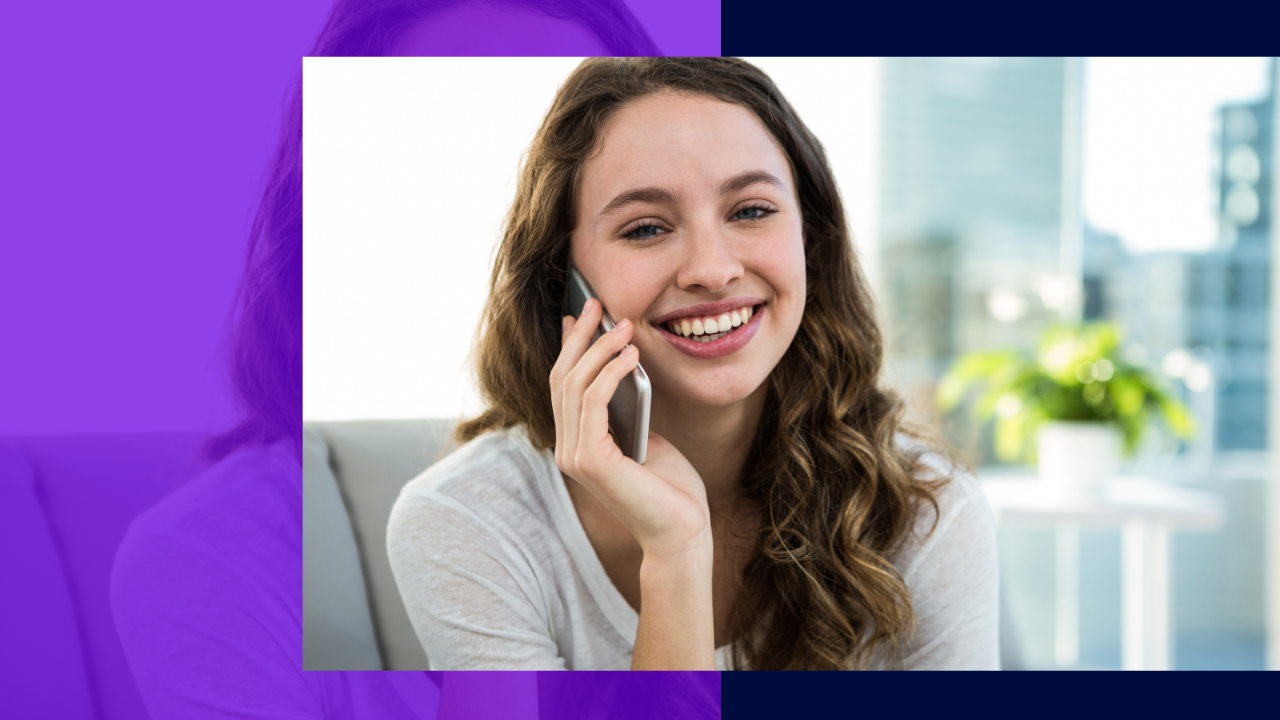 What is Direct Inward Dialing (DID)?
Direct Inward Dialing, or DID, is a telecommunications service employed by numerous companies for the purpose of routing inbound calls to specific Private Branch Exchange (PBX) systems without requiring a receptionist or auto-attender.
DID may also be referred to as "direct dial-ins," "direct-dial numbers," or "direct dial."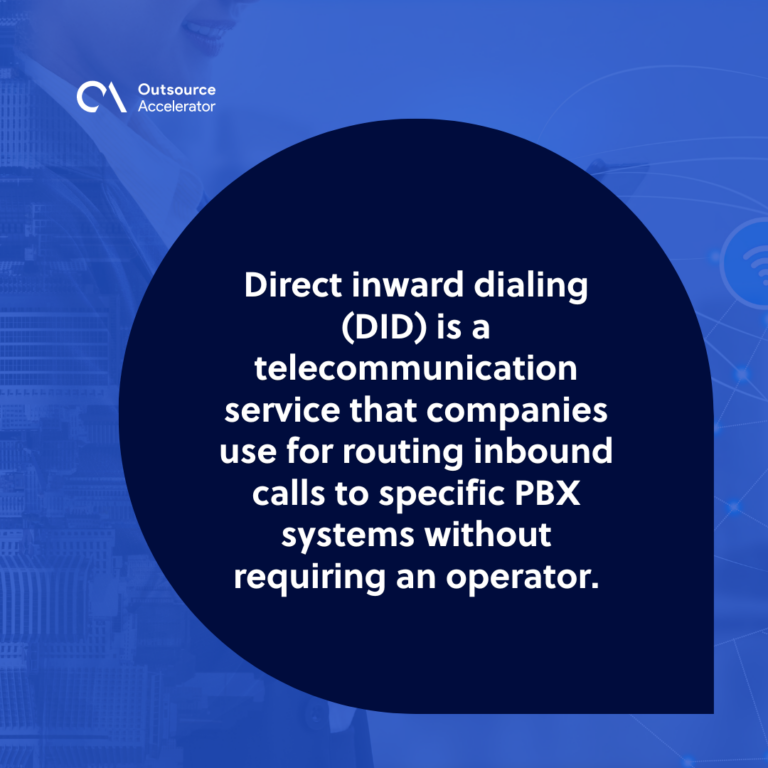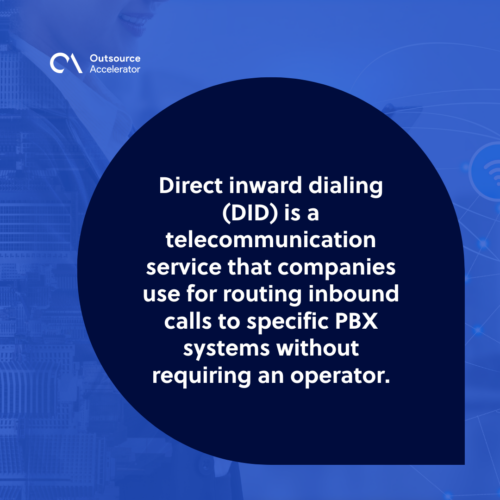 What is a DID number?
A DID number refers to any phone number that can be bought online. This virtual number acts as a shortcut phone line. With the help of the Internet, it goes directly to a company's extension. 
Companies attain direct-dial numbers by buying them from a telephone service provider.  
DID numbers allow them to offer clients individual phone numbers for each employee or department within their company without requiring a physical line into the PBX for each connection.
Upon calling a direct-dial number, clients will automatically be connected to the extension that corresponds with that number.  
How Direct Inward Dialing differs from Direct Outward Dialing (DOD)
Both DID and DOD are services provided by local phone companies, but they differ in a major aspect – their purpose.
The purpose of DID is to provide a company with a block of telephone numbers for calling into their PBX system.
DOD, on the other hand, allows subscribers within a company's PBX system to directly connect to outside lines. 
How Direct Inward Dialing works
When a DID number is dialed, its telephone system provider routes the call directly to the corresponding phone or user.
DID can work on Voice over Internet Protocol (VoIP), with Public Switched Telephone Network (PSTN), and for faxing. 
VoIP
VoIP is a technology that allows businesses to make and receive calls using the Internet instead of analog phone lines or in-office hardware.
With VoIP, businesses can use direct-dial numbers with Session Initiation Protocol (SIP) trunking. With SIP trunking, trunk line connections are not physical lines, but virtual links across broadband that are available as needed.
DID on VoIP is highly scalable and flexible compared to analog phone systems.
For example, if you need to add a large amount of new hires to your existing phone system, you can usually do that directly from the software interface.
This means that there would be no need to call the telephone service provider to have them install extra physical trunk lines to your company's PBX.
VoIP also opens up the possibility to have a virtually unlimited number of calls simultaneously.
PSTN
PSTN is the classic circuit-switched telecommunications network. It allows interaction through voice from various locations. Old-fashioned direct dial-ins use the PSTN. 
A telephone service provider connects a set of trunk lines to a company's hosted PBX, which requires leasing and installing copper wires called Primary Rate Interface (PRI) trunks.
The provider then assigns a block of phone numbers to clients as their DID numbers.
This is what happens when a client calls a company:
Inbound calls are forwarded to a company's PBX via the trunk line.

The dialed number and calling party are provided when the call arrives at the PBX.

The PBX routes the inbound call directly to the desired phone extension.
Fax
You can use DID for faxing by connecting your DID line to a fax machine, or by assigning a block of DID numbers to a computer with a fax server.
Here are some reasons for which companies do this:
It allows for multiple fax numbers to be linked to a particular machine or even multiple devices. 

Employees can be assigned individual fax numbers, which means inbound faxes can be routed to a specific person via the printer in their work area.

Many DID fax servers offer the ability to convert a fax to standard image files and then route it to the recipient's computer or cell phone.

Employees wouldn't need to wait for faxes anymore, and remote employees can receive their faxes without anyone routing it to them.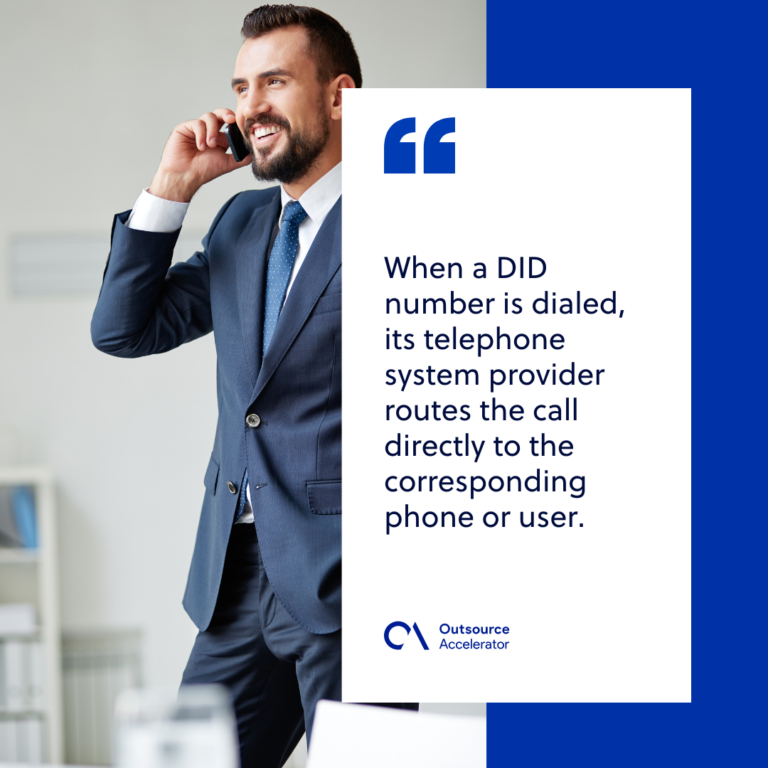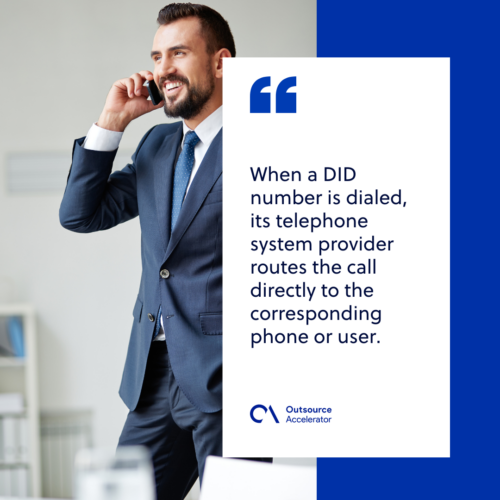 The benefits of Direct Inward Dialing
We've established what direct inward dialing is and how it works. Now, let's address the why: Why do businesses choose to have direct dial-ins installed? What benefits will it grant you?
There are many impactful advantages of using DID. Among them are these three:
1. Cost savings
Physical trunk lines and individual phone lines for each employee can both be quite expensive. But DID can reduce – or even eliminate – the need for these, which will undoubtedly save you money, time, and effort.
DID also allows for long-distance calls without any additional fees, including calls to a different continent. 
2. Better customer experience
With DID, there will be no need for a middle man – whether a receptionist or an auto-attender – between the caller and the employee that they desire to talk to. 
Your clients won't have to wait in queue, go through a pre-recorded menu, or keep getting transferred to different lines
3. Personalized service
DID provides a more personalized experience for your clients. Since they will be directly connected to the employee that they require, this will make them feel like their needs are being personally catered to.
Direct dial-ins also make it so that if a client calls for a follow-up session, they can be connected directly to the same employee they talked to before. This means that they can pick their conversation up right where they left  off. 
In addition, you can provide an even better service for VIPs.
If a high-priority person makes a call to your company, they can be connected directly and instantaneously to the appropriate person to handle the call. You won't catch yourself letting VIPs sit in-queue.
4. Flexibility
Companies can enjoy the flexibility that DID provides. This is because they can call from anywhere. They would not need to rely on, buy, and maintain physical phone lines for telecommunication.
Further, DID's inbound routing features offer a lot of flexibility. You can set up your devices to forward a call to other employees or to your mobile phone.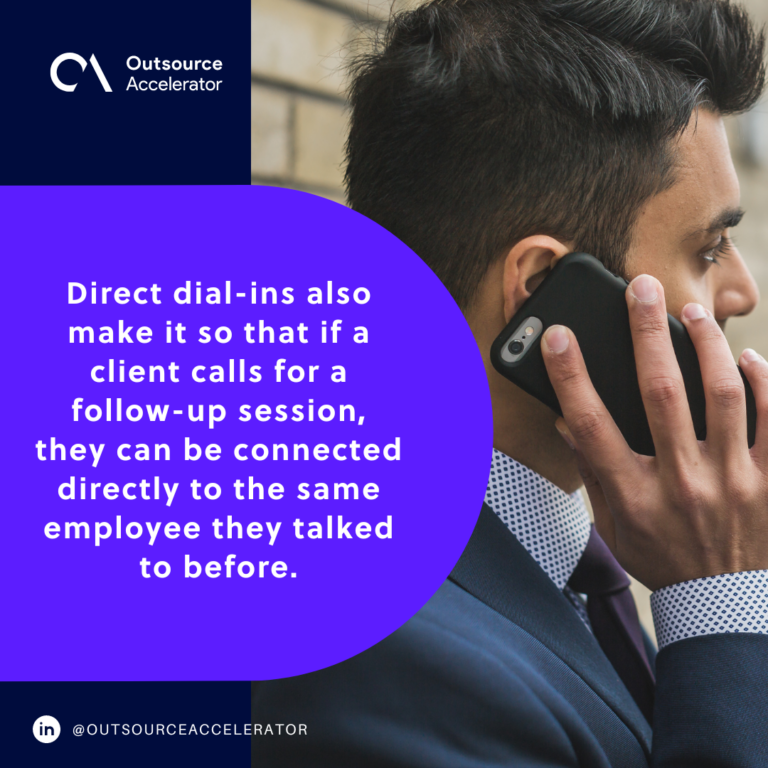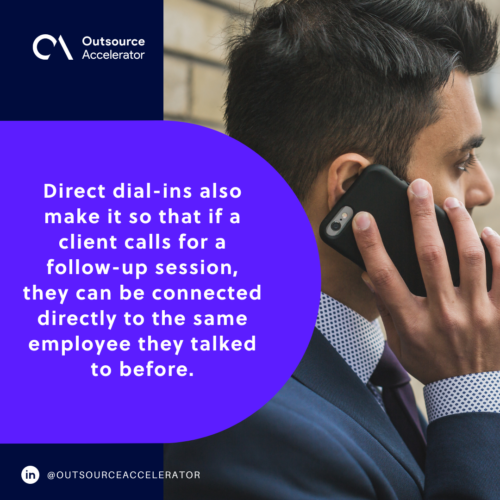 Direct Inward Dialing: What you learned
Direct inward dialing is a telecommunication service that companies use for the routing of inbound calls to specific PBX systems without the need for an operator.
It can be done on VoIP, so that trunk lines are virtual because of SIP trunking, with PSTN, which is used for old-fashioned direct dial; and for faxing.
Direct dial benefits companies through cost savings by reducing the need for physical trunk lines and individual phone lines for each employee. With DID, long-distance calls can be done without any additional fees, as well.
Additionally, direct dial-ins benefit both companies and clients through the better customer experience and personalized service it can provide.
Direct inward dialing is also beneficial because of the flexibility it offers, including the ability to make calls from anywhere, and inbound routing features. 
Upon reading this article, you can understand why it is in the best interest of businesses to utilize direct inward dialing.
Start your company's journey with direct dial-ins by looking up local telephone service providers and filter out the one that you think is best-suited for your company.
After the installment of DID, you can start reaping its benefits.