Digital front door: Revolutionizing patient engagement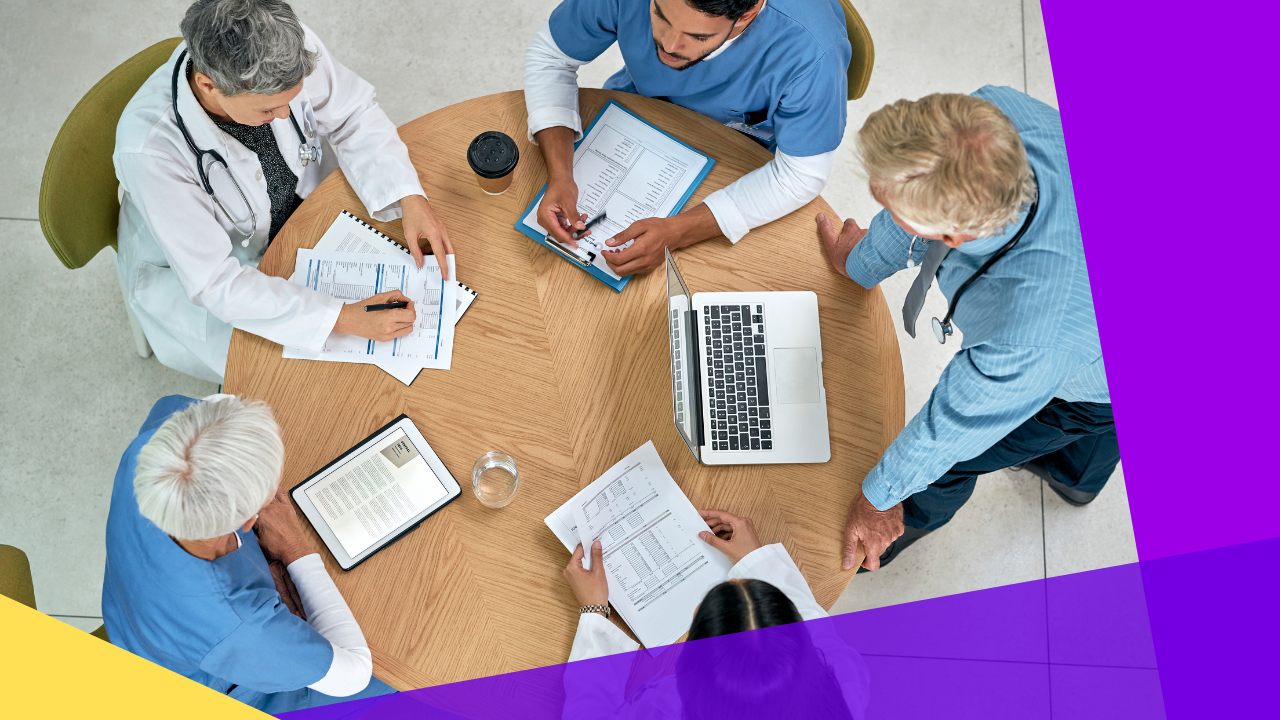 Healthcare groups are embracing modern solutions to enhance patient engagement, and one concept is the "digital front door." 
This article explores all about a digital front door, its functions, and its benefits in revolutionizing patient engagement.
What is
a
digital front door?
Healthcare practitioner uses a digital front door to increase patient engagement. It serves as a digital portal for patients to access healthcare systems fully. 
Patients can easily:

Utilize information

Schedule appointments

Communicate with healthcare professionals

Manage their health through unique digital channels.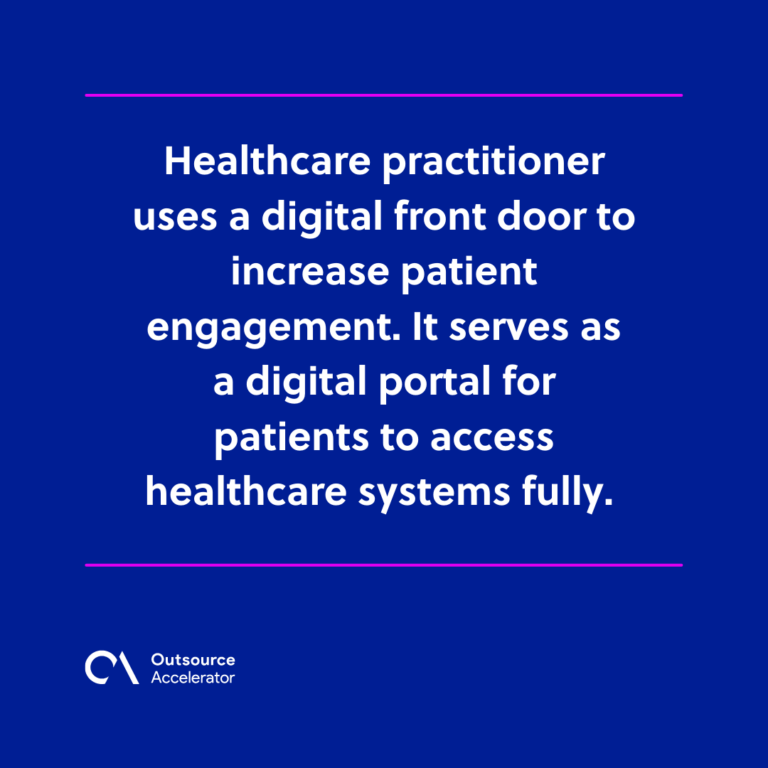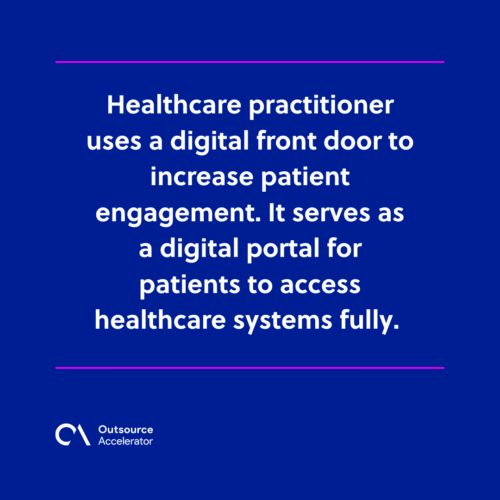 Essential features of a digital front door
A digital front door uses virtual technology to improve communication between patients and healthcare professionals.
It provides a smooth and user-friendly experience through a website platform. Here are some of the vital functionalities of a digital front door:
Online presence:

A digital front door is built to act as a digital portal for patients. These platforms consist of information about the organization and the services they provide.

24/7 accessibility:

Unlike physical doors, digital front doors should be available anytime. Patients can access the website anytime using their computer or mobile phone.



Appointment scheduling:

It also allows patients to

schedule appointments online

. Users can see when doctors are available, so they don't need to call or visit a healthcare facility.



Access to medical records:

Patients can access their medical records using a digital front door. This feature allows users to review their health records, test results, and treatment recommendations anytime and anywhere.

Telemedicine and virtual consultations:

Healthcare experts can oversee virtual checkups with their patients. This option is easy for patients with mobility issues or those living in remote areas.

Chatbots and AI support:

Some digital front doors have AI support systems. These digital assistants can answer simple questions, offer guidance, and support users in real-time.

Educational resources:

The digital front door must have an educational section. Patients can read articles, videos, and other materials about their health situations, treatment options, and preventive care.

Prescription and online payments:

Patients can request

prescription refills

through the digital front door to avoid visiting the clinic for routine medication. Also, some platforms allow patients to pay for services and treatments online.

Personalization:

A digital front door can be customized to match individual preferences and needs to enhance patient engagement. Patients can also get personalized health suggestions and relevant records based on their medical records.

Data security and privacy:

Patient records' privacy is essential. Healthcare organizations use strong security features to protect patient information and follow data safety regulations.
Benefits of
a
digital front door
Using a digital front door offers many advantages for patients and healthcare providers. 
Here are some of its primary benefits:

Improved patient experience 
The digital front door makes healthcare services more convenient, resulting in a better patient experience. It enhances patient satisfaction and builds patients' trust in the healthcare organization.
Enhanced access to information and services
A digital front door helps patients to be well-informed about their health.
Patients can also acquire educational materials, preventive care guidelines, and health-related articles to control their well-being.
Streamlined communication and personalization
Digital tools like chatbots improve communication between patients and healthcare providers. 
These technologies can also personalize patient interactions, making each person feel valued and cared for.
Competitive advantage
Using a digital front door strategy can set an organization apart from competitors and enhances its reputation. More so, it also attracts more customers, especially tech-savvy ones.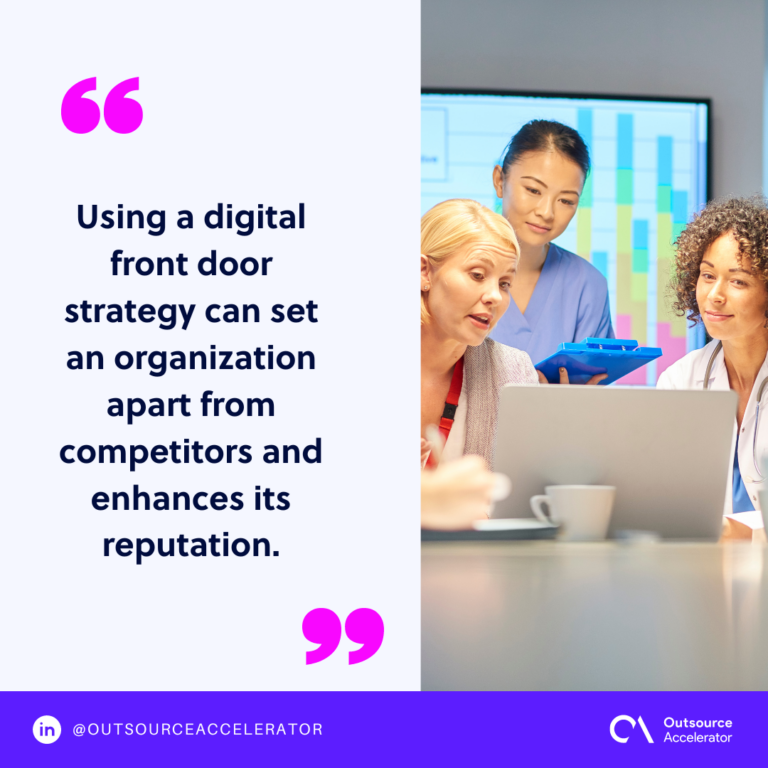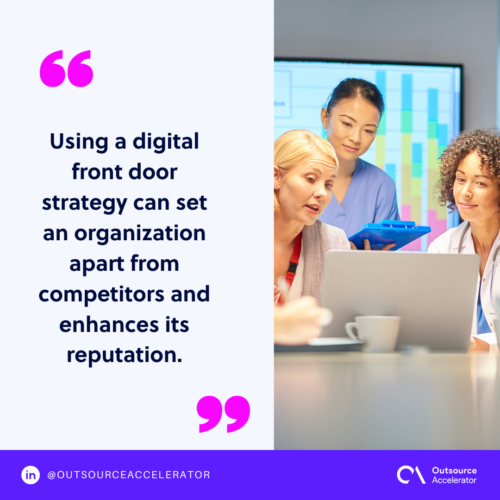 Best practices for digital front door strategy
Healthcare organizations must incorporate the following best practices to ensure the success of their digital front door:
Fast loading speed.

Ensure your digital front door is fast-loading. Slow-loading pages frustrate users and make them leave.

Social proof and testimonials.

Collect customer feedback and testimonials from real users. Display them on your website to boost your credibility and foster trust with future clients.

Mobile responsiveness.

Many users use websites and apps through devices. Your digital front door should work on different gadgets, especially mobile phones and tablets. 

Seamless onboarding.

Check if the

onboarding process

for new users is easy and simple. Be able to guide them through any necessary steps to get started.

Content quality.

Deliver relevant and valuable content that aligns with client intent and needs. High-quality content not only engages users but also improves search engine visibility.

Analytics and insights.

Utilize analytics tools to track user behavior and engagement across your digital front door. Analyzing data will provide valuable insights for continuous improvement.
Digital front door: A powerful tool for transforming patient engagement
A digital front door is a transformative solution for patient engagement in healthcare. It offers improved accessibility, seamless communication, personalized health information, and empowers patients. 
Embracing this digital approach can revolutionize how patients interact with healthcare providers. It will then lead to better experiences, health outcomes, and a more patient-centered healthcare system as technologies advance.