5 reasons data democratization is important for your organization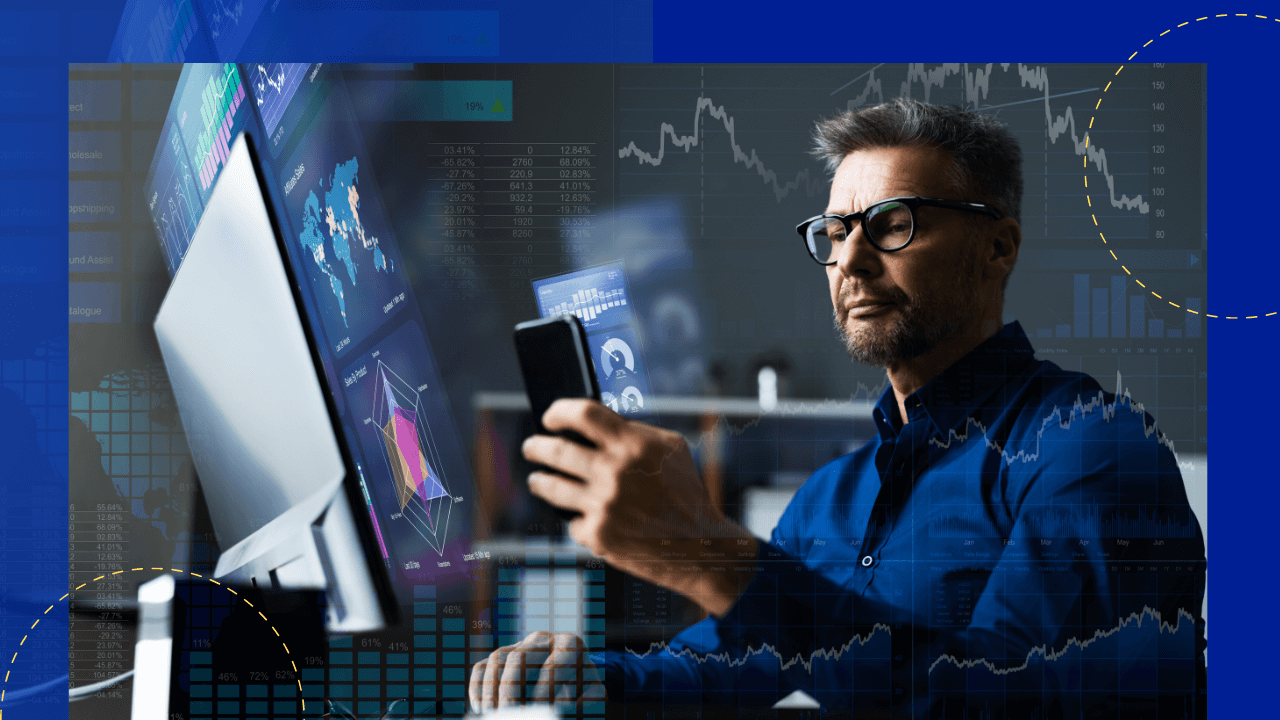 Data democratization is one of the most discussed topics in recent years. And it's not just the members of your IT department who are talking about it. Business executives across different industries have also caught on to the trend. 
Many experts believe that data democratization is a game-changer in business operations. This article explains its importance in today's business landscape and why you must consider implementing it in your organization.
What is data democratization?
When employees need to gather data, they usually go to IT people to ask for access. 
Data democratization, in the simplest definition, is the process of making data accessible to people in an organization. This concept has been gaining attention as businesses recognize the value of data as an asset.
Data democratization is more than just giving individuals access to files. It empowers your people to work with data comfortably and confidently, regardless of their technical knowledge and skills. 
Data democratization aims to enable more people in your organization to make informed decisions and provide better customer experiences.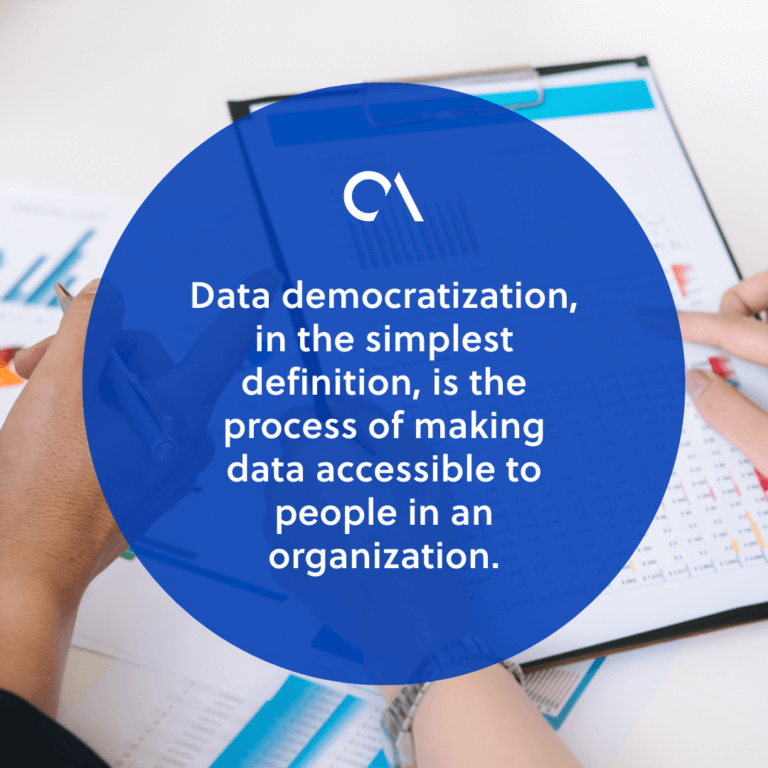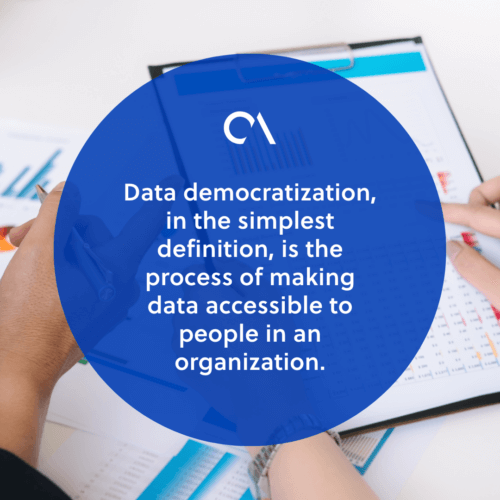 Why is data democratization beneficial?
Data democratization holds the answer key to persisting data challenges that businesses face every day. In today's data-driven world, democratizing data is no longer a luxury but a necessity. 
1. Employee empowerment
Data democratization empowers employees on different teams and levels by promoting self-service. 
Before, they would need to send a request for a copy of the data, like a mid-month sales report, from the IT department. 
Now, they can access and analyze the data independently without waiting for another person to grant permission. It's like cutting the middleman. Further, it also boosts employee productivity.
2. Data-driven decisions
A centralized data management system slows down the decision-making process because of bottlenecks along the way.
A properly implemented data democratization shares ownership and responsibility in terms of managing data throughout the organization. That means everyone, or at least the authorized ones, can contribute and make use of those data. Collaboration is also much easier. 
Besides empowering employees, this also helps them make data-driven decisions more efficiently. Data democratization can result in more agile responses to issues.
3. Enhanced customer service experience
Customers expect a unified and consistent experience from the businesses they interact. This can only happen when every department (not just sales and marketing) understands their target market's wants and needs. 
Data democratization can help with this by allowing easy access to customer databases. There will be alignment across different departments. It lets your company have a 360-degree customer view. 
For example, marketing people can send a compelling message to customers. This also provides insights to the product management team about the next products they can develop.
4. Enable seamless remote work
Remote work continues to thrive and is here to stay. And data democratization is one of the ways companies can ensure their remote teams are working efficiently. 
Easy access to files that your people need to create a new campaign or sales analysis reports can expedite their work. They don't have to be in the office to request a copy of data because they can just search them on the data system on their own.
5. Innovation
Did you know that about 73% of the data is unused out of all the data an organization collects? That's a lot of hidden insights that your company can benefit from if only you know about it. 
This is why democratizing data and making the time to analyze raw data is necessary. With the right tools, companies can put more data to good use, such as detecting anomalies and identifying new opportunities for innovation.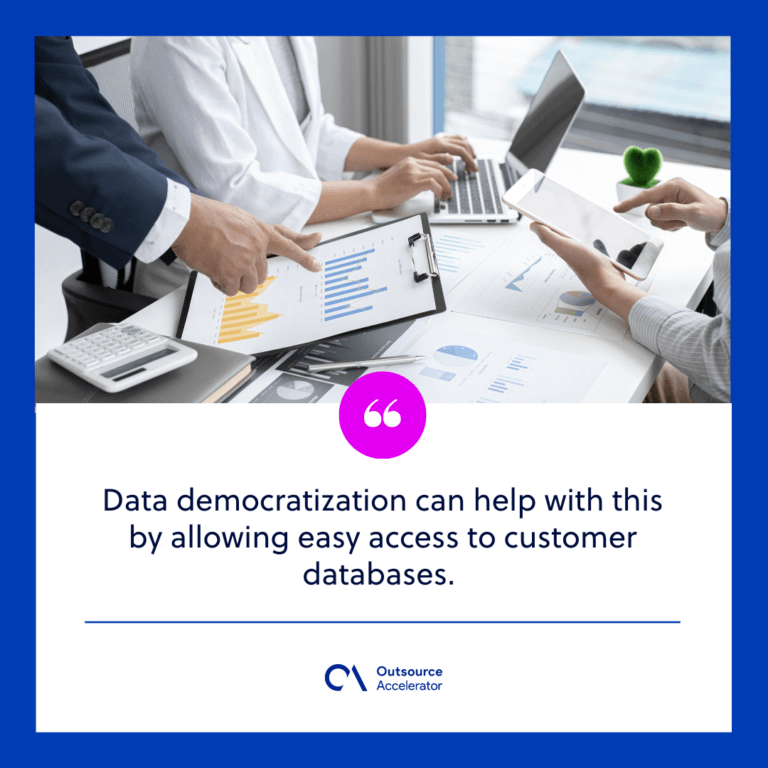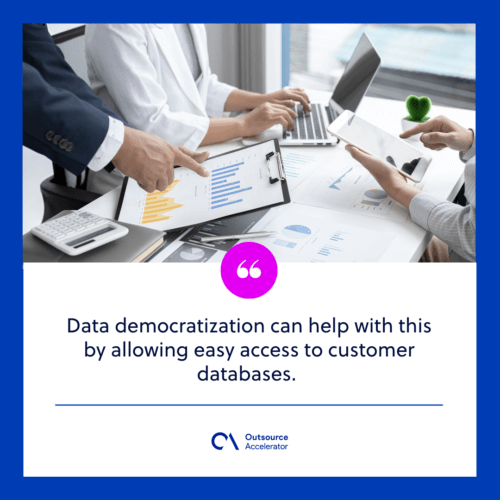 How to implement data democratization?
Those benefits cannot be felt or seen overnight. The results will take time. Data democratization's success lies in the following initiatives:
Data literacy 
Prioritizing data literacy in your company allows your employees to be more comfortable working with data-driven tasks. Your people have to know where they can access what data they need to work. 
Different departments will require different data. Hence, there are different shades of data literacy. It's your task to identify the needs of each department or individual, providing them with the right tools to access and use the data they need. 
Advanced analytics
Data democratization is more than just making data accessible. Things will be so much easier for your teams when the data they need are already summarized or analyzed. This is why companies should also invest in tools for analytics. 
Choose advanced tools that can extract context and provide insights from raw data. Tools like NLP are advantageous because it is designed to help you dig deeper into the information without manually reading through the data collected.
Team training
Training your people on how to use the tools is definitely crucial to the success of data democratization. Everyone must be trained and empowered to achieve competence in accessing, managing, and utilizing data that they are authorized to access. 
The training should also involve educating individuals on the technology, processes, and most importantly, data security and privacy practices.