Top 22 customer service skills every agent should have
Last updated: July 15, 2022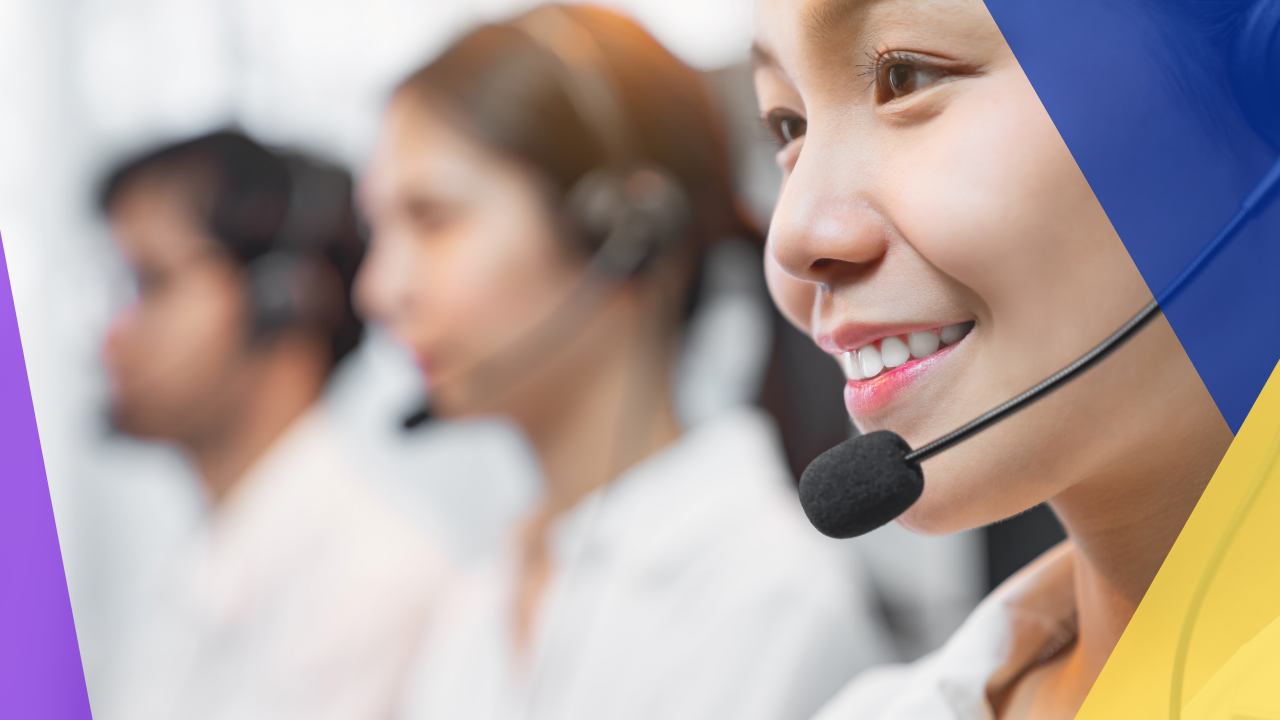 Customers are crucial as they provide revenue for any business. In fact, companies cannot survive without them. There will be no sales if the customer does not buy.
The most vital component of your business, regardless of what industry you're in or what kind of items and services you offer, is customer service. 
It's unlikely that your marketing campaigns would be successful if you don't consider the customers' perspectives. And your customer service skills are frequently linked to customer retention.
Customer satisfaction will undoubtedly rise if your customer service skills are improved.
What is customer service?
The assistance that a business provides its customers before, during, and after they buy a product or service is called customer service. Customer service representatives or CSRs help customers when they have queries about the company's product or service. 
But customer service is more than just answering questions; it's an essential aspect of the promise your company makes to its customers. It creates connections between the customer and the business.
Why are good customer service skills essential?
People who work in customer service are the face of an organization. Employees who can engage in a pleasant dialogue with consumers, fostering loyalty and a good reputation, are critical to the success of these organizations.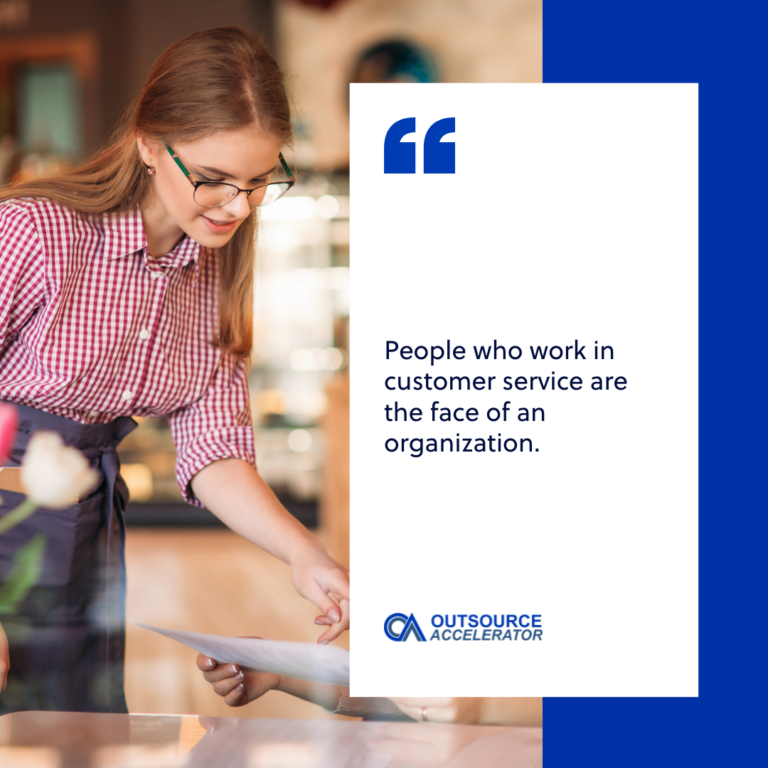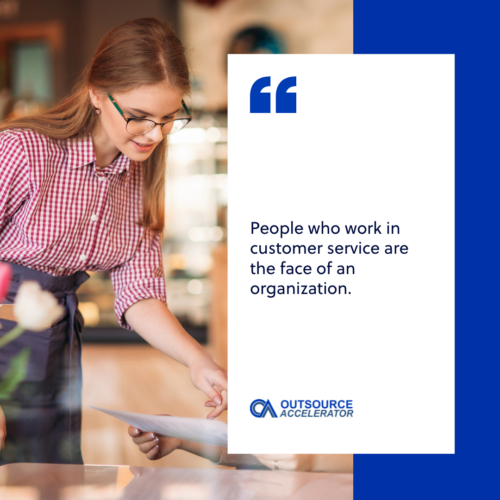 22 vital customer service skills
There are different qualities that make up outstanding customer service. Here is the list of most crucial customer service skills that every agent should possess.
Job expertise
You can't deliver good customer service if you lack the knowledge and expertise needed for the job. Focus and confidence will improve if every agent knows their job really well. 
While training is also a crucial factor in shaping job expertise, it is also vital for an agent to dedicate time and effort to master the ins and outs of the industry.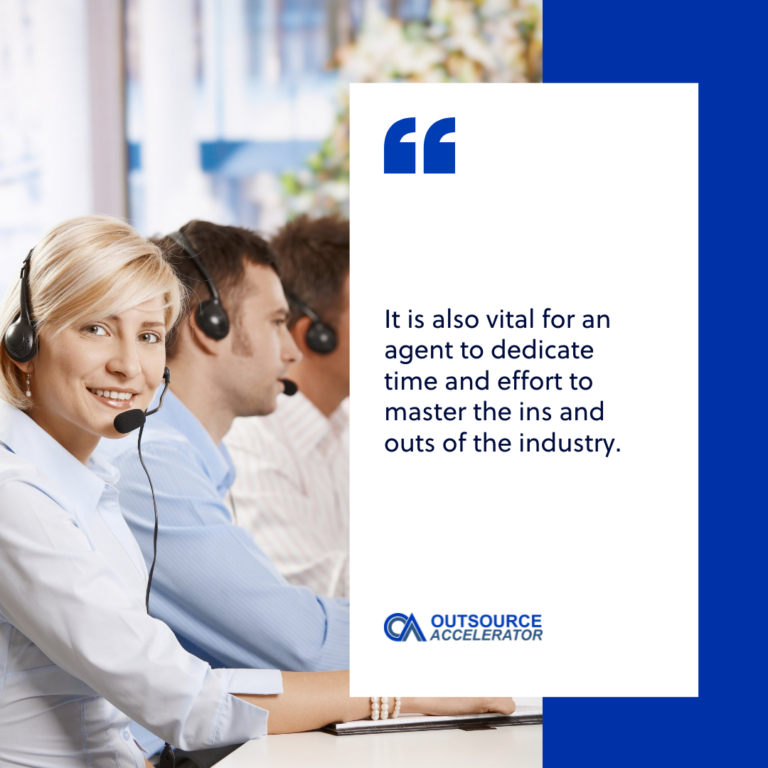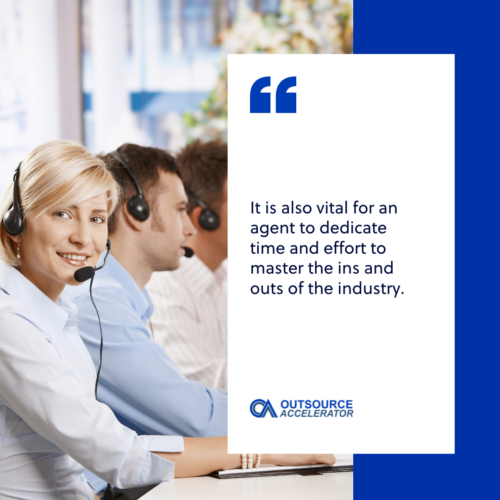 Problem-solving
Many customers reach out to the support team because they don't know how to diagnose their problems properly. Customer service agents must have the ability to figure out problems before offering a solution to their customers.
Emotional intelligence and empathy
A good customer service agent can relate to anyone, and they are also good at handling bad customers. Rather than taking things personally, they put themselves in the shoes of the customers and empathize. 
You can demonstrate your empathy by paying close attention to your customer and staying kind and respectful no matter who you're dealing with.
Communication
Effective communication is important not only inside the workplace but also in interactions with customers. In customer service, this skill is crucial to prevent misunderstandings and boost productivity. 
An agent should be able to convey product information and problem resolution clearly and concisely to avoid misunderstanding.
Writing
This is an essential customer service skill, especially for agents who handle non-voice communication channels like email and chat. You can deliver your ideas with clarity if you have good writing skills.
An excellent CSR has a great grasp of grammar, composition, and tone, as well as technical knowledge of communication platforms like email and social media.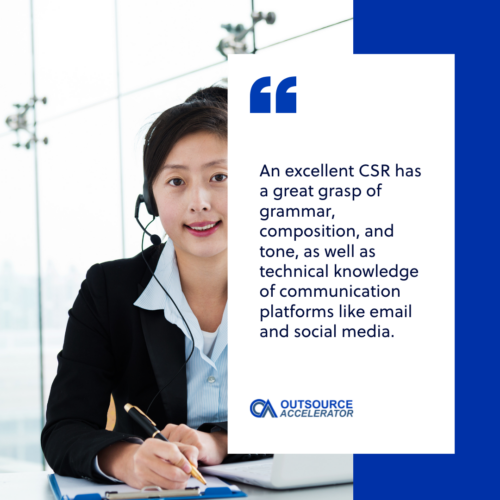 Resourcefulness and creativity
The capacity to solve issues or handle situations with limited resources is referred to as resourcefulness. Being resourceful and creative in giving responses may impress customers who call the support team.
It is important that the customer service of a company is innovative. When creativity meets action, you get innovation. Greater problem-solving efficacy increases employee and customer participation.
Attentiveness
The ability to listen to clients is one of the leading factors that define excellent service. It is not simply about lending your ears. Being attentive to your individual consumer's needs is a crucial customer service skill.
Being aware of and responsive to what the caller is talking about helps you give appropriate solutions, thus enhancing the customer experience.
Positivity
Positivity is a mental and behavioral attitude that focuses on the positive aspects of life. Maintaining optimism and making the best of any situation are all perfect demonstrations of positivity.
Being positive can benefit anyone in the company as it reduces stress and tension. Working in customer service can be toxic at times, and keeping a positive attitude is crucial to your mental health.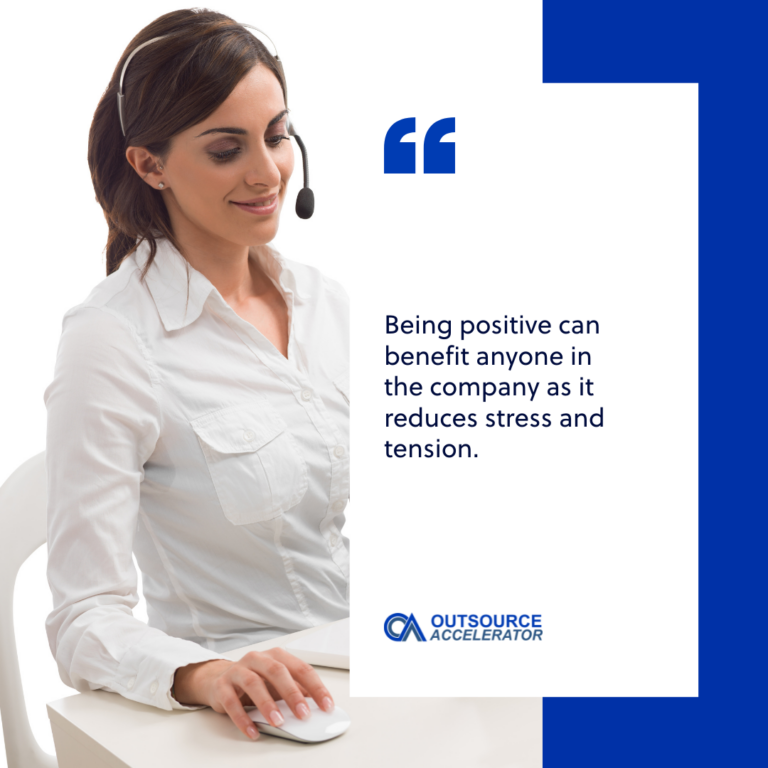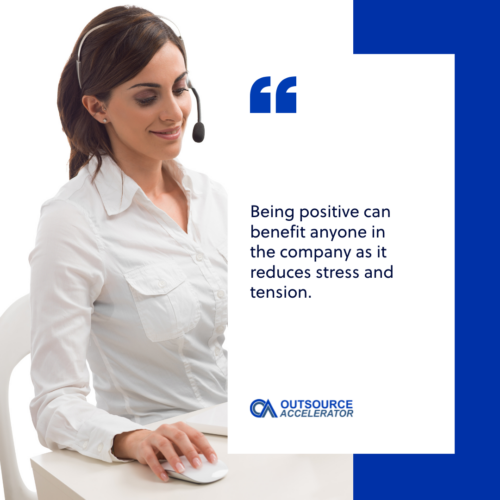 Patience
It is inevitable to have a poor conversation with a customer or receive an inbound call from an irritated customer.
Listening to consumers and treating them with patience makes them calm. Patience is a customer service skill that makes the agent look more reliable. Customers may also feel like you're going to solve their problems with ease.
Product knowledge
Every customer service representative must have a solid understanding of the products and services to give customers proper advice. You won't be able to and help a customer if you do not know enough about the company and what it offers.
Time management
People who can plan are usually more productive and efficient. Planning ahead is a part of time management skills. With the right time management, you can clarify your objective and prioritize the most important tasks.
Time management goes hand in hand with multitasking, problem-solving, and decision-making.
Active listening
Active listening is the act of paying attention to the one who is speaking. Being a good listener also helps you analyze what your customers really need. This customer service skill entails summarizing and reflecting on what the customers have said.
Adaptability
Adaptability is a good customer service skill, especially for busy call centers. Having adaptability means that the employee can quickly pick up new skills. They can also respond to sudden changing situations.
Goal-orientedness
Being goal-oriented means you complete certain tasks with an end goal or objective in mind. Goal-oriented people are driven and proactive. These people are also known as task-driven or results-driven and set targets to stay motivated in their work.
Tenacity
Tenacity is a powerful combination of resolve, perseverance, and grit. It's the trait that makes the difference between winning and losing for leaders and their companies. 
When an employee has tenacity, they don't settle for mediocrity. They pursue only the best. They are also more efficient and productive.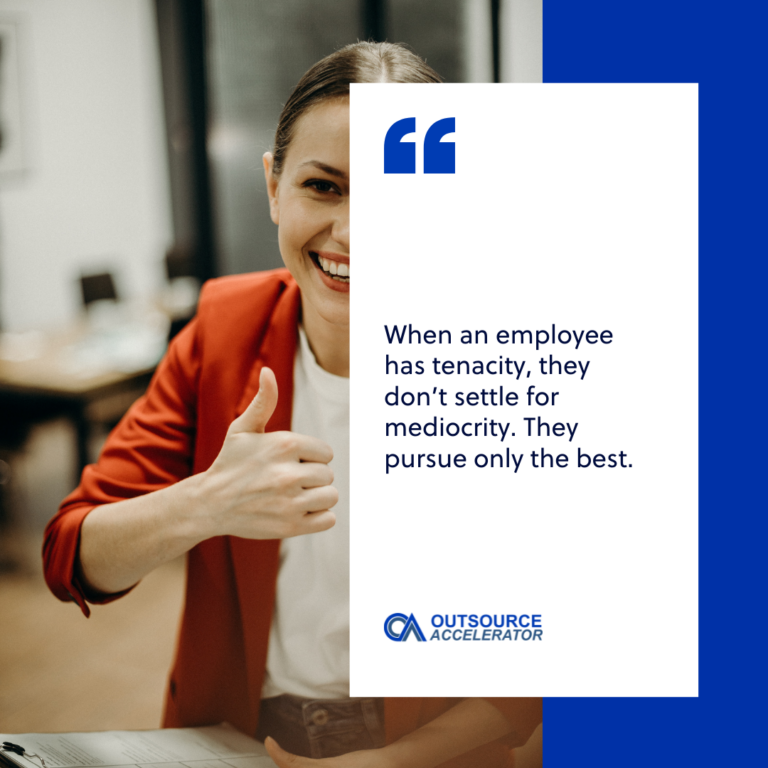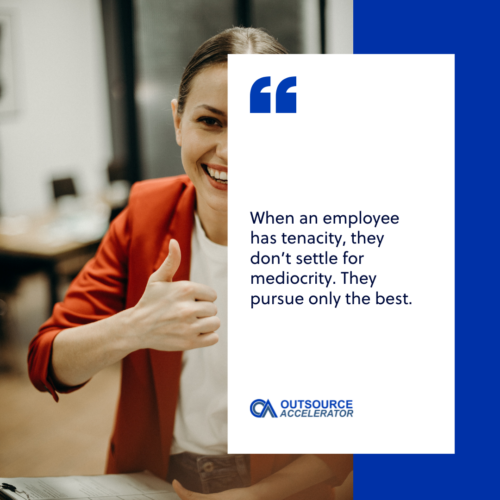 Attentiveness
Being attentive means you listen to your customer, understand the situation, and respond accordingly. In the case of face-to-face customer service, eye contact is crucial. 
Pay attention to your client as they speak and avoid doing other tasks that might distract you. Asking questions is also a great sign that you're being attentive.
Responsiveness
In relation to being attentive, how you respond is also crucial to customer service. Responsiveness is the ability to respond swiftly to requests for help or information. 
In digital customer service, this also means swift answers to calls and chats and reducing your customers' wait time.
Friendliness
Companies can get more loyal customers when they have employees who can make their buyers feel good. And an employee's friendly attitude plays a major role in this.
Once you've made a positive impression on customers, they can help boost your business through free word-of-mouth promotion, which can contribute to your expansion.
Willingness to learn
Willingness to learn is the ambition to acquire knowledge and build abilities. Customer service employees who are willing to learn will soon optimize their performance levels. They are often on the lookout for new ways, attain more goals, and finish more complicated duties.
Quick thinking
Resolving any simple difficulties that a consumer may have is a primary customer service job. When an issue arises unexpectedly, customer service is the first to respond. 
Agents must know how to think and act fast because customer service serves as the first line of defense, resolving as many problems as possible.
Positive self-image
Customer service representatives with solid self-esteem are more likely to trust their reasoning and judgment. They can also make better decisions.
Employees with a positive self-image are confident and focus more favorably on other people and their progress rather than criticizing the performance.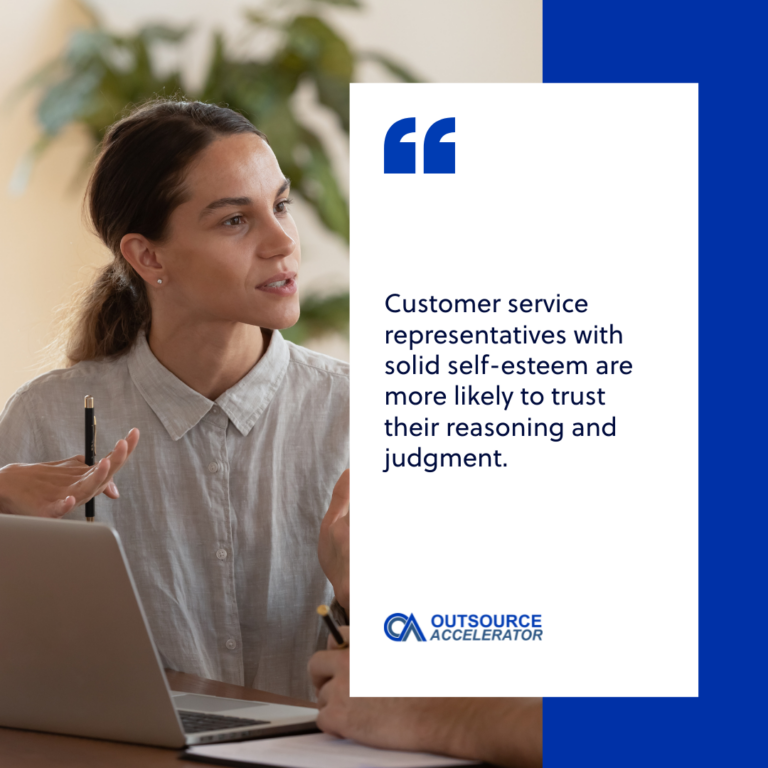 Persuasion
Persuasion has consistently been recognized as a crucial sales talent, but it can also be helpful in customer service. Every day, sales reps transform issues into solutions. Persuasive customer service representatives can help the company increase sales.
Ways to enhance the customer service skills of your team
Customer and company relationships are very important to any business. Listening and paying attention to your callers' needs and concerns is the foundation of good customer service.
Here are some suggestions for honing your customer service abilities:
Enhance your communication with consumers
It is a big advantage if agents process an excellent customer service skill set. However, creating a solid relationship with the customers starts with communicating with them.
To improve your communication with the customer, you can line up your representatives in a certain niche of caller that they are experts with. 
You may also provide automated responses to your customers by utilizing social media platforms to connect with them.
Reply with positivity
People typically reach out to customer service centers because they have an issue. Training customer service representatives to reply with positivity helps to de-escalate the situation.
Positive words help customers to build trust with the company. Using inappropriate words or phrases might irritate and even anger your customers. 
Pay attention and empathize
It is given that one of the best customer service skills is empathy. Every service provider must know how to pay attention and empathize with their customers. 
Try to clarify and restate what a customer says throughout a conversation to ensure that you have understood the customer. Train agents to be active listeners so they can be aware of the issue.
Admit mistakes and apologize
An apology shows humanity. If you admit you made a mistake, the customer will feel that they are taken care of. It can lead to stronger customer connections and long-term relationships.
Accepting responsibility for your errors helps to restore confidence and create trust.
If you're looking for an outsourcing partner that can provide you with customer support agents possessing the traits discussed above, Peak Support is the way to go.