Top 10 customer experience agencies to elevate your business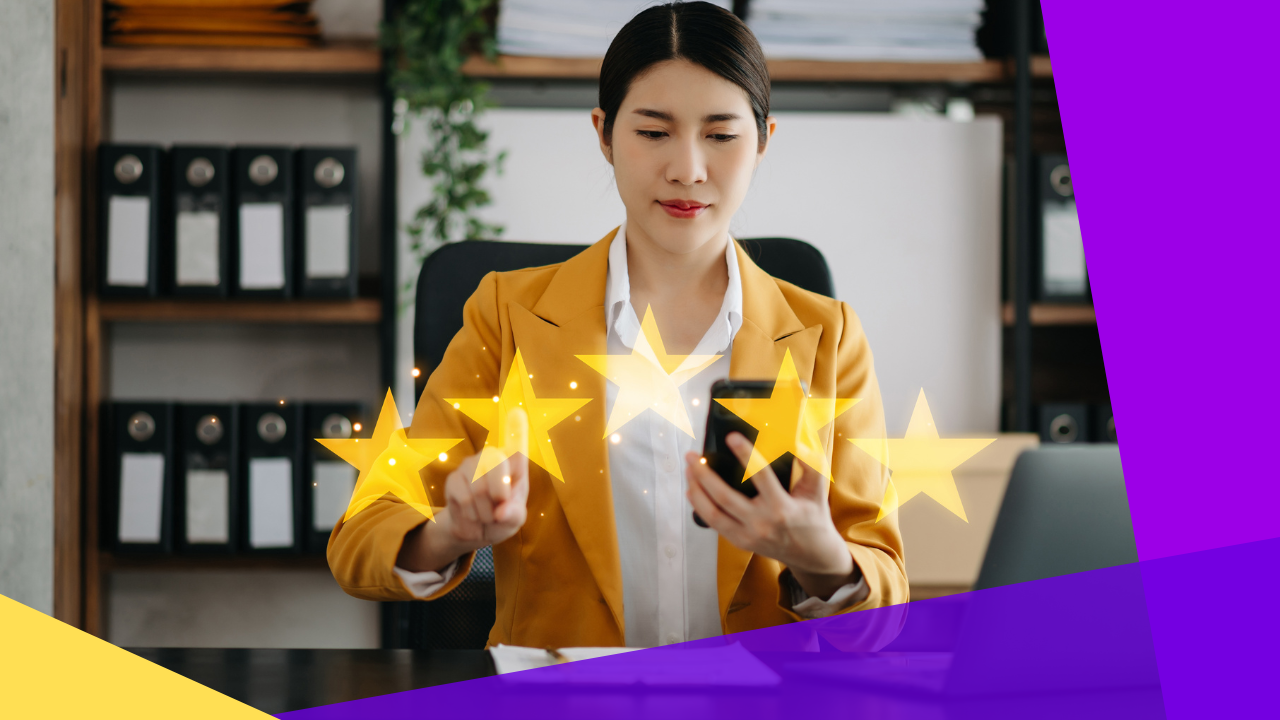 List of top 10 customer experience agencies
Businesses strive to excel in a competitive market. A seamless customer experience is key to building loyalty and driving growth opportunities for your organization. 
Partnering with a customer experience agency is always a smart move for any business. 
This article presents the top ten customer experience providers trusted by global businesses.

What are customer experience agencies?
Customer experience agencies support businesses in enhancing customer interactions. They focus on the customer journey for personalized experiences using:

Technology

Data

Human insights 
Recognizing its significance as a competitive edge, these agencies prioritize positive customer experiences.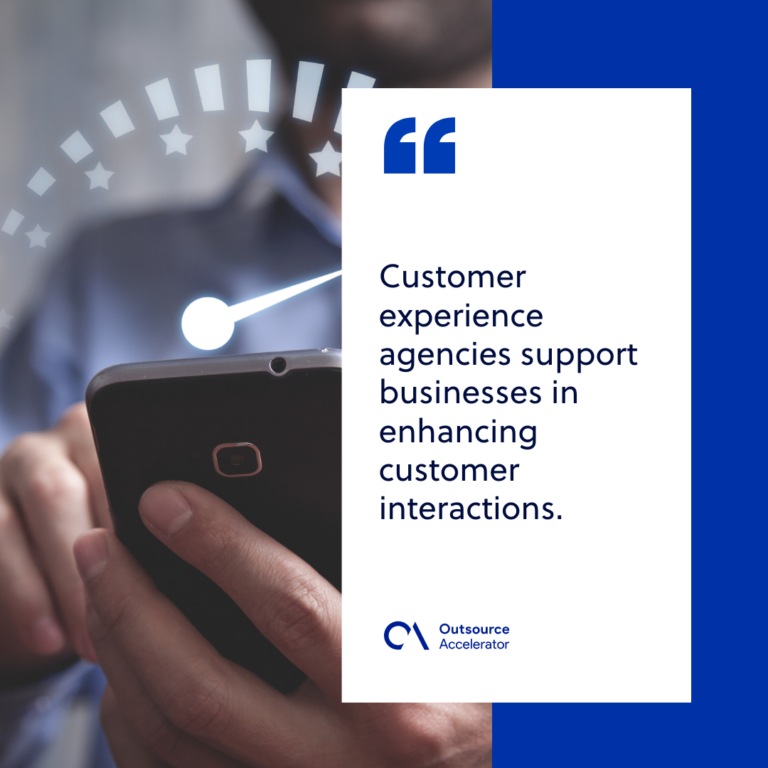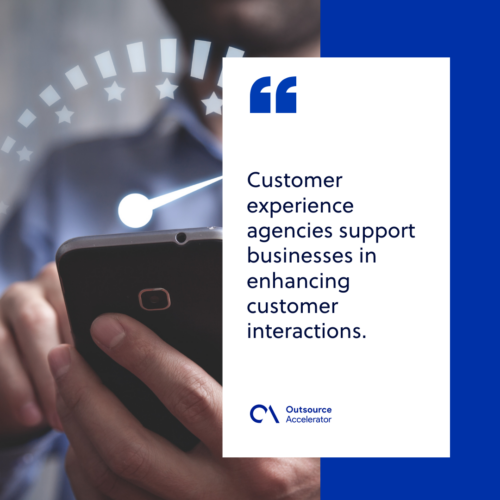 Services offered by customer experience agencies
Customer experience agencies offer several services, including:
Mapping the customer journey
Customer experience agencies provide a valuable service called customer journey mapping. 
They help businesses identify every customer interaction, from initial awareness to after-sales support. 
This mapping process reveals pain points, enhancement possibilities, and chances to craft noteworthy experiences during each customer journey phase.
Data-driven insights and analytics
Customer experience agencies use data and analytics to understand customer behaviors, preferences, and needs. They analyze data from sources like feedback, surveys, and online interactions to discover patterns that inform decisions. 
These insights help businesses enhance customer experiences and refine strategies using data-driven approaches.
Omni-channel experience integration
Customers expect a consistent journey on websites, mobile apps, social media, and physical stores. 
Customer experience agencies specialize in uniting these channels for a seamless experience. This ensures smooth transitions between channels, upholding a unified brand interaction.
Factors to consider when choosing customer experience agencies
When partnering with a customer experience agency, you should consider a few things to ensure you choose the right one for your business. 
Here are some important factors to remember:
Experience and expertise

. Search for agencies with a proven history of success in creating effective customer experiences. Consider their knowledge in your industry.

Services offered.

Check the agency's services and if they match your business needs. These might include journey mapping, user experience design,

analyzing feedback

, and staff training.

Clients and recommendations.

Examine the agency's clients and find testimonials or examples of their accomplishments. This shows their ability to achieve results.

Industry understanding.

Confirm the agency comprehends your industry and its unique challenges. This helps them offer customized solutions aligned with your goals.

Team and skills.

Evaluate the skills of the agency's team. Look for relevant experience in customer experiences like user researchers, data analysts, strategists, and designers.
Factors to avoid  when choosing customer experience agencies
When choosing a customer experience agency, it's crucial to be mindful of certain red flags. 
Here are some things to be cautious about:
Inexperience or lack of expertise

. Steer clear of agencies without a proven track record or relevant customer experience expertise. Opt for agencies with a strong history of successful projects and expertise in your industry.

Negative client feedback or reputation.

Research the agency's reputation and client reviews. If you consistently find

negative feedback

or a history of unresolved complaints, it's wise to explore other options.

Limited services.

Be cautious of agencies offering only a narrow range of services that don't match your needs. Look for agencies with comprehensive services covering all aspects of customer experience.

Missing strategic approach.

Beware of agencies without a clear customer experience strategy. A strong strategy is vital for long-term success. Ensure the agency has a defined methodology and can provide a strategic plan for your business.

Communication and collaboration issues

. Choose an agency with effective communication and a collaborative mindset. Avoid those with poor communication practices or a reluctance to consider your input and ideas.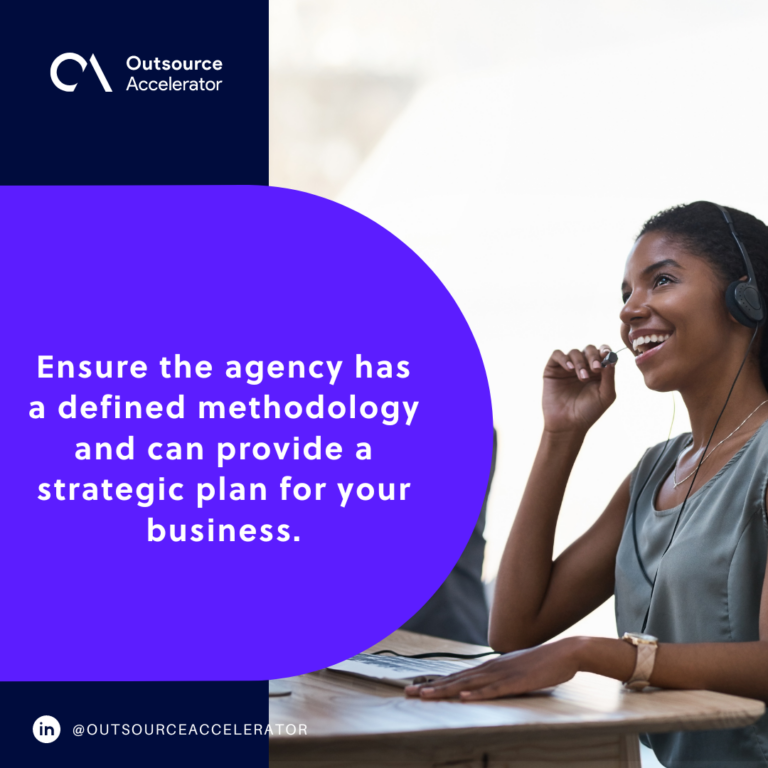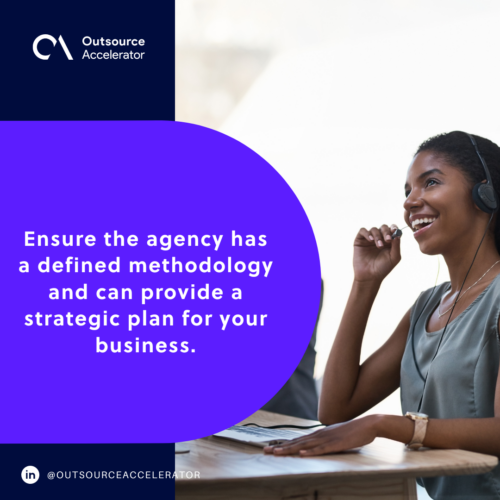 Top 10 customer experience agencies
Here's a list of the top customer experience agencies we have today:
Bain & Company is a global consultancy assisting the most ambitious change-makers worldwide in shaping the future. It collaborates closely with its clients, functioning as a unified team driven by a common goal of:
Attaining exceptional outcomes

Surpassing competitors

Revolutionizing industries
Bain & Company has physical locations in 65 cities across 40 countries. 
Albatross CX boasts a network exceeding 200 customer experience experts across more than 85 countries.  
The organization helps brands evaluate their experiences and work together to create initiatives that strengthen both experiential and business cultures.
It offers a complete CX transformation framework through four internal divisions: research, consultancy and transformation, measurement, and an educational academy.
Smith+Co was founded in 2002. The company believes cultivating customer advocacy and loyalty hinges upon establishing a customer experience closely attuned to a brand's fundamental mission and values.
Smith+Co has helped many brands clarify their purpose and create unique experiences that set them apart, leading to stronger customer loyalty.
Fifth Quadrant works as a research consultancy with well-known brands. It focuses on aiding clients in making better decisions through practical insights and informed recommendations.
The company provides market and customer insights to organizations by combining context and expertise with data. This empowers clients to enhance decision-making and capitalize on future opportunities.
Empathyce operates as both a customer experience consultancy and a training company.
Its focus is shaped by the desired changes you seek. Primarily, Empathyce's efforts revolve around the creation of customer experience programs. 
This involves facilitating an understanding of your current customer interactions. Empathyce will define the ideal interactions aligned with your strategy and outline the steps toward achieving a more customer-centric approach.
Profound assists clients across various levels of CX maturity. It has experts who are proficient in crafting and enhancing CX research insights. 
The team consists of skilled customer experience strategists, researchers, and innovators who tailor the experience to meet customer requirements.
Liquid Agency brings together brand, employee, and customer experiences to foster belief and fuel growth. The agency helps organizations establish strong identity, activities, and direction convictions. 
This starts by aligning the company's and its audiences' shared beliefs and enhancing the brand through experiences that connect with shared values.
TCXA is a customer experience agency focusing on digital strategy and transformation consulting.
The company's primary objective revolves around facilitating business success in the digital era. It offers businesses the necessary tools and specialized knowledge to deliver exceptional customer experiences. 
TLF Research operates as a CX research company with an extensive history of crafting customized customer experiences and market research initiatives for over two decades. 
Collaborating with a diverse range of large and small customer-centric entities, TLF undertakes B2C and B2B customer experience research endeavors. 
Kelton is a strategic consulting agency specializing in various services. It includes quantitative and qualitative market research, brand strategy consulting, customer segmentation, and customer experience innovation.
Utilizing a cutting-edge consumer insights engine, the agency excels in resolving challenges about branding, marketing communications, and innovation on behalf of its clients.
Choose the right customer experience agencies to partner with 
Enhancing your business through remarkable customer experiences is a smart move that fosters growth and customer loyalty. 
Partnering with a leading customer experience agency lets you access their expertise and resources to craft extraordinary customer journeys.
Make a prudent choice and witness your business flourish in the customer-focused market.