Cultivating a culture of world-class filipinos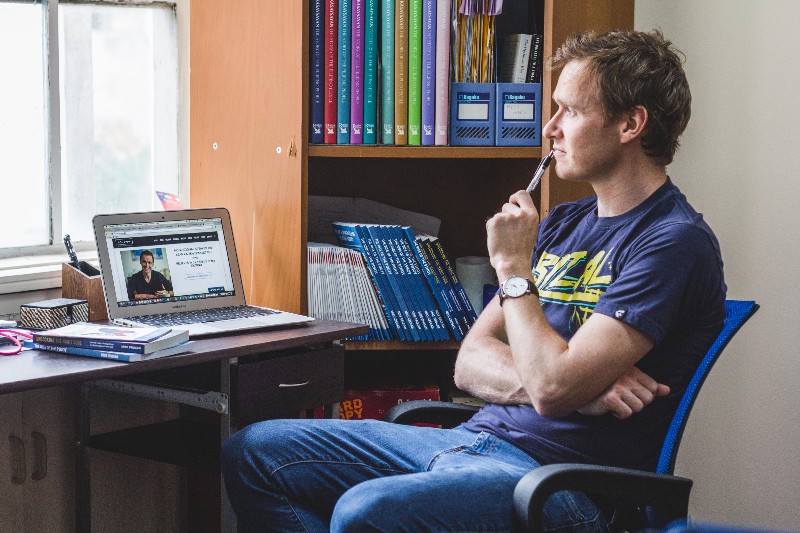 In this podcast episode, Derek Gallimore brought out the immersive story of Irishman Mike Grogan who, after spending many years traveling around the world, found his heart's home on Philippine soil.
By profession, Mike is a consultant who specializes in the kaizen leadership style of management training. He has authored several books, with editions that are available in English, Tagalog, and Cebuano. Prominent among them is his self-published title 7 Reasons Why Filipinos Will Change the World. The well-rounded Mike, first a Chemical Engineering graduate from University College Dublin, is now also a coach, co-founder of the Rise of the Pinoy movement, and a motivational speaker who has reached out to over one thousand Filipinos.
Mike's story is one of discovery of the Philippines' intangible riches; of engagement with Filipino values; and of collaboration—between cultures, and within the hierarchy of the labor force—toward a world-class outcome.
Falling in love with the Philippines
Derek opens their discussion by asking about Mike's firm belief in genius potential to be found in the Philippines. Mike's twofold mission is to celebrate Filipino culture, and at the same time, strengthen Filipinos against what he terms "false limiting beliefs."
Mike's professional advocacy has a very personal foundation. In a remarkable turn of events, the Philippines compelled him to stay longer than the time period he'd originally allotted, and became his permanent home. In the 'elevator pitch' version of this story, Mike shares, "I gave myself one month to test, and [thought that] if I like this, I may stay longer; if I didn't like this I will jump to another country—and that never happened, I fell in love with the country."
Elaborating on the reasons, Mike says, "I guess there [are] invisible forces that work here, and I felt a higher level of calling for two things—number one, in this country, in the Philippines, I will become the best version of me, and number two, this is where I can add the most value."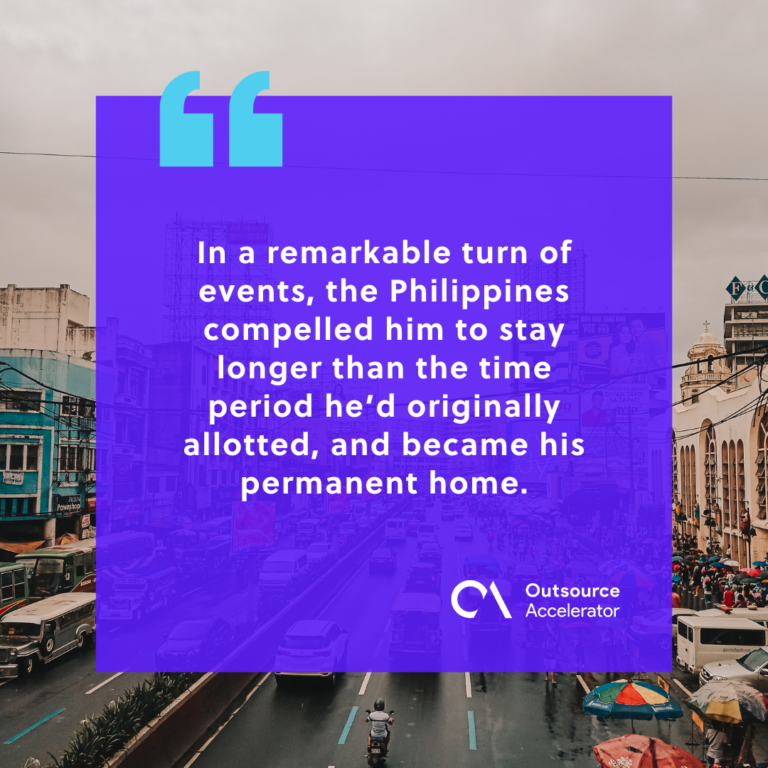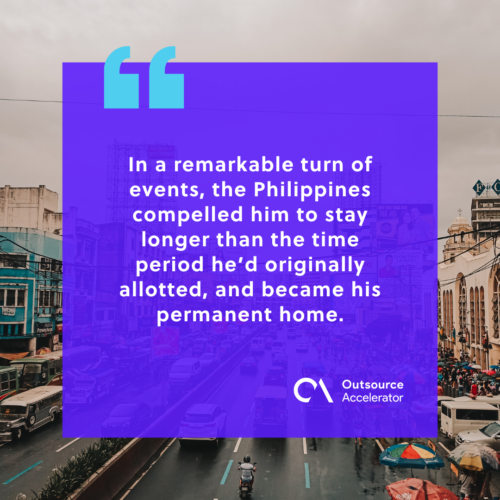 Thinking about how much his sentiment has shifted in favor of the Philippines, Mike recalls the last Christmas that he spent in Ireland. He realized that as much as he loved his native Ireland, there was no other country in the world that he would rather be in but the Philippines. "I feel very blessed to be here, and I am very excited for the future of this country," Mike professes.
It even extends to his website's domain name. When Derek inquires as to why his website's URL is mikegrogan.ph as opposed to mikegrogan.com, Mike reveals that he had thought about it before, but stuck to the former. "My Filipino friends said that it was more charming, more appreciated, that I went for the .ph. And since I am focusing all my efforts on the Philippines, I thought that's the approach it wants, so, mikegrogan.ph."
That was that, it appeared; it was then time for Mike to push his advocacy for the Philippines to become world-class on its own unique terms. Mike emphasizes three things: showcasing Filipino strengths, breaking against false limiting beliefs, and living out a Filipino story based on his 7 core values.
Key messages
1. Harnessing filipino strengths to compete on the world stage
Derek acknowledges that the Philippines comprises 110 million incredibly friendly, happy people, and that they have myriad of opportunities to create world impact where they haven't before. Derek asks Mike, "Where do you see those key opportunities, and where do their strengths lie?"
Mike reveals that that question is asked of him often, and that expats seem to possess opinions of Filipinos on two different extremes. On the one hand, a portion of them are very negative and critical of Filipinos; on the other, some see nothing but the positive, to their detriment as well as to the detriment of their Filipino partners. "Maybe people label me as being on the other side—that I am over[ly] optimistic, that I may not be realistic with my assessments," he says. "However, I believe that I fall in the middle. I am not ignoring the weaknesses in this country."
Mike argues further: "Every nation has its own weakness or shortcomings, and the greatest way to empower and inspire the Filipinos is by building on their strengths. When business owners help the Filipino workforce build their strength, then their weakness becomes irrelevant."
The goal for foreigners who have companies and investments here in the Philippines, then, is to mentor their Filipino workforce in their own innate strengths—these will become the solid foundation for the future, in which Filipinos can stand out on the world stage.
2. Working against false limiting beliefs
When asked what hinders Filipinos from realizing their true strengths, Mike points out the idea of "false limiting beliefs." He agrees with Derek on a certain lack of confidence that Filipinos may have in themselves, as well as a default disposition of being subservient and constantly in need of permission.
"I always say the number one thing holding back every single Filipino, including your potential workers, your 'clone' workers, is what I call false limiting beliefs—and it's heartbreaking," Mike admits. "Once you get to know Filipinos and peel back the layers, you will see these false beliefs they have—false beliefs [that] they are not smart enough, they are not good enough, they are not beautiful enough, whatever it may be."
Mike cites the classic example of the billboard advertisements that are ubiquitous around Metro Manila, and other cities across the Philippines. All the billboards feature foreign or mestiza models, with white or whitened skin—so different from the beautiful brown skin color of majority of Filipinos. This idea that brown skin is inferior to white is a false belief that is rooted in a deep history of colonialism and colonial mentality. It is madness, Mike proclaims, when the opposite plays out in the West, and when his own sisters visit tanning salons to pursue dreams of having darker skin. It is something to laugh at, to a degree, but also a point that necessitates deeper thought, and thorough action.
Mike believes that if employers and investors do their part to smash against these false beliefs, Filipinos can get closer to any dreams of bettering the country's current situation, and at the same time fight back against a colonial legacy that Mike has seen in other parts of the world.
"It takes generations almost to remove those limiting beliefs, that's why I do so much speaking here, especially when I speak to the youth," he says. "The number one message I want to give them is, these false beliefs are not true, and that's the only thing holding them back from realizing their potential and becoming world-class."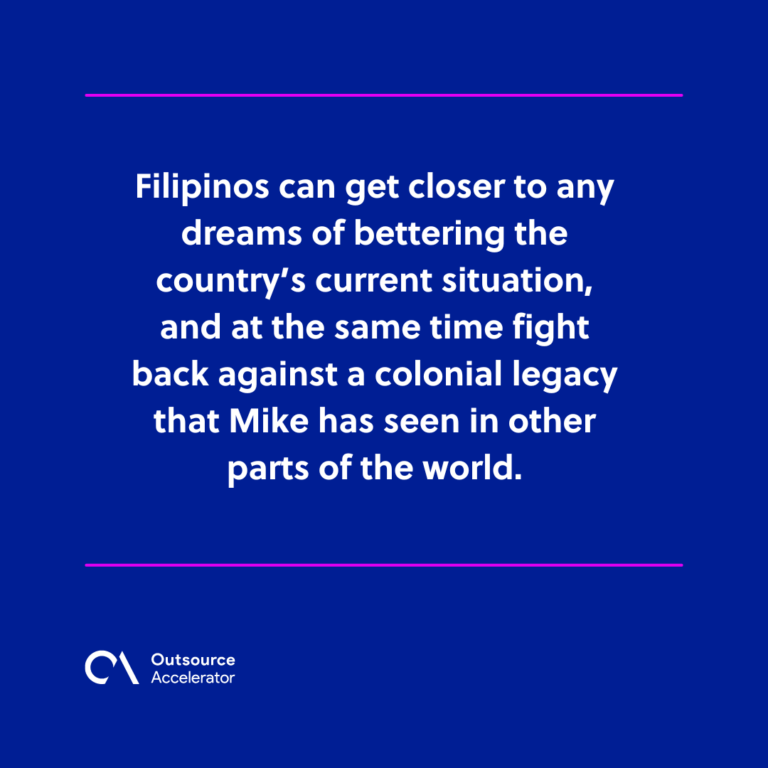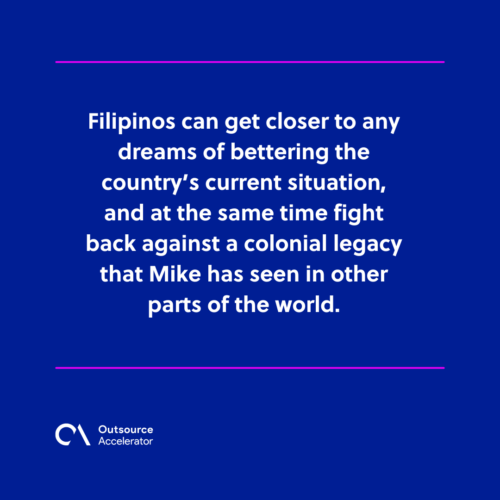 3. Celebrating 7 values, and 1 uniquely filipino story
Lastly, Mike gives a short introduction of 7 Reasons, noting that the ideas were quick to come to him. In summary, the book encompasses "the story of the Filipino."
Outside of this podcast, one should seek out this book, which is an exciting read about the following seven values that are unique to the Filipino experience:
bayanihan,

or the communitarian spirit of helping out without expecting anything in return;

madiskarte,

or Filipino ingenuity and resilience to adapt even against the odds (recalling overseas Filipino workers [OFWs] who venture abroad);

masayahin,

or Filipino cheerfulness and the ability to poke fun at anything (such as with the slogan "The Filipino is Waterproof," and comical situations that Filipinos enact in times of flooding);

matapang,

or being brave and self-sacrificing in adversity, for the sake of family, well-being, and honor;

kapatiran,

or the Filipino sense of fellowship and belonging anywhere, and with anyone,

mapagbigay,

or Filipino generosity, which is known all across the globe even to the Pope and to celebrities, and;

walang iwanan,

or the Filipino commitment that nobody is to be left behind, based on loyalty and compassion.
Mike chose a compelling image for the book's cover—that of a butterfly whose wings are emblazoned with the colors of the Filipino flag. In the podcast, he reveals why he chose this figure: "I believe the story of the Filipino is like the story of the butterfly. The butterfly cannot see its wings—it does not know how beautiful it is, and it does not know how much potential it has." Relating this to the context of Filipino employees, he argues, "Sometimes it [takes] an outsider to remind them of that beauty, remind them of that potential."
Final thoughts
To close, one only needs to meditate on Mike's theory that the Philippines is driven by invisible forces. These forces determine that the best in someone can be brought out, and that maximum value can be derived in return.
Earlier in the interview, Mike compares the Filipino spirit of teamwork versus how Westerners champion individualism. In the West, Mike says, "the concept of the lone hero is romanticized. But one thing I have really learned from the Filipinos is the power of collaboration—of how they work together, whether it being communities and small families and small teams, that synergy."
Derek agrees with the idea that capturing this synergy yields extraordinary results—it is about acknowledging Filipino strengths, and helping turn the tide in their favor, to make them feel most natural and comfortable, and therefore at the peak of their ability.
"The rise of the Filipinos have begun," Mike is quoted as having written in 7 Reasons. "What are we going to do?" Indeed, there is much work to be done, and many things to look forward to, as Filipino culture takes the world by storm.
Listen to the full podcast of his conversation with Derek Gallimore of Outsource Accelerator.
Sources: