A comprehensive overview of creative services outsourcing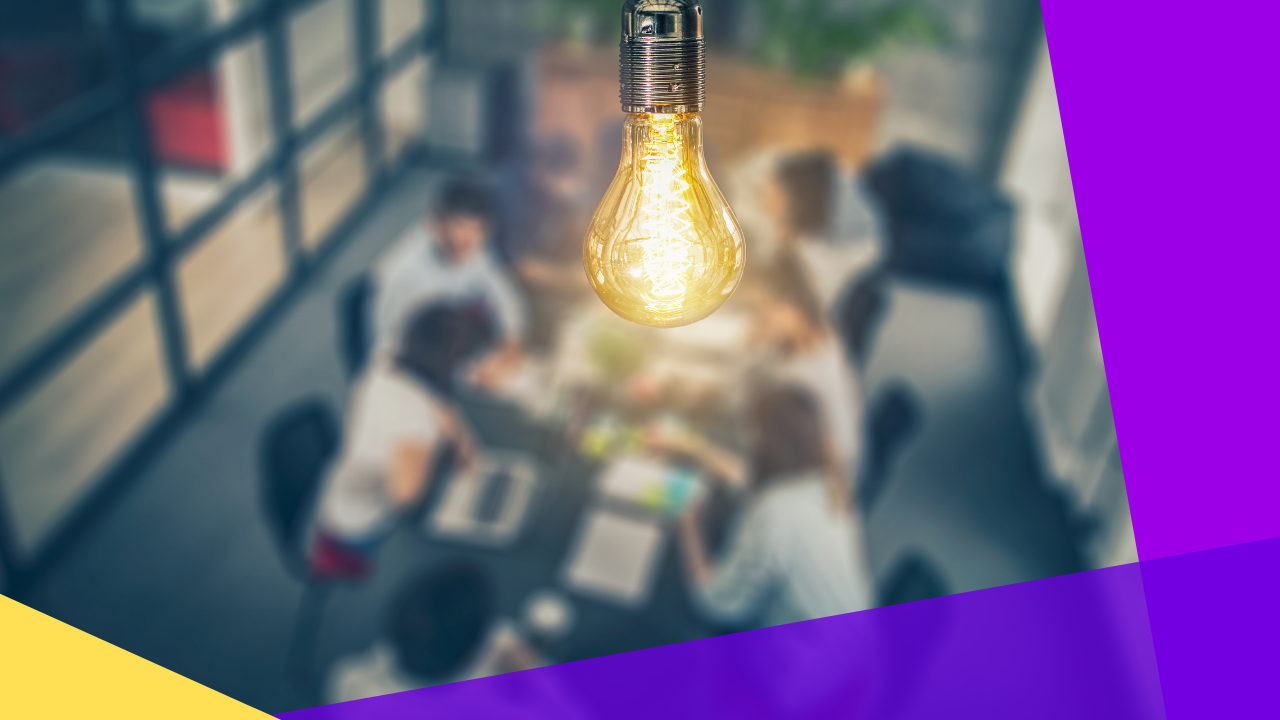 Creative services have been increasingly needed in businesses nowadays. 
About 300,000 jobs get outsourced each year from the US to different countries, including India and the Philippines. Aside from known functions such as accounting and back-office services, creative services have even picked up the pace for the past years.
Whether you're running an online store or a simple blog, you have to build your brand with your content and site design to attract audiences. While you can do a little writing and graphic design on the side, it will not be sustainable in the long run. 
Yes, you need to outsource creative services, too!
Your in-house team or yourself can only do so much. Creative services outsourcing can boost your content and production-related tasks. You get to experience optimized services done by world-class talents offshore.
Outsourcing creative services became possible with the increasingly available resources and technology for productions. You won't have to keep editing, writing, and publishing functions in-house since global teams can do these in a more cost-efficient way.
The Philippines is one of the top countries for its creative services. With their affinity to global influences, rich culture, and abundant talents, global businesses prefer to hire Filipino creatives to outsource most of their work, including video and audio production.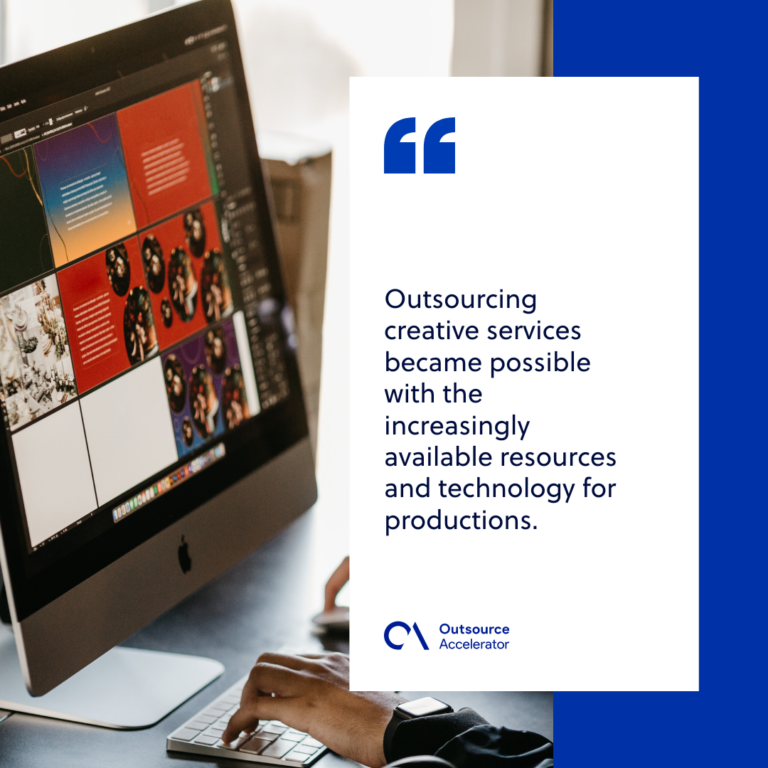 Signs that you need to consider creative services outsourcing
One of the trickiest things when deciding to outsource involves timing. While you can outsource your creative services early in your business, some companies opt to hire in-house teams first to build their processes. 
They then delegate creative services to offshore teams when they encounter the following signs.
You need to change content strategies
Your current strategies will eventually become irrelevant as time flies. Trends in creative services, especially content, constantly change as online platforms and technologies evolve.
You could easily know when you have to change your content strategy if:
Your content is not on search engines

. People need to see your online content as much as possible. If they are not found easily on the first page of search engines, there might be a problem with your SEO strategies.
You don't gain enough traffic

. Nowadays, a big chunk of your traffic lies in the content you create. If you see your audience traffic drop, it's time to review your content and strategies further.
There's no clear goal for creating content

. For sure, you don't just create content to have traffic come and go. You might have enough audience browsing your website that hasn't turned into customers. This may be because you lack steps to convert them.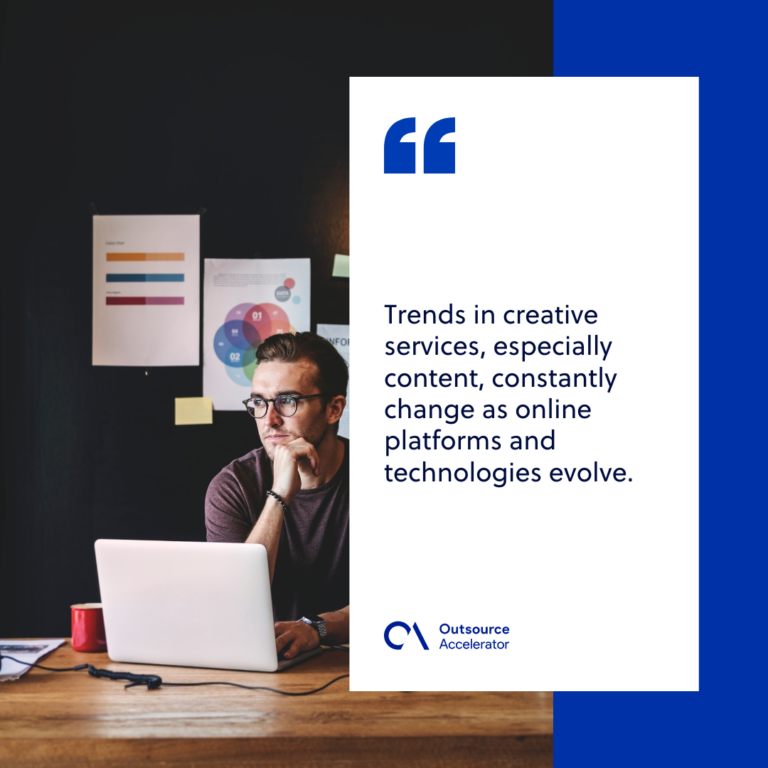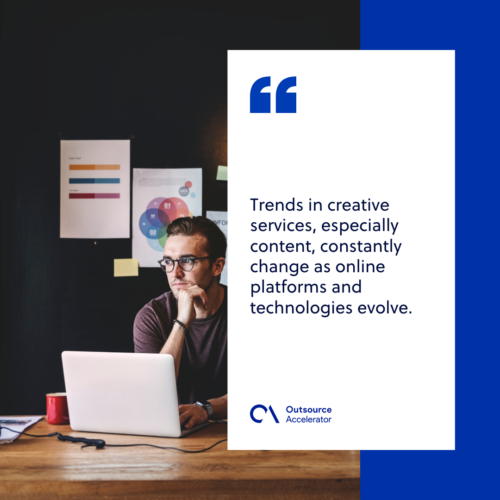 Your team experiences creative burnout
Yes, creative burnout can happen to your team, no matter how good they are. Several factors can contribute to this condition, including excessive workloads and tight deadlines.
You would not want to exhaust your main creative team too much. Giving them more workload than they can take may risk their welfare. Creative burnout can result in missed deadlines and lower productivity, which can affect your operations.
Your company is expanding
One of the best times to outsource is when your company expands, further increasing your audience and workload. 
The more you expand, the more you should focus on keeping your clients satisfied. You might notice that your workloads will become increasingly overwhelming. This indicates that you need more hands to work on new tasks and deadlines.
Outsourcing functions such as creative services can help you free up your time and allocate better resources to your growth. Offshore staffing agencies — like Outsourced — can offer world-class creative teams that could cover a wide range of services for clients anywhere in the world.
With their help, you can better strategize on improving your customer experience.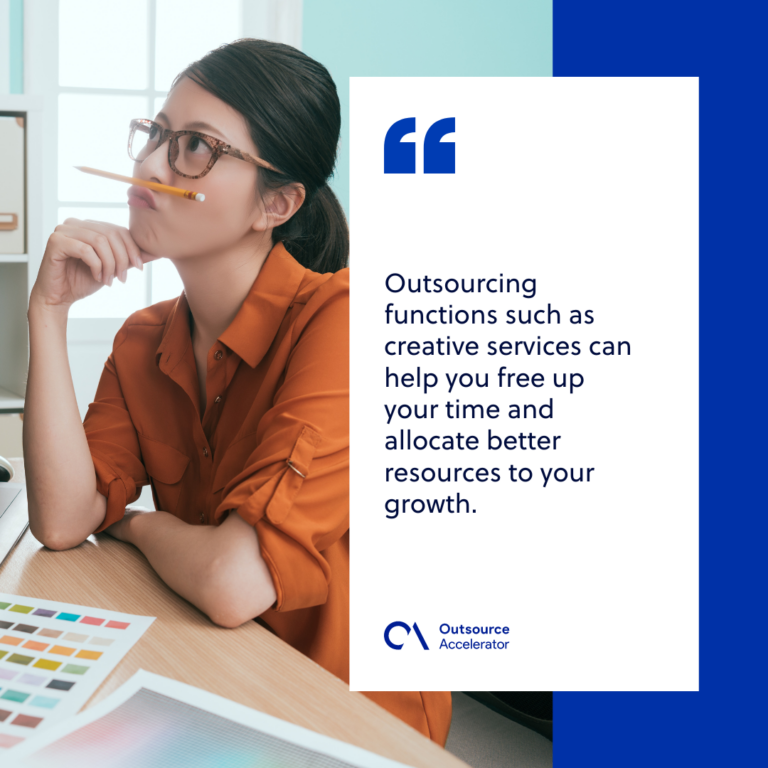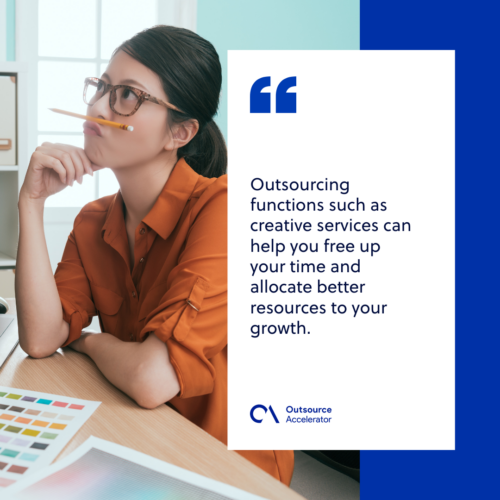 You can't find suitable talent for your team
Talent gap exists in most industries, especially creative services. Statistics show that thousands of creative positions in the US have remained unfilled since the pandemic, with only 1,000 advertising positions getting filled in September 2021.
The towering costs and increasing competition in recruitment contribute to the difficulty in hiring in-house creatives. Delegating creative services to offshore countries such as the Philippines can be a good way to beat this.
Ways to hire a creative services outsourcing team
There are no fixed solutions in creative services outsourcing. This is why you should prepare your strategies when delegating your services if you want to become successful 
You can do the following ways when outsourcing your creative services.
Delegate short-term projects

. Project outsourcing is most suitable for companies seeking to delegate some of their short-term projects to an offshore team. They can be hired only for the duration of a certain project or when the demand spikes.

Hire several roles for a single team

. You can hire a single remote employee for each role you need and form a team. Depending on the needs, companies usually outsource a graphic designer or writer and start their teams from there.

Offshore specific roles

. At the same time, you can opt to outsource specific roles to a single team offshore. For this, you have to determine what roles are best to delegate to a service provider and what should remain in-house.
Creative service roles to outsource
Here are some of the roles you can delegate when considering creative service outsourcing.
Copywriting
Copywriting is more than simply creating articles, guides, and whitepapers for your website. Your content should be informative and catchy to help you attract the right audience.
Most people think copywriting should come naturally. This is one of the reasons why outsourcing this function to writers is the best idea for companies. By delegating this to remote teams, you get to save time and effort from writing and maintaining your website.
Content marketing
Content marketing covers several fields. Aside from writing and producing videos, you need to learn how to optimize your website and posts using SEO, study your competitors, and boost search engine rankings.
With all these things to consider, content marketing takes time and tons of research to work. That said, you can hire a team to manage and produce content for you.
Graphic design
Your website also needs to be presentable and pleasing to attract customers. This is where graphic design plays its role. 
Graphic designers are trained to use images and other visual elements to communicate with their audience. Even if you have knowledge as a designer, you might not have time to create logos and promotional materials for your business if you have different core tasks.
Video production
Videos can be used for several purposes, including marketing and promotional purposes. 
For instance, you can upload videos to demonstrate how to use your product and why people should buy them. You can even show your expertise in your field by producing educational videos.
Video production for businesses does not just involve taking phone videos and editing them on the spot. To attract viewers, you need to have your videos done professionally, so you can stand out on social media and other channels.
Outsourcing video production can help you with this. You can hire an entire team to produce professionally-made promotional videos that can surely drive your viewership up.
Podcast production
Lastly, if you're producing podcasts for your company, you already have a headstart in increasing awareness of your brand. It is a good way to show your expertise, give industry updates, and tackle some pressing topics about your field.
Recording audio is only a part of the work. After recording, you need to edit and prepare everything you need to publish and market your show. This includes scheduling it to platforms such as Spotify.
While these tasks could eat up much time, there's still a way to make sure everything is done on schedule: through outsourcing.
Notable advantages of creative services outsourcing
Small and large companies like you have been gaining a lot from outsourcing their creative services offshore. They've been able to save on costs, resources, and even effort for in-house training. 
By outsourcing creative services from The Remote Group, you can establish your brand through powerful visual storytelling to draw potential customers, so you can focus on your core competencies.
Here are other advantages you can enjoy.
Gain fresh outlook
Creative services work best for a business when the ideas come from wider perspectives. Outsourcing creative services help you gain a different outlook outside your company, improving your content further.
Meet deadlines and goals easily
It's easier to reach deadlines if you have more hands to help you work on your tasks. You already have a dedicated team for specific projects, letting you put more in-house resources into other crucial functions.
Become more adaptive to change
As mentioned, marketing and content trends continue to change over time. This goes the same with creative techniques you can use for your company. 
By outsourcing creatives, you can stay relevant and maintain your brand appeal with modern customers. You won't have to worry about dwindling traffic and the dropping number of audiences anymore.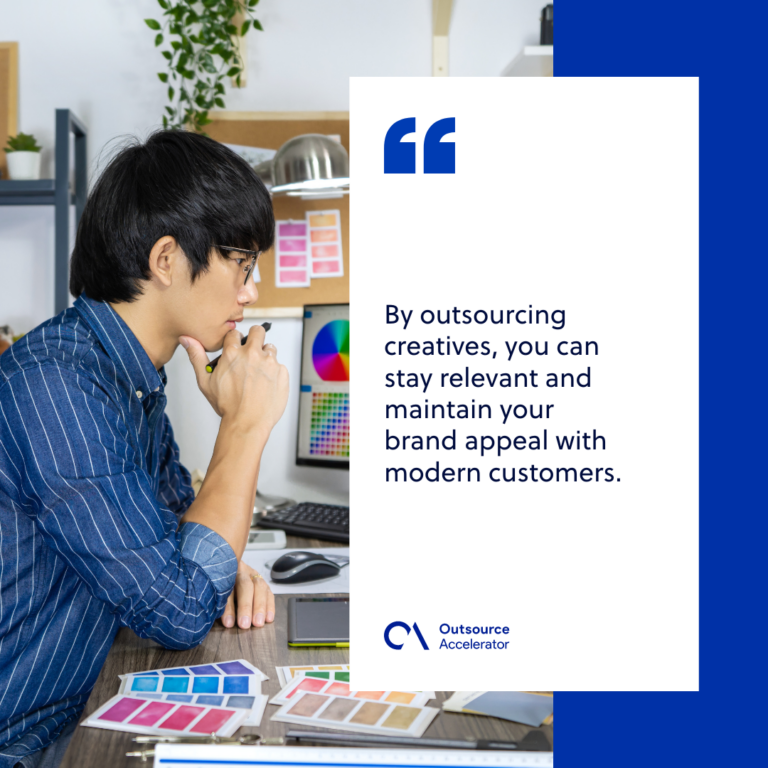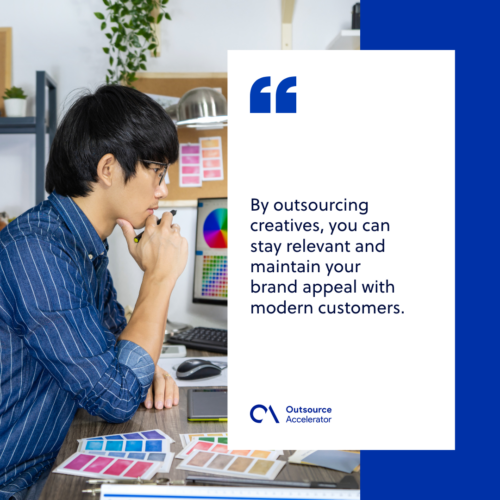 Have access to creative experts
Lastly, you get to access a wider pool of creatives you can't easily find when hiring in-house. Most creatives outside your country have active exposure to global productions since they showcase their skills regularly.
What's more, the seasoned ones can even help you build your team faster. With years of experience working in local and global productions, they can easily adapt to new and changing demands better.