Cloudstaff's cost-effective software outsourcing solutions
Most companies opt for affordable outsourcing solutions to effectively manage costs while maintaining or enhancing the quality of their services.
Affordable outsourcing allows businesses to tap into specialized expertise without the burden of high operational expenses, such as recruitment, training, and infrastructure.
Some may find affordability a quality concern, but reputable outsourcing providers offer cost-effective solutions that don't compromise quality.
These providers leverage a skilled and experienced workforce, advanced technology, and efficient processes. They ensure their featured services remain robust, efficient, and aligned with client's business goals.
This article delves into software outsourcing, its challenges, and how Cloudstaff addresses them while providing tailored solutions.
Understanding software outsourcing
Software outsourcing entails delegating certain software development tasks to external service providers. This strategy allows businesses to focus on their core competencies while leveraging the expertise of specialized professionals for non-core functions.
With Cloudstaff's extensive experience and skilled workforce, companies can use this outsourcing approach to drive growth and innovation.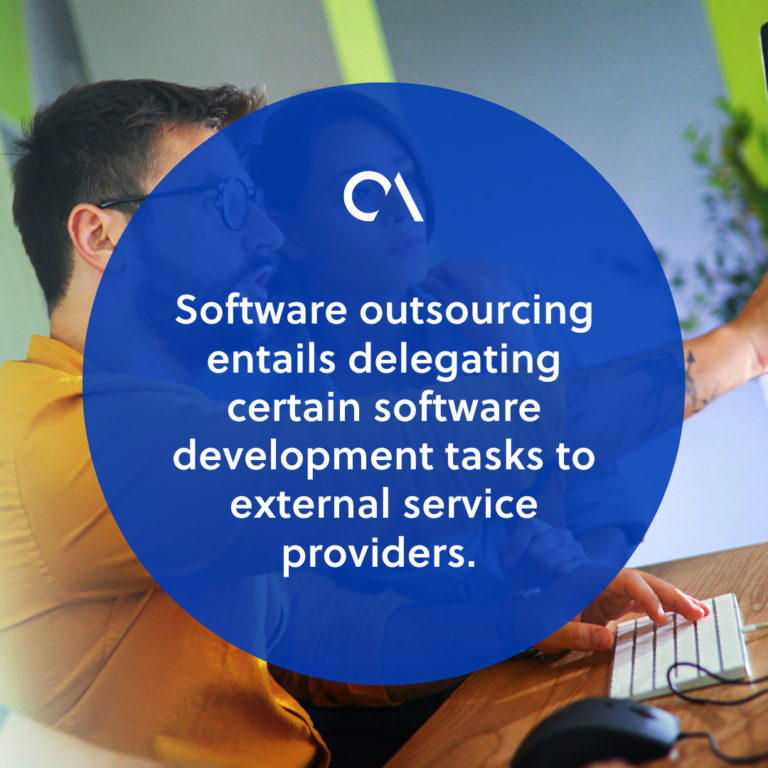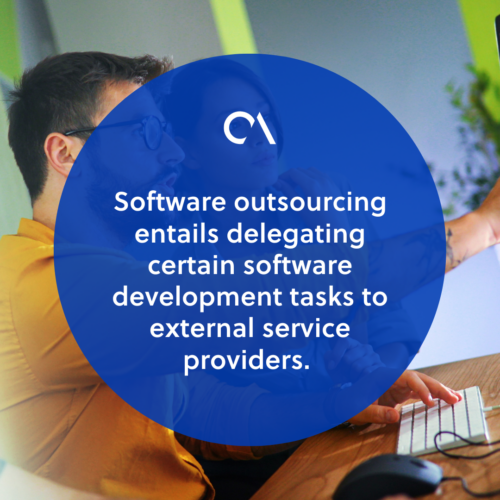 Types of software outsourcing
Software outsourcing comes in three forms, each offering unique advantages:

Offshore
Offshore software outsourcing entails delegating software development tasks to external service providers located in another country.
Cloudstaff's offshore outsourcing services enable companies to access a diverse talent pool and benefit from lower labor costs without compromising quality.
With its state-of-the-art facilities and robust infrastructure, the firm ensures smooth collaboration across time zones and geographic boundaries.
Nearshore
Nearshore software outsourcing involves partnering with external service providers located in neighboring or geographically close countries. 
This approach offers advantages such as reduced time zone differences, cultural alignment, and easier collaboration. Businesses can leverage specialized expertise while maintaining proximity for effective communication and project management.
Onshore
Onshore software outsourcing entails entrusting software development tasks to external service providers within the same country as the client company. This approach often results in better communication and collaboration due to shared time zones and cultural similarities.
Cloudstaff's onshore services cater to businesses prioritizing local collaboration and regulatory compliance, minimizing communication barriers, and fostering closer cooperation.
2 main challenges of software outsourcing
While software outsourcing offers significant benefits, it also presents challenges that can hinder success. Here are two of the most common software outsourcing challenges:
Expensive software development solutions
The traditional path of software development often entails substantial expenses, encompassing elements like:
Recruiting specialized talent

Conducting training programs

Establishing a robust infrastructure
These costs can swiftly accumulate and strain budgets. 
To combat this financial strain, Cloudstaff offers access to a proficient workforce at a fraction of the regular expenses. This approach mitigates financial burdens and magnifies the client's return on investment.
Quality control risk and project management
The most intricate challenges in software outsourcing revolve around two things: 
Maintaining consistent quality across projects

Managing tasks across geographically dispersed teams
Cloudstaff's quick recognition of these challenges has led to its vigorous project management tools being implemented. These tools protect against quality deviations and lapses in project management.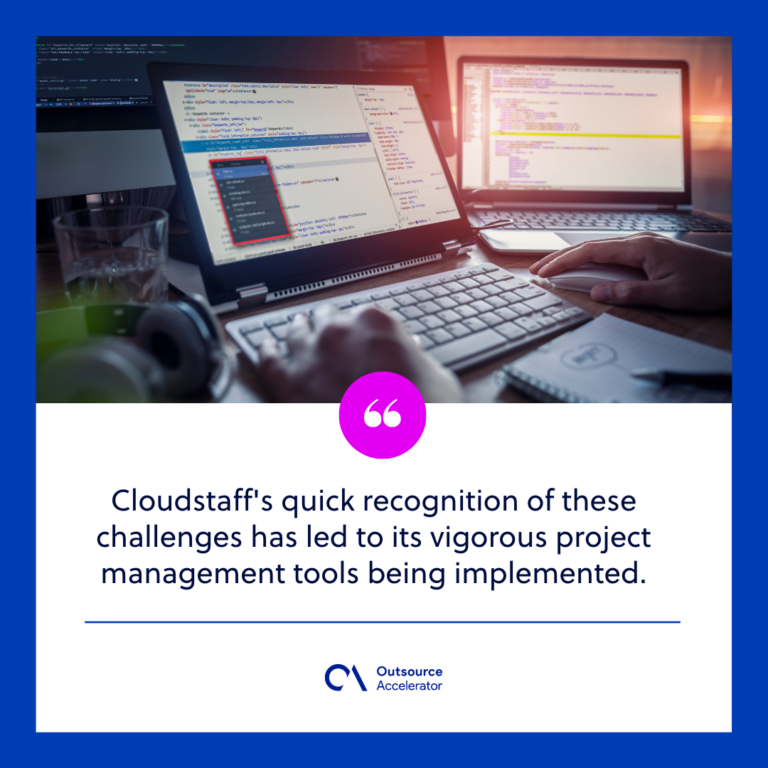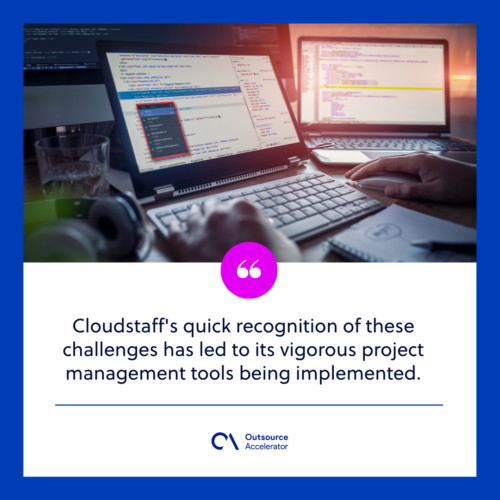 How Cloudstaff achieves cost-effective software outsourcing
Cloudstaff's success lies in its ability to deliver high-quality solutions while optimizing costs. Several key factors contribute to the firm's cost-effective software outsourcing offerings:
Low labor costs without compromising quality
Cloudstaff is strategically located in regions with lower labor costs, allowing clients to access a highly skilled workforce at competitive rates. 
This cost advantage does not compromise the quality of work delivered, as Cloudstaff ensures businesses receive value-driven solutions.
Infrastructure and operational cost savings
By partnering with Cloudstaff, companies can eliminate the need for significant upfront infrastructure and operational investments. 
Its state-of-the-art facilities, advanced technology, and IT support offer a turnkey solution for clients, further reducing costs.
Scalability and flexibility for varying project needs
Cloudstaff's flexible engagement models allow businesses to scale their operations up or down based on project demands. This agility ensures that resources are allocated optimally, preventing over-expenditure during periods of reduced workload.

Transparent pricing models
Cloudstaff's commitment to transparency extends to its pricing models. Clients benefit from a clear understanding of cost structures, making budgeting and planning for software development projects easier without unexpected financial surprises.
Flexible engagement options
Cloudstaff software outsourcing offers a range of engagement models, from dedicated development teams to project-based collaboration. 
This flexibility allows companies to tailor their outsourcing approach to their needs and preferences.
Customize your software outsourcing needs with Cloudstaff
Software outsourcing is a transformative solution for companies seeking cost-effective, high-quality software development.
Cloudstaff's comprehensive range of services addresses the challenges associated with outsourcing while delivering tailored solutions that align with businesses' objectives.
Companies can elevate their software development processes, reduce costs, and maintain a competitive edge in today's fast-paced market.