Unlocking success with corporate learning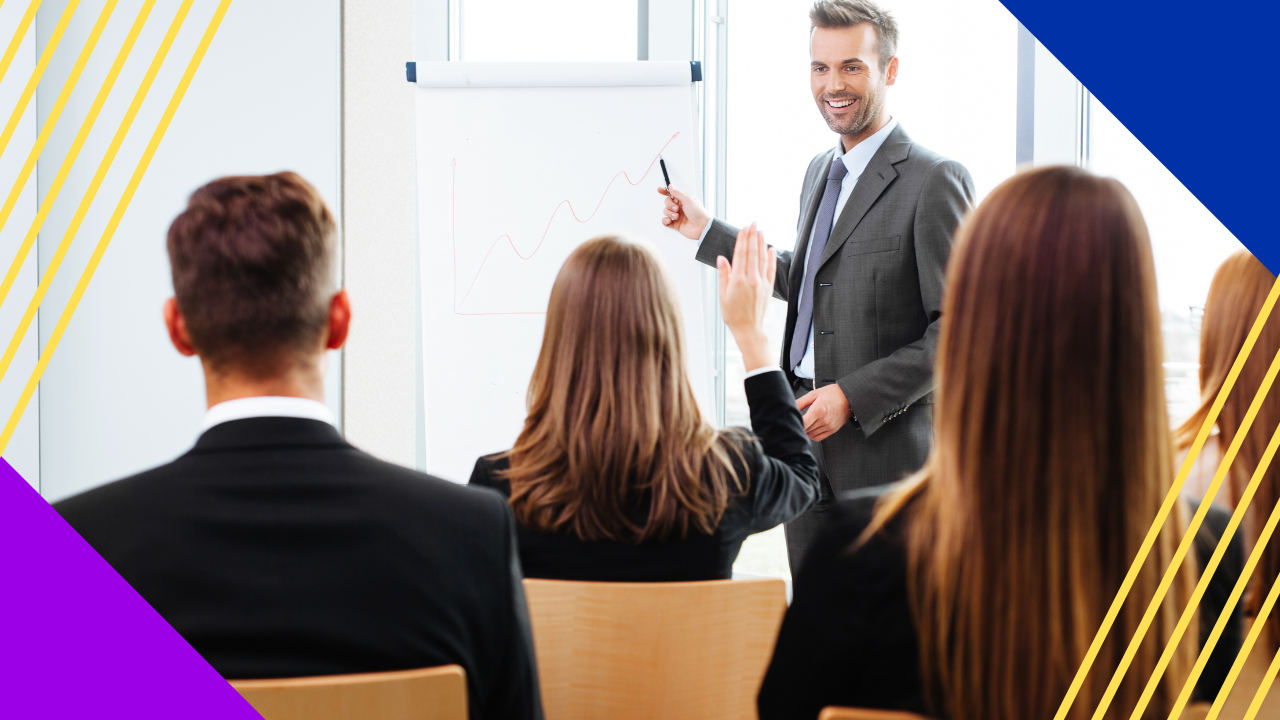 In the business world, enriching corporate knowledge is the link to success. Continuous education helps companies stay adaptable and competitive.
Particularly, knowing the importance of corporate learning and its impact on your goals is essential for the growth of your business. 
This article discusses corporate learning, setting up learning programs, and incorporating the right technology.
What is corporate learning?
Corporate learning helps employees improve skills, streamline processes, and boost innovation at work. It occurs through formal and informal ways like mentoring.
Corporate learning aims to give employees the needed knowledge, skills, and capabilities for their roles and aid companies in success.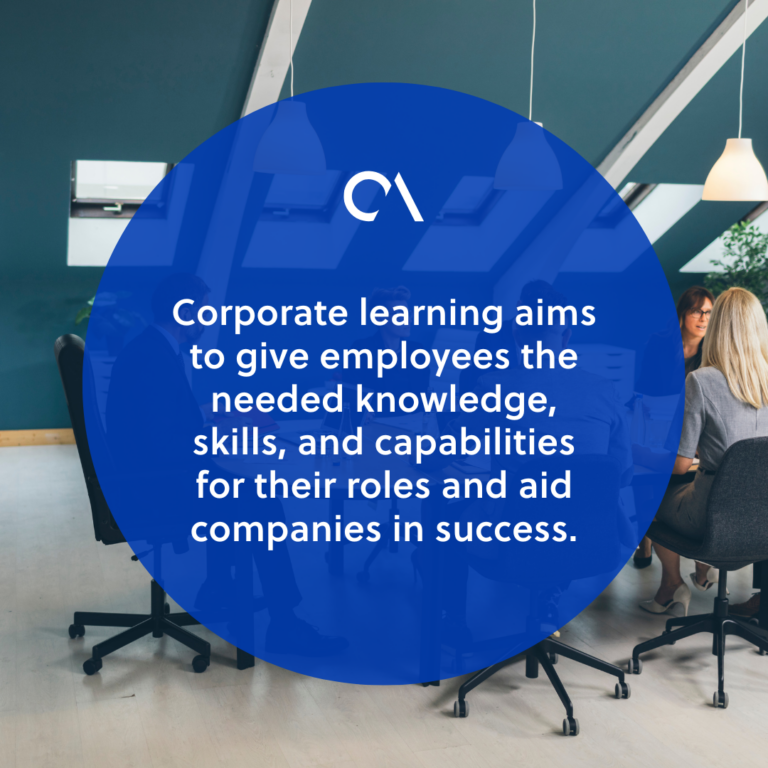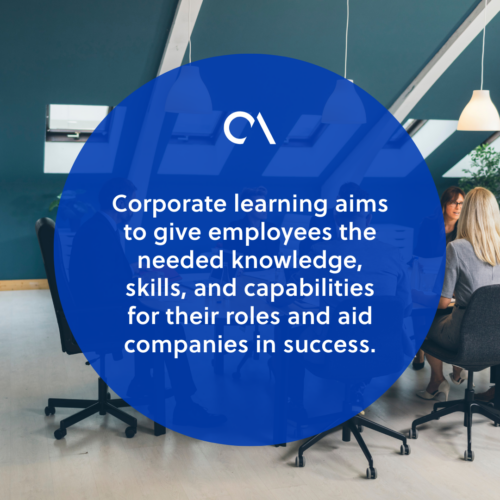 Role of leadership in corporate learning
Leaders are key in encouraging and making corporate learning happen. To be a good role model for employees, an effective corporate leader must:
Cultivate a culture of learning
Leaders should start by adopting a mindset of corporate learning and strive to include it in the company culture. 
This means creating clear learning goals for employees, giving them access to learning materials, and supporting their ongoing development.

Motivate and inspire employees
Leaders are crucial in encouraging and motivating employees to continue learning. Employers can encourage employees to engage in educational pursuits by:
Recognizing and rewarding learning accomplishments

Celebrating successful learning results

Fostering a sense of togetherness
Showcase a successful leadership practice
To create useful workplace learning programs, companies must first determine what their organization and employees need to learn.
Afterward, find the right ways to teach them and make learning engaging and interactive.
How to design effective corporate learning programs
Creating efficient corporate learning programs requires a systematic strategy, as shown below:
Identify the organizational and employee learning needs
Companies should start by grasping their exact learning needs. This might mean analyzing needs, evaluating key roles and departments' requirements, and establishing learning goals that match overall business aims.
Here's how:
For the organization
For corporate learning programs focused on the organization as a whole, leaders should consider the following:
Goals and objectives:
Connect learning needs to the company's major goals and business plans.

Identify the skills and knowledge required to accomplish these objectives.
Analyzing performance data
Evaluate the company's performance using data, KPIs, and measurements.

Identify areas in need of improvement.

Recognize patterns that highlight issues, slowdowns, or areas for enhancement.
Gathering feedback:

Consult with managers, department heads, and senior individuals to uncover skill gaps and improvement opportunities.

If applicable, gather insights from customers and clients.
For employees
As for corporate learning programs catered towards the employees, leaders must look into the following:
Understand job requirements:

Examine the skills and knowledge necessary for each job.

Identify the specific skills workers need to excel in their roles.
Assessing skills

Administer tests or pose questions to employees to gauge their existing skills and areas needing improvement.
Considering career aspirations

Inquire about employees' jobs and career aspirations during job evaluations or developmental conversations.

Determine areas where they wish to enhance or gain expertise to advance their roles.
By employing these approaches to gather information, you can comprehensively understand your organization and employees' learning needs. These insights lay the foundation for crafting an effective corporate learning plan tailored to their requirements.
Formal and informal learning approaches
There are two primary methods that facilitate employee growth and enhance company performance:
Let's see how these approaches are used within corporate environments.
Formal learning in companies
Formal learning means structured training programs designed to meet clear learning goals and business objectives in business settings.
Here's how formal learning is applied in corporate settings:
Onboarding programs:

Formal learning begins with onboarding programs for new employees, ensuring that they are familiar with the company's policies, procedures, and their respective roles.

Training programs

: Companies provide structured

training programs

, including workshops, seminars, webinars, and instructor-led courses. These programs usually have a planned schedule and are led by experts in the field.

Certifications and credentials:

Finishing formal company training can result in certifications, badges, or other credentials. These credentials prove employees' expertise and help them advance in their careers.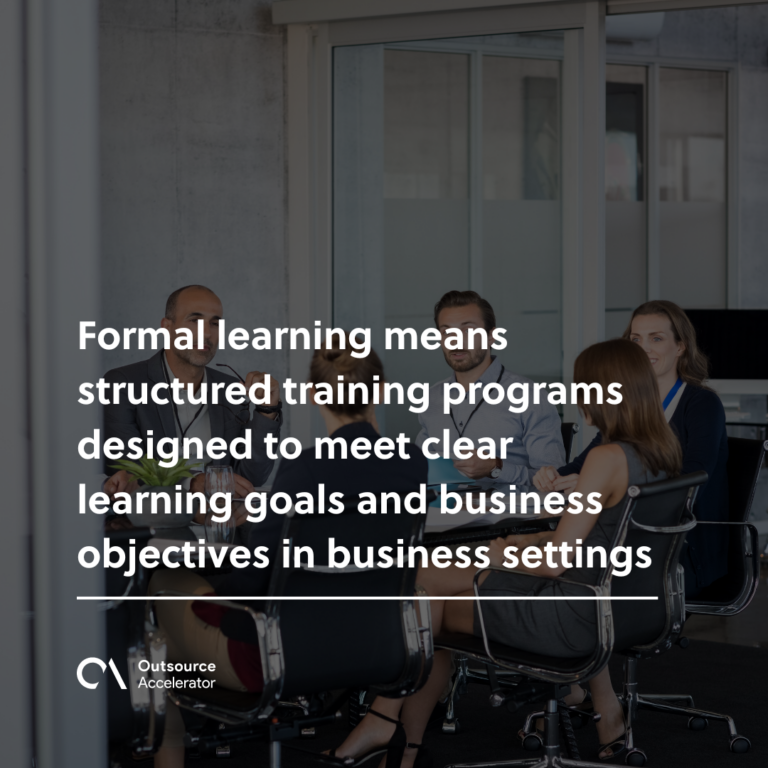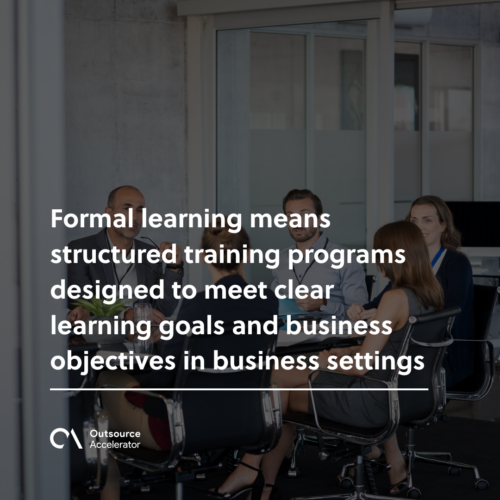 Informal learning in companies
Informal learning in corporate settings means gaining knowledge and skills naturally through daily work experiences, interactions, and self-driven exploration.
Here's how informal learning is incorporated into corporate settings:
On-the-job learning:

Employees learn by doing, working with colleagues, and solving real-world problems. This kind of learning happens while they're doing their regular job tasks.

Peer learning:

Informal learning can also mean employees sharing their knowledge with one another. They exchange insights, best practices, and tips, which helps create a culture of ongoing learning.

Mentoring and coaching:

Experienced employees might guide or coach new team members, passing along their know-how and perspectives. This informal support helps new members develop their skills.
Create engaging and interactive learning experiences
Making learning interesting and interactive in company environments is important to help employees learn and remember information better.
Here are a few ways to make learning at work more interesting and engaging:
Gamification:

  Add

game elements

like quizzes, challenges, and leaderboards to learning. This uses employees' competitive nature, encouraging them to participate and excel in learning actively.

Collaborative learning:

Motivate employees to learn by having group talks, sharing feedback, and working on projects as a team. This boosts involvement and nurtures a feeling of togetherness within the company.

Virtual workshops and webinars:

Arrange online workshops and webinars with interactive features like live polls, Q&A times, and separate rooms for group discussions.



Embracing technology in corporate learning
Technology can transform traditional training methods into engaging, useful, and captivating learning experiences.
Incorporating the following technologies into learning is not just an option – it's a crucial part of a strategy:
Learning management system (LMS)
Embracing technology in corporate learning through a learning management system (LMS) can significantly enhance training efficiency, accessibility, and effectiveness. 
Look for these features when choosing an LMS that aligns with your organization's requirements:

Course creation and management

Tracking and reporting

Customization options

User-friendly interface

Integration capabilities
Learn-experience design (LXP)
Learner-experience design, also known as LXP design, is critical in shaping effective corporate learning programs. 
It goes beyond traditional LMS by focusing on user-centered design principles and incorporating elements from user experience (UX) and instructional design. 
Look for these features when selecting an LXP that suits your organization's requirements:

Content curation

Personalization

Gamification

Social learning

Analytics

Integration capabilities
Ensure the platform is user-friendly and supports mobile access.
Video management system (VMS)
A video management system (VMS) enables your organization to create more interactive and fun training programs. 
Look for these features when choosing a video management system that suits your organization's requirements:

Video uploading

Content categorization

User permissions

Analytics

Compatibility with various devices.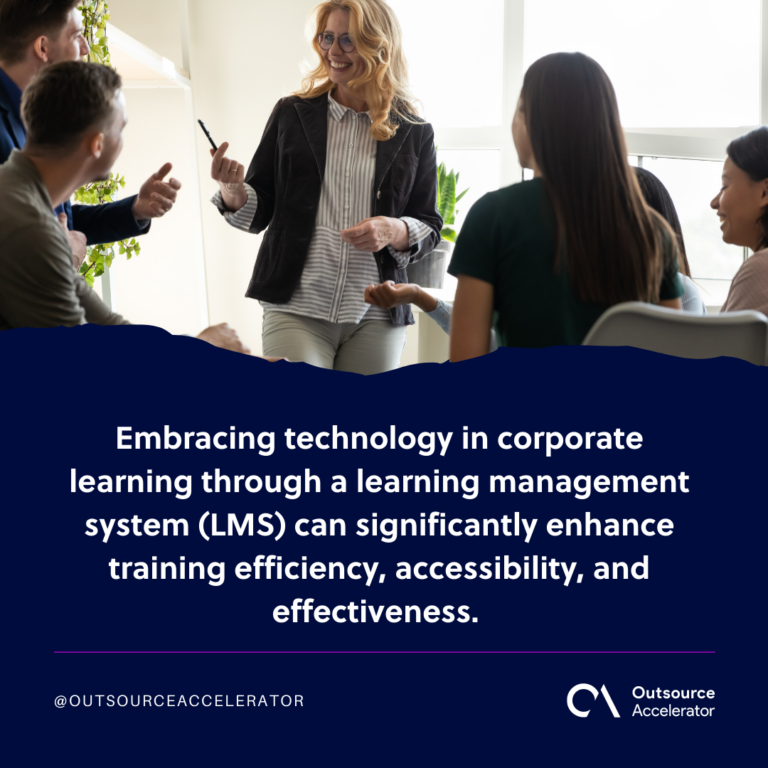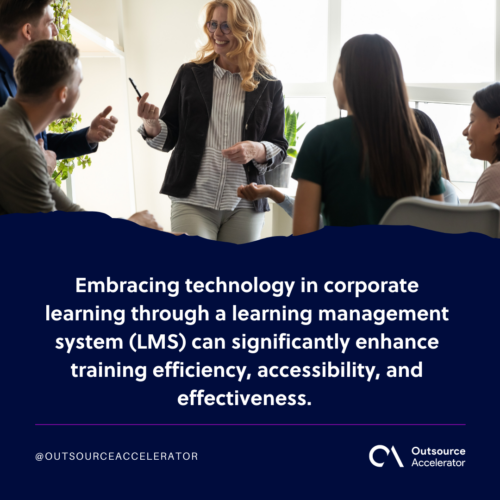 Impact of corporate learning on business success
Corporate learning significantly impacts business success, improving operations efficiency, staff engagement, and retention. Businesses utilizing corporate learning equip employees to excel in a dynamic business environment.
Effective corporate learning is achieved by prioritizing learning, developing strong programs, leveraging technology, and demonstrating effective leadership.