Understanding the corporate hierarchy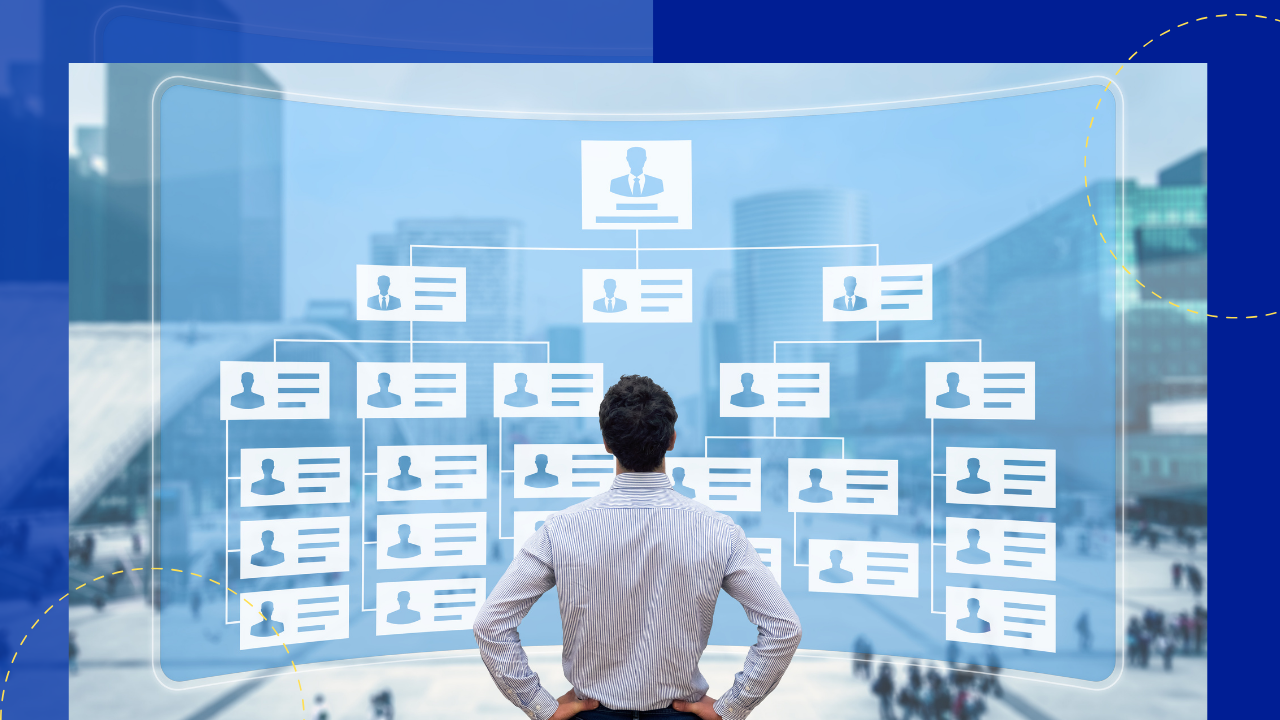 In any organization, understanding the corporate hierarchy is crucial to the structure and responsibilities within it.
It's not just a notion — but a structured system that governs the operation of businesses.
Let's learn more about the corporate hierarchy, its levels, and the significance it holds in a business environment.
What is corporate hierarchy?
Corporate hierarchy refers to an organization's structured arrangement of individuals, with each level possessing distinct responsibilities and authority.
It provides a clear reporting structure and defines the chain of command —  guiding the flow of communication and decision-making.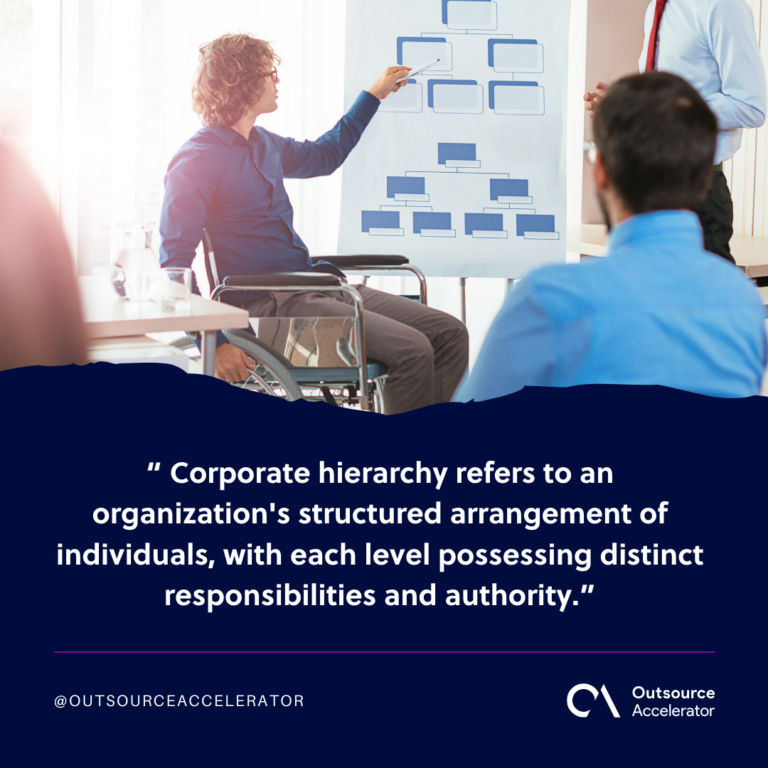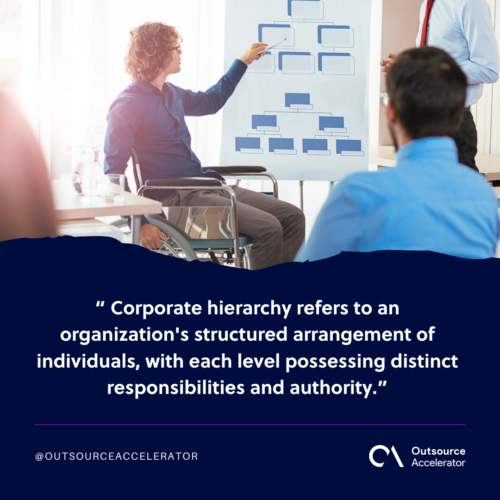 Levels and responsibilities of a corporate hierarchy
Corporate hierarchy defines the levels of authority and responsibilities among its members. Here's how it's usually ranked and divided:
Board of directors
At the top of a company hierarchy sits the board of directors. This group of elected individuals represents shareholders and bears the ultimate decision-making power.
They set the organization's vision, make crucial strategic decisions, and appoint the C-suite executives.
C-suite
The C-suite comprises the highest-ranking executives and other key executives. They are the ones who execute the directives set by the board.
In the corporate hierarchy, these chief members are responsible for strategic planning. They oversee operations, ensure financial stability, and steer the organization toward its goals.
Examples of C-suite-level employees include:
Chief executive officer (CEO)

Chief financial officer (CFO)

Chief operating officer (COO)

Chief human resources officer (CHRO)

Chief information officer (CIO)

Chief technology officer (CTO)

Chief marketing officer (CMO)

Chief compliance officer (CCO)
Upper or top-level management
Upper management consists of senior executives. They translate the strategic vision into actionable plans, allocate resources, and oversee the implementation of policies and projects.
Top-level managers play a pivotal role in driving organizational success and ensuring efficient day-to-day operations.
Upper management-level executives could be:
Presidents

Vice presidents

Directors

Managing partners
Middle management
Middle management serves as a bridge — sitting between upper and first-line management.
Members of the middle management connect the strategy and vision of the organization with the execution at the operational level.
They oversee teams, coordinate tasks, and ensure the efficient flow of information within their respective departments.
Those who fall into the middle management category include:
Department heads

Managers

Team leaders

Supervisors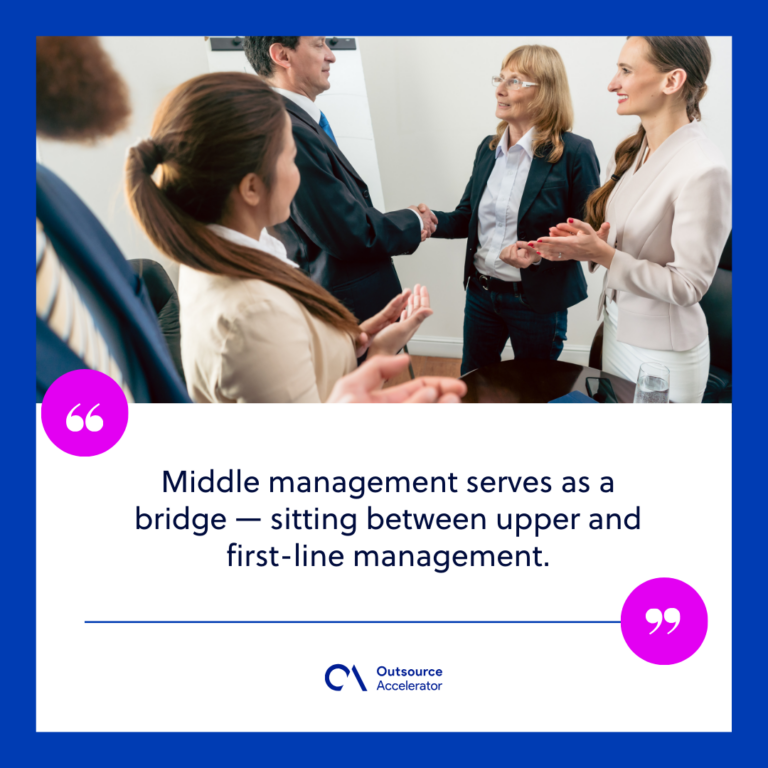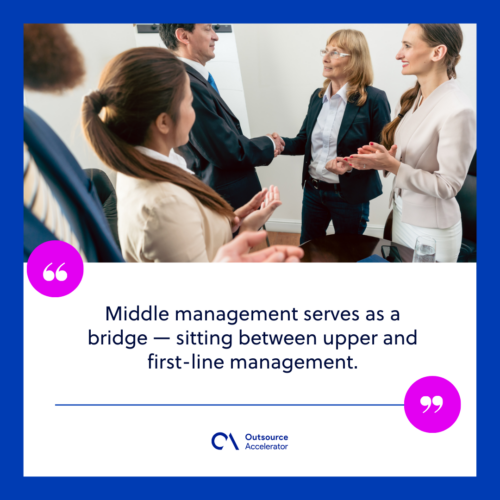 First-line management
First-line managers, also called entry-level managers, hold a crucial intermediary position within the corporate hierarchy.
They are responsible for directly managing and overseeing workers to ensure company objectives and plans are efficiently implemented.
Entry-level leaders are the closest to the operational activities of the organization. They primarily focus on internal issues, being the first to identify and address operational challenges.
First-line management typically holds the following positions:
Assistant managers

Shift managers

Foremen

Section chiefs

Office managers
Entry level
At the base of the business hierarchy are entry-level employees. These individuals join the company in various roles and gradually progress through the ranks.
Entry-level workers perform operational tasks, contribute to team productivity, and often serve as a talent pool for future organizational leaders.
Is having a corporate hierarchy important?
Having a well-defined corporate hierarchy holds several key benefits for organizations:
Clear chain of command
A clear hierarchy streamlines decision-making processes. It allows for faster responses and smoother communication. This empowers leaders to make informed choices promptly, keeping the business agile and adaptable.
Accountability and responsibility
Corporate hierarchy ensures every individual has specific roles and responsibilities. It helps avoid confusion and overlapping of duties.
Having a clear structure also creates a sense of accountability. Each level should understand their obligations and how they contribute to the company's success.
Effective communication
A structured hierarchy encourages effective communication channels. Clear reporting lines and defined roles aid in disseminating information accurately.
This allows efficient collaboration among teams and departments.
Career progression
A hierarchical structure provides a clear career path for employees. By understanding the different levels and requirements, individuals can set goals, acquire relevant skills, and progress within the organization.
Organizational stability
A well-defined hierarchy brings stability by establishing order and structure. It ensures optimal resource allocation, minimizes conflicts, and supports the efficient execution of tasks and projects.
For instance, take Company X, which lacked a clear corporate hierarchy. Its employees felt disoriented, decisions were delayed, and accountability was blurred.
After implementing a well-defined organizational structure, the company experienced improved communication, faster decision-making, and increased employee satisfaction. It heightened the firm's productivity and profitability as well.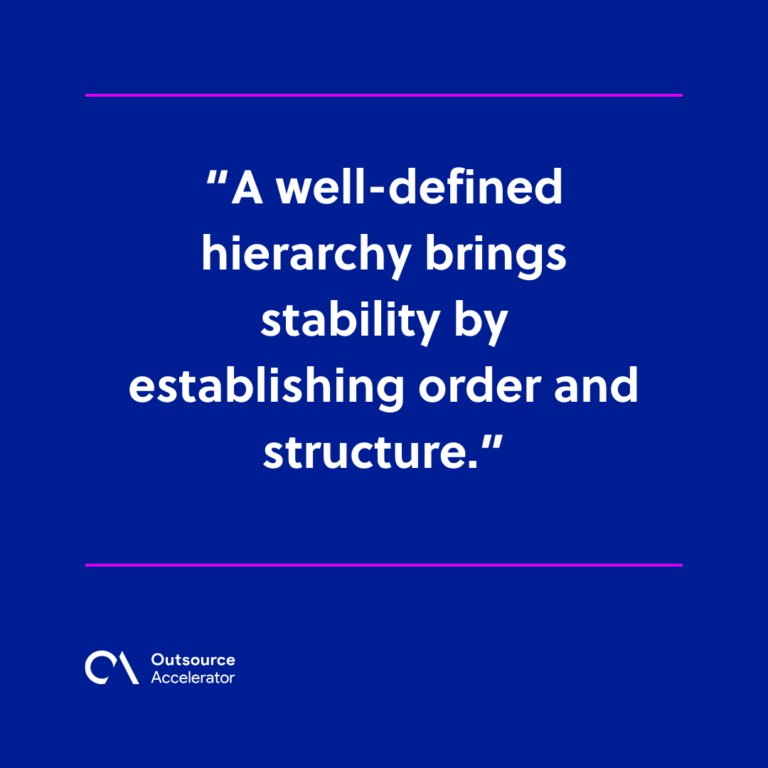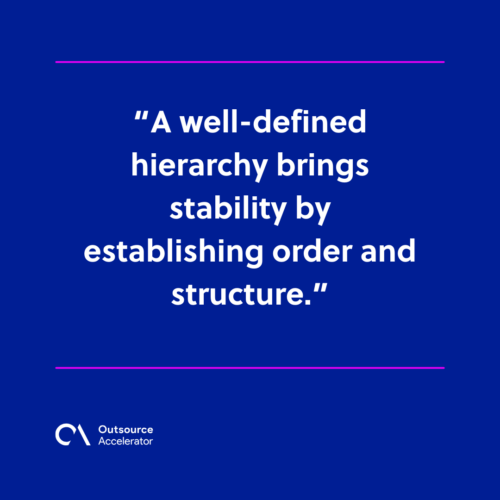 Significance of corporate hierarchy in organizational success
Ultimately, corporate hierarchy is not just a concept but a vital component of any successful organization.
It ensures that a company functions like a well-oiled machine, with each individual contributing to the overall success. It's a framework that stands the test of time and remains relevant in the digital era.
Corporate hierarchy is not just about who reports to whom but about how a business thrives, evolves, and achieves its goals.
With a robust organizational structure in place, companies can rise above the competition and achieve long-term success.