Top 10 consulting software your business needs in 2023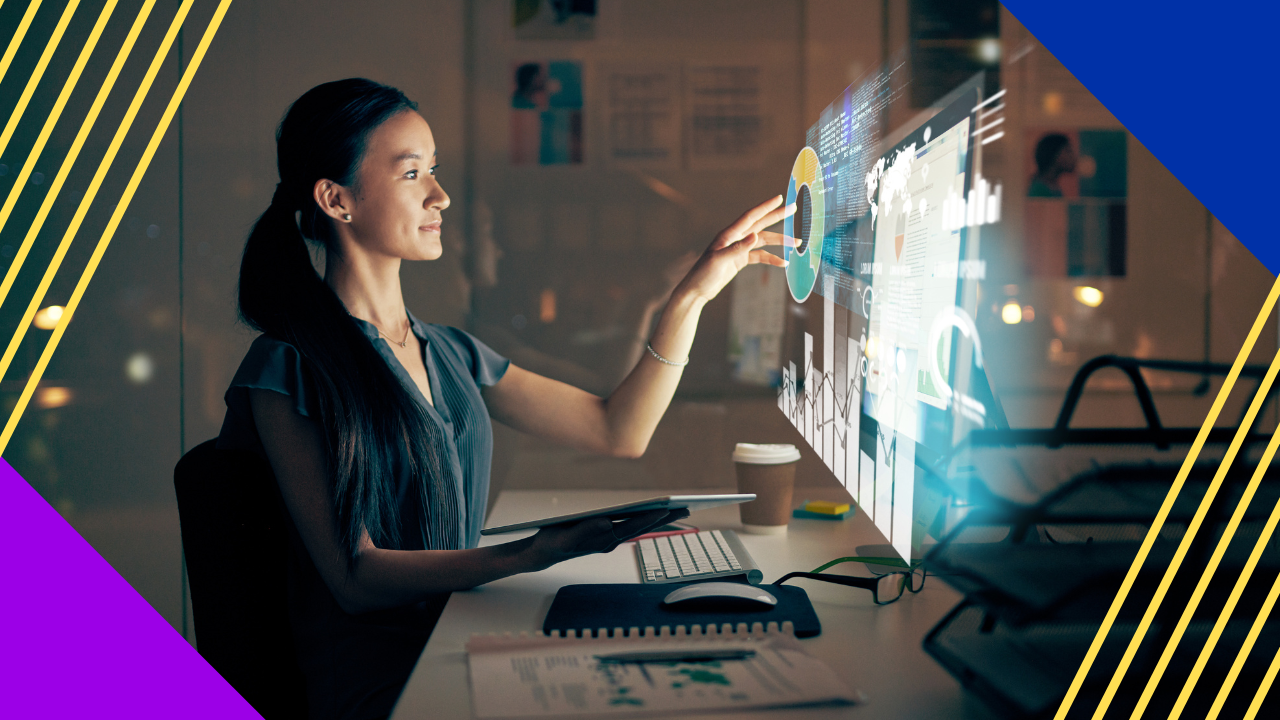 Consulting software has emerged as a vital tool for businesses, offering many features and functionalities to streamline workflows, improve communication, and drive success. If you are looking for consulting software for your firm, we have listed the top 10 solutions you should try in 2023.
Why use consulting software?
Consulting software usually covers various tools in certain aspects, including project management, time tracking, and customer relationship management (CRM). Especially when running a digital firm, you could benefit from using consulting software solutions for the following reasons.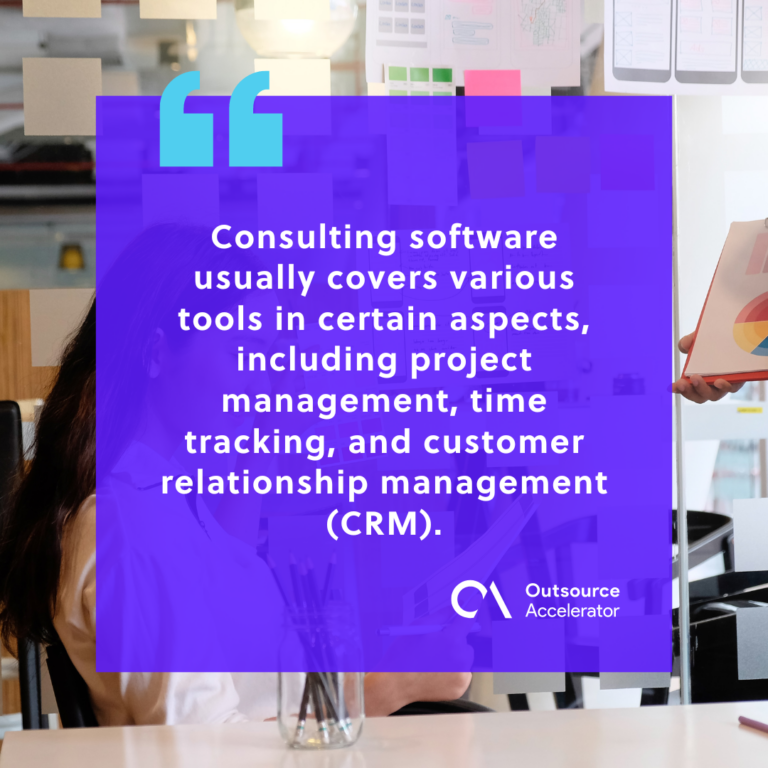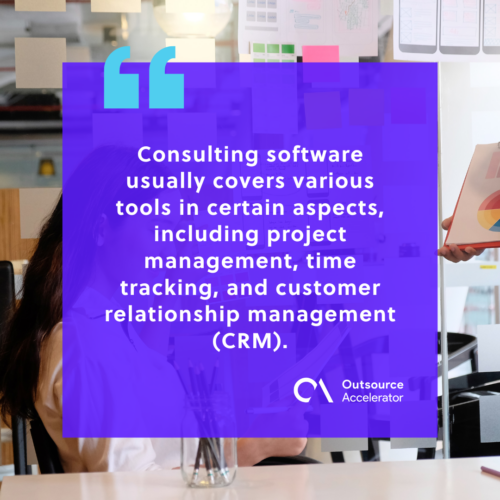 Increased efficiency and productivity
Consulting software solutions let you automate manual tasks and streamline project management processes. With these tools, your team can work more efficiently, saving you time and resources while maximizing productivity.
Enhanced collaboration and communication
Effective communication is crucial for any successful consulting project. Consulting software platforms provide centralized communication channels, task assignment capabilities, and collaboration tools. This makes it easier to accommodate seamless teamwork, whether your team is in the office or working remotely.
Accurate decision-making
Consulting software offers robust reporting and analytics, allowing you to derive accurate insights from your company data. You can leverage them to make informed decisions, identify trends, and optimize strategies to help you achieve better results.
Scalability and customization
Consulting software solutions are designed to be scalable and customizable. This allows you to adapt and tailor the software to your specific needs. Additionally, you can ensure the software remains aligned with your changing needs.
Client relationship management
Consulting software often includes customer relationship management (CRM) functionalities so you can manage and nurture client relationships effectively. These tools help organizations track interactions, manage leads, and provide personalized experiences, ultimately enhancing client satisfaction and loyalty.
10 Consulting software your business needs in 2023
Check out the following consulting software solutions your business needs in 2023.
Asana is a project management software that simplifies project management in the form of checklistst. It covers features such as task management, team collaboration, and progress monitoring made in an easier way.
NetSuite is a one-stop solution that combines ERP, CRM, and e-commerce features, making it a total game-changer. Say goodbye to juggling multiple systems and hello to real-time reporting and advanced analytics that help you track your performance effortlessly.
Monday.com is a multi-purpose work operating system enabling teams to organize projects, measure progress, and collaborate in a presentable and user-friendly interface. It has process customization and automation options, allowing teams to operate smarter and more efficiently.
Smartsheet is a game-changing project management tool that empowers businesses to effortlessly plan, track, and control projects in real-time. With Smartsheet, you get task dependencies, Gantt charts, and resource management all in one powerful package. Stay on track, meet deadlines, and collaborate seamlessly with your team.
Salesforce is a top CRM platform that offers complete tools for customer relationship management, sales processes, and marketing campaigns. This CRM platform is packed with features like lead management, pipeline tracking, and customer support, making it a must-have for consulting businesses.
Pipedrive is a CRM software designed specifically for sales teams. It offers a simple and intuitive interface, pipeline management capabilities, and customizable sales processes. Pipedrive empowers sales professionals to track deals, manage contacts, and close more deals effectively.
HubSpot is an all-in-one marketing, sales, and CRM platform that assists teams in attracting, engaging, and delighting consumers. It provides email marketing, social media management, lead generation, and customer care solutions in one place to enhance customer experience across their entire journey.
Hootsuite is a powerful social media management software that enables organizations to efficiently manage their online presence across different platforms. It includes tools like content scheduling, social media listening, and analytics. Consulting firms may use Hootsuite to efficiently plan and execute their social media strategy, communicate with their audience, and track the performance of their campaigns.
Buffer is another effective social media management tool that streamlines the process of scheduling and delivering content across several social media networks. It has an easy-to-use interface and allows businesses to plan and arrange their social media material ahead of time.
Slack is a leading team communication platform that facilitates internal communication within organizations. It offers real-time messaging and collaboration organized through different channels, making it ideal for consulting firms that require seamless communication among staff. Slack integrates with various tools and services, allowing businesses to streamline workflows and centralize communication channels.
Finding the best consulting software for your company
Selecting the right consulting software for your company can significantly impact your business operations and overall success. To find the best software solution that aligns with your specific needs, consider the following factors:
Define your requirements
Before exploring different software options, clearly define your consulting needs and goals.  Determine the specific functionalities and features that are essential for your business. Assess your pain points and areas where software can help improve efficiency and productivity.
Research and compare
Conduct thorough research on various consulting software solutions available in the market. Evaluate their features, scalability, user-friendliness, integration capabilities, and customer support. Read reviews and seek recommendations from industry peers to gain insights into the software's performance and suitability for consulting businesses.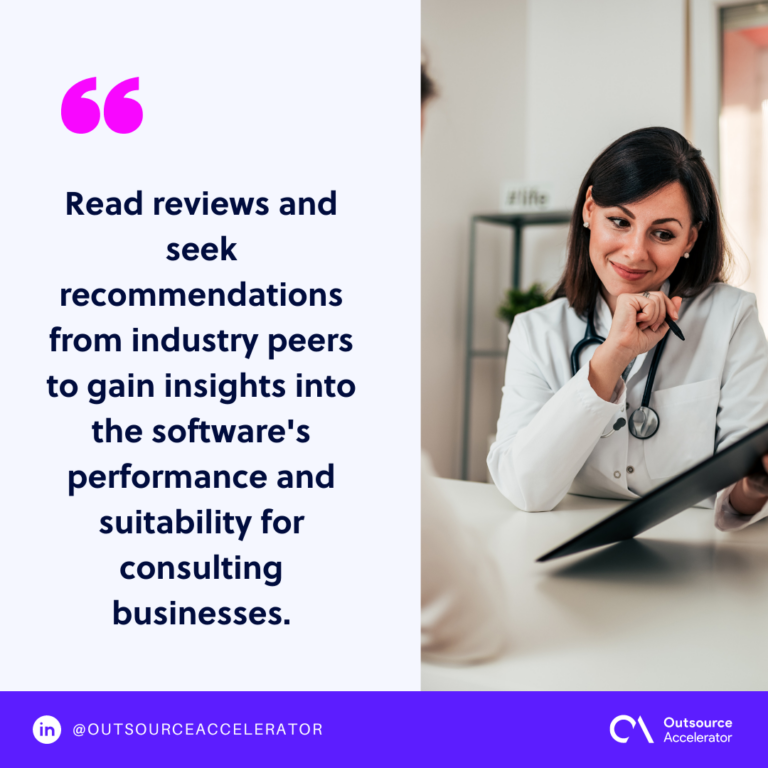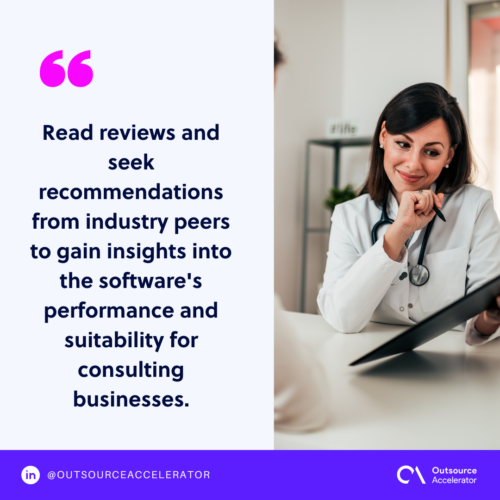 Consider scalability and customization
Choose a consulting software that can scale with your business as it grows. Ensure the software allows customization to adapt to your unique workflows and processes.  Consider future expansion plans and select a solution accommodating your evolving needs.
Check the integration capabilities
Check the software's integration capabilities with other tools and systems your business relies on. Seamless integration with existing software infrastructure ensures smooth data flow and eliminates data silos.
Consider user experience and training
Consider the user experience and ease of adoption for your team. A user-friendly interface and intuitive navigation are crucial for efficient onboarding and user satisfaction. Assess the availability of training resources and support from the software provider to ensure a smooth transition and ongoing support.
Cost and return on investment
Evaluate the pricing structure and licensing options of the consulting software. Consider the potential return on investment and the long-term value the software can bring to your business. Compare pricing plans, considering both immediate costs and future scalability.