Bolster your talent retention with ConnectOS consulting services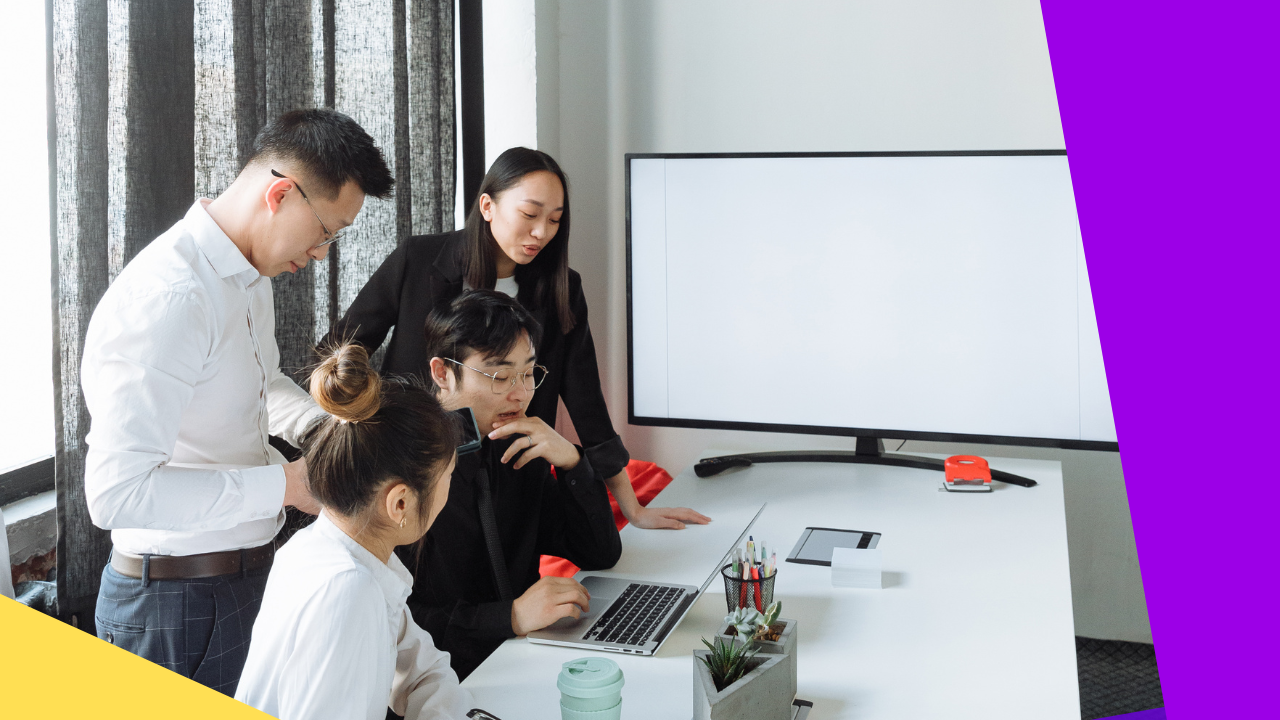 Bolster your talent retention with ConnectOS consulting services
Keeping employees happy and engaged is a universal challenge for businesses today. Good employees aren't easy to find and, often, harder to keep. With unemployment rates at record lows in nearly every market, employees are quick to jump ship when the prospect of a better opportunity is presented.

People managers are struggling to balance increasing employee expectations of purpose, flexibility, and career opportunities with soaring salary demands from in-demand talent – and that's assuming they're able to find the skills they need in the first place.

The cost of replacing employees can be high. According to a study conducted by Gallup, the cost of replacing an employee can be double the employee's annual salary.  
Many companies are now adapting a global hiring approach to address this problem. Partnering with an offshoring provider broadens the hiring pool and can provide resourcing strategies tailored to meet the needs of the business.

Offshore consulting services are a viable way to reduce costs. Offshore consultants typically offer extensive experience and knowledge in their fields, help clients improve their recruitment and operational strategies, increase productivity and reduce inefficiencies.
ConnectOS is a leading Integrated Resourcing provider, helping businesses augment their onshore employees' skills to reduce turnover, source hard-to-find skills, and keep the company competitive.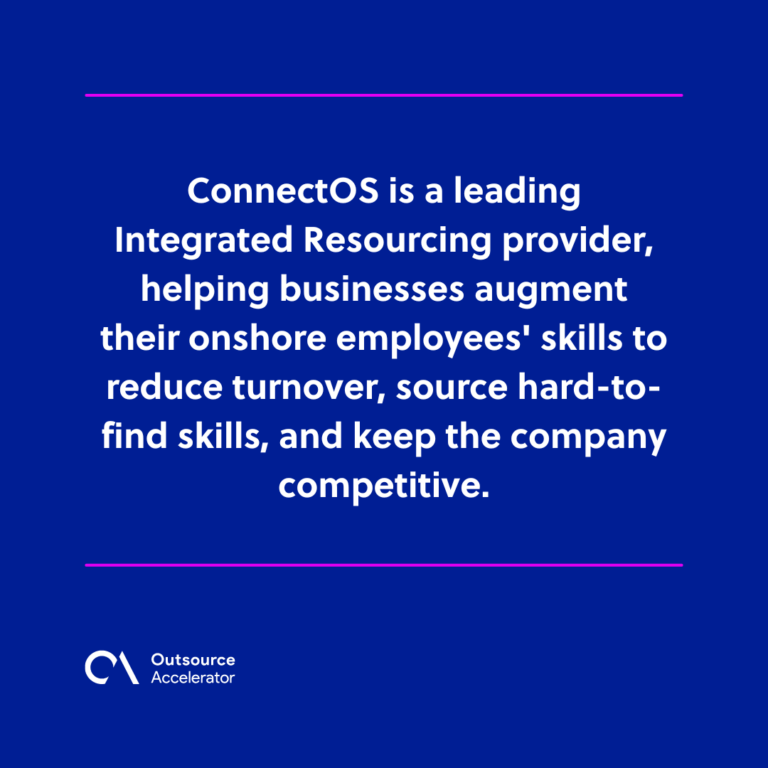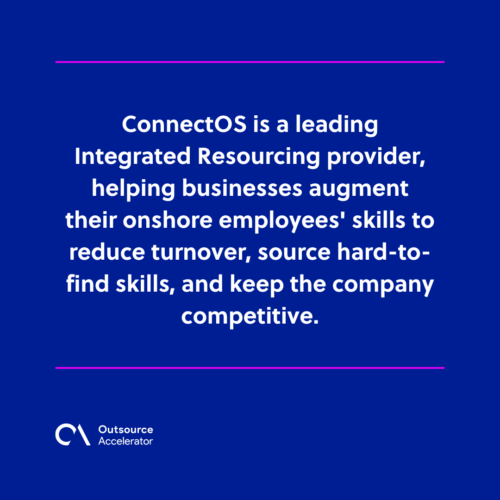 How offshore consulting services work
Traditional business process outsourcing (BPO) firms focus on filling vacancies and bulk hiring low-skilled skilled staff who often work for multiple clients. By contrast, Integrated Resourcing offers business consulting and specialist recruitment services as a complete solution.

ConnectOS offers everything from strategy to operating model development to specialized hiring and all ongoing support. Firm, hand-selecting the right employee for each role. 
Hand-selected talent is onboarded as a seamless extension of your core team – the only difference is that they attend meetings on Zoom or Teams. You manage their day-to-day work and outputs as you would with any other employee. 
How do offshore consulting services help with your talent retention?
Talent retention is an important part of any business's success. If you're looking for ways to keep your employees long-term, here's how offshore consulting services can help you:
Benchmark your talent retention efforts
One of the first things that consulting services providers will do is to measure and compare your current practices against other companies in similar industries – and assess against best practices.
Develop a talent acquisition strategy
If a business wants to improve its employee retention rates, an effective talent acquisition strategy in place for recruiting new talent is essential.
Consulting services can help develop a plan that will allow you to attract and retain the best employees in your field.
Establish a retention management strategy that works
A multi-faceted approach to retention is non-negotiable in tackling today's skills crisis. 
Competitive remuneration is only one piece of the puzzle: employees expect learning and development opportunities, career development, a supportive culture and great leadership. 
Offshore consulting companies can help businesses develop and implement a retention strategy aligned to your company's specific outcomes. 
Consulting experts can take an objective look at your current talent retention strategies and tweak them accordingly to boost your employee retention rate.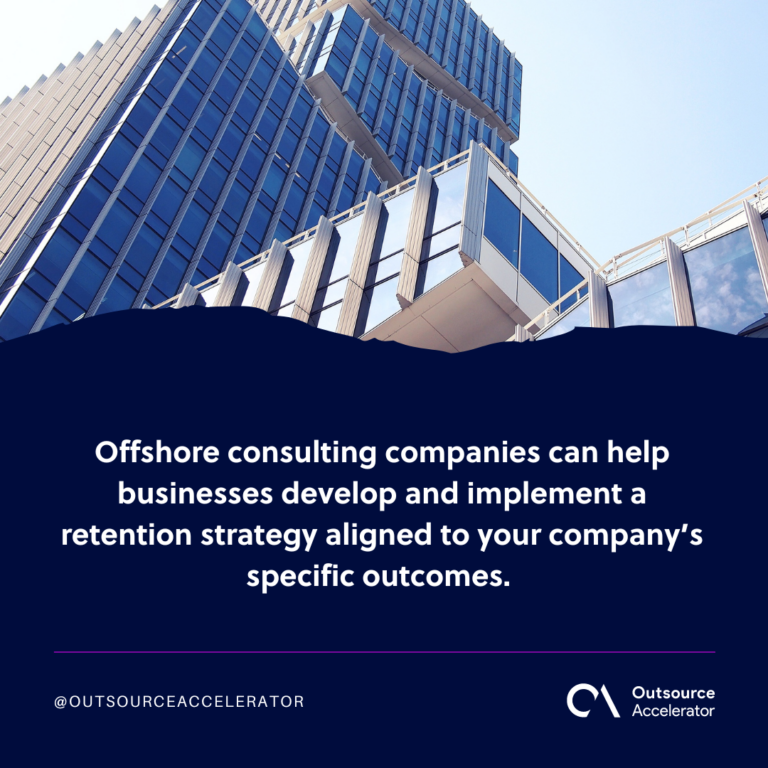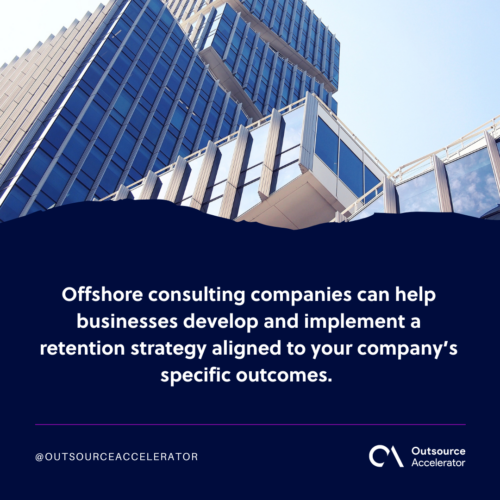 Improve talent retention with insights from ConnectOS' consulting experts
ConnectOS is one of the market's leading offshore consultancy providers and a #1-rated employer of choice. They consistently perform above industry benchmarks and offer access to a world-class talent pool.
Their team of experts can help you develop the right strategies to attract and retain top talent, so your organization can continue to grow.  
Contact ConnectOS today to find out how their experts can help you.