5 innovative communication games to level up your next virtual team building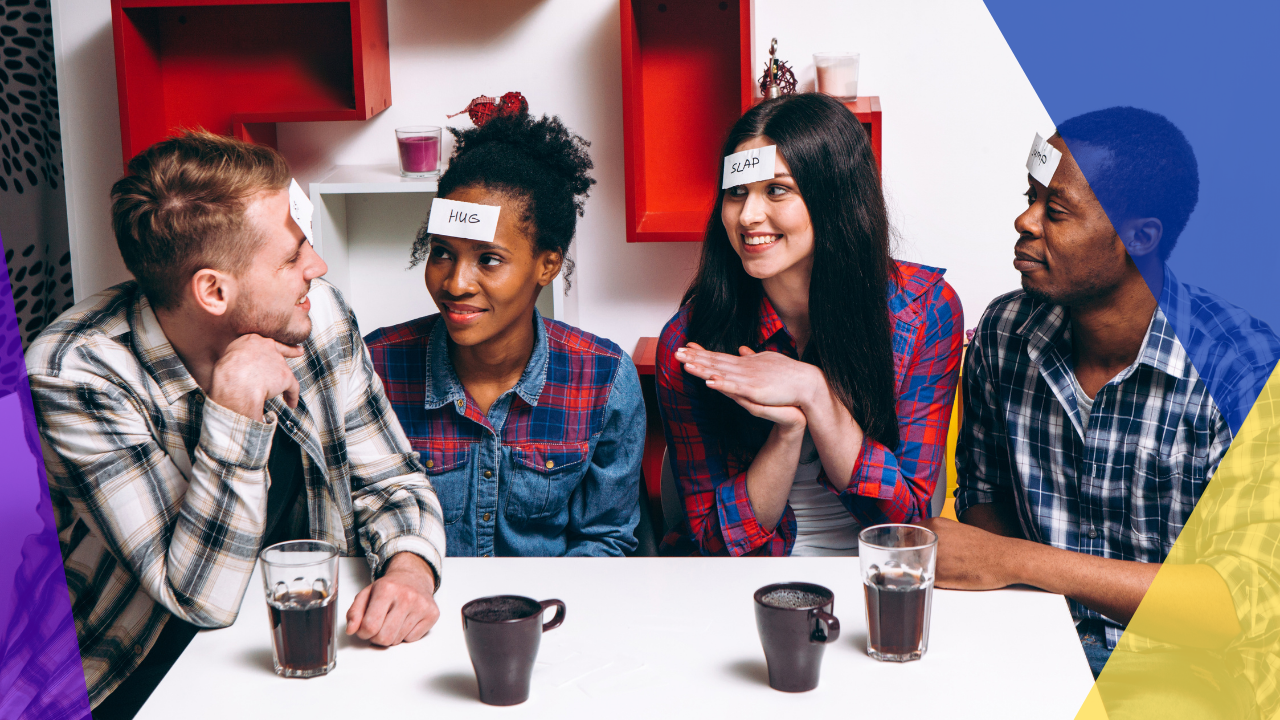 It is safe to say that nearly all organizations across the globe were not ready to fully adopt a work-from-home setup. One of the main challenges of remote teams is proper communication. 
We indeed have the convenience of technological tools and equipment nowadays. However, talking physically with your team is different from conversing over the phone, text, and other communication channels. 
This is why it is highly recommended for remote teams to conduct virtual team buildings regularly. This activity helps your remote workers to enhance communication within the team. Thus build employee relationships and trust, mitigate conflicts and boost each remote staff's creativity. 
To make your virtual team buildings fun and more interactive, mix them with some communication games. This ensures that each staff will have the opportunity to engage with everyone and enjoy themselves.  
How communication games can benefit your remote team
It is hard enough to maintain your daily operations running smoothly while working from home. This is why your remote team has to be synchronized and can effectively work together.
Incorporating communication games in your next virtual team building can help you with the following: 
Productivity
Communication games help promote effective communication. It lets you create a kind of working environment wherein everyone can express concerns, ideas, and suggestions freely.
As a result, your remote team will be comfortable enough to take in responsibilities and creatively contribute to brainstorming ideas.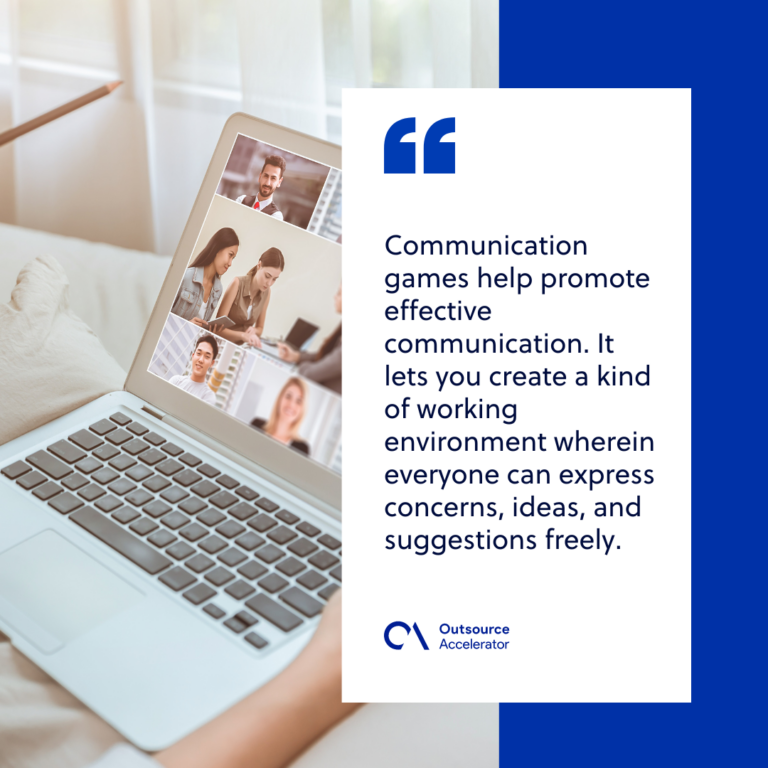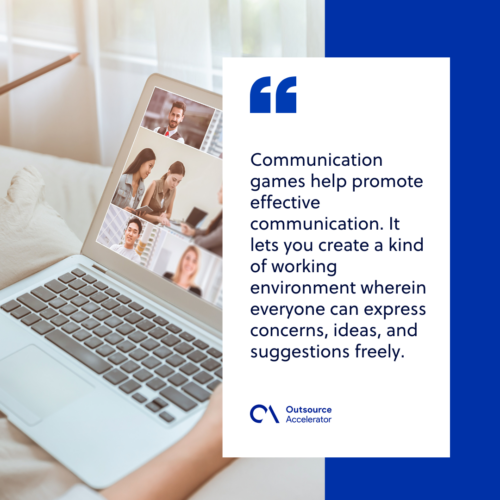 Alleviates conflicts
Through communication games, it helps your staff to get to know each remote team member better.
It creates a bond between the team in a manner that everyone understands one another. This helps avoid conflicts and misunderstandings in the entire remote team. 
Fuels growth and innovation 
Establishing good communication within your team will help it foster growth and innovation. It also saves more of the team's precious time as everyone can communicate effectively. 
On top of that, it also plays a big part in your employee retention and at the same time, it uplifts your employees' morale. 
Five communication games you can use on your next virtual team building 
Now no need to worry about coming up with communication games you can utilize on your next virtual team building.
Here we have listed five innovative communication games for your remote team: 
MTV cribs: Remote team edition
This game is inspired by the American TV show MTV Cribs. In this communication game, each remote employee has to make a video presentation showcasing their homes. 
MTV Cribs: Remote team edition allows you and your team to take a look into the personal lives of each of the staff. It is also a great way of getting to know each remote coworker better. 
Icebreaker questions
Icebreaker questions are also a fun activity to try to get to know each colleague more. This can be done at the start of a meeting or virtual team building. 
You may start by asking each team member's name and position in the company. Then follow up with specific questions that will lead them to share about themselves.
Here are some examples of icebreaker questions:
What did you eat for breakfast this morning?

How do you stay motivated and productive while on

remote work

?

If you're given the opportunity to learn one new professional skill, what would it be? 
Give each member specific time to answer and make sure everyone will be given their moment talk.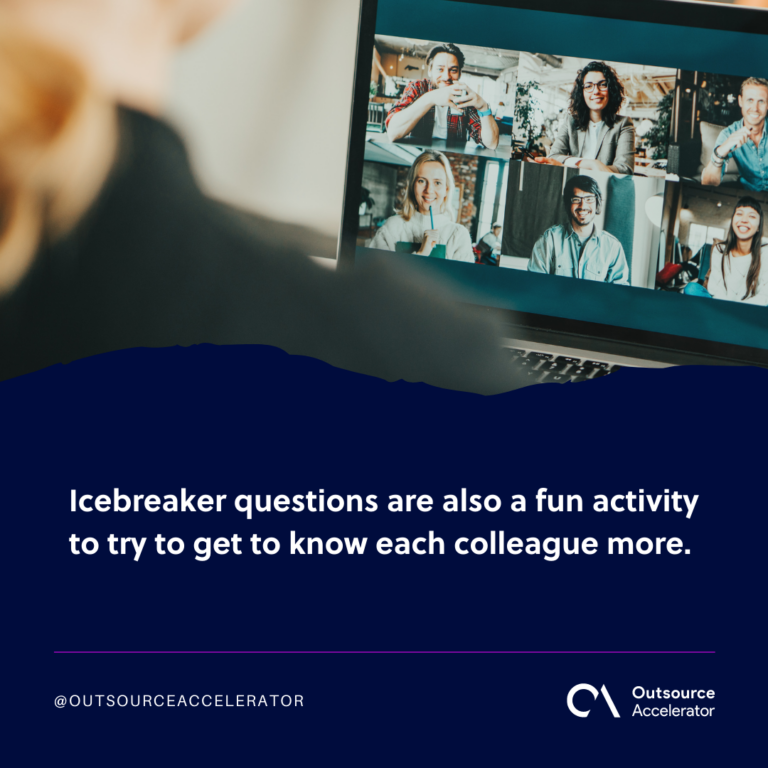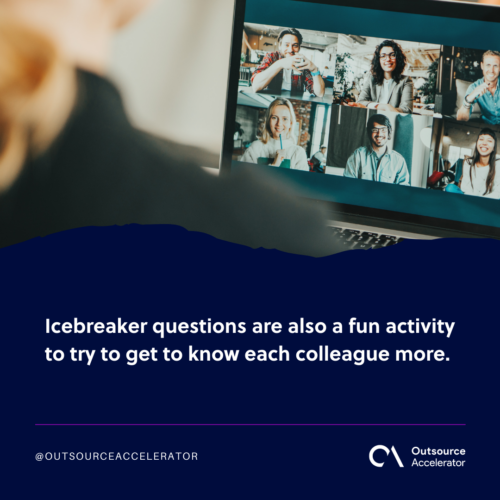 Truths and a lie
This communication game is perfect for new members and new remote teams. This game is a good way for each new member to introduce themselves while making it fun and interactive. 
The mechanics for this game are very simple. Each member must share three truths about him or her and one lie. Other team members should then be able to point out which among the given statements is the lie. The one who guesses the correct answer will earn a point. 
Pictionary
In this communication game, you will need to use an application to play. One example of this game is Skribbl. Note that you need to create a virtual room and have all your remote team members join before playing. 
Each team member will be given a word to doodle. The team member has to draw the given word at a given time and the rest has to guess the word. All team members who guessed it right will be given a point. 
Virtual escape rooms
Virtual escape room games are famous online games for groups. Just like Pictionary, you will also be required to use an app or another website to play the game. 
In a virtual escape room, you and your team will go through different rooms, answer questions, solve puzzles, and more. Completing all these lets you solve mysteries or murders and escape in time. 
There are tons of ways you can make your virtual team building alive and fun besides communication games. 
Moreover, you also have plenty of options for communication games online. There are innovative games that you can play for free. If you have an extra budget, you can also utilize paid interactive games for your next virtual team building.