Who is the chief of staff?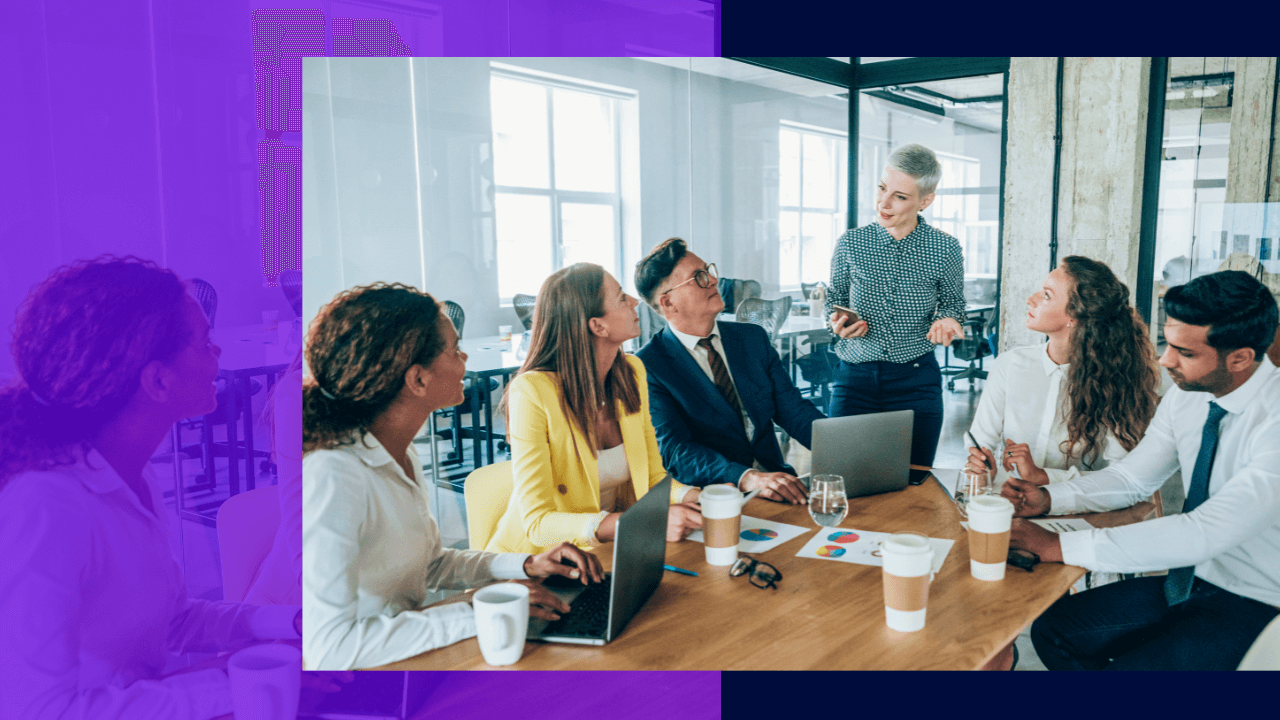 In every organization, the chief of staff (COS) is one of the most critical roles.
A COS acts as a key advisor to the CEO and provides executive support to the senior leadership team. This role is becoming increasingly important in today's business environment as a way to keep up with the competition.
In this article, let's find out who is the chief of staff, including the duties and responsibilities.
What is a chief of staff?
The chief of staff supports executives in a business by liaising between the CEO and senior executives, managers, board members, and other key stakeholders.
The COS role is not industry-specific and can be found in various industries, such as finance, healthcare, education, and more.
The chief of staff is a high-level executive position compared to an executive assistant. With this, the person who occupies it must possess strong leadership skills and excellent communication and organizational abilities.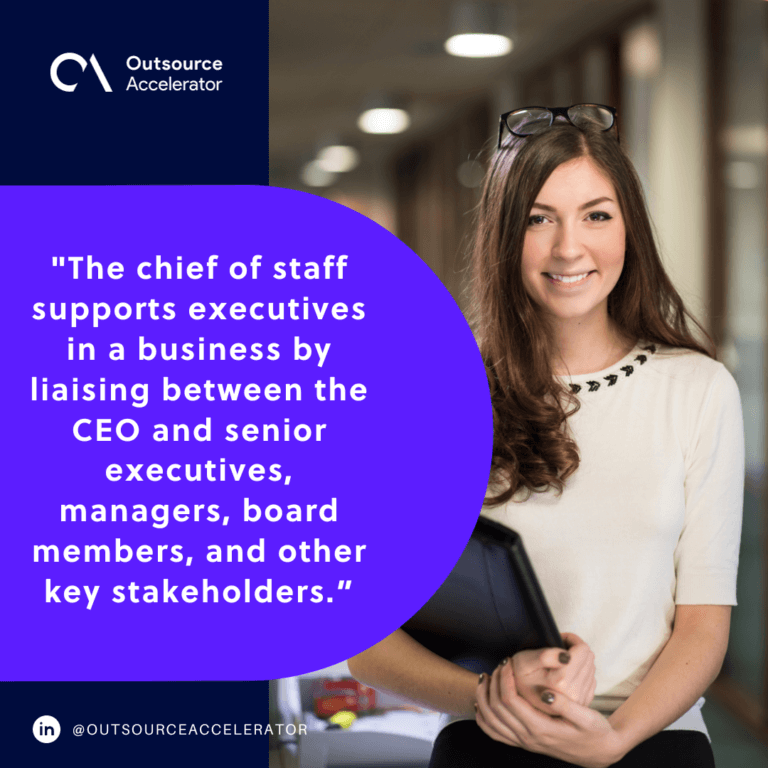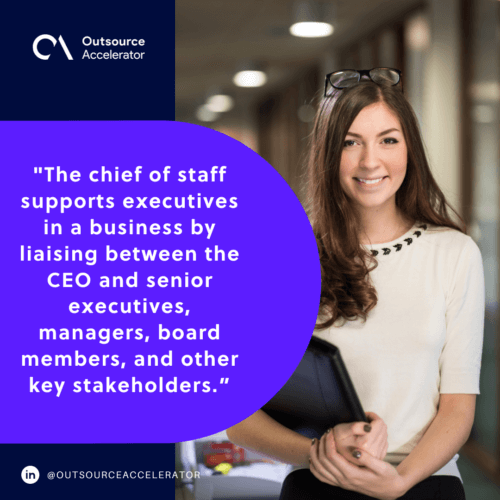 Benefits of having a chief of staff
There are various benefits of having a COS in your organization. Here are three:
Improved efficiency
One of the primary benefits of having a chief of staff is improving your organization's efficiency. They are skilled in streamlining complex systems and assessing current structures, reducing redundancies and improving your overall effectiveness.
Clarity and focus
A chief of staff can help the CEO and other executives focus on long-term goals. 
Cross-organizational collaboration is essential in companies with many departments to ensure the company remains competitive. A COS can help facilitate that collaboration by ensuring the company's priorities align with its mission.
Enhanced decision making
Chiefs of staff are skilled problem solvers with a unique ability to analyze complex problems. They can provide valuable insights that influence executive decision-making.
With a keen eye for detail, they can spot potential problems before they happen and develop plans for resolving them.
Duties and responsibilities of a chief of staff
Here are five general responsibilities of a chief of staff:
Strategic planning
Chiefs of staff are responsible for developing strategic plans.
They work closely with senior management to identify the company's objectives, develop specific goals, and create metrics for performance measurement.
They ensure that the organization remains competitive in the market and achieves its goals.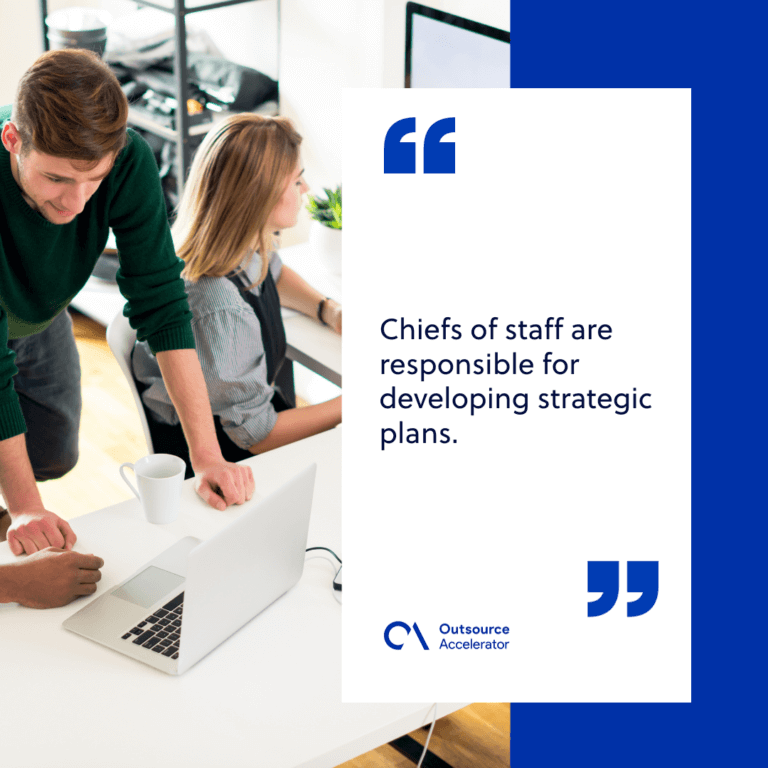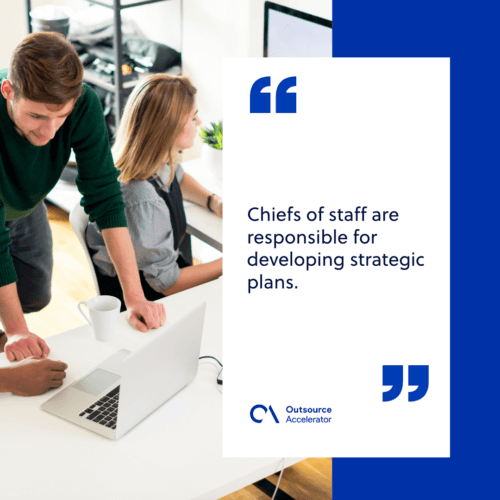 Communication management
A chief of staff is responsible for drafting correspondences, preparing speeches, and ensuring executives are prepared for meetings.
This specialist manages communications between the CEO and other stakeholders. COS serves as a liaison between the organization and executives within and outside the organization for proper coordination.
Organizational management
Chiefs of staff ensure that all departments function correctly by identifying bottlenecks and redundancies and recommending improvements. They guarantee that departments remain aligned and focused on company objectives.
Risk management
When it comes to risk management, a chief of staff helps identify potential risks and develop plans to mitigate them.
COS also has contingency plans to deal with unforeseen events, ensuring the company remains prepared in any circumstance.
Project management
A chief of staff manages special projects, ensuring they achieve their objectives within the expected timeline.
This expert professional ensures that team members are on track with their assigned responsibilities and that resources are appropriately allocated.
Skills and qualifications to look for in a chief of staff
To be a successful COS, one must possess diverse skills and qualifications. Here are four must-have critical attributes:
Strategic thinker

. An effective COS must be able to

analyze organizational data

, determine areas of weakness, and recommend changes.

Multitasker

. A chief of staff is an effective multitasker, maintaining focus and discipline while juggling multiple tasks.

Maintains honesty and integrity

. Effective COS should maintain the highest standards of honesty and integrity. They should be able to communicate truthfully, even in difficult situations.

Collaborative

. A chief of staff should be collaborative and able to work with team members, stakeholders, and partners to achieve common objectives.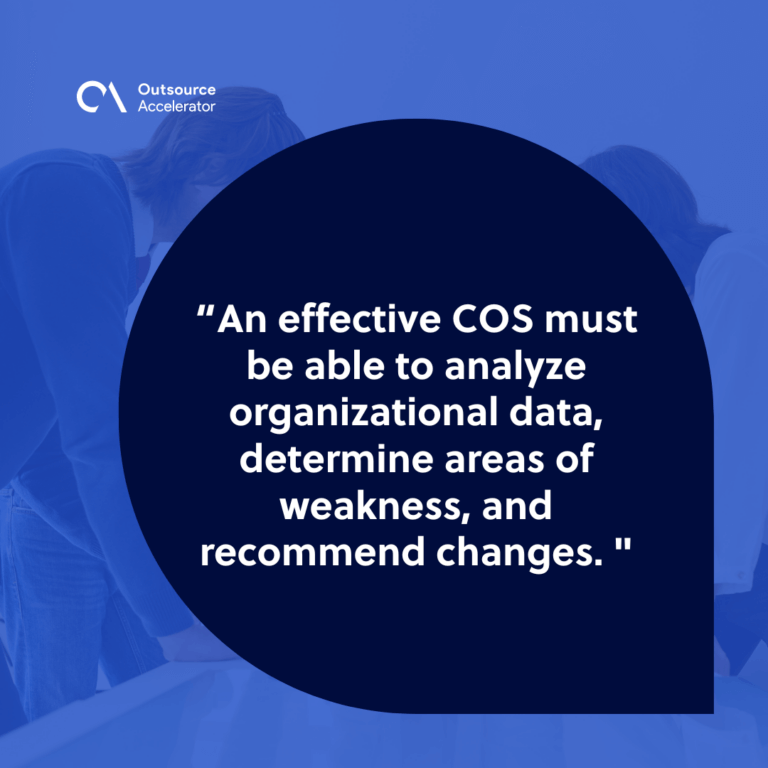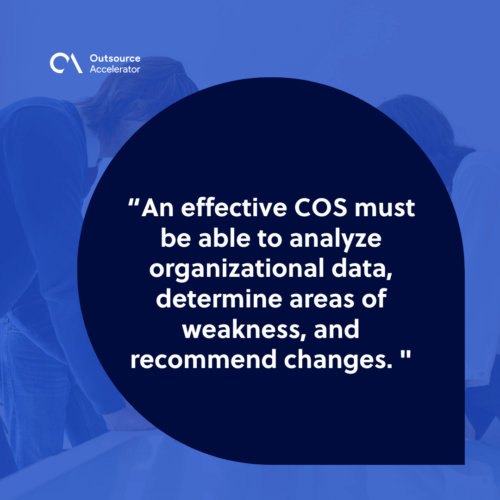 When to hire a chief of staff
There are different contexts when it is advisable to hire a chief of staff for your organization.
High-growth phase. Companies experience growing pains due to too much work with few people or unclear organizational objectives. A COS can assist the company and its leaders in addressing these challenges, ensuring that the company continues growing.
Leadership transitions. A new CEO often brings new priorities and objectives, requiring a thorough analysis of the company's operations. A COS can ensure that the new vision for the company aligns with existing operations.
Industry disruptions. In a rapidly changing industry or a market disruption, a COS can help an organization to pivot its operations, restructure, and remain competitive during the transition.
Organizations can benefit significantly from having a chief of staff to help them keep up with the fast pace of competition. 
Specifically, they should consider hiring a COS in high-growth periods, leadership transitions, and industry disruptions to ensure organizational success.