Chatbot for healthcare in the digital world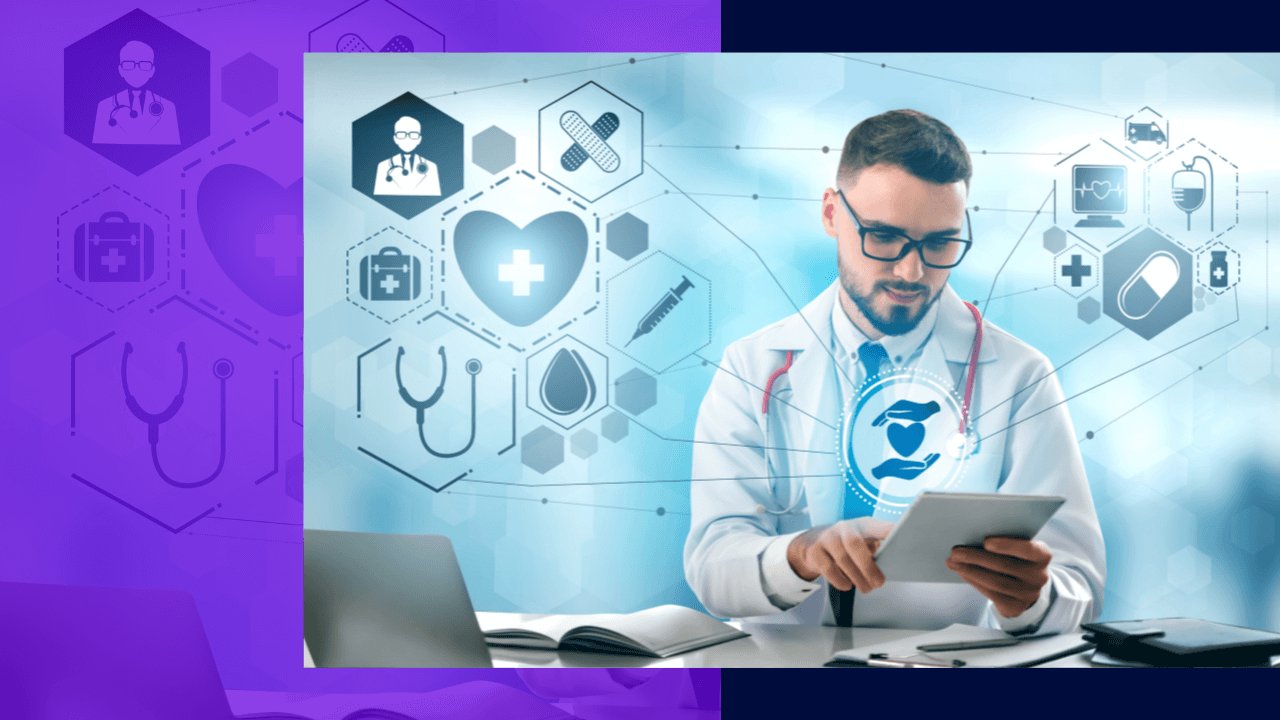 The onset of the COVID-19 pandemic has turned the world into everything digital. Everything is suddenly right before your eyes, inside a mobile device, and just a simple click away.
For the healthcare sector, they developed a new program to assist patients with mild to urgent needs: a chatbot. This is a software created with machine learning algorithms that render natural language processing (NLP).
Healthcare providers are beginning to invest in these AI-enabled tools due to their effective cost-cutting measures and accuracy in aiding users with their medical concerns.
For the past years, chatbots for healthcare have continued to connect patients with hospitalists for general diagnosis and treatment.
With the ever-evolving technology, medical chatbots utilized in digital healthcare services and healthcare systems can be further upgraded into smarter and more complex software. These chatbots will dominate the industry and be the future of medical assistance.
What is a chatbot in the healthcare system?
In the healthcare system, chatbots are mainly used to detect symptoms and issues, provide medications, and guide in scheduling patient appointments with physicians without needing to travel to the hospital.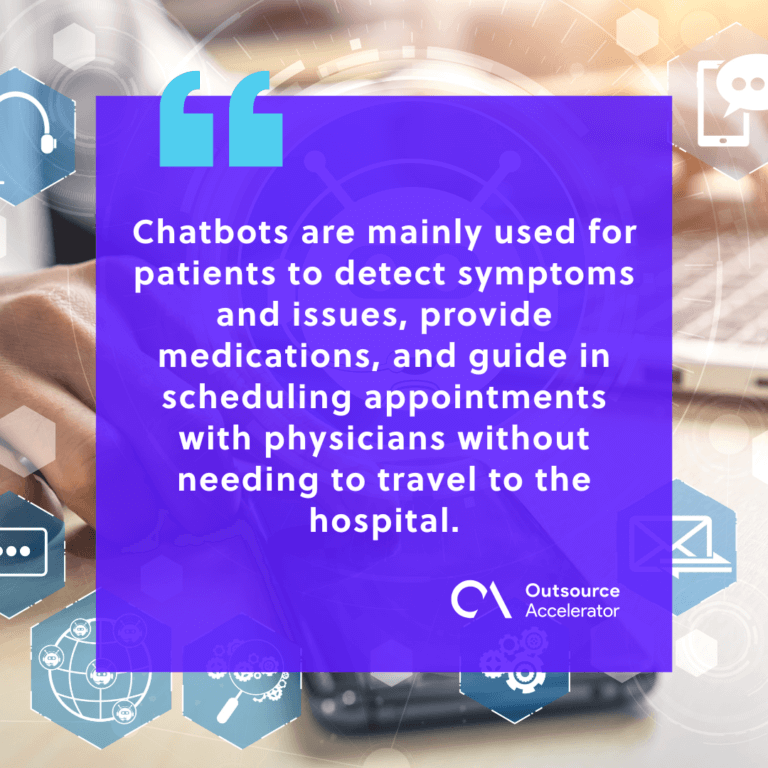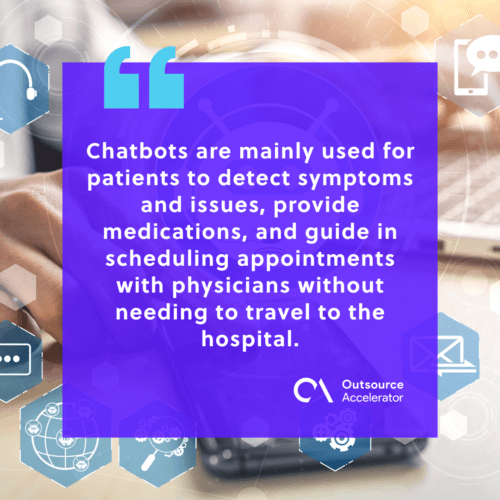 AI tools used in chatbots for healthcare have provided significant growth in the sector and convenience to users.
How does it exactly work? 
Medical chatbots assist healthcare professionals by accessing and analyzing a patient's medical history, enabling more informed and personalized care decisions.
The program used in chatbots for healthcare provides ease to patients.
Artificial intelligence is programmed with an in-depth algorithm to respond conversationally to simulate real, human-like interaction and express empathy to users. This technological advancement even reveals that nearly 60% of users are enjoying using it.
Advantages and disadvantages of chatbots for healthcare
Chatbots for healthcare also have advantages and disadvantages to assess:
Advantages of chatbots in healthcare
Outlined below are the benefits of using a medical chatbot:
Availability
Emergencies can occur any time of the day, and your resident physician might not be available to tend to each of them.
This is why chatbots are available around the clock to accommodate patients with their basic needs. From late appointment scheduling to urgent medical needs, chatbots are just a message away every time.
Cheaper in all sense
Chatbots are relatively cheaper in cost because it lessens the demand to acquire more manpower and avoid overhead expenses. Since they are AI-generated programs, medical chatbots can already disseminate basic information and fulfill tasks without the intervention of humans.
One way of saving money is outsourcing chatbot development. There are numerous talented professionals who deliver quality work at an affordable rate. This is more budget-friendly than hiring an in-house employee.
Rapport-oriented
In healthcare, empathy is an important practice to maintain positive patient engagement. It alleviates the heavy weight of diseases, sicknesses, and treatments. This also contributes to an excellent patient experience.
When utilizing a chatbot to converse with patients, a warm and friendly approach can instantly build rapport that will definitely come in handy when pointing out symptoms, predicting diagnoses, or digging up medical records.
Chatbots for healthcare are programmed to be rapport-oriented to ease the doubts of patients and provide a sense of company, even only on digital platforms.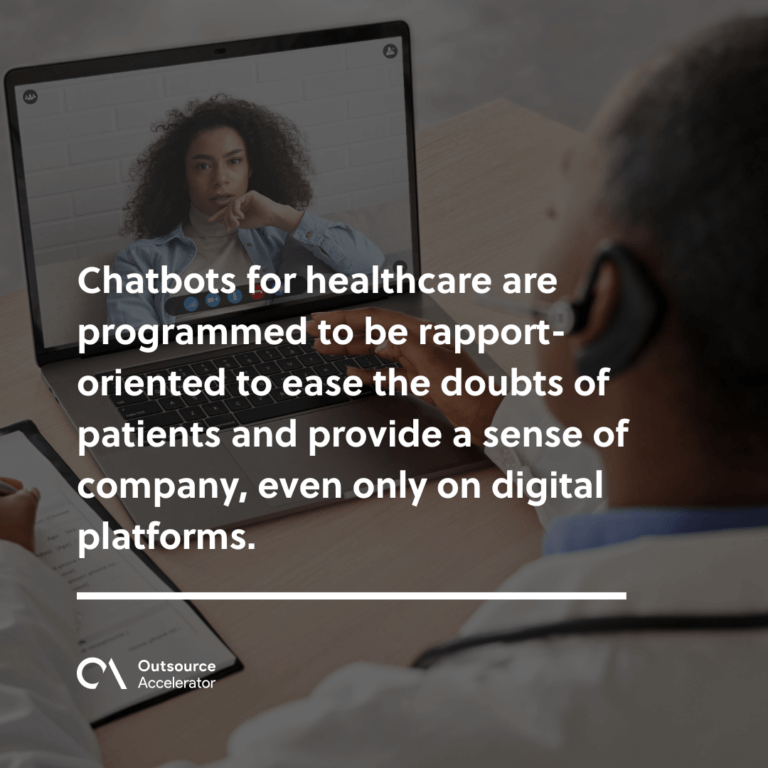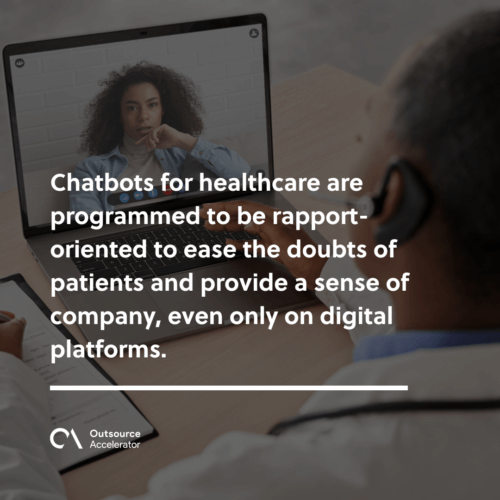 Disadvantages
A healthcare chatbot also has its own set of cons. Medical professionals should be aware of the following:
Data exposure
The innovations of technology can also pose risks in some instances. With the prevalence of hackers, information disclosed in chatbots can be leaked without the consent of users.
Counteract this by assuring patients on your application or website. Post a healthcare data safety measure that includes resistance to system errors or data privacy breaches.
Additionally, you can dedicate a section of your page about user privacy and explain the potential risks and how ready your team is to address them.
Trust issues
The various healthcare websites available on the internet can confuse users about which one is the most reliable when consulting about symptoms and treatments.
This creates an issue of trust between you and your users that may result in a reluctance to converse with your chatbot.
Risk of incomplete or false assessment
Remember, chatbots aren't real humans, they are just programmed to sound like one. In some instances, they can still malfunction and provide unclear or false help to users, especially when the concern is either too general or too specific.
The required assistance may not be attained and result in an incomplete or false assessment. Unfortunately, this can affect your company's reputation negatively.
Top healthcare chatbots you can try
Here are some medical chatbots that you can check out:
Specifically targeted at cancer patients and survivors, this mobile app empowers users to stray away from relapse. It offers a comprehensive list of suggested nutrition, exercises, and practices that boosts users' bodies and minds.
With One Remission, an online chatbot oncologist is also available 24/7 to cater to your patient's concerns.
Formerly known as Your.MD, Healthily provides easy navigation of their application to beginners and avid tech savvies. This app also offers a free AI-powered symptom checker that lets users be aware of their possible conditions.
Healthily provides users with a list of directories in their location when they're in need of a pharmacy, test center, or clinic.
Launched in 2016, Ada Health stands strong in the digital healthcare provider industry with a 10 million user base. This AI-generated system delivers a fast assessment based on the indicated symptoms and is one of the most popular applications on the market.
Chatbot for healthcare eases the new normal system
Life after lockdowns is now the new normal system. With digitalization and outbreaks, chatbots for healthcare are indeed the solution to provide efficient and effective service while still practicing safety measures.