Cellular network: A guide to wireless telecommunications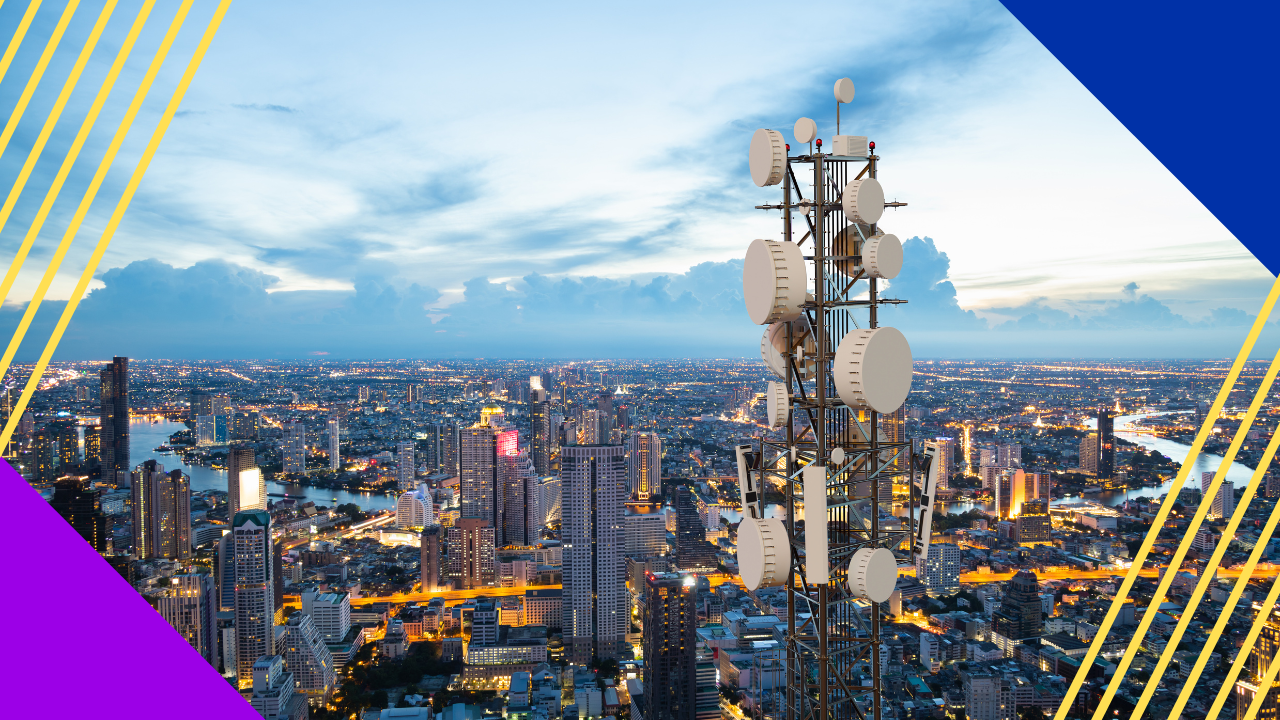 Wireless telecommunications have revolutionized how we connect and communicate in the modern world. 
At the heart of this transformation lies the cellular network. With the rise in smartphones and mobile devices, cellular networks have become integral to our daily lives.
DataReportal revealed that 5.56 billion people worldwide use mobile phones. That means just as many people are on some type of cellular network.
This simple yet comprehensive guide will explore cellular networks. Get to know this telecommunication network's components, types, features, and how it works.
What is a cellular network?
A cellular network (aka mobile network) is a communication system consisting of interconnected base stations. These base stations, often called cell towers, transmit and receive radio signals to provide wireless communication for mobile devices.
Unlike traditional landlines, cellular networks offer the advantage of mobility, allowing users to communicate virtually anywhere within the network's coverage area.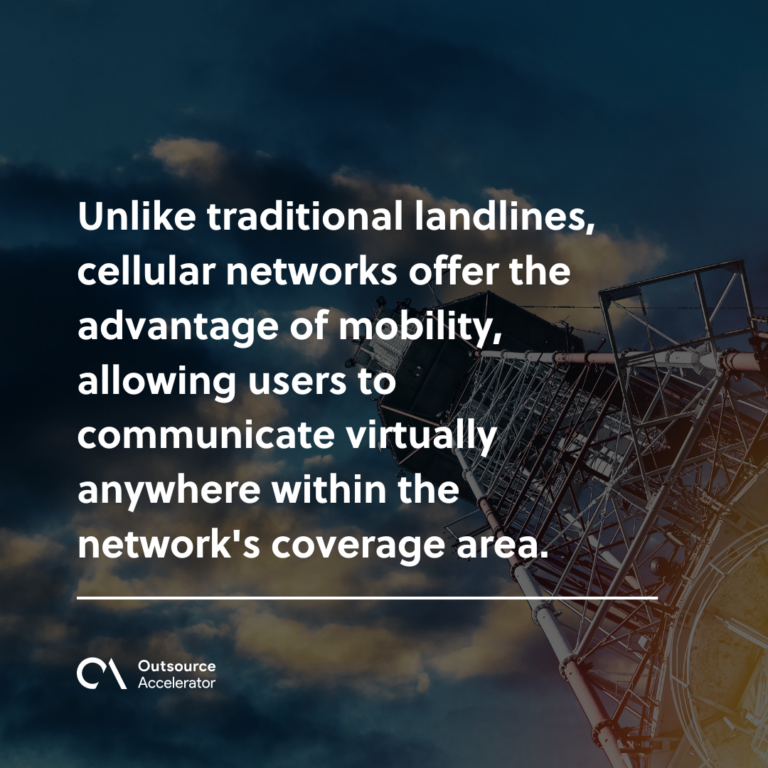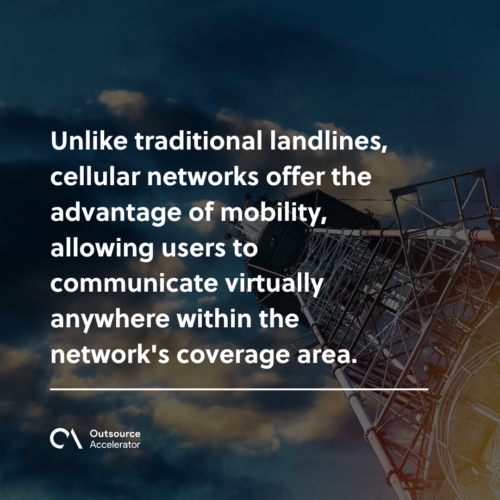 Cellular network vs. Wi-Fi network
While both cellular and Wi-Fi networks provide wireless connectivity, they serve different purposes and operate in distinct ways. 
Wi-Fi networks use local wireless networks. In contrast, cellular networks rely on a broader network infrastructure, making them more reliable in areas with limited Wi-Fi connectivity. 
Wi-Fi networks also have faster data transfer speeds compared to cellular networks. 
However, cellular networks offer wide coverage and the ability to connect to the internet without being near a Wi-Fi hotspot.
Cellular network architecture
A cellular network is essentially a radio network spread out over land in the form of cells, each with a base station. 
These cells provide broader coverage, allowing communication even when mobile devices move between cells.
The cellular network infrastructure consists of the following components:
Mobile equipment (ME)
ME is the user's phone or device. Modern smartphones have the capability to work on any network worldwide. They are identified by a unique international mobile equipment identity (IMEI) number.
Base transceiver station (BTS)
The BTS is the antenna on top of a tower, serving as the access point for mobile phones. It manages radio communications. 
The BTS covers signal modulation, voice encoding, encryption, and multiplexing. Multiple BTSs can be used to cover a larger area.
Cell
Each cell has a base station with multiple radio frequency (RF) channels. Cells provide coverage for mobile users within their borders. 
The size of a cell can vary, with the initial cell radius around 30 km and reducing to 1 km.
Base station controller (BSC)
The BSC manages multiple BTSs. It handles frequency management, power and signal measurements, radio channel distribution, and handovers between BTSs. 
The BSC increases network capacity and can be located near or far from the BTS.

Mobile switching center (MSC)
The MSC is the central hub of the network. It's where call setup, routing, and switching operations are managed. 
It interacts with other MSCs, registers and manages BSCs, and facilitates handoffs between them.
Types of cellular networks
There are various types of cellular networks. Here is a breakdown of each cellular network type:
G
The first generation of cellular technology, G, stands for general packet radio service (GPRS). It could transfer only up to 114 kilobits of cellular data per second.
2G
2G saw a significant improvement in mobile communication services, including the introduction of digital encryption and SMS. However, 2G's limitations include slow data transfer speeds and low-quality calls.
EDGE
Enhanced data rates for GSM evolution (EDGE) was the first cellular data network that provided faster internet speeds than a dial-up modem. EDGE has a maximum data transfer speed of 217 kbit/s.
3G
3G was the first network that enabled high-speed internet browsing, video calling, and mobile applications. 3G is capable of handling more data and providing faster internet speeds.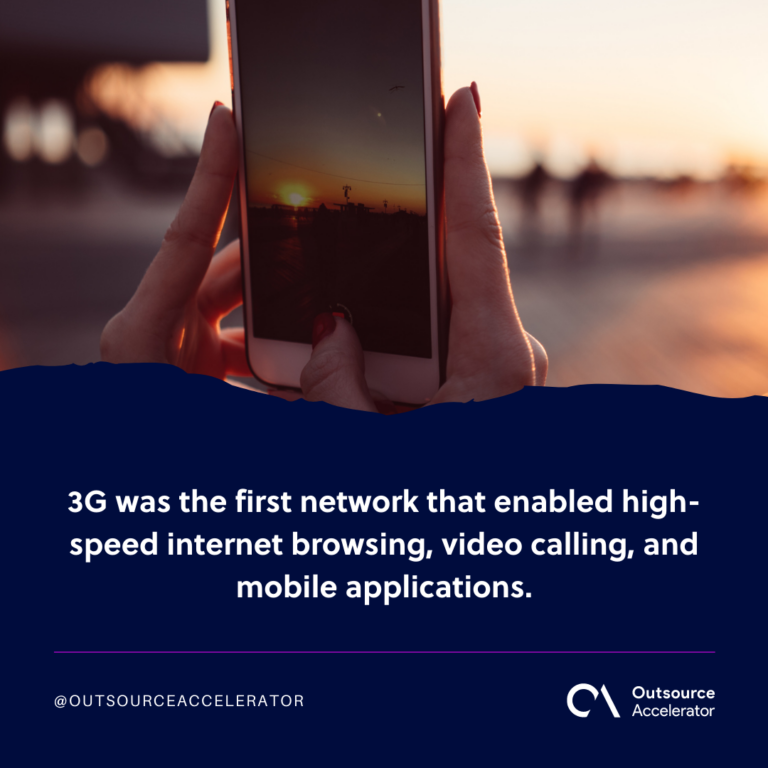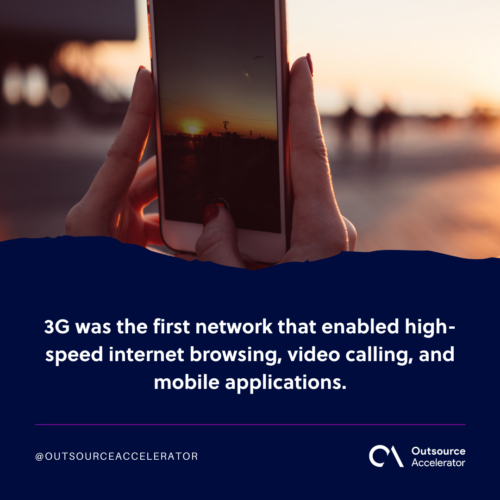 H
H refers to HSDPA, the high-speed downlink packet access that extends 3G voice and broadband data capacity. H is responsible for faster download speeds and a better mobile browsing experience.
H+
H+ stands for evolved high-speed downlink packet access (HSPA+) and is an upgrade to HSDPA. It provides higher internet speeds and faster cellular data transfers compared to H.

4G
4G, also known as long-term evolution (LTE), offers ultra-fast internet speeds and significantly improved call quality. 4G has a maximum data transfer rate of up to 1 GB/s.
5G
5G is the most advanced cellular network, providing faster internet and significant advancements in mobile connectivity. It has low latency and the ability to connect several devices simultaneously.
Features of cellular network systems
Being on a cellular network boasts features that showcase their effectiveness and reliability:
Roaming

. Users can maintain connectivity even when traveling outside their home network's coverage area.

Handover

. Seamless transition between cell towers ensures uninterrupted calls and data sessions.

Encryption

. Communication over a cellular network is encrypted to protect user data and

privacy

.

Global reach

. Cellular networks provide worldwide coverage, making them a crucial tool for international communication.

Data transfer

. A cellular network provides internet connectivity to mobile devices. It lets users browse the web, stream media, and access cloud-based services.
Working on the cellular network
The cellular network offers numerous benefits for businesses. By leveraging this technology, companies can ensure reliable and seamless communication across their workforce regardless of location. 
Employees can stay connected while on the move. This enables them to access critical information, collaborate with colleagues, and respond to external stakeholders in real time. 
This level of connectivity helps organizations enhance productivity, streamline operations, and stay competitive. 
Additionally, cellular networks provide the flexibility to scale communication infrastructure based on business needs. They guarantee efficient and cost-effective connectivity for both small and large enterprises.